Elite Singles Pricing
Want to know what an Elite Singles premium membership costs? It's certainly a valid question you'll want to know before pulling out the purse or the wallet to jump onboard. Below, we've included the most up to date 2023 Elite Singles cost of membership. Our team works hard to keep these prices as up to date as possible as dating sites do adjust their pricing regularly.
Additionally, we'll fill you in on any other Elite Singles cost or fees that you might encounter. That way, if you do decide to upgrade to a paid membership you know exactly what's in store for you. We'll also break down what sort of amenities and perks you should expect to get from your membership.
Elite Singles Membership Cost
| Membership Type | Length | Monthly Cost | Savings % | Total Cost |
| --- | --- | --- | --- | --- |
| Premium Classic | 1 month | $59.95 | 50% | $59.95 |
| Premium Light | 3 months | $57.95 | 51% | $173.85 total |
| Premium Comfort | 6 months | $44.95 | 62% | $269.70 total |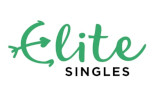 ---
Key Elite Singles Cost Details
The Premium Classic Membership cost is $59.95 per month. This is a one-month membership and saves you about 50% from the normal monthly price, which is $119.95.

The 50% discount you get on the one-month membership seems to be there year-round. We've checked pricing for Elite Singles for several years and it's been there every single time we've updated this guide.

The Premium Light Membership is $57.95 per month. This plan is paid as a lump-sum of $173.85 and gives you three months access to ALL premium features.
The Premium Comfort Membership cost is $44.95 per month. The total cost of this plan is $269.70, which is paid upfront as a lump sum. You'll receive six months of access to ALL premium features, and savings of 29% over the Classic Plan.
Currently, Elite Singles is not offering the 12-month membership option like they have in the past. This continues to be true in 2023.
A Full Breakdown of the EliteSingles.com Cost Plans
When it comes to membership options at Elite Singles, you have three paid plans choices to choose from. When you look at the different options, it may seem like there are several different levels of membership and also different term lengths to choose from. This is not the case.
Every paid premium membership from Elite Singles offers the exact same features.
The only difference between the three plan options is the cost and how long you get the membership for. The way it's currently laid out on the purchase page is a little confusing (or at least it was to us). The shortest term available is one month while the longest term you can sign up for at one time is six months.
Membership Options and Payment Plans Available in 2023
With Elite Singles, you have three different membership plans to choose from.
Premium Classic Membership
Premium Light Membership
Premium Comfort Membership
Features Members Get After Paying the Elite Singles Cost to Join
Here is the list of amenities that come with each plan. Remember, you get ALL of these features with every plan, so no need to worry about getting nickel and dimed to get more functionality.
Enrolled in the Elite Singles 3 Day Free Trial (Details Below)
View all member photos
Unlimited Communication
See all profile visitors
Use of the mobile app
20 extra wildcard matches every day (The "Have You Met" Feature)
View your personality profile
Read receipts on all of your messages
Elite Singles Payment Options
You'll have several different payment options to cover your Elite Singles costs. These options include four credit card/debit card options and one e-wallet option. As of this year, you're able to pay via:
PayPal
Visa
MasterCard
American Express
Diner's Club
Additionally, it's important to know that all Elite Singles costs are collected as a one-time payment at the beginning of your membership. You are not charged monthly, but as one lump sum up front. According to the company's website, you may be able to cover your Elite Single costs monthly at some point in the future. However, we have seen this on the website for well over a year now, so it's hard to say when it will become an option.
All memberships are set to automatically renew at the same term length and price that you initially paid for. If you don't want that to happen, make sure you contact customer support at Elite Singles at least 24 hours before the expiration of your subscription.
Refund of Your Elite Singles Costs and Membership
If you've accidentally hit the purchase button and did not mean to buy a membership, you can contact the company and get a full refund. You do need to contact them right away, though. Those that are unhappy with their membership may receive a refund of all Elite Singles costs in the first three days. Details are outlined below in the next section. As far as we can see, once you get outside the initial three day guarantee window, you will not be able to get a refund for the services.
Does Elite Singles Run Sales or Offer Discounts?
From time to time, you may see the normal Elite Singles cost lowered due to a sale. Typically, we see these offers around holidays or offered to those who have signed up for a free account but haven't upgraded. The Elite Single costs we've posted are the "outward facing" prices. In other words, these are the most you'll end up paying for a membership. During our testing (and from reports from many members), you'll get frequent offers and discounts on costs from the company once you sign up for a free trial account.
For example, during Valentine's Day in February 2020, the company offered a ridiculous sale bringing the Elite Singles cost to sign up down between 70% – 80%.
The Premium Classic membership became the "Sweet Crush" and offered memberships at $32.95 per month. Normal price at the time was $57.95 monthly.
The Premium Light membership was temporarily the "Cupid's Arrow" membership with membership available at $17.95 monthly. At the time, that membership was $44.95.
The Premium Comfort membership was dubbed the "Lovely Deal" and offered membership for $14.95 per month. Regular price that year was $31.95.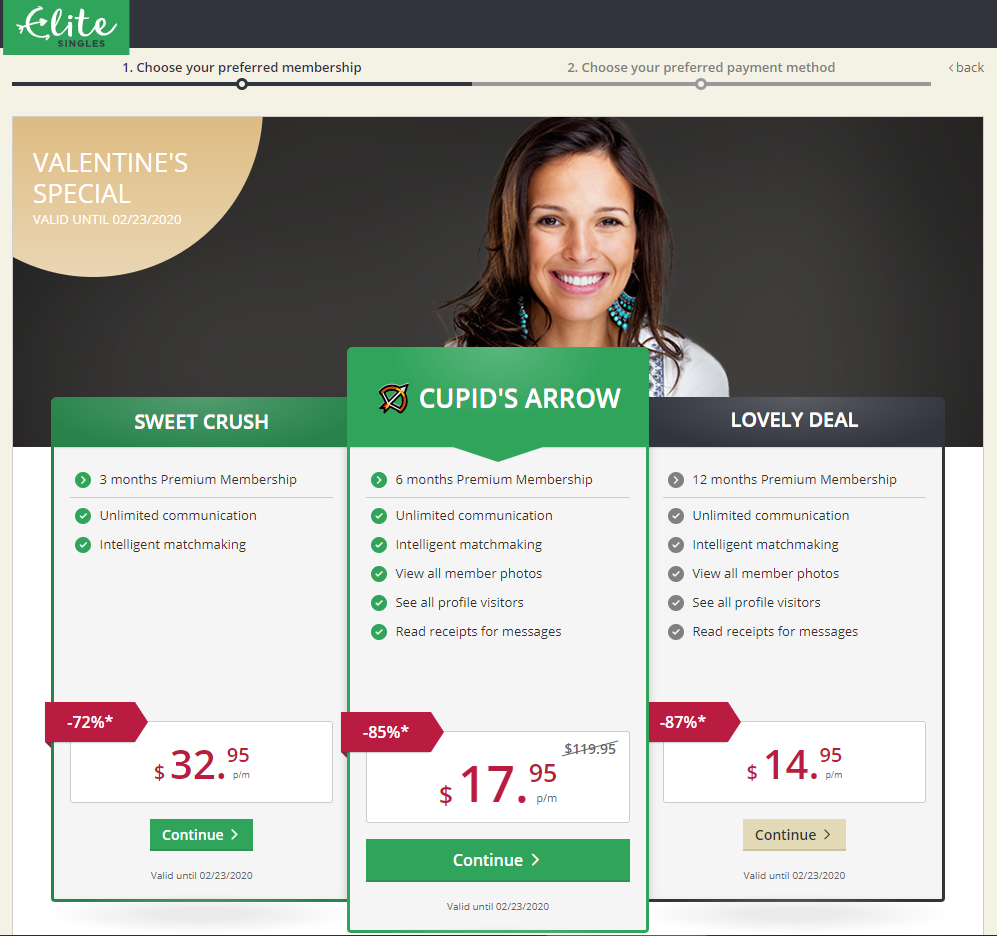 Should you always expect there to be a sale on the Elite Singles costs?
No. They do run them frequently, so you will want to keep your eye out if price is a bigger issue keeping you from signing up. We've included some helpful tips below to ensure you know about every possible sale or discount with this online dating site. That being said, the 50% Elite Singles discount on the one-month membership seems to be available year-round.
Tips to Hear About All Elite Singles Discounts and Sales
Create a free account through the links on this page. Often, discounts are only given to those who have already created accounts.
Opt-in for email blasts. You can expect to get a lot of sales and discount offers in your email box from the company.
Follow Elite Singles on social media. The company is especially active on Twitter, and they do use the medium to announce any major sales.
Be aware that waiting for a sale will delay your success. We do want you to get the best price possible, but waiting for a sale may add weeks or months to your search.
Elite Singles 3 Day Free Trial
When you look on the Elite Singles website, you may not see much posted about the company's free trial or guarantee policy. While you may not see it, it does still exist! In the past, the company was more forthcoming about it. We're really not sure why they stopped promoting it, but their Terms and Conditions show they still honor it. According to the company, it's not technically a free trial. They instead call it a "cooling off" period.
Here's how it works. If you are unhappy with your service at all during the first three days after you pay, you can contact customer support for a full refund of all charges. Here's what it currently says in the company's Terms and Conditions.
Section 12.1 "As a paying Member, you may withdraw from your paid Membership at any time within the first three days of making your initial payment."
Section 12.3 "If you cancel your Membership within the first 3 days of your paid Membership and you have made any payment in advance for the Services, we will refund these amounts to you."
In other words, you've got nothing to lose trying the site out. If you'd like some more detailed information, check out our dedicated Elite Singles free trial page here. If you want to get started with the Elite Singles 3 Day Free Trial, click one of the links at the top or bottom of this page. Your account will automatically be set up whit the guarantee without you needing to do anything else.
Auto-Renewal of Your Elite Singles Account
All Elite singles memberships will be initially set up to auto-renew upon purchase. If you'd like to turn off the auto renewals, go to My Account > Cancel > Continue > Confirm. The process for cancelling via the apps is slightly different and will require additional support. Here is the iOS cancelling guide and the Android cancelling guide. Additionally, you can contact customer support at least 24 hours before your renewal date and request a cancellation.
Do keep in mind you will get to use out the remainder of your paid plan after you cancel, you just won't be charged again. You will also receive a confirmation email we recommend you keep for your records until your subscription is fully expired. If you do decide to turn auto renewal back on, you can do that following the same instructions listed here.
Is the Cost of Elite Singles Worth It?
The big question that you're probably googling around looking for an answer to is whether or not Elite Singles is worth the cost or not? If you'd like you can read our complete review of Elite Singles here, or we'll give you the short version here so you can be on your way to finding that special someone.
If you're looking for higher quality matches that are further along in their careers and lives, Elite Singles is probably a great spot for you to check out. They boast an impressive 165,000 + new singles joining every month. Of their members and those joining, more than 80% of them have a college education of some degree. They have also concluded that every 8 minutes, two people find love through their services.
With that many fresh faces joining every month, high quality of matches, and a killer success rate, Elite Singles seems like a great pick and worth every penny you're going to spend. When we say the Elite Singles costs are expensive than some of the other popular sites, we only mean by a few bucks. In all honesty, you probably wouldn't have noticed it cost anything more if we hadn't pointed it out.
That being said, you're going to get what you pay for with online dating. If you go to the free sites, you're going to end up with a lot of junk to sort through. If you go with a cheaper site online, you'll get some of that riff-raff still, but you'll get some more quality. When you pay a few bucks more, though, for a site like Elite Singles, you're going to get higher quality across the board.
Will there still be some riff-raff on the site? There always is. There's really no way to avoid that. What you can avoid, though, is being on a site with a ton of bad matches who are flaky, unstable, and not going anywhere with their lives. If you're a professional, business executive, or a career driven person, this site is going to be for you. It's a great place to find like-minded people who understand your busy life and the challenges and excitements that come with that.
If you don't fit into those categories but still are looking for quality, you're going to want to check this site out as well. You don't find quality by hanging out where the quality matches don't want to be. Consider the Elite Singles cost a gatekeeper for quality.
Bottom line, Elite Singles is worth every penny. Use the free trial button at the top and take a look around for yourself. You won't be disappointed and trust us, we would tell you if we thought you were going to be.
Elite Singles Cost FAQ
Can you use Elite Singles for free?
Yes! You have two options for using Elite Singles for free. You can take advantage of a free membership that does have limited options or you can use the Elite Singles 3 Day Free Trial Guarantee. The free membership requires no payment information. The 3-Day Guarantee requires payment, but you can get a full refund of all the Elite Singles cost if you're not happy in the first three days. Both options are available through the links provided in this guide.
What payment methods does Elite Singles offer?
You can pay for your memberships through PayPal or with a credit or debit card from MasterCard, VISA, American Express (AMEX), or Diner's Club.
Are the Elite Singles costs expensive?
Compared to the rest of the online dating industry, Elite Single's prices are a bit higher. However, the company boasts that this helps them to bring in a "higher quality" of single who are more serious about the dating process.
No. You will be charged one time upfront for your Elite Singles membership. After this, there are no other charges, fees, upgrades, or credits that you can or need to pay for.
Do Elite Singles memberships auto-renew?
Yes. Elite Singles memberships are set to auto-renew. You can easily turn this off through your membership area or by contacting customer support at least 24 hours before your renewal date.
Can I try Elite Singles for free?
Yes! By using the links provided in this guide, you can create a free membership account with Elite Singles. On top of that, if you choose to upgrade to a paid membership, you can get a full refund of all the Elite Singles costs you pay within the first three days if you're not completely satisfied.
---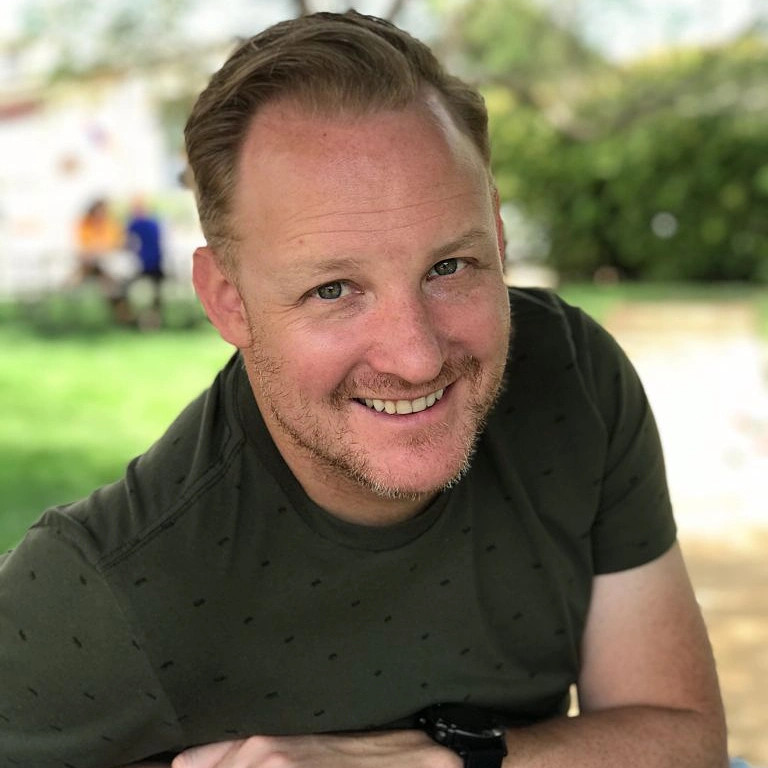 Written By: Matt Seymour
Matt Seymour is a dating industry expert with over a decade of experience coaching singles, reviewing dating apps, and analyzing trends within the industry. With a Masters of Science in Finance (MSF) degree from the University of Florida and extensive knowledge of the innerworkings of the online dating industry, Matt frequently serves in an advisory role to some of the largest dating apps on the market. In Matt's current role with Healthy Framework, he leads the interview team that regularly interviews key dating industry leaders, and leverages his financial knowledge and dating app experience to review and share what singles need to know to get the most out of dating online.