Safest Dating Apps
If we've said it once, we've said it a thousand times—the best way to enjoy online dating is by keeping yourself safe, especially in a world where things like romance scams are on the rise. While a portion of online dating safety falls on the shoulders of the individual (e.g. not meeting strangers alone, insisting on phone calls and video chatting before meeting, never wiring money to strangers, etc.), an even larger portion should rest squarely on the apps themselves.
What good is finding love or finding someone special if you have to put yourself in danger in the process? Spoiler alert—it's not worth it. That's why it's incredibly important when looking for somewhere to date online you gravitate towards the safest dating apps. These are the apps the clearly invest in having your back and keep safe practices at the foreground of their decision making.
Since we can probably all agree on that, the next question is—what are the safest dating apps? That's what we want to talk about today! Below you'll find a list of our top picks, as well as some tips and resources to ensure a secure dating experience from start to finish!
What Are the Safest Dating Apps?
1. eHarmony

Let's start with the most important question of them all—is eHarmony safe? Well, first, eHarmony is known as the "#1 Trusted Dating App", based on an eHarmony internal study. And while we normally wouldn't give much bother to a self-acclaimed title, there is plenty that eHarmony does to prove to us that they live up to that claim. The dating app has been around for over 20 years and has only had one minor data breach that was all the way back in 2010 (over 10 years ago) and it didn't affect any sensitive data. For those unfamiliar with data security, this is an impressive track record to be proud of.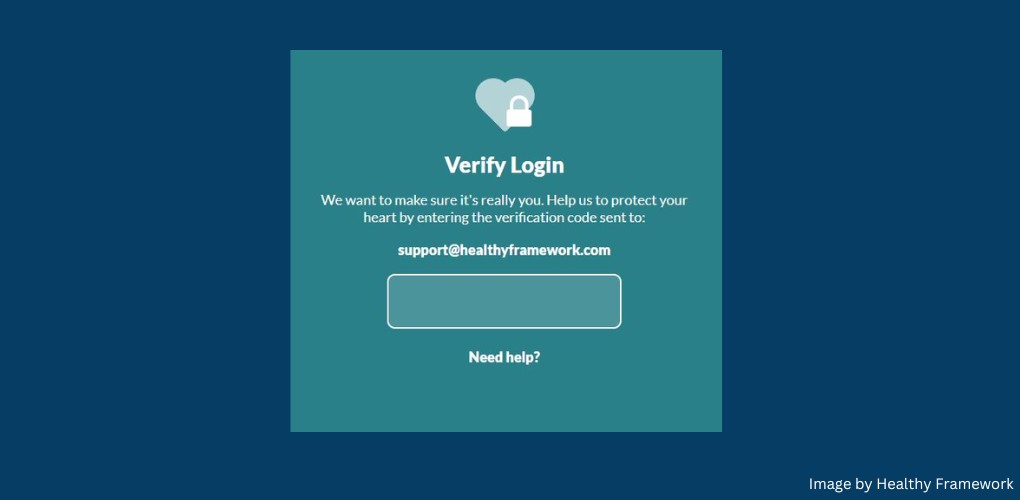 On top of that, many of eHarmony's features have been developed with user safety in mind. Features like SMS profile verification, requiring 2FA for logins on new devices, and blurring images to protect the privacy of their users have gone a long way to make sure eHarmony has a community that's focused on serious dating and keeps you from getting catfished or falling victim to romance scams
Additionally, eHarmony utilizes secure messaging with the ability to automatically filter and block abuse, they routinely review accounts for inconsistent or suspicious behavior, and has a highly trained staff that is fairly aggressive with removing potentially dangerous accounts that just don't add up. We've actually had our review testing accounts removed almost every time (they weren't real people), which doesn't happen with most dating apps.
All of this together is why we gave eHarmony five padlocks, our highest rating for safe dating apps.
2. Higher Bond

It's rare that you'd find a new dating app on a list of the safest dating apps, but it happens when the security and development teams go above and beyond. Here's why this app makes the cut. First of all, Higher Bond manually checks and verifies every single person who joins the app before they're giving access to the site.
Not only do they verify the information provided as much as possible, but you have to take a very unique selfie to show that you are the person you say you are. It's unusual for sure, but it's also seems to be doing a great job of creating a safe space with minimal scammers and fake accounts.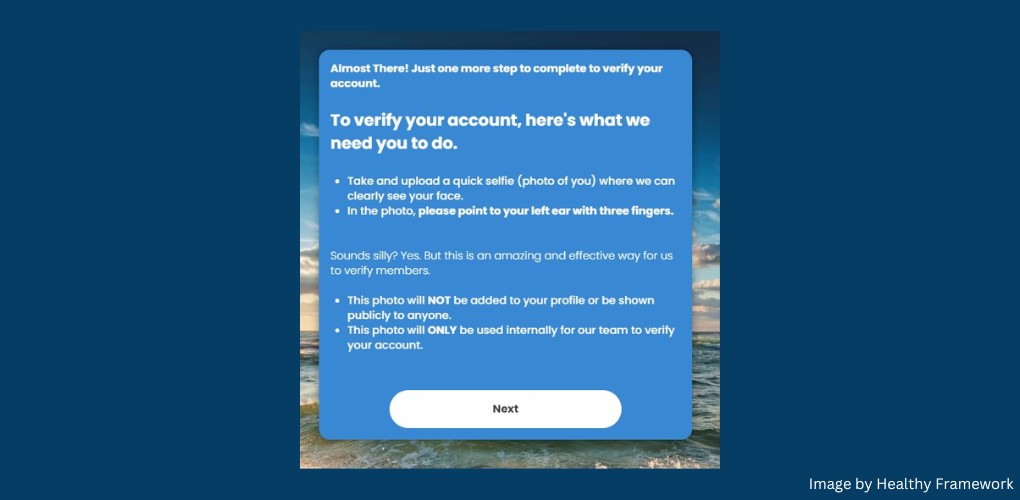 Second, all communications and messages run through high level encryption to ensure that nothing gets to you that shouldn't. Additionally, the app doesn't let users privately exchange images or files for an added layer of security. You'll also find prominently posted on every single message a list to their dating safety tips. Anytime a site works to educate users, that's a win.
The only drawback to safety and security would be the fact the app is newer, so it's basically impossible to look at a long track record of security success. But with a strong and safe first year, we expect things to continue positively for Higher Bond in this department.
If you're a Christian single who wants not only a safe dating app but one that aggressively promotes a wholesome environment, you'll enjoy Higher Bond.
3. Elite Singles
While not as aggressive as Higher Bond when it comes to the account moderation, the team at Elite Singles does have a moderator check all profiles and photos. The only difference is that you do get access to the app immediately after signing up and the check comes shortly after (Higher Bond doesn't allow any access until the check is complete which can sometimes take up to three days). Still, though, that's an impressive feat that you just don't see most dating apps take the time to do.
Elite Singles also does have a full section of it's app dedicated to security and education users on best practices. Elite Singles top safety tip is to "question unrealistic information," which is certainly a strategy we support for singles. While it's not as extensive as other guides we've seen, any attempt at educating users to stay safe is always positive.
On top of this, you have the full gamut of goodies when it comes to security including fully encrypted data, an in-house fraud team monitoring suspicious activities, and they never supply your information to third parties (as per their website). All in all, a safe dating app experience that we think you'll enjoy.
4. Catholic Match

Catholic Match literally works around the clock to keep you safe, which is the first (and most important) reason they've made it onto our list. According to their website, "Our security system runs 24/7 and scans all accounts for traits and behaviors that are common in scammers and others who join dating websites with malicious intentions."
And if they see something, they lock that account down until a member of their staff can come give it a check. This means that you have a beautiful blend of technology and real people working to keep the account pool at Catholic Match clean and safe.
Something else worth mentioning in this discussion is that "street cred" is important when it comes to assessing the safety and validity of a dating app. To us, this means looking at any partnerships or endorsements the app may have through third parties completely outside of the dating industry. At Catholic Match, they have partnerships with schools, authors, groups, and prominent people within the Catholic Church.
5. Bumble

Earlier, we talked about how Higher Bond uses unique selfies to help validate that users are who they say they are. At Bumble, they take that to the next level. Instead of just a handful of poses, Bumble picks from hundreds of poses and asks you to match it in. You then have to take a selfie in that same pose in order to get your account verified. Now, verification is not required (which we wish it was), but it's there if you want to take advantage of it.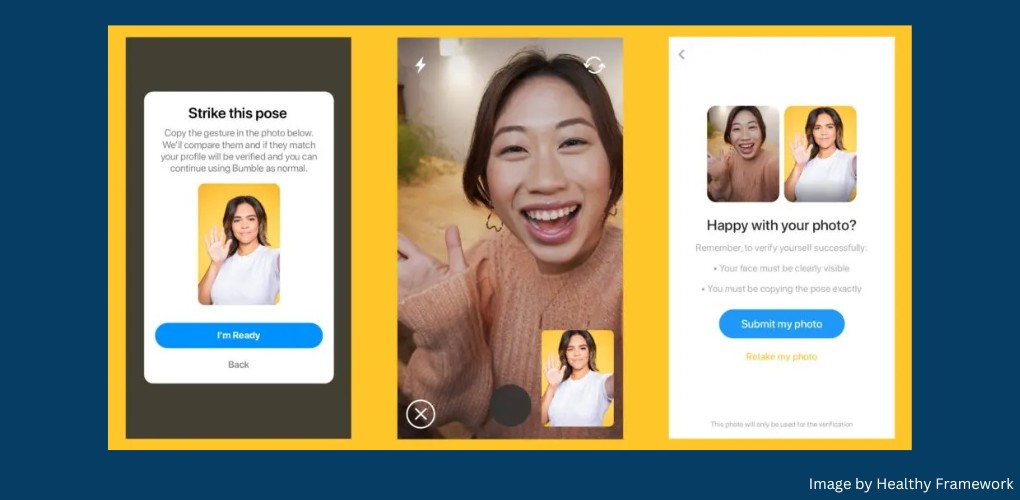 All in all, a cool process that looks to be rather effective.
Something we were also fans of with Bumble is that they've designed out a very in-depth Safety Center where you can learn about safety features, get tips on staying safe, and even get help with dealing with anxiety, burnout, and overall mental health. Some of the features covered include the photo verification (which we talked about), a private detector that auto-blurs out inappropriate photos, blocking and reporting, and even a snooze option to let you take a break from the app without losing your place.
In addition to this, Bumble operates on a "Ladies first" premise where women always have to send the first message to initiate a conversation. While this might not make men feel much safer, it's certainly going to help some women feel more in control of the process—and ultimately probably safer.
For full transparency, we do feel that dating apps that lend themselves more to casual dating tend to be more susceptible to issues
6. Zoosk
Another safe dating app with an incredible Safety Center is Zoosk. Much like Bumble, the Zoosk safety center breaks down safety tips for creating your profile, connecting and communicating, and meeting in person. The guide is the most exhaustive we've seen but not to a point of overloading you with information where it's too much to read to be effective. Interesting enough, Zoosk also requires that you acknowledge you've read the safety tips prior to allowing you to activate your account (though, they don't really have any way of confirming that).
In addition, Zoosk has a very descriptive privacy policy that shares exactly what they will and won't do with your data, as well as their reasons for collecting certain information. The privacy policy does also reiterate that a lot of the security onus does fall on you as the user, but that's something that's going to be true of any dating app, not exclusively Zoosk.
Outside of the security talk, Zoosk itself is a very successful and respected app within the industry. There is a reason there have been nearly 40 million downloads by users in over 80 countries.
7. The League

If you've ever worked in app security (it's okay if you haven't), then the chances are high you've heard of NowSecure. This third-party app security company has worked with the likes of Uber, IBM, Humana, and a whole host of other major companies—including The League. The League dating app is routinely audited by the company to ensure the highest level of safety and security on its platform. And because The League is not even available via desktop, this is the only way unsavory folks might gain access, and they have that nicely buttoned up.
On top of this security, The League also promotes safety through extensive user curation. If you haven't heard of The League before, it's a dating app that aims to be extremely exclusive for the higher tier of successful people in society. In order to gain access to the app, you have to get on a waiting list, you have to connect your LinkedIn and socials for vetting, and you have to be voted in by an algorithm and real people who work for the app.
What this produces is two things—an ultra-exclusive list of singles in major cities, and also a higher level of security because every single account is so heavily vetted. If you don't live in a big city, the app won't be great for you—not because of any security issues, but because the concentration of users is high in big cities and super low anywhere else.
If you want safe and exclusive in your dating life, check out The League.
8. Hily
Hily is a dating app that looks to use Artificial Intelligence (AI) to help curate better and better matches for you the more you use the app. Basically, the more you like, dislike, or interact with users, the more the app learns "your type" and adjusts your matches as such. But with this new data and tech heavy approach, is Hily safe to use?
Well, even though it's the last option our list of the safest dating apps, it sill made the list which means yes. Here's why. First, like many of the apps on this list, Hily has a dedicated security page with tips and resources to help keep you safe while using the app. Second, the AI tech used to curate matches is also used to drive safety. According to Tech Crunch, Hily uses the AI to assign users a Risk Score based on how verified they are, which can block other users from sending them any personal data.
As we mentioned, casual dating apps do tend to have more security issues than others, but Hily seems to be doing a good job trying to stay out ahead of that stigma.
What Factors Make a Dating App Safe?
There are quite a few factors that go into making a dating app truly safe. And while there are far too many to list here, we want to draw your attention to a few of the most important. This serves two purposes. Number one—it shares a little of the criteria our team looked at when researching and verifying the safe dating apps we've recommended. Number two—it gives you more insight and education into the process in case you want to investigate the safety of another dating app that we haven't looked at for you.
A Track Record of Taking Care of User's Safety
Except for a few unique cases where new apps shine, we want to see a track record of intentional action toward helping keeping users safe. Here are a few recent instances where the safest dating apps we've recommended did just that:
In 2021, Bumble banned a user for fat-shaming another user. This public display of protecting users from rude and abusive behavior is a big win in our book.
The League's safe dating practices say that while they don't do background checks on users (most dating apps don't), they do immediately ban anyone who has been convicted of a violent or sexual crime or any past or present criminal activity while they are active on the platform. In other words, they really do want to keep the user quality as high and safe as possible.
Message Encryption
Believe it or not, there are dating apps out there not using proper encryption on your messages to matches. And while you shouldn't be sending anything too sensitive (like bank account information), you still don't want your personal thoughts, emotions, and feelings on display to the world. You'll want to ensure the app you're using is utilizing proper end-to-end encryption.
Account Verification
While we don't think you have to go as far as Match.com did with their partnership with Garbo (offers background checks on users), we do want to see some sort of account verification that is not easily faked or spoofed by scammers. Often, this involves seemingly silly methods (like the photo verifications at Bumble and Higher Bond) because anything more high tech either feels too invasive or isn't effective.
Moderation and Filters
Dating apps often have millions of users and that means millions of profiles and millions of messages and millions of photos. If a dating app doesn't set up processes to moderate this content, it can turn into an unsafe mess pretty quickly. Often, the reason that these things are foregone is cost. It costs a lot of money to hire effective content moderators. And while we think that's no excuse to skip the process, many dating apps do.
Additionally, there should be some automatic tech-driven filters in place that can assist in the process. These can look for things like inappropriate content, abusive language, and anything else unsavory to users. This too, though, can get quite expensive. But—as we said before, we still think a dating app should be doing everything it can to keep people safe.
How to Tell If a Dating App is Unsafe
Knowing what makes an online dating app safe is a great way to approach the selection process. But, often, an even better way to go about identifying safety and security concerns is by looking for things that make a dating app unsafe. Let's take a look at some of the red flags we look for when ranking the safeness of dating apps.
Selling Your Data to Third Parties
Everyone loves junk emails right? Wrong. Sadly, data has become one of the biggest businesses in the world. And one of the places that you share the most intimate information about yourself is on a dating app. For that reason, we think there should never be an instance where a truly safe dating app sells your information to third party advertisers. For example, Tinder and Grinder have been reported to be selling user data to advertisers. As some of the most popular dating apps in the world, this is probably big business for the app but not very safe or privacy-respecting for you.
A History of Security Issues
Just like we want to see a history of keeping users safe, we also don't want to see a history of security issues—especially repeat offenses from any dating app. We understand that no company is perfect and technological threats are always evolving, which means even the best companies can have issues from time to time. However, if a company has an issue and doesn't get it corrected after the first time, that's a major red flag. Additionally, if the first instance is because of negligence, that's not a great look either.
For example, Match Group site Plenty of Fish was hit with a Malvertising attack in August of 2015 and then Match.com (also owned by Match Group) was hit the very next month by the same group. We would have hoped to see the vulnerability found and corrected across all sites within a much shorter period of time.
Unchecked Bugs
Dating apps are going to have bugs. It's inevitable, especially if they're proactively adding new features. However, software bugs can also pop up through negligence and a lack of updates to stay with newer software versions. For that reason, we don't think the mere presence of bugs has anything to do with how safe a dating app is. However, if those bugs are never addressed, that can be a red flag, even if those bugs don't directly affect security.
The thought process is that if the developers and app owners don't care about the quality of their app, how can we expect them to proactively care about security? If they refuse to put in the time and resources to fix the outward looking aspects of the app (the ones that really have an effect on their bottom line and user retention), they're certainly not going to care much about the behind-the-scenes security side of things.
---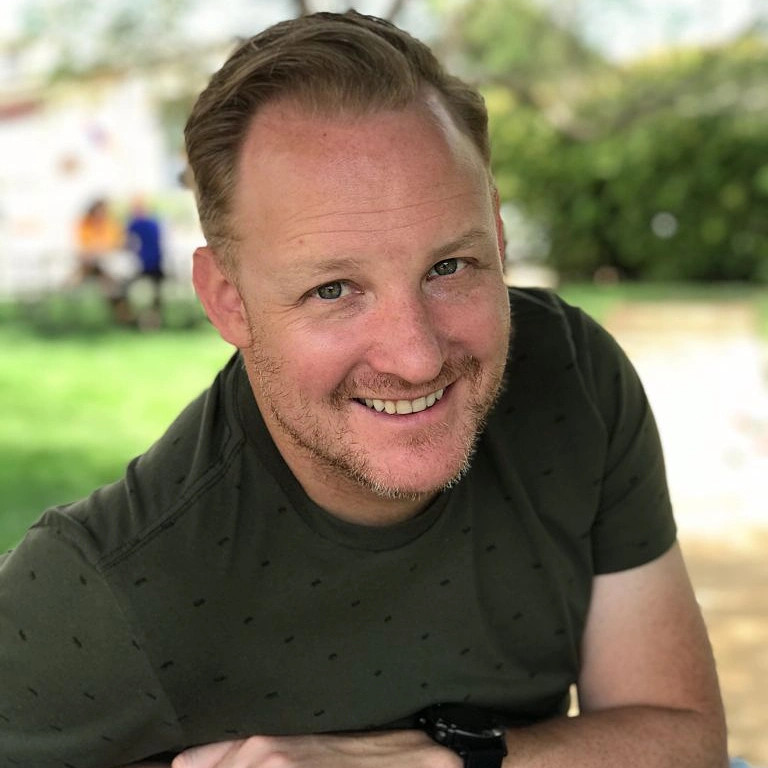 Written By: Matt Seymour
Matt Seymour is a dating industry expert with over a decade of experience coaching singles, reviewing dating apps, and analyzing trends within the industry. With a Masters of Science in Finance (MSF) degree from the University of Florida and extensive knowledge of the innerworkings of the online dating industry, Matt frequently serves in an advisory role to some of the largest dating apps on the market. In Matt's current role with Healthy Framework, he leads the interview team that regularly interviews key dating industry leaders, and leverages his financial knowledge and dating app experience to review and share what singles need to know to get the most out of dating online.