Christian Mingle Review

For Christian singles looking for love, it's a tough world out there. Unless you're meeting someone directly through Church, you don't know where they stand religiously or if the two of you will be compatible.
Luckily, dating apps like Christian Mingle can help you cut through the noise and find quality, faith-focused singles looking for the same thing you are. In our Christian Mingle Review, the team gets to the bottom of whether or not this religious dating app is worth your time.
If you're ready to see if this is the next step God has planned for you in the journey, let's get down to the review of the dating app Christian Mingle.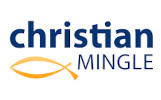 ---
Is Christian Mingle Worth It? – The Bottom Line Upfront
Christian Mingle scored a 9.4 out of a possible 10 points with the highest marks in Quality of Matches and Ease of Use.
Spoiler alert! We're big fans of Christian Mingle. When it comes to recommending the best Christian dating apps, the site is usually at the top of pretty much everyone's list—and for good reason. Every now and then eHarmony's quality reviews help to put up a good fight, but it's hard to beat out a great option that literally has the word "Christian" in the company name.
Where Christian Mingle shines is through offering an easy-to-use, affordable, and actually fun process. The profiles are not quite as robust as you'd see on a site like eHarmony, which may or may not be something you're a fan of. It tends to push people to have conversations quicker (which would be a pro), but sometimes it's nice to be able to learn as much as possible before you engage in dialogue.
One thing the app is really good at is removing any fake profiles pretty quickly. In fact, we made a few profiles for the purposes of this review and testing—and they were quickly removed because they were obviously not real. It's great to see some proactivity towards the quality of the user base.
All in all, Christian Mingle is the leader in the online dating space for Christian singles and for good reason. Here are the biggest pros and drawbacks of the site.
Biggest Pro – 100% focused on helping to connect Christian singles looking for faith-based relationships
Biggest Drawback – Not good for singles looking for casual and less-serious dating.
If you'd like to check things out for yourself (which we highly recommend doing now or after you finish reading the review), the link posted below will get you all taken care of.
---
Overall Christian Mingle Review
| Category | Score |
| --- | --- |
| Quality Matches | 10.0/10.0 |
| Features | 9.5/10.0 |
| Ease of Use | 9.8/10.0 |
| Support | 9.2/10.0 |
| Cost | 9.6/10.0 |
| Overall | 9.4/10.0 |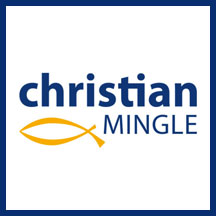 9.4/10.0
Pros and Cons of the Christian Mingle Dating App
Pros:
15 million+ Christian singles with accounts
Simple design that's easy to learn to use
Can search users, read their complete profiles, and see their main photo during the free trial
Can respond to paid users for free, even if you don't choose to upgrade your account
Shows last online date on profiles
LookBook swipe-style feature
Cons:
No dedicated search function but great browse features
Some reports that the site may be slower to load certain features during peak times
You have to email customer support when you want to cancel instead of being able to do it on your own
Profiles are not quite as robust as some other more serious dating apps
---
Christian Mingle Review Table of Contents
Fast Facts About Christian Mingle
Site Name: Christian Mingle (christianmingle.com)
Paid or Free: Paid membership site with a free trial
Average Sign Up Time: 5-10 minutes, depending on if you fill out your profile or not
Paid Membership Pricing: Memberships start at $24.99 per month
Unique Christian Mingle Facts and Figures:

The dating community is 15 million+ strong.
Christian Mingle is regularly regarded by most as the #1 Christian dating site out there
You can access your account through the mobile-friendly website or through the iPhone or Google Play apps.
The community has been around nearly two decades getting its start in 2001.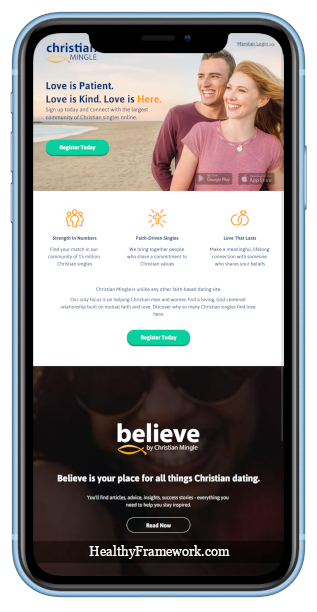 ---
What is Christian Mingle?
Christian Mingle, founded in 2001, is an online dating website and app that's been servicing the Christian faith-based niche for over two decades. The website utilizes a fairly traditional matchmaking process where you fill out a profile, put in parameters of what you're looking for, and are presented with potential matches. Over the past few years, Christian Mingle has added swipe-style dating (LookBook) to keep up with the growing trend in the dating industry.
At its core, the answer to 'what is Christian Mingle' is that it's a faith-based dating app specifically built for Christian singles that utilizes a traditional profile-based approach to matchmaking.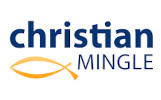 Are there good, quality matches on Christian Mingle?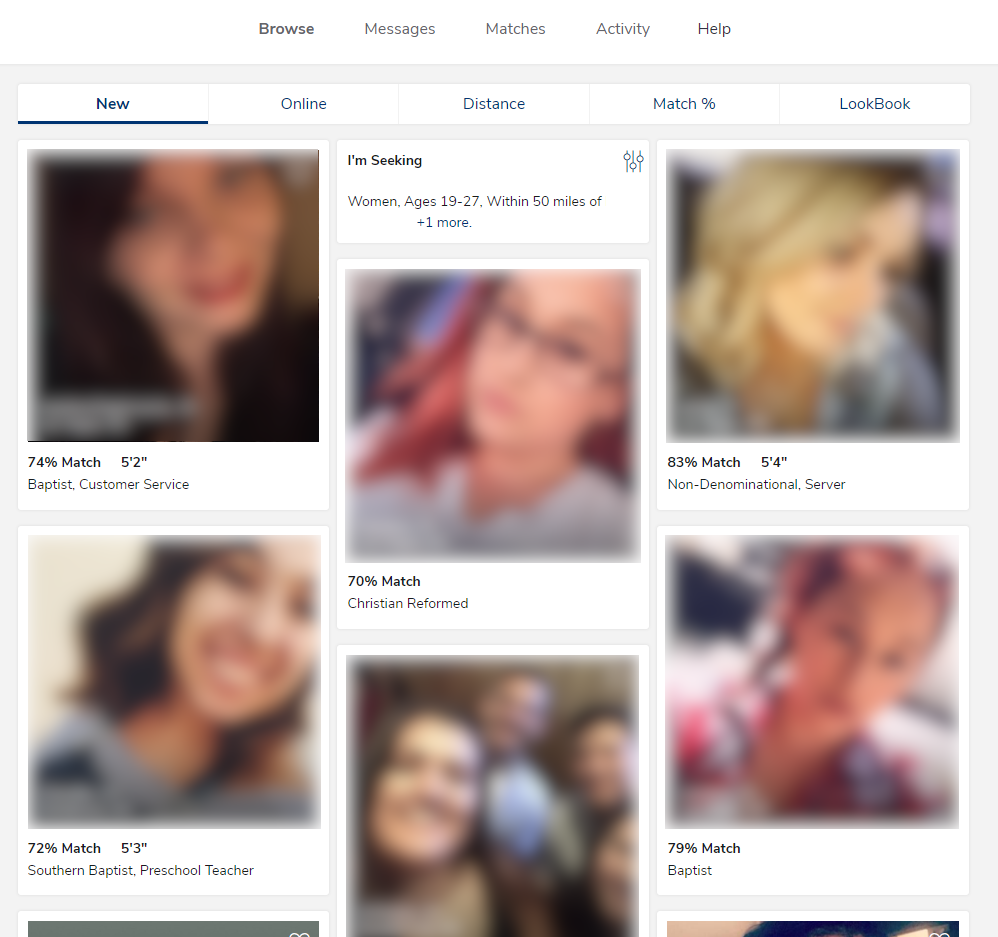 Note: Yes, we have blurred out the photos, but on your free trial or paid membership, all of this will be crystal clear for you.
If this is not the first question you're asking about an online dating site, you're doing it wrong. Christian Mingle or any other dating site can have the coolest commercials and the best features, but if they don't have amazing singles for you to meet, then what's the point of using the site? This is the reason that the very first stop on our Christian Mingle review is here.
Here's the awesome news and spoiler. The quality of the singles on Christian Mingle was fantastic in all senses of the word. First, let's look at quantity. We've seen stats that they have well over 15 million members and counting. Maybe 15 million and 1 after you get over there 😉 While these stats are great, we wanted to dig further and make sure that what we saw on the site matched these great numbers.
In order to test this, we did several sample searches in a lot of different areas of the country. We changed around parameters of age, religious preferences, gender, and more to see what all popped up. Good news. Every search we did produced an impressive list of singles looking to mingles. Yes, it should say mingle without the S, but we wanted it to rhyme.
So quantity was great…but what about the activeness of the members? Tons of singles are no good if they've all already found love and moved on from the site. We found two ways to test the activity level of members on Christian Mingle. First, we look at the "Online" list of members for all of our sample searches. We wanted to see how many members were active at the very second we were testing the site.
The verdict? The list went on forever. There were TONS of singles online. Yes, we know we sound like an excited school girl right now, but it gets us happy when there are online sites that are making things easy for people looking for love. We also began spot checking a ton of members on the other browse lists to see when they were on last. Almost every member we checked had been on Christian Mingle within the last week. We're sure somewhere down the list there are some older members, but we didn't find any, and we scrolled and clicked for a long, long while.
So quantity is great…activeness is great…the last box that we have to check off on this Christian Mingle review is if the quality of matches is, well, actually quality. Are they desirable people? Are there people from all walks of faith? Are there attractive and real people? Are there people from all different age brackets? Do the people generally seem excited about online dating?
Our answer to this is going to be our opinion as you can't really put that into numbers. Our verdict from every single one of our reviewers was that the quality was great. The profiles were real people who had a lot going for them. They seemed excited about the process and excited about meeting other singles like you. We saw a lot of people from all different denominations including Catholic, Baptist, Methodist, Lutheran…actually, let's just show you a list of the different religious options they have on Christian Mingle.
Anglican
Apostolic
Assembly of God
Baptist
Catholic
Charismatic
Christian Reformed
Church of Christ
Espiscopalian/Anglican
Evangelical
Interdenominational
Lutheran
Messianic
Methodist
Nazarene
Non-denominational
Not sure yet
Orthodox
Pentecostal
Presbyterian
Seventh-Day Adventist
Southern Baptist
Other Religion
Here's our verdict from our Christian Mingle review. With the risk of sounding like giddy schoolgirls, Christian Mingle had one of the best choices of Christian singles we've seen in a long time. Quantity, activeness, and quality were all the best of the best.
The Sign-Up Process
The process of creating an account at Christian Mingle is pretty easy and takes about 5-10 minutes depending on how much information you want to fill out before looking at matches. When you first start the sign-up process, you put in your most basic info (email, age, and location) and then are prompted to load up a picture.
The one thing that we did note is that you are required to upload a picture before moving on with the sign-up process. This is not the case with some sites, but it does translate into a higher quality experience. If they make everyone load at least one picture, then you won't have to flip through a bunch of profiles with no pictures which is no fun.
After you upload your picture, you will be prompted to answer more questions about yourself for your profile. Here's what that screen is going to look like.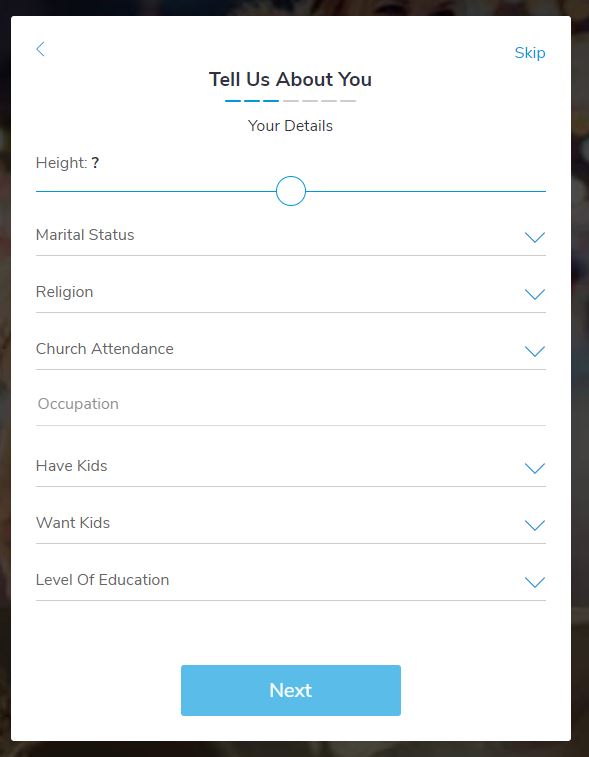 Notice at the top right of the box you have the option to skip all of this. This is the same on every page of Christian Mingle's sign up process. If you just want to look at matches before committing to filling this out, no worries! The only thing you will have to do is load up a picture.
One thing we did like about Christian Mingle's sign up process was that at the end they make it very easy to know how to browse with your free trial. Some online dating sites like to make you think that you have to sign up and the button to get to browsing for free is hard to find. Here's what it looks like on Christian Mingle.
They make it easy to start browsing before paying most likely because they believe in their product. The whole process takes about 5-10 minutes max and even less if you aren't filling out much of your profile. If you want skip the rest of our Christian Mingle review and get started browsing with the free trial, click the link at the top of this page and it will automatically activate the free trial for you.
How easy is the app or website to use?
Not a fan of computers? Don't have hours to learn how to use something? Looking to try and make online dating easier? If you answered yes to any of these questions, you're going to love Christian Mingle. An online dating site usually has two routes it can go when they set up their member area. They can jam pack it full of features (some useful and some just flashy), or they can go the simple route.
Each has their own pros and cons, but personally, we're bigger fans of the simple route. Too often, online dating sites will overload the members with too many features, and it becomes like work to try and find someone special. When they go the simple route, though, things become easy. You don't have to try and understand a million features, and you can focus on finding love.
During our Christian Mingle review, we found that they opted to take the simple route with features. They've got features you need, but not too much that it makes navigation challenging. If you are looking for a site to do all the matchmaking and work for you, this isn't the best fit. But if you like simplicity, it will be a great fit.
Here's a peek at all of the options available on Christian Mingle that are conveniently listed at the top of your member area.
We'll cover each of these features in depth in the features section below, but we want you to see just how simplistic the design is. This simple look continues over into the profiles of the members as well. Profiles will show you:
Name
Age
Location
What percentage of a match they are with you
A short tagline about them
Their basics of kids/want kids and if they've been married before or not
Their religious preferences and how often they attend church or mass
What they do for a living and their educational background
What they enjoy doing
What they're looking for (Age, Gender, Type of Relationship, and Distance)
When they were last online or if they are currently online
Photos
Here's a sample of what the profiles look like on Christian Mingle. Notice again how simple things are. You have your basic details, your pictures, and a button to message them, favorite them, or wink at them. They don't overcomplicate things with information overload or a messy design. Also, you'll notice that a few things including the photo are blurred out. When you log-in and look at profiles, they won't be blurred out. We blur out sensitive information of members when we're doing our reviews. You'll be able to see everything when you search through Christian Mingle.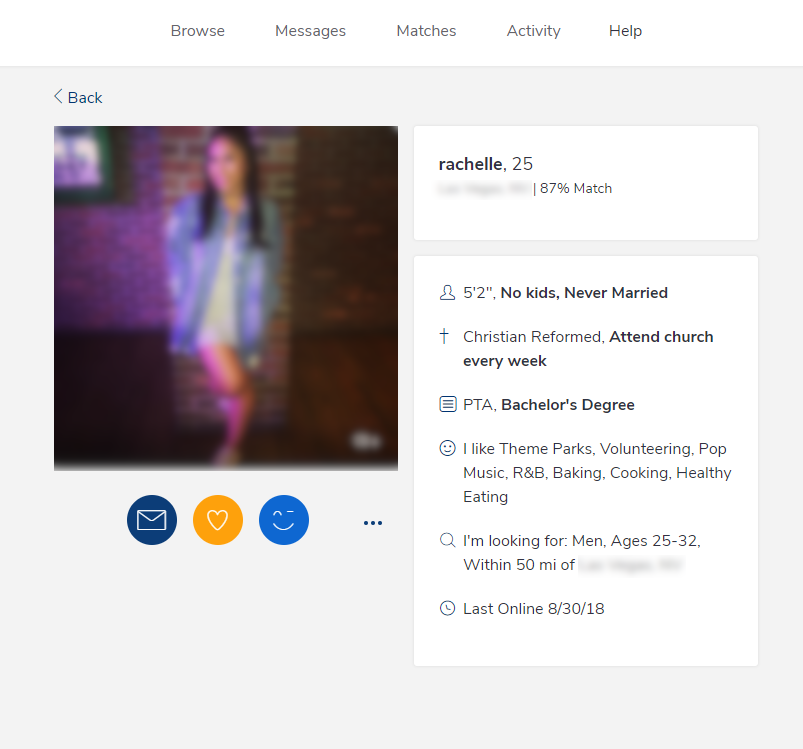 Christian Mingle takes the cake for simple design and ease of use. If you love millions of features, it might not be your favorite, but if you love simple and easy to use (as you probably should), you'll be happy at home here.
Are there any great features?
It's funny that things that could seem like negatives are actually positives. During our Christian Mingle review, we definitely thought this was the case. The site did not have as many bells and whistles as the rest of the industry and frankly, we are fan (again, a personal preference). Let's walk you through the different features they have and the one that we would like to see them add in the future.
The first thing you'll see when you log in to your account (paid or free trial) is the browse page. This is a feed style list of all of your potential matches. Here's what that looks like.
This list goes on for miles, and as you scroll down, new people are automatically shown to you. If you see a single that you're interested in, you click on them, and it takes you to their profile. There are four different options of people you can browse through under this feature.
New Members – These are going to be the newest members to join Christian Mingle.
Online Members – These are members who are actively online currently.
Distance – These are members sorted by proximity. The closer to you a member is, the higher they will show on the list.
Match % – These are the members sorted by how much they match with you based on Christian Mingle's search algorithm.
Each of these sections will react to what you set your preferences as for what you are seeking. These operate somewhat like a search function would, though, we would like to see a pure search function added one day. These browse sections make up for it, but we're picky and want our cake and to be able to eat it too.
Here are the options you have to pick what types of singles show up in your browse features. All of these search features are available with the free trial and the paid memberships.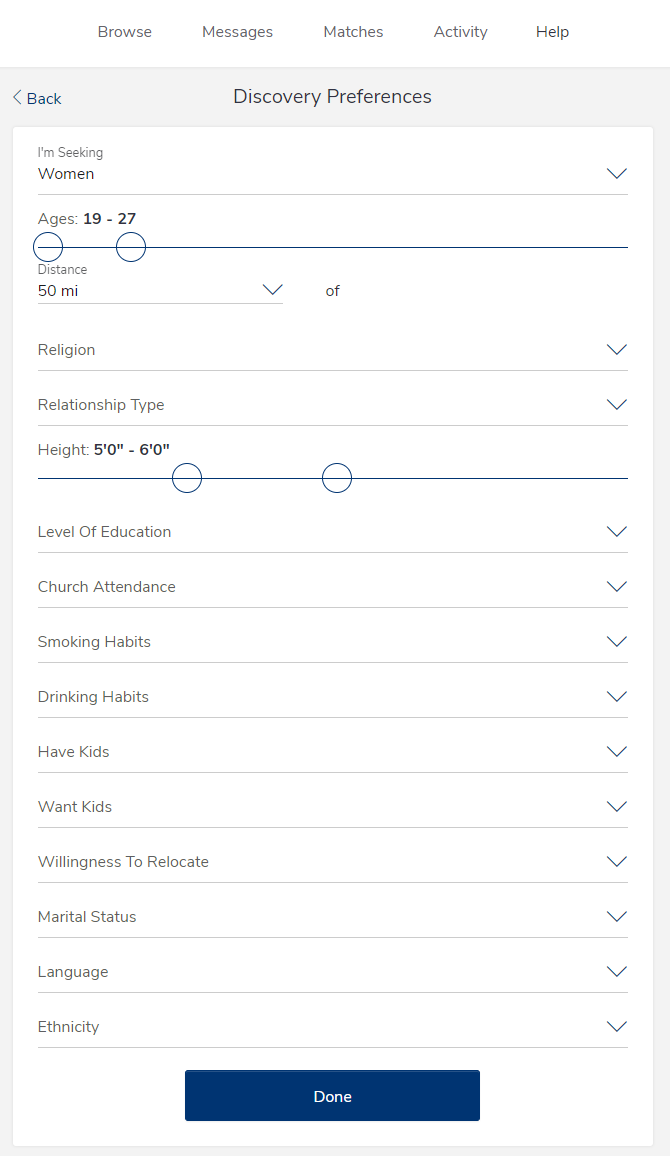 Christian Mingle also has an activity tab to show you the following information:
Which members have viewed you
Who you viewed
Who you liked or favorite
Who you have mutual likes and favorites with
Here's what that page looks like. Again, we've blurred the members because these are real live screenshots from inside Christian Mingle.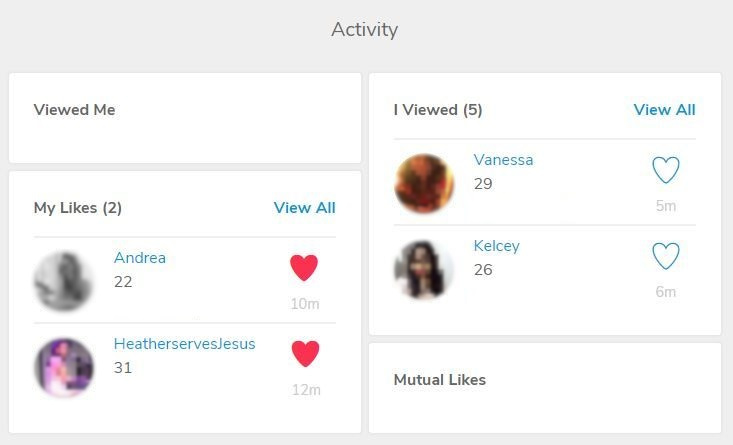 Christian Mingle LookBook
Christian Mingle has a feature known as LookBook that is a yay or nay type matching function. Basically, it operates like this—the site shows you a picture of a member with some of their basic information, and you can select if you like them or not. Your picture and info is also being shown to other people. If two singles like each other, the system will notify you both of the match. This is a great way to see some fresh faces and possibly spark up some interest with someone.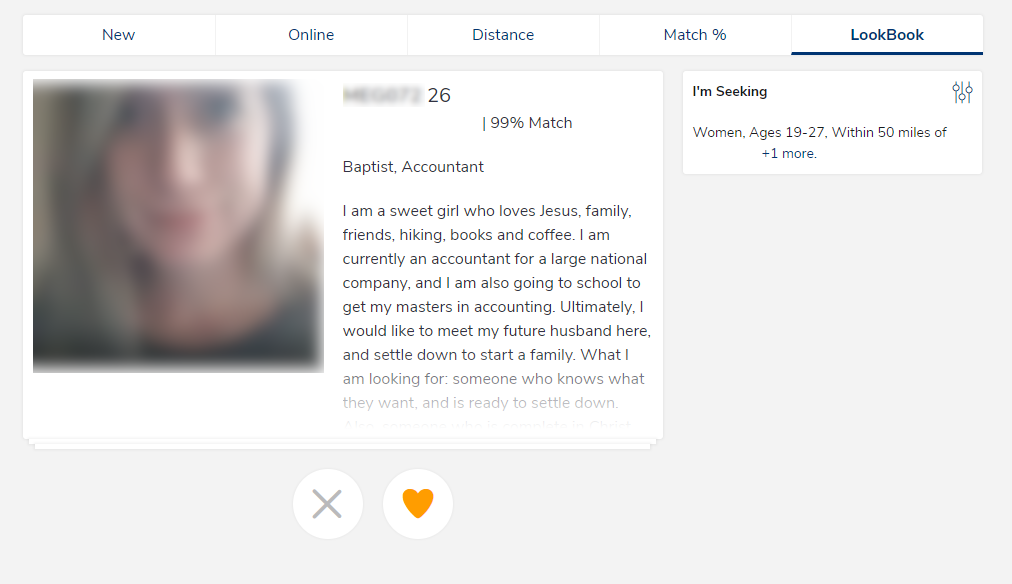 Tell me about the customer support.
Christian Mingle had an extensive FAQ section, email support, and used to have a live chat feature that looks like it was sunset sometime over the past year or so. They have all of this in a fully dedicated and easy to find help and support section of their website that you can access by clicking "Help" at the top of the screen when logged in.
We'd love to see the chat function come back and maybe even the addition of phone support. Still, the extensive FAQ is great and the "real-person" options are fairly on par with the rest of the industry.
How much does Christian Mingle Cost?
Christian Mingle memberships range from $19.99 per month to $42.99 per month and come in commitment lengths of 1 month, 3 months, or 6 months. To see a more detailed breakdown of what you get, how you can pay, and what addons are available (and at what cost), check out our list of the most recent Christian Mingle pricing.
---
Christian Mingle Alternatives
If you've stuck with us this far, you can go ahead and consider yourself a personal expert on the Christian Mingle dating app. And while we hope that it's lived up to everything you want it to be, we know that is not always the case. When it comes to dating, there isn't a one-size-fits-all for everyone.
So, what do you do if you're still interested in finding quality Christian singles but you know Christian Mingle isn't the right fit? Well, here are some alternative options that you can consider trying.
Higher Bond – This brand new Christian dating app is going to dive much more into the core of what it means to be a Christian single. Instead of the shorter and more surface-level profiles on Christian Mingle, Higher Bond vows to get deep into things to help create better and more promising matches. What's neat is if you sign up now, you'll get a 3 month premium membership completely free.
eHarmony – Upfront, eHarmony is not a Christian-only dating site, but so many people think it is which actually makes it a pretty good option! It's a more serious, real-relationship focused type dating site that tends to attract a lot of Christian singles. If you're looking for something a little deeper that's available right now (since Higher Bond isn't launching for a few weeks), maybe check out eHarmony.
Christian Café – It's a site that might not be as flashy on the surface as Christian Mingle or some of the other Christian Mingle alternatives listed here, but it's a site with a solid track record. If you can look past the older designs, Christian Café is certainly a viable option when it comes to serious Christian dating. The site also comes with a 10 day free trial where you actually get access to all of the premium features, including messages.
Christian Mingle FAQ
What is the success rate of Christian Mingle?
While they don't cite exact numbers of success, Christian Mingle does give several examples of their successful couples (and even children born!) as a result of their quality site. There are over 112 pages of success stories shared. You're bound to be successful: Christian Mingle states that they are the best place on the web to meet Christians ready for a serious relationship.
How long does Christian Mingle take to work?
Once you complete your account sign up, fill out your profile, and upload your best photos – you're ready to start meeting that special someone! So Christian Mingle doesn't take any time to work except the time you need to scroll the available singles filtered by your preferences and then contact the people you feel that you connect with. People have found their match in as little as a week and you could too!
Does Christian Mingle have fake profiles?
Christian Mingle has an active community of real people ready to meet you and doesn't appear to have any fake profiles. The singles on this dating site are genuine and looking for a God-glorifying relationship. So you're going to find a lot of interesting, REAL Christian people on this awesome dating site.
Can I get my money back if I am not satisfied with Christian Mingle?
This dating site is really great and offers a full cancellation policy with no questions asked if you are not satisfied with your membership. Simply contact Christian Mingle by the Contact Us form on the website with your request. You will not receive a refund for the current subscription term, but at least you stop any future payments.
Can you cancel Christian Mingle after a month?
Yes, while you can cancel after only one month, but unfortunately you will not receive any kind of refund for the rest of the subscription that you haven't used. Christian Mingle makes it easy to cancel and doesn't ask any questions about why you're leaving.
Does Christian Mingle have a free trial?
The Christian Mingle Free Trial membership is a great way to become a member of the community with no risk. All you need to sign up is your name and email – you don't even need a credit card.
How much is a one-month subscription to Christian Mingle?
If you're not sure you want to commit for a long time, Christian Mingle has a one-month Premium Plan for a total of $49.99 billed in one lump sum at account upgrade. Get premium features like sending and receiving messages, browsing anonymously, and seeing who's like or viewed you. Check out our full review of Christian Mingle's paid plans here.
Is the Christian Mingle dating site free?
Christian Mingle has a couple of different levels of accounts and the most basic membership is free. The Christian Mingle Free Trial is a great way to join the community and start interacting while you're making a decision about a paid membership level. Free trial members can search freely and favorite those singles you're interested in.
Does Christian Mingle have an app?
While some dating sites don't – Christian Mingle does have a mobile app so you can search on the go. The app is for Android and iOS devices and only takes a few seconds to download. You use the same login for the mobile app that you use on the regular website login.
Does Christian Mingle still exist?
This dating site definitely exists. Christian Mingle is an active community of thousands of Christian singles across the U.S. and they show regular login by their member base.
Does Christian Mingle really work?
With 112 pages of success stories and a community of over 3 million members, this dating site works better than most. The Christian Mingle name is known for connecting like-minded singles who want a God-centered relationship. This site really works to find your special someone!
How long has Christian Mingle been around?
Christian Mingle has been around for longer than most other dating sites. The website was launched in 2001 and the mobile app was launched in 2014, so it's had time to build a great community and work all of the website kinks out. Christian Mingle is the place to find your next true love.
---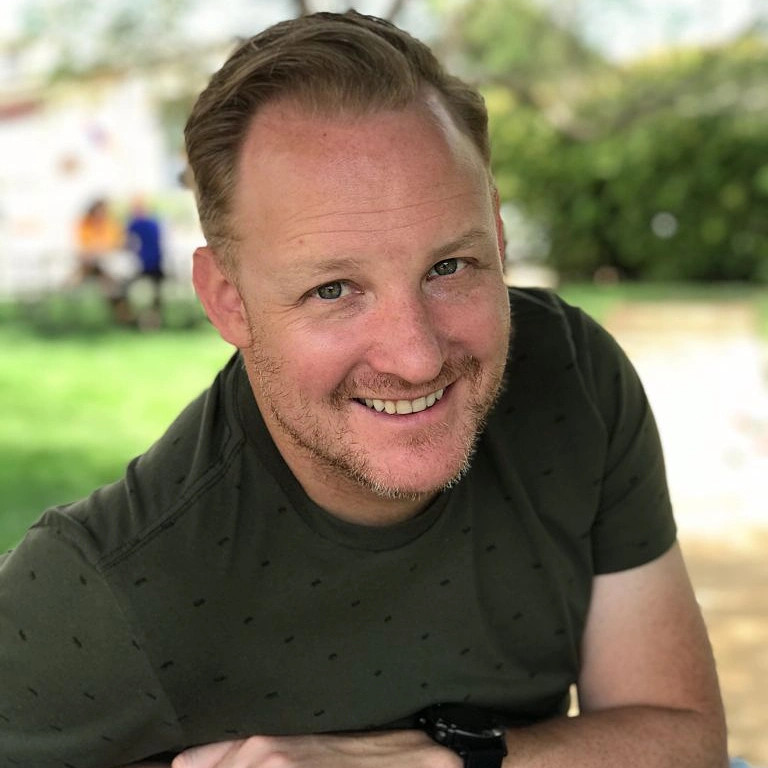 Written By: Matt Seymour
Matt Seymour is a dating industry expert with over a decade of experience coaching singles, reviewing dating apps, and analyzing trends within the industry. With a Masters of Science in Finance (MSF) degree from the University of Florida and extensive knowledge of the innerworkings of the online dating industry, Matt frequently serves in an advisory role to some of the largest dating apps on the market. In Matt's current role with Healthy Framework, he leads the interview team that regularly interviews key dating industry leaders, and leverages his financial knowledge and dating app experience to review and share what singles need to know to get the most out of dating online.