Christian Cafe Review
When it comes to Christian dating sites, there's very few names that have been around as long as Christian Café. But age doesn't automatically equal wisdom, does over two decades in the industry mean a top option for Christian Singles? During our most recent set of Christian Café reviews, that's exactly what our team set out to get to the bottom of.
In our honest Christian Café review, the team takes a look at everything from the members to the features to the cost and free trials and more, and finally, take some time to answer user questions about ChristianCafe.com. If you're ready, let's get to it!
Is Christian Café Legit? – The Bottom Line Upfront
When it comes to Christian dating sites, there's a lot to talk about with Christian Café. Some really nice positives that you won't get elsewhere, and then some things that could be approved upon. We cover the full details further down the page in our complete Christian Café review, but we'll hit the highlights here.
On the positive side, Christian Café is one of the few religious dating sites that offers a full trial of the product (linked below and above). Like, we're not talking a limited free trial. You can use the product as if you paid for it for sometimes upwards of 10 days! This is impressive. Additionally, the biggest standout right off the bat was the almost overload of positive reviews and match stories this site had. Impressive is probably the best word to describe the success rate this site has for getting Christians together. Always nice to see.
When it comes to the actual site, it does have a bit of a dated feel. The functions all work correctly, but it feels kinda' like going to your grandma's house that is very nice, but dated. If you can see past that, though, the free trial and the quality of the results are big wins.
Bottom line, we think you'd be silly not to at least give the free trial at Christian Café a try. If you find that you love it, awesome. If it's not for you, there are plenty of other great Christian dating sites you can try. But at the very least, give the trial a go.
---
Overall Christian Café Rating
| Category | Score |
| --- | --- |
| Quality Matches | 9.0/10.0 |
| Features | 7.5/10.0 |
| Ease of Use | 8.5/10.0 |
| Support | 8.5/10.0 |
| Cost | 9.5/10.0 |
| Overall | 8.5/10.0 |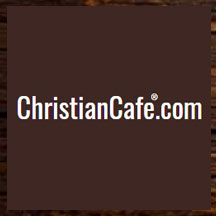 8.5/10.0
Pros and Cons of the Christian Café Dating App
Pros
Old profiles are automatically removed
Free trial includes most functionality
Extensive profile options to find better matches
Great site to find quality Christian mates
Cons
No free account option after your trial
The site's design feels outdated.
Smaller user base than mainstream options.
App doesn't offer all ChristianCafe.com features.
---
Christian Café Table of Contents
Looking for something specific? The following jump links will allow you to quickly jump through our Christian Cafe review to get the answers you need! As always feel free to contact us if you think we missed anything important while reviewing this site.
We've also provided some other related resources to help you in your search for a great Christian dating app. You can find them below:
Fast Facts About the Christian Cafe Dating Site
Site Name: christiancafe.com
Paid or Free: Full access free trial then paid
Trial Length: 10 day free (+3 if you add images)
Average Sign-Up Time: about 5 mins
Paid Membership Pricing: Rates as low as $8.33 a month.
Unique Facts About ChristianCafe.com:

60% of users are between the ages of 25 and 44.
All uploaded photos are moderated by the Christian Cafe staff.
Christian Cafe App is available on Google Play and the App Store.
Over 50,000 android users have installed the Christian Cafe App.
The app has been features by many credible sources including Focus on the Family.
Are there good, quality matches on Christian Cafe?
The number one most important question anyone has about an online dating site is whether or not they have good, quality, current matches. With less mainstream sites (niche sites like this one), it can always be a concern that traffic is non-existent or way too low. After setting up our profile to begin our Christian Cafe review, we began testing searches to see what the match traffic looked like.
With some basic parameters, our first few searches returned about 15 pages of matches which seemed pretty good off the bat. It wasn't as many matches as you might find on your mega sites, but it was definitely nothing to scoff at. Now, we all know that doesn't mean anything, though, because they could be old profiles of inactive users. This is where we saw our first big perk of Christian Café.
They remove any account that has not been active within the last three months. This means that everyone you are seeing is current and has been active within the past few months. We can't tell you how often sites show you thousands of matches, but most of them are years old. This was a big win for The Christian Café.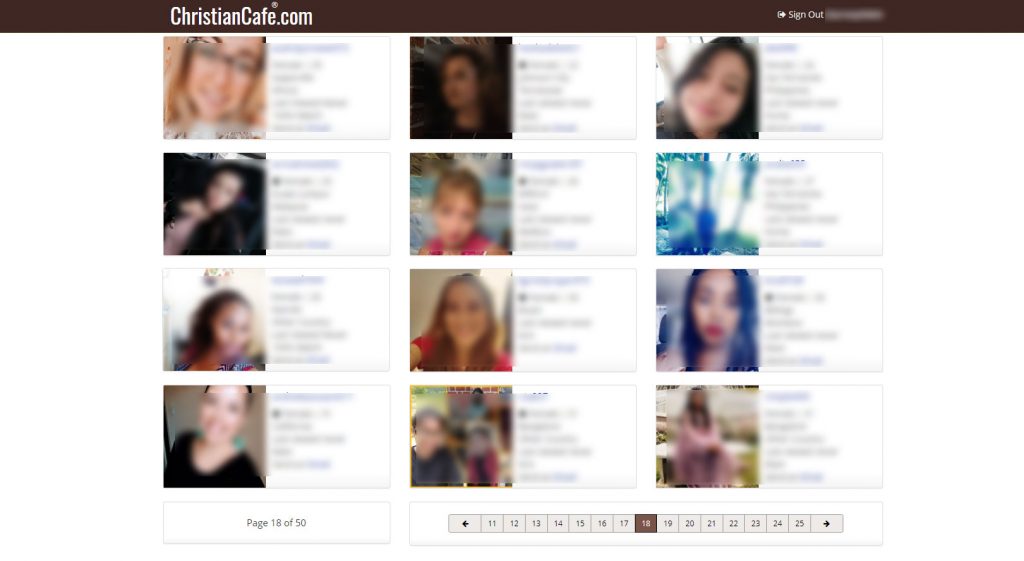 Another perk of this site is that you are required to complete your profile before you have access to the matches. This might seem like it's a bit of an annoyance (which we thought at first), but now we realize we were wrong. This actually turned out to be our favorite part of the Christian Cafe review. Because they make everyone complete their profile, every profile on the site is completed. This means that you don't have a bunch of blank profiles to sort through that are more than worthless.
On top of all of this, Christian Café will add an additional three days onto your full free trial if you upload pictures. What does this mean? This means that almost every profile on there is current, filled out completely, and has a picture. If you've been around online dating for a while, then you know this is about as rare as finding a purple unicorn.
The bottom line is this. The site had fewer matches and traffic than your mega-online dating sites, but the matches they had were quality. They were ALL current, ALL with completed profiles, and most had pictures to take advantage of the extra free days. For a niche Christian dating site, this was a huge win.
Is Christian Cafe Easy to Use?
Great matches are a huge win, but you can only take advantage of that win if the site is usable. If an online dating site is clunky, feels like it was made 10 years ago, or just lacks the necessary features to function well, you're not going to have much success dating. So, how easy is Christian Cafe to use?
The Sign-Up Process
Let's start by talking about the sign-up process on Christian Cafe. Finding where to sign up was easy as they have a big green free trial button prominently located on the homepage. For some reason, some sites like to hide the sign-up button or make it like a terrible adult scavenger hunt.
After clicking the button, the system prompts you for the following:
Username
Email Address
City
Country
Zip Code
Gender
Birth Date
It does seem like a little overkill to need city, country and zip code, but it only added a few extra seconds to the sign-up process and we;re just being picky.. Once you put all this information in, you're taken to the profile section of the site where you are asked to fill in all your general information.
Unlike a lot of sites, you are required to complete the profile information BEFORE you have any access to matches. While this may seem annoying at first for those of you that are trigger happy to get searching, it's actually a bit of a welcomed sign. This prevents the riff-raff from getting on the site which ups the flakiness factor.
During our Christian Cafe review, we took our time looking through the different profile questions they have for you. The questions are fairly straightforward. We did like the fact that they had an importance ranking attached to faith where you could choose between "It defines me," "It has a significant place," "Still trying to figure it out," and "I have faith in God." This is great because a lot of Christian dating sites online will scare people off because they feel they have to be a Super-Christian before they can join and have their entire life inline. This shows the site is accepting of all. Big positive.
Christian Cafe also says clearly that if you are legally married, they do not want you to join the site until you have that sorted out.
After completing the basic information, you're given the option to complete your profile or complete the rest later. If you click to skip, you are prompted to upload photos. If you're not ready for that yet, you can click a small button to remind you later, and you are through to the matches!
Navigating the Matches
Matches are shown in a grid format that is pretty normal for an online dating site. You have the ability to sort your results by match rank (how much they match with you), if they have a photo or not, username, gender, age, location, and if you've viewed them. These seemed to be quick links that you could sort by that didn't allow you to sort by more than one at once.
It took us a little while to locate it, but there is a search function at the top right of the screen. One perk is the site allows you to search by ALL criteria right off the bat. Some sites will allow you to do basic searches and only after you pay can you do a more advanced search.This means that during your free trial you will be able to quickly figure out if they have what you're looking for with matches or if you should try somewhere else.
Christian Cafe App Review
Let's be honest most people looking for online dating are looking for something that they can use on the go on their mobile device. So does Christian Cafe have an app? And if so is it any good?
Firstly, yes! There is a Christian Cafe app available for download for both Android and iOS users.
Christian Cafe for iOS
If you want to use the Christian Cafe app on your iPhone or other Apple device you will need iOS 8.0 or later and 9.6MB of free space. The app is also available for Mac users if you would prefer to download an app instead of using ChristianCafe.com. If that's you, you would need macOS 11.0 or later. The iOS app is currently rated 2.2 out of 5 with few reviews.
Christian Cafe for Android
The ChristianCafe app is also available on Google play and has been installed on over 50,000 devices. If you want to add to that number you'll need Android 4.1 or better and 22MB of free space on your mobile device. The app currently holds a rating of 3.3 out of 5 for Android. The majority of users feel strongly either giving it 5 stars or 1.
---
But what do we think of the Christian Cafe dating app? Well, in our opinion, the design of the app is much like the design of the Christian Cafe dating site… dated. It works and it's simple to understand, but there are definitely some more modern-looking options out there.
That being said, if tech isn't really your cup of tea, but you want to find Christian singles online then the Christian Cafe dating app could be exactly what you're looking for! It's simple, but it does the job and in a user-friendly way.
It is worth noting that not all features available on ChristianCafe.com will be available on the site. Mobile users will not have access to the prayer or forum features when using the Christian Cafe app.
ChristianCafe.com Features Breakdown
The site had a pretty good number of features that did make the experience nice. They have a lot of different matching features that help you to find people in different ways (try their Quick Match function). The one feature we wish they had was the ability to sort matches by more than one criteria. When you search you can use all of the criteria, but we were really hoping to be able to use that while we were just perusing through our matches.
Probably the most important feature that we found in our Christian Cafe review was the site has an awesome three-month removal feature. Our BIGGEST pet peeve with online dating sites is the fact that you end up seeing a lot of matches that are no longer active or haven't been for years. It's beyond annoying to think you've found the perfect person only to find out that they haven't been on the site in years and are actually already married and settled down. The Christian Cafe doesn't allow this to happen. They have a feature that removes all old accounts from the searches that haven't been active in three months.
We know we've mentioned this twice now, but it really is that cool. You can rest assured that the matches you're looking at are not off of the site and married already by the time you find them. If this doesn't scream match quality, we don't know what does.
Christian Cafe also has a TON of more in-depth questions you can answer about yourself or what you are looking for in a potential mate. While the main profile questions are mandatory to get to the matches, these are optional and can be filled out at a later time. This is great if you're looking for a quality mate. It allows you to learn so much more about each other before you choose to invest your time into taking the relationship further.
We also noticed that the site explicitly says that you cannot join if you are still currently married. While this technically is not a feature, we think it's awesome especially for a Christian dating site. Obviously, they can't enforce this in any way, but it should deter a lot of people from getting on the site that is still currently involved or married. Sadly, this is a huge problem with online dating and seeing a site like Christian Cafe try and curtail it is awesome.
Overall, our team was thoroughly pleased with the features they say during our Christian Cafe review especially the ones aimed at quality control
Christian Cafe Customer Support Review
Here are all your options for support at ChristianCafe.com:
Regarding customer support, the site wasn't as accessible as we might have hoped. By no means are we saying they are inadequate; we just had hoped to see a little more. The site has a few email addresses that you can find for offering feedback or billing issues, but no phone support or live chat. While phone and email support aren't necessarily an industry-standard in the online dating world, it's still something that we would like to see. Thankfully, from what we saw the platform is very self-explanatory, so there may not be much of a need for customer support. It is still nice to know that it is there.
The site does have social media accounts that are active that you could probably use if you needed to get in touch with someone quickly.
Pricing | How much does Christian Café cost?
| Membership Type | Monthly Price | Total Payment Cost | Current Sale |
| --- | --- | --- | --- |
| Premium - 1 Month | $39.97 | $39.97 | $5 Off |
| Premium - 3 Month | $19.99 | $59.97 | $10 Off |
| Premium - 6 Month | $16.67 | $99.97 | $10 Off |
| Premium - 1 Year | $9.99 | $119.97 | $30 Off |
One of the biggest things we always get asked about and wanted to make sure to discuss in our Christian Cafe review is the cost of a membership. Here's what we found. First, the site gives all users a free seven-day trial. You can click the link at the bottom of the page here to automatically receive the free trial.
Additionally, if you upload a photo to your dating profile, you'll receive an additional 3 days free to give you a total of 10. During your free trial, you have free reign to search and message members which is great. The only thing that you can't do is exchange personal information without a paid account. If you find a match that you want to take things further with, you will need to pay for an account.
Pricing for membership to Christian Cafe varies depending on how long you sign up for. If you sign up for one month, it's the most expensive at around $35. If you sign up for three months, it drops to under $17 per month. If you sign up for six months at this site, it drops to just over $13 a month. If you sign up for a whole year at Christian Cafe, the price drops to $8.33 per month which is about $100 for the entire year. Do note that these are all paid as a one-time payment upfront.
In relation to the rest of the industry, the pricing is great. If you can't dedicate $8 a month to finding the love of your life, it might not be the right time for you to be looking for love. Remember, you're looking for someone you will spend the rest of your life and eternity with. It's probably worth at least $8 a month 🙂
Christian Cafe Alternatives – Other Dating Apps For Christians
If you've made it this far through our review of ChristianCafe.com and still don't know if this site is for you that may be a great sign that you should weigh your other options. Below we have some links to other reviews here on our site. We've focused on brands we think serve Christian singles extraordinarily well.