eharmony Review

Is eharmony worth it? Is eharmony any good? Does eharmony even work? If you're like me (and I'm about to age myself), you grew up watching eharmony commercials as far back as the early 2000's talking about a new and innovative way to find someone to marry online. Fast-forward two decades later and we still see commercials this same dating app… except they're not a startup anymore. With over 10 million users it is now one of the biggest giants in online dating!
Couple that with claims of being the "dating app known for the most marriages" and for "helping over 2 million people find love" and you have officially piqued my interest. But again, there are those nagging questions—is eharmony worth it? Is this a dating app that you actually want to spend your time (and money) on? And even more importantly, does eharmony actually work?
That's what I plan to help you get to the bottom of in this review of eharmony. I've read hundreds of other eharmony reviews, personally tested the app extensively, and even got a chance to interview one of the company's executives! So that all said, lets get your questions about eharmony answered!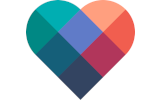 Is eharmony Actually Worth It? My Overall Conclusion
| Category | Score |
| --- | --- |
| App Store Rating | 4.0/5.0 |
| Google Play Rating | 3.1/5.0 |
| Google Play Downloads | 5 milllion+ |
| Pricing | Starts at $39.90 |
| Founded | August 2000 |
| Traffic/Users | 4.8 million monthly |
| Eharmony Review Score | 9.3/10.0 |
Here's what I found during my eharmony review.
When it comes to the quality of the eharmony dating app, it's top tier. The technology works well (bug-free), the sign-up and matchmaking processes are well thought out, and there's an abundance of singles nationwide from all walks of life. At the risk of sounding too over the top, eharmony is probably the nicest and most feature-rich dating app on the market.
The app is driven by a complex matching algorithm that helps to curate quality matches for you, which means you don't have to do any of the searching work. By sharing your answers to a pretty intensive matching questionnaire (takes about 30 minutes to complete), the algorithm uses your answers and compares it with millions of other users to find compatible matches.
That said, there are some reasons that the eharmony app might not be great for you, and there are some drawbacks you need to be aware of before making your purchasing decision. Let's dig a little deeper.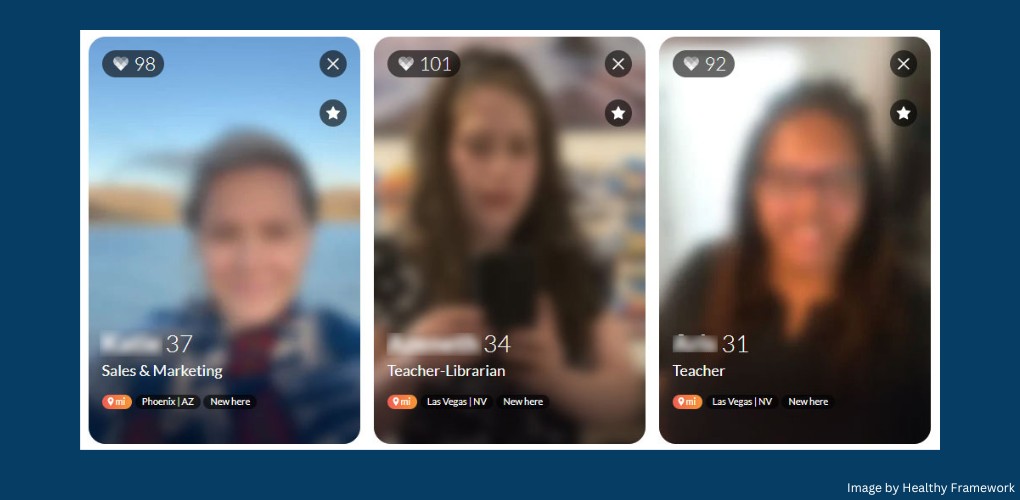 Whether you should join eharmony or not depends heavily on what type of relationship you're looking for.
If you're looking for a real relationship, potential commitment, and maybe even marriage one day, eharmony is hands-down the best option for you.
If you're looking for casual dating, hookups, or no-commitment, eharmony will be the worst experience of your life (and that is probably an understatement).
That's really what it comes down to. eharmony drives all of its marketing efforts, features, and matchmaking processes towards singles looking for real committed relationships. And they're really good at it boasting an impressive 2 million plus success stories to date.
In a recent interview I conducted with eharmony, I asked Kristen Berry, eharmony's VP of Communications and CSR if eharmony had an ideal customer. Here was her response:
"We don't have a type – eharmony members represent adults of all ages, demographics, religious beliefs and backgrounds. What our members have in common is a shared desire for meaningful relationships based on something deeper than looks, likes, and location. eharmony is passionate about creating real love for all, and that's exactly what our members are looking for."

Kristen Berry – VP of Communications and CSR at eharmony
In terms of drawbacks, there are some things you'll want to be aware of with eharmony. First, as I stated, eharmony is a hard no for anyone looking for anything resembling casual. Second, and this relates to the first, eharmony is a much bigger time commitment than pretty much any other dating app on the planet. The sign up process takes 30-45 minutes (including the eharmony matching questionnaire), the profile is a lot more robust with more areas you need to fill out, and it's not a swipe-style app where you can see your matches in 30 seconds.
What's nice, though, is that all of this gets rid of the casual singles who may be more open to playing games, but it also means you'll need to be ready to put in some effort. The good news is that you don't have to do everything all at once. You can do it incrementally, so for my final eharmony review, I'd say that the positives here far outweigh the negatives.
Pros and Cons of the eharmony Dating App
Eharmony Pros
Known as the dating app responsible for the most marriages (self proclaimed).
Patented algorithm for matchmaking responsible for 2 million+ people finding love on the site.
Well-balanced memberships base with 51% men and 49% women at the time of this eharmony review.
Great security features like SMS verification and 2FA.
Eharmony Cons
Limited free trial, but free communication weekends regularly with full access.
More expensive than some dating sites.
Not ideal for singles looking for casual dating.
Longer sign up process than many other dating apps.
Some users don't have photos on their profiles.
Often misinterpreted as a Christian-only dating app.
How does eharmony work?
While the premise of eharmony has changed over the years, it has always followed a fairly structured roadmap for users—and the same can be said today.
When you first join eharmony, you'll be asked to take the eharmony Compatibility Quiz. This is a fancy name for an extensive questionnaire asking you about yourself, what you're looking for in a partner, how you live your life, your values, and what's most important to you in life. There are even some seemingly bizarre questions asking you to look a bunch of different shapes and share which ones you like most.
This takes about 15-25 minutes to complete, but it's important as it's the basis for how matchmaking works. It took me about 40 minutes to complete, but part of that is because I was pulling screenshots and trying to do parts of it on both my phone and desktop to see if it's any different (it's not).
While you're taking this questionnaire, so are all the other users who are joining. eharmony takes your answers and the answers of other users and plugs it into their matchmaking algorithm.
From this, eharmony serves you up curated matches based on your algorithmic matching, as well as based on your matchmaking preferences. You'll actually be able to see how and to what degree you are compatible with your different matches. Here's a sample of what that will look like: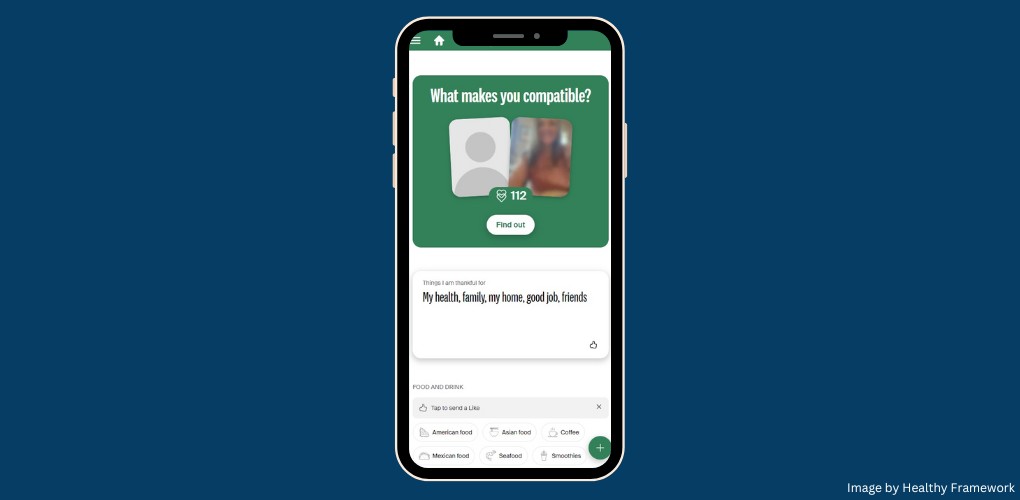 The compatibility scores of your matches will range from 60 (meaning there is a low base-level of compatibility) to 140 (meaning eHarmony's algorithm predicts you and that match would get along perfectly well). Most matches will be somewhere in the middle of that range and you'll want to poke through the specifics a bit more to see what areas you do and don't mesh. Their general advice is that matches with a score of 100 or higher are probably worth contacting.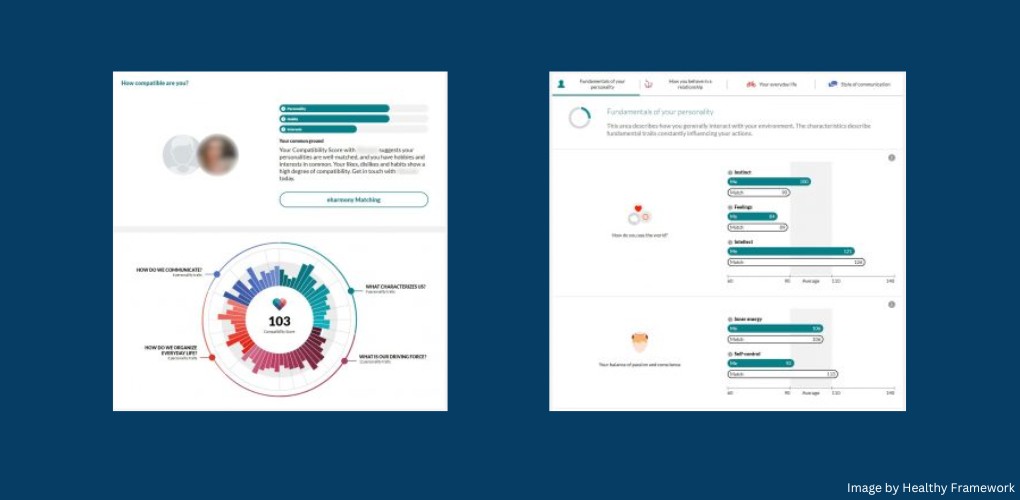 Once you've found a match you're interested in, you can send them a message and start a conversation. Beyond this point of the matchmaking process, eharmony functions quite similarly to a lot of other dating apps. You message back and forth doing your best to learn about your matches and make meaningful connections.
eharmony Has Several Notable Features Worth Checking Out
eharmony isn't over the top with the number of features it has, but the primary ones work well and again, are well thought out. If you're someone who loves a million different complex features, bells, and whistles to keep you busy, you aren't going to like eharmony. It's really about the matchmaking and doesn't have a lot of the gamification you might see with other apps like Tinder or Bumble.
Let's take a look at some of the more important and impactful features I found during my last eharmony review.
See Visitors to Your eharmony Profile
Want a surefire way to know that a match is interested in you? They have it at eharmony! The "Visitors to my profile" feature allows you to see all the latest singles that have been checking you out in a super easy to digest layout.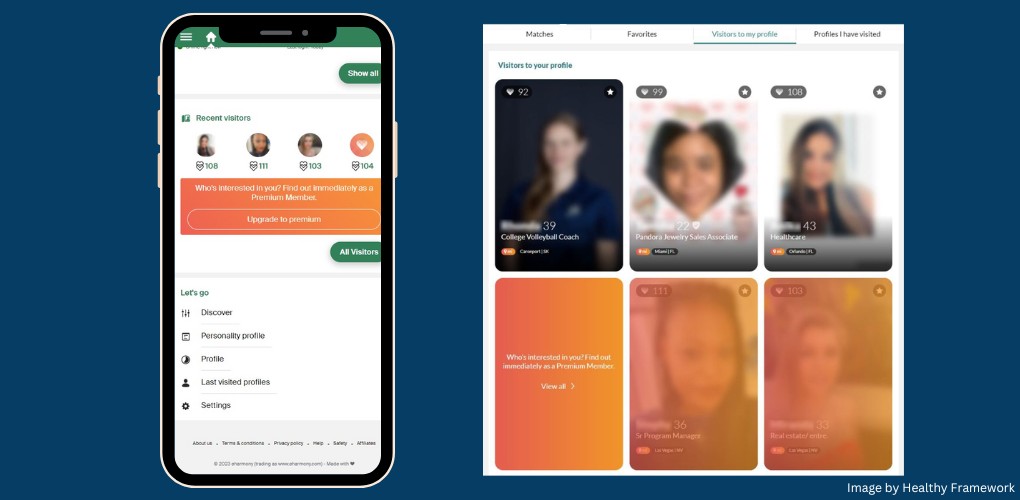 As amazing as this eharmony feature is for gauging the interest of potential matches there are some downsides. First, you'll noticed that all the images are blurred in the screenshot above. Until you upgrade to a premium membership you will find this to be the case with any and all user images on the site (it's one of the ways eharmony works to protect users).
The second downside of this feature is also only applicable to free members. As a premium eharmony users you can see anyone who's ever visited your profile giving you a ton of options. Free members on the other hand will only be able to see the profiles of the 3 most recent visitors.
In short – this is a great eharmony feature, but you have to pay up to get the most out of it.
Reviewing eharmony's Search Functionality
You may notice when you get onto eharmony that they don't have a traditional search feature. Nothing like starting the list of features with a feature they don't have, right? Instead what they do is present matches to you that they think are compatible.
eharmony really likes to be in the driver's seat when it comes to helping you pick your matches. (Imagine them like your good friend who always wants to play matchmaker, except they are professionals.)
Now, you do have the ability to search within your matches and you can change your overall preferences so see matches that fall outside of what you originally set. In a sense, this is a search function, but it's definitely not what you are traditionally used to and not the method they seem to prefer for you to use.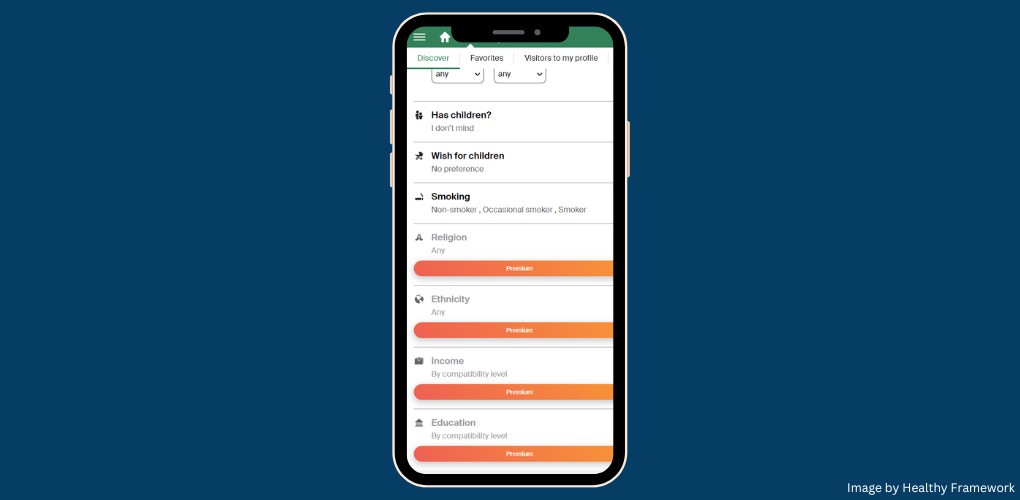 Why does eharmony have no real search feature? They do this because they want you to trust in their systems and the processes they've put in place. Let's be honest for a minute…if you're reading this review of eharmony, then you're obviously in need of some help, and this app wants to make sure that you're getting it.
They have such a high success rate with pairing up perfectly compatible people (2 million+ successful relationships) that we're totally ok with the fact that they choose to do the searching for you.
Eharmony Added SMS Verification!
eharmony has added in the ability to verify your account through an SMS text message. It's a simple process, but goes a long way to weeding out fake profiles. All you have to do is add your mobile phone number and eharmony will send you a text with a code. Once you input that code on the website or app, you are verified!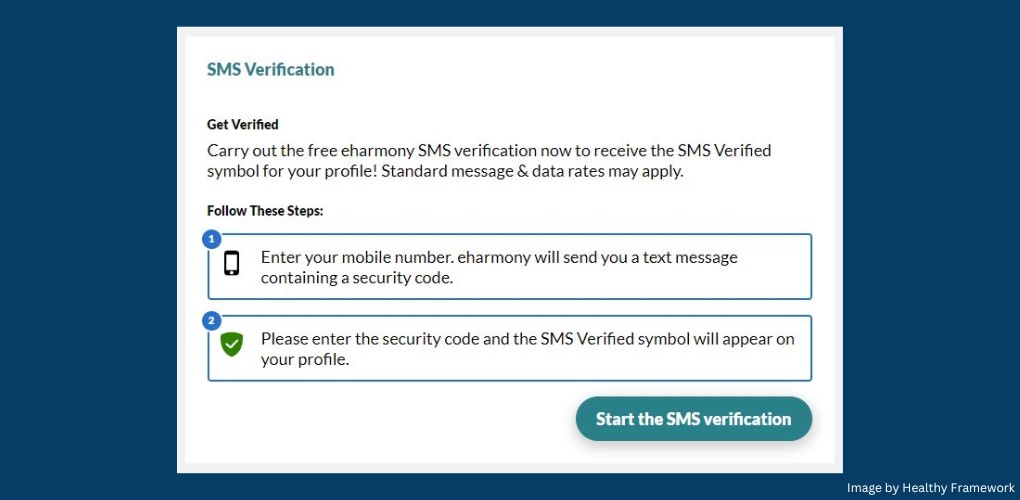 From then, you get a badge on your profile that shows you have been verified. And while this process is 100% optional, user reviews of eharmony say it certainly helps with increasing your likelihood of matches and message responses.
2 Factor Authentication
There's pretty much no reason anyone but you should be accessing your online dating account right? Well, the team at eharmony fully agree and have implemented this 2FA security feature. Anytime you (or anyone else) try to log in from a new device this will pop up: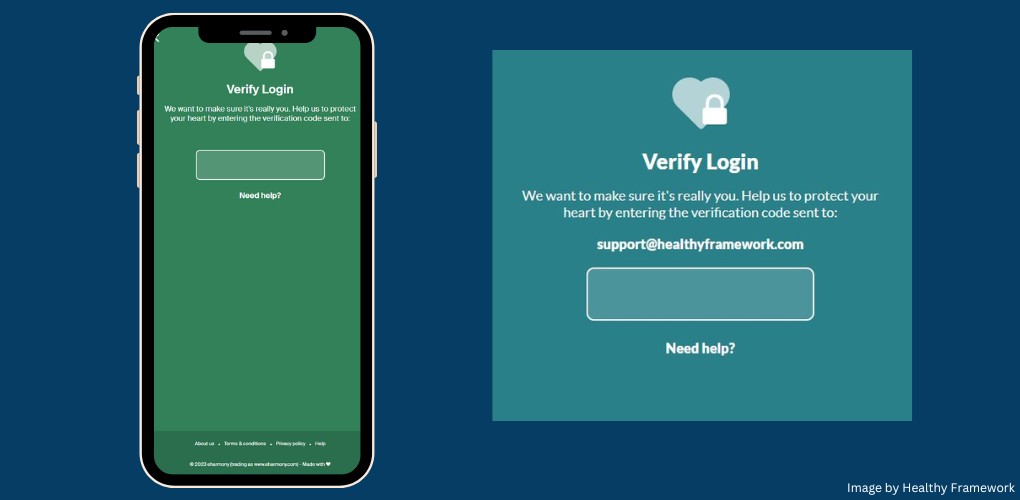 You will then need to check your email, get the 4 digit pin, and input in to gain access to the account. It is worth noting that once you've verified a device you will not have to do it every time. Unless you clear your cache one verification should do the trick, which is great for those users who love security but hate dealing with 2FA.
Protected Messaging
If you're trying eharmony as a free member you may not see this feature as a perk, but the fact remains that messaging is a feature reserved for eharmony premium members. If you get a message from a paid member on your free trial you will see something like this: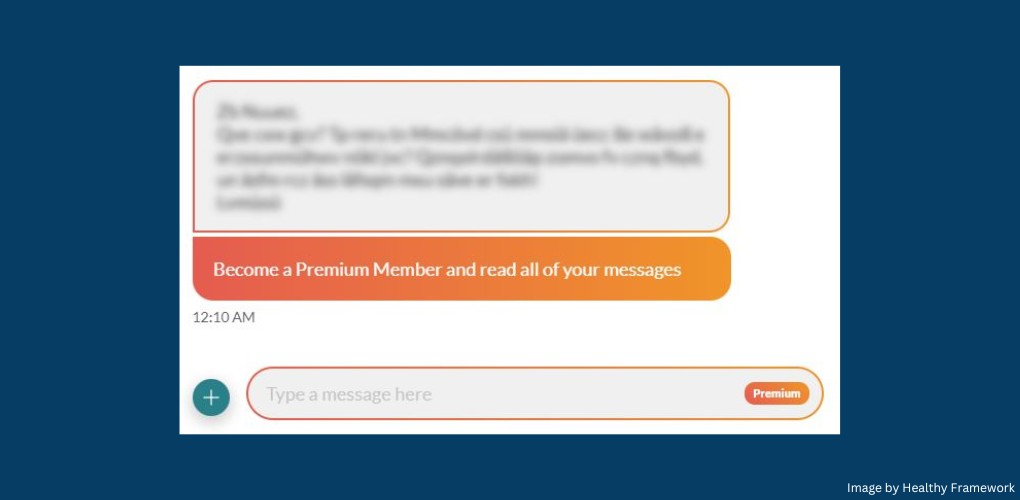 As frustrating as this may be in some cases, it goes a long way toward making eharmony one of the safest dating apps available. Only users serious enough to pay will be able to message you (which works wonders at keeping eharmony scammer and catfish free). Also, it does take money to keep a dating app running and to pay for security features and upgrades.
Eharmony Free Communication Weekends
So, you've read some eharmony reviews and you"re interested, but not quite ready to pay. Here's some great news for you, they have free communication weekends fairly regularly that will let you use a lot of the premium features for free. What I recommend is that even if you aren't planning on becoming a paid member, you should create an account just so you can be ready for one of these weekends.
During the weekend, any member of the site is free to flirt, send questions, or write messages/respond to other singles. This will let you fully review eharmony for yourself and see if it's a fit.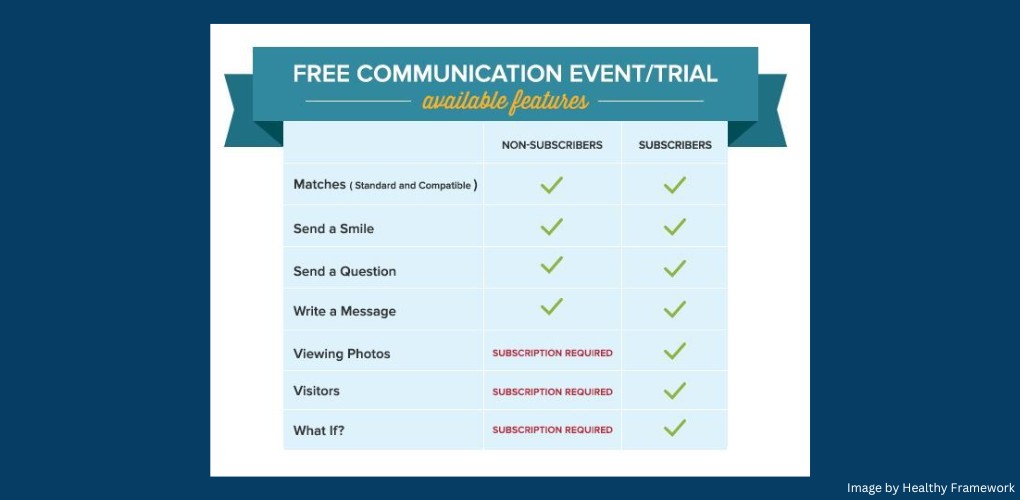 There are a few features that you won't get access to without upgrading, though. These are the ability to see who visited your profile, the "What If?" function, and the ability to see other member's photos. The last one is a bummer, but you'll still be able to interact and start getting to know other members and see if it's worth it for you to upgrade and join the site.
If you'd like to learn more or get signed up for the next free communication weekend at eharmony, we've put together a full guide with all of the important information you need to take advantage and make sure you don't miss out on this awesome feature.
Reviewing IceBreakers, Smiles, and Compliments on the eharmony App
To this point we've established that free eharmony users won't have the easiest time trying to establish contact with other members. So how can you test messaging to see if other users may be interested in chatting with you? This is where smiles, compliments, and icebreakers come in.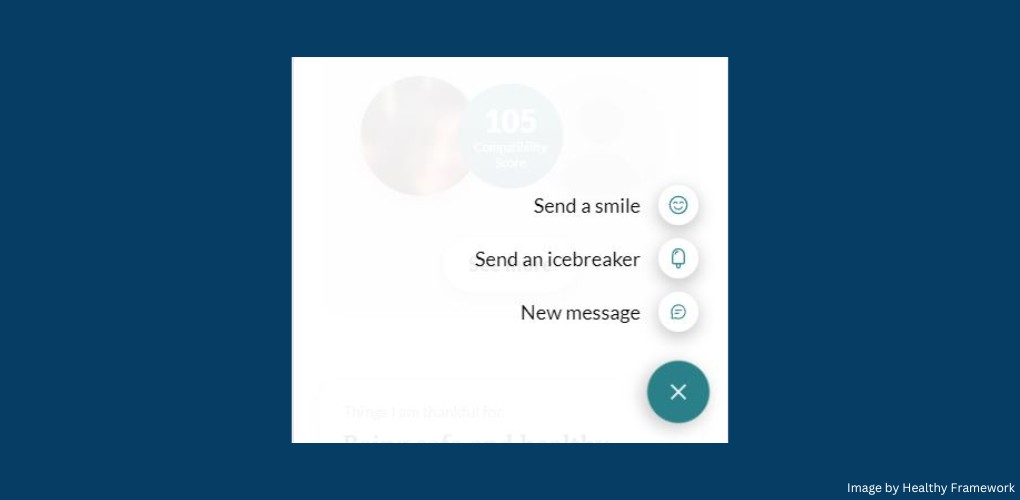 Now, compliments are the hardest of these features to find in the eharmony app's interface. In fact, if you didn't know to look for them you may not even realize they're there. If you're interested in sending a compliment you'll want to look for the thumbs up icon on your match's profile. We've included a screenshot below showing what each of these features might look like in your inbox: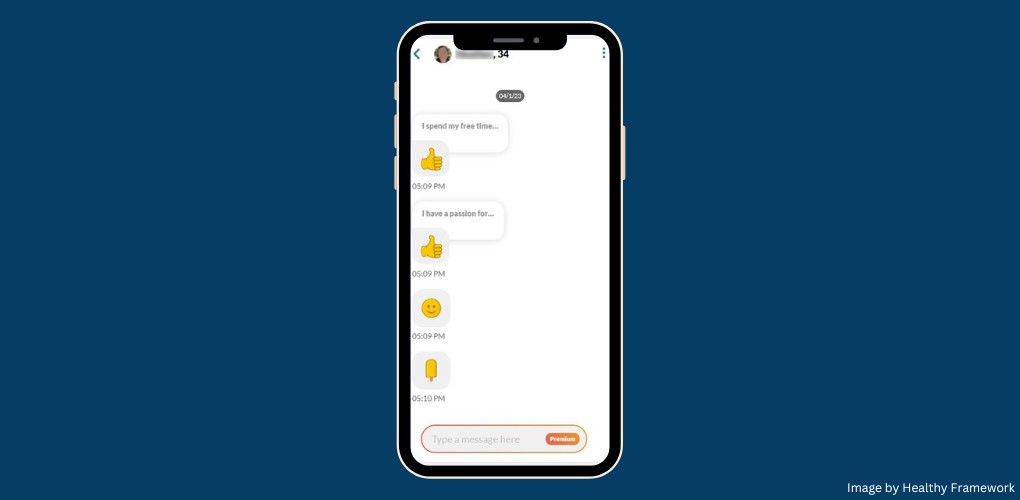 Overall I feel these work alright for just poking someone to see if they have any interest in messaging further, but would have to say they're a bit underwhelming (especially when compared to something like Higher Bond's guided first messages). While I'm not taking anything away from eharmony's tremendous success rates, I highly doubt these emojis have had much role in them.
Eharmony Profile Completeness Requirements
One of the more annoying things that can happen when using an online dating site is getting a message from an empty profile. Nothing says "Hey I'm serious about finding love" like putting no effort into your profile! Thankfully, eharmony has a feature to help curtail this.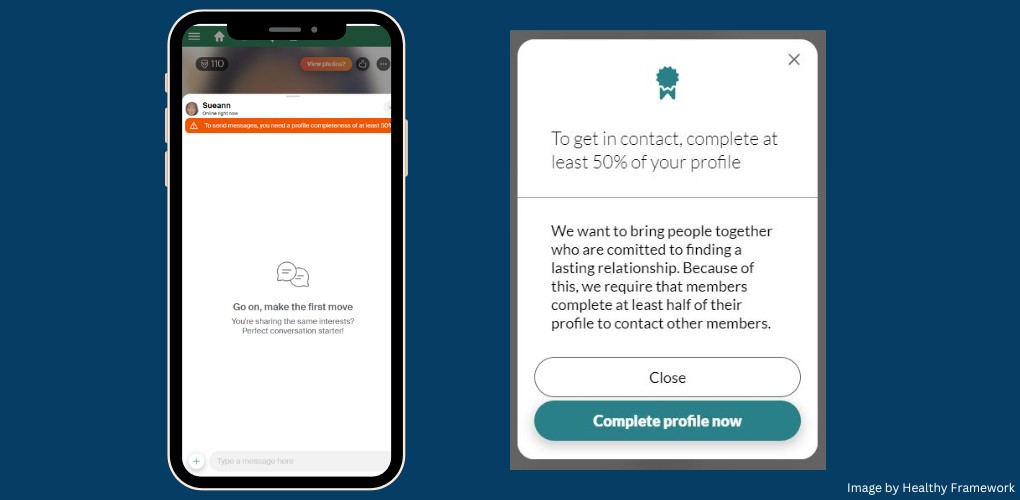 In order to be able to send or respond to a message, you have to complete at least 50% of your profile. While this can still be circumvented, it is a nice (and somewhat effective) attempt at stopping lazy messages.
Also, it's meant reiterating that there are some users on the site without photos, which always bugs us.
A Quick eharmony Pricing Review
Here's a look at exactly what it costs to get a membership at the time of this 2023 eharmony review.
| Membership Type | Membership Length | Membership Cost |
| --- | --- | --- |
| Premium Light | 6 Months | $65.90 per month |
| Premium Plus | 12 Months | $45.90 per month |
| Premium Extra | 24 Months | $35.90 per month |
(In the past eharmony reviews, there were different types of memberships that offered different levels of service. Now, though, all of the memberships offer the same features.)
It's important to point out that eharmony offers discounts and sales year round on most of their memberships. But, here's the secret! The only way to see these sales is by creating a free trial account. Once you do that and log into your account, you'll see what current offers the eharmony app is pushing. Often, this can be upwards of 60% off or more in some instances!
For example, here's the pricing discount I saw the last time I logged into to update this eharmony review. You'll notice that there is a hefty 60% discount on the 12 month and 24 months plans.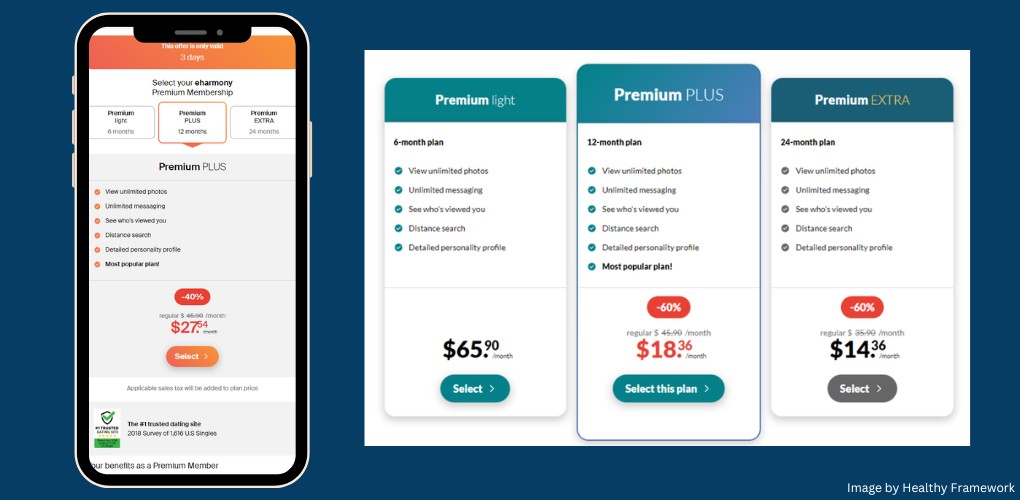 To learn more about pricing, check out our in-depth eharmony cost guide.
Reviewing eharmony Complaints from Users
If you've read my review of eharmony to this point, then you probably know I'm a fairly big fan of what the app has to offer… but, you can't please everyone. And when reviewing eharmony, other dating apps… or anything really… it's important to look at both sides of the argument. One area I like to look is if there are any eharmony complaints from existing users out there. Often, these get emailed to me, and I wanted to share a few here.
Here are some eharmony complaints that I've been emailed:
User "iclough" says, "How do you allow accounts without pictures? I have said hello to people and they don't respond one way or the other. They should have to either respond and say not interested or something like that or they should delete the match and not leave someone hanging. When I asked for help they implied it's my fault for not being flexible in my choices or not reaching out."
Deb says, "Eharmony absolutely needs to be completely removed from your article! NO way in heck are they the #1 dating site. My nicknames for them are E-UNharmonious, and E-harmful."
Sandra L. says, "They (eharmony) have changed quite a bit since the founder stepped out. In their profile suggestions they say not to mention God. They say, separation of church and state. When I fill in the questionnaire the only questions about spirituality were to check off my religion."
Charles J. says, "I would like to tell you that my experience with eharmony was extremely negative. They do not take faith into their matching process or 29 points of comparability nor political views. Therefore I was matched with atheist liberal/progressives that I wouldnt have lasted 5 seconds with. Half the matches have no photos and all of this I pointed out to them. On top of that I was spoken to rudely by a potential match essentially accusing me of catfishing. Sorry I look much younger than my age but it was no excuse. I would not recommend eharmony to anyone."
Patti says, "People should be warned that many of the people on the site are predators who eHarmony EVENTUALLY even weeds out as being fraudulent. This would be after spending hours of dialoguing with a person you thought was real and then feeling like a total idiot.
Some other eharmony reviews from users talked about the price being expensive, not realizing that the entire membership is charged upfront or that eharmony has a fairly strict refund policy (which they do share before you sign up).
Again, these eharmony complaints do not necessarily represent my views and very well may be factually inaccurate as they are just the views of the commenters that contacted me. Additionally, you'll notice that some of the complaints could also be construed as positives. For example, one user does complain about bad actors, but then also talks about how eharmony does weed them out. So, a negative at first, but a positive showing the company is proactively working on this.
If you'd like to share your experience with me or eharmony reviews (positive or negative), please send our team an email.
eharmony Alternatives Worth Considering
While I am super high on the eharmony app as a great choice for serious singles, it might not be the right fit for everyone—and that's okay. If you're still on the search for someone special, I wanted to share some other eharmony options you may want to consider. I've linked below to my review of each dating app as well as shared who I think each is best for.

eharmony Review FAQ
What is eharmony?
eharmony is an online dating website and app that predominantly markets to single men and women who are looking for serious relationships, committed partnerships, and potentially marriage. While many people think that eharmony is strictly a Christian marriage site, it's actually a secular dating site that caters to all religions, age groups, and sexual orientations.
After reviewing eharmony I can say it is not:
An exclusive Christian dating site.
Only for people who want to get married right away.
A dating site for people looking for hookups.
A low-budget online dating site.
How do I contact eharmony?
Within the FAQ section of eharmony, if you click on a question and scroll to the bottom, you'll find an email and phone support option. I would have liked to see these more prominently posted somewhere, but it's clear they are trying to get people to use the FAQ support first. So, if you need help, go the FAQ section, click on a question and scroll to the bottom. You'll see the link for email support.
Here is an additional means of contact we found reviewing the eharmony dating site:
eharmony Phone: 844-544-3173
eharmony Customer Support Hours of Operation: 8 A.M. to 5 P.M. PT, Monday – Saturday
Is eharmony a Christian dating site?
Questions I hear a lot are whether eharmony is for Christians or if eharmony is a Christian dating site? Let's answer both questions starting with the second one. No, eharmony is not a Christian dating site. However, so many people believe that it is due to the more serious nature of the app's approach. What this results in is eharmony attracts a lot of single Christians even though it's not a faith-focused dating app.
The reason for this belief is that eharmony was founded by Dr. Neil Warren who is an evangelical Christian. While the site wasn't created to be Christian, you can imagine how a lot of his beliefs were included in some of the setup and processes. In 2016, Dr. Warren stepped down from the company.
So, no at the time of this eharmony review it is not a dedicated Christian dating app, but it's a great site for Christian singles. You will find people of other faiths (or who aren't religious on the site), but you'll also find plenty of single men and women looking for religious-focused dating. And the site does come with some great features that will help you to quickly sort through your matches to find people who fit what you're looking for.
For those of you interested in a 100% faith-focused app, you can always check out our list of the top Christian dating apps.
When was eharmony founded?
eharmony was founded in August of 2000 in Pasadena, California by Neil Clark Warren and Greg Forgatch. As the company crosses the two-decade mark in business, its operations have moved to its new headquarters in Los Angeles, CA. In 2017, eharmony was acquired by ProSiebenSat.1 Media, a German company for the adjusted enterprise value of a whopping $85 million.
Since it's founding in 2000 up until current, eharmony has remained a privately owned company and is not publicly or privately traded on any major stock exchanges. Due to the company's private ownership, the availability of user data and information on growth is a bit more challenging to find as there is no requirement to make anything public.
How long does eharmony take to work?
The speed you fill out your sign-up questionnaire and how active of a user you are will have a big effect on how long things take to work. Unlike some dating sites that turn you lose to the full list of singles, eharmony follows a more structured approach. This means you may see options slower, but the quality of options will be better, and you should get better results.
Does eharmony have fake profiles in 2023?
eharmony has a dedicated security team that works around the clock to remove and weed out any fake profiles that might try and make it onto the site. Obviously, there will be some that slip through the cracks, but because of the intricate and in-depth sign-up process, there are fewer fake profiles at eharmony than at other dating sites.
Can you cancel eharmony after a month?
You're able to cancel your eharmony dating account at any time. However, you won't get a refund, and your account will stay active for the duration of the time you paid for. You won't have to pay ever again, though, once you cancel.
Is the eharmony dating site free?
No, but there eharmony does offer a free trial! The eharmony free trial is available to daters anywhere around the globe. You'll get unlimited time to upload profile photos, fill out your information, complete the matching tests and questionnaires, see other singles, and get acquainted with the software
For full access, though, you will need to pay for an upgraded membership.
Does eharmony have an app?
Yes! While reviewing eharmony I found a fully functional dating app available for iOS (iPhone) and Android users. The apps can be downloaded through the free trial links on this page or through your device's app store.
Does eharmony work?
According to eharmony, over 2 million people have found love through the website and app. They also claim that over 2.3 million messages are sent out weekly. If you ask me, those are great enough success rates to say yes, eharmony really works.
Why Trust This eharmony Review? – My Process to Review eharmony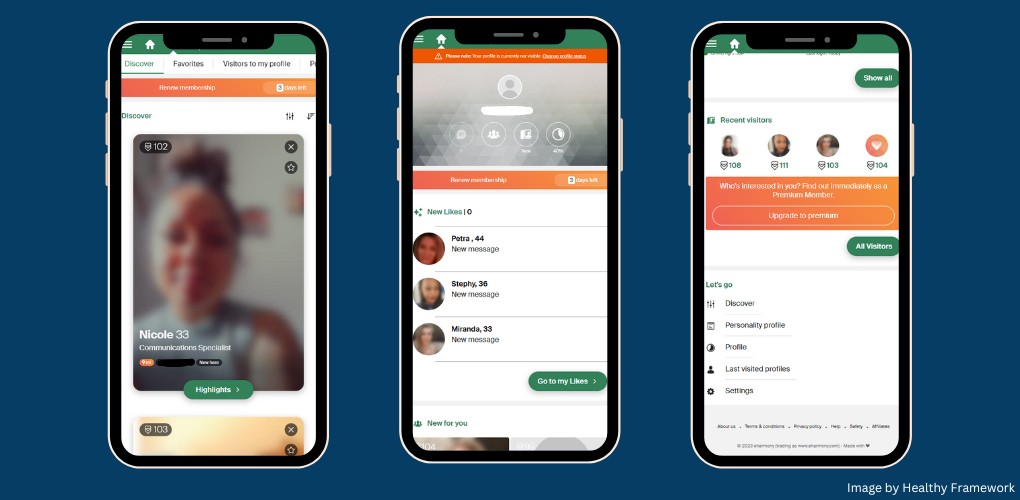 For transparency, I want to be super clear about how I got my information and my eharmony review conclusions.
First, I actually signed up for a premium account and used both the iOS app and the desktop version of eharmony (I don't have an Android, so I didn't test that version but friends tell me it's basically the same). I rigorously tested eharmony on both platforms when I first wrote this review and I make sure to get back on every few months to see if anything is changed and record the updates here.
From there, I started looking for real people and hearing what they had to say about eharmony. For years I've been scouring forums, reading emails from Healthy Framework readers, and comparing countless other user reviews of eharmony to my own experiences on the app (This is something I still do!).
Next I actually set up an interview with the company to get their side of the story. I got the chance to interview Kristen Berry, the VP of Communications and CSR for eharmony. It was an insightful interview and revealed some direct from the source info you won't find in other eharmony reviews out there.
After the interview, I compiled all of this info and it gave me the recipe for what I believe to be the most complete and well-researched review of eharmony anywhere online. I hope has helped and I thank you for reading!
---
---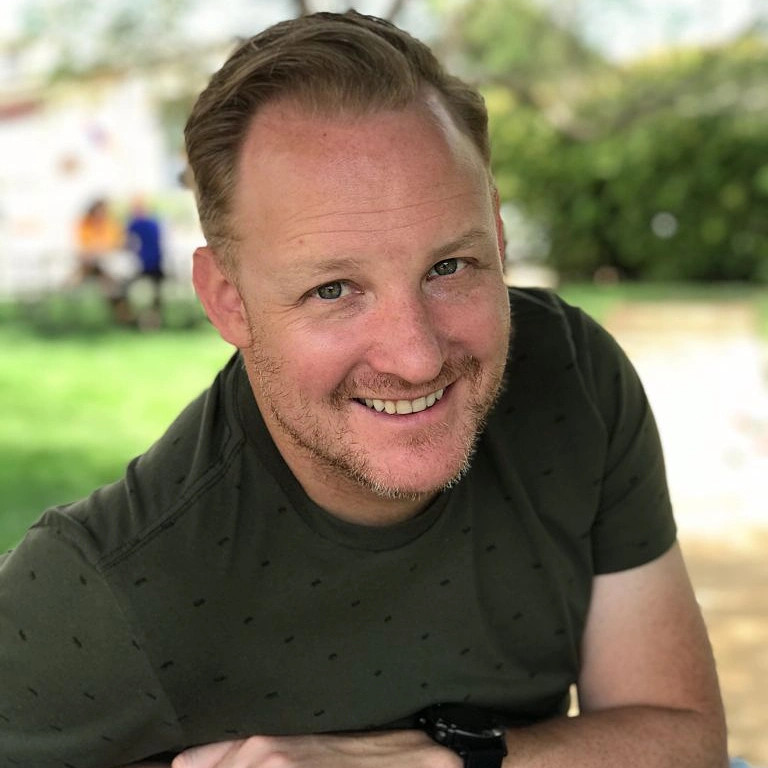 Written By: Matt Seymour
Matt Seymour is a dating industry expert with over a decade of experience coaching singles, reviewing dating apps, and analyzing trends within the industry. With a Masters of Science in Finance (MSF) degree from the University of Florida and extensive knowledge of the innerworkings of the online dating industry, Matt frequently serves in an advisory role to some of the largest dating apps on the market. In Matt's current role with Healthy Framework, he leads the interview team that regularly interviews key dating industry leaders, and leverages his financial knowledge and dating app experience to review and share what singles need to know to get the most out of dating online.