eharmony Pricing
eHarmony is a premiere online dating site boasting over 2 million people finding love and a new match being made every 14 minutes! But how much does eHarmony cost? Is eHarmony expensive? Is the price worth the features you're getting?
Unfortunately, most online dating apps don't share their pricing models publicly until after you sign up. That's where we come in! Our team keeps an updated record of the price of every eHarmony membership and what features you get.
Here is the updated pricing for eHarmony in the United States, United Kingdom, Canada, and Australia.
eHarmony Cost for Premium Memberships in the US
| Membership Type | Membership Length | Membership Cost |
| --- | --- | --- |
| Premium Light | 6 Months | $65.90 per month |
| Premium Plus | 12 Months | $45.90 per month |
| Premium Extra | 24 Months | $35.90 per month |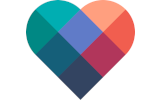 *** eHarmony frequently runs sales for as much as 50-60% off that are ONLY shown to you once you create a free trial account.
---
eHarmony Cost for Premium Memberships in Canada
| Membership Type | Membership Length | Membership Cost |
| --- | --- | --- |
| Premium Light | 6 Months | $49.90 CAD per month |
| Premium Plus | 12 Months | $35.90 CAD per month |
| Premium Extra | 24 Months | $25.90 CAD per month |
Compared with the US, Canadians are getting a bit of a discount at around 40% for all memberships. This will also fluctuate with the exchange rates, but something interesting to note. If you're interested in giving
---
eHarmony Cost for Premium Memberships in Australia
| Membership Type | Membership Length | Membership Cost |
| --- | --- | --- |
| Premium Light | 6 Months | $49.90 AUD per month |
| Premium Plus | 12 Months | $35.90 AUD per month |
| Premium Extra | 24 Months | $25.90 AUD per month |
When you look at these prices, you'll notice they're right on part with those of Canada at first glance. However, when you factor in exchange rates, Australians are getting the best deal on eHarmony with small savings over the Canadian market and significant savings over the US markets.
---
What You Should Know About eHarmony Pricing
In the US, the pricing of eHarmony memberships ranges from $35.90 to $65.90 per month, with term length options from six months to two years.
In the past, there were several different eHarmony plans to choose from that each came with a different set of features. However, over the past few years, eHarmony slowly phased out that variable feature plans and replaced them with a single plan option that comes with all of the available features. There is no longer an "edge" to those that choose to pay additional money.
What you will find are three premium plans you can choose from if you decide to upgrade. The only differences between these plans are how long you are committing for and what you are going to pay. The longer the term you choose to commit to, the lower your monthly cost will be.
Each plan comes with the option of paying all subscription fees upfront as a lump sum, as two equal payments, as three equal payments, and now (as of July 2020) as four equal payments. These payment options are available with all three plans.
Additionally, it's important to note there are no savings benefits by choosing the lump sum or any of the other three options. You will pay the exact same amount with each method. Choose the method that fits your finances best.
Here's a quick breakdown of the exact pricing and payment options for each of eHarmony's premium plans.
Premium Light Membership: 6-Month Plan
$65.90 per month
4 payment options:

Option 1: Four payments of $98.85
Option 2: Three payments of $131.80
Option 3: Two payments of $197.70
Option 4: $395.40 total upfront
Premium Plus Membership: 12-Month Plan
$45.90 per month
4 payment options:

Option 1: Four payments of $120.49
Option 2: Three payments of $160.65
Option 3: Two payments of $240.98
Option 4: $481.95 total upfront
Premium Extra Membership: 24-Month Plan
$35.90 per month
4 payment options:

Option 1: Four payments of $201.93
Option 2: Three payments of $269.25
Option 3: Two payments of $403.88
Option 4: $807.75 total upfront
Is It Worth Paying for eHarmony?
The million-dollar question is whether or not the eHarmony cost is worth it. At first glance, you might think that eHarmony is a bit too expensive and you'll be tempted to go with one of the cheaper options available.
The thing with online dating that you have to remember is this. You are going to get what you pay for. While this is not 100% true across the board, it's a good rule of thumb that is correct most of the time. And with the cost of eHarmony? It's 100% the case.
Cheaper and even free sites are going to be filled with a lot of garbage. More expensive sites do a great job of weeding out the riff-raff and allowing the quality singles to rise to the top.
With a site like eHarmony, people have to fill out an extensive profile before joining and pay a slightly higher rate to join. These act as a filter for quality and a barrier to entry. The people that are flaky and aren't as invested in the process aren't going to take the time to fill out their profiles or pay the membership cost.
This should be a big win for you. eHarmony is notoriously known in the industry for having some of the highest quality matches, the best matching algorithms and systems, and the most serious daters who are looking for something long term. All of these together are a recipe for an insanely successful online dating site.
The bottom line is that yes, the eHarmony cost for a membership is a bit more than some other sites, but you're going to be pleased with the quality that you find. Remember, you're not looking for a new pair of pants or a new gym. You're looking for someone that you're going to potentially fall in love with and potentially spend the rest of your life with.
If that's not worth a few extra bucks to you for a couple of months, you may want to check on your priorities before you start dating.
Sales, Discounts, Free Trials, and Promotions
eHarmony does frequently run sales on their memberships. Sometimes the sale is for one membership level, and at some times, it is for every membership they have available. Literally, every time we've checked there has been a 50% off deal for new customers that's available for about 40 hours after your initial sign up. The deal takes 50% off the first three months of every plan, and then the plan converts to the normal pricing listed in the chart above.
Here are the total cost amounts as well as what the payment installments would look like for each plan with the 50% off deal for the first three months applied.
Remember, these deals are only posted and shown once you create a free trial account.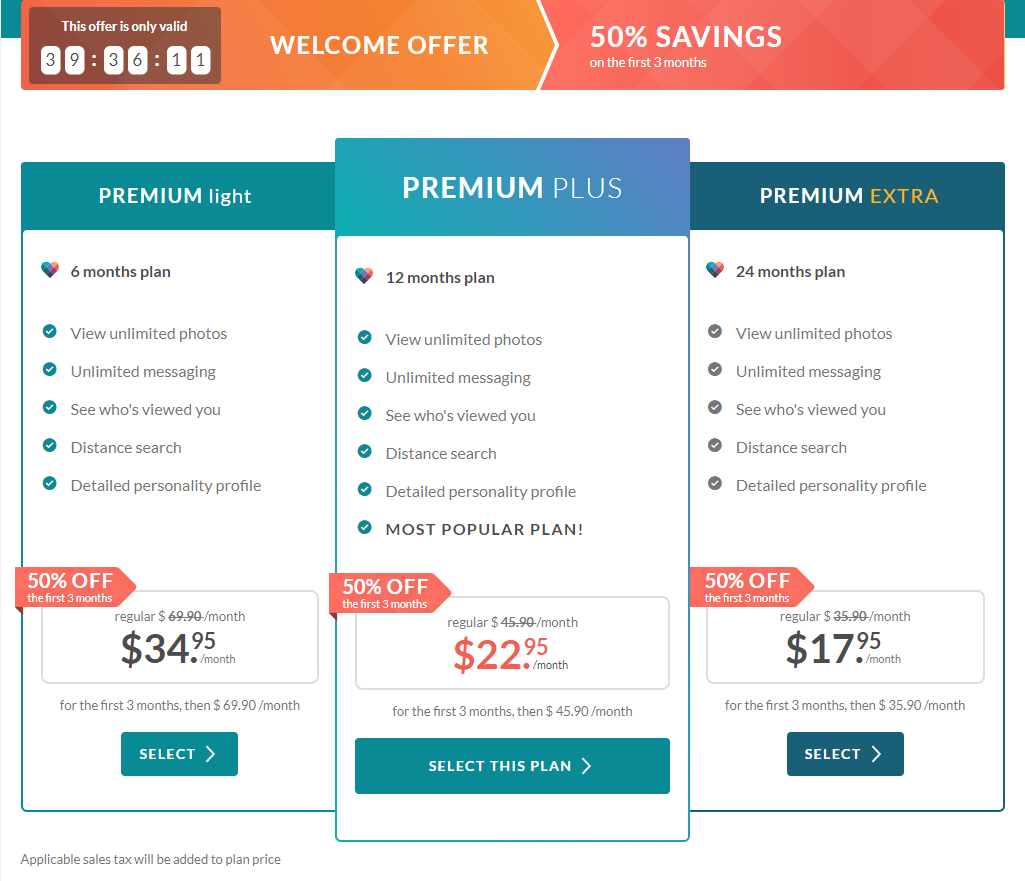 eHarmony Cost FAQ
What payment options does eHarmony accept?
Memberships may be purchase with a major credit card, debit card, or through the e-wallet PayPal. Credit cards accepted include VISA, AMEX, Discover, and MasterCard. There are no discounts or changes in pricing depending on which option you use.
Can you use eHarmony for free?
Yes, you can get a free trial account to check out eHarmony. You'll get preliminary access to some of the features and the profiles of your matches. However, you won't be able to send messages or see your match's pictures (they will be blurred).
Do eHarmony memberships auto-renew?
Yes, all eHarmony plans are set up to auto-renew, though, you can easily turn this off and still enjoy the rest of the time that you've paid for. Something interesting we uncovered is that all three plans may renew at a different rate than what you purchased. Each plan (no matter the length you selected) will renew annually to a 12 month plan. But the price on each 12 month plan is going to be significantly different.
6-month eHarmony memberships renew at a price of $790.80 for a 12-month term
12-month eHarmony memberships renew at a price of $550.80 for a 12-month term
24-month eHarmony memberships renew at a price of $430.80 for a 12-month term
What's the takeaway here? If you purchase the 6-month plan, you're better off cancelling initially and signing back up again. Your information and profile will be saved, but you can get a much better annual rate.
Additionally, contacting customer support near your renewal date might be smart as they may be able to work with you if you point out this information. Don't wait until the last minute, but reach out a few weeks ahead of time.
Can I get a refund from eHarmony?
According to eHarmony's Terms of Service, yes, you can get a refund within 3 days of purchasing a membership. You have until midnight of the third business day following purchase, excluding Sundays and holidays. You'll need to contact [email protected] or mail in a letter to the company's cancellation department. You can also try using the chat functions to process a refund, but be aware that agents aren't available 24/7.
If you purchased your eHarmony membership through the Apple iOS store, cancellations and refunds need to be processed through Apple directly.
Also, if you incur some form of disability that makes it impossible for you to use the service, there are options available. We advise contacting eHarmony directly in those scenarios.
---
---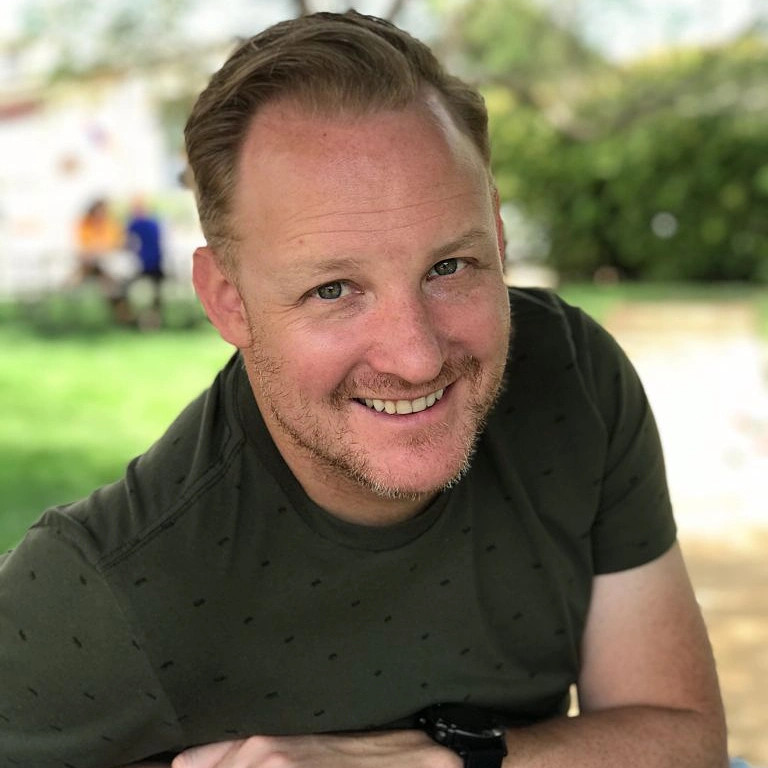 Written By: Matt Seymour
Matt Seymour is a dating industry expert with over a decade of experience coaching singles, reviewing dating apps, and analyzing trends within the industry. With a Masters of Science in Finance (MSF) degree from the University of Florida and extensive knowledge of the innerworkings of the online dating industry, Matt frequently serves in an advisory role to some of the largest dating apps on the market. In Matt's current role with Healthy Framework, he leads the interview team that regularly interviews key dating industry leaders, and leverages his financial knowledge and dating app experience to review and share what singles need to know to get the most out of dating online.