InternationalCupid Review
Back in the old days, you needed lots of money, a passport, and tons of vacation time to meet a partner overseas. These days, you can hop on an international dating app and let it do most of the work for you. InternationalCupid is one of the oldest and most well-known apps in that category, but will it help you find your perfect match?
InternationalCupid states that thousands of people have found their soulmates on the site, and we decided to put it to the test to see if it really works. After spending a week chatting with members and using the features, we're ready to give you the details in our review of InternationalCupid.
Overall InternationalCupid Review Rating
| Category | Score |
| --- | --- |
| Active Users | Approx. 4 million |
| App Store Rating | N/A |
| Google Play Rating | 4.4/5.0 |
| Online Since | 2004 |
| Starting Cost | $13.75 a month |
| Overall | 7.3/10.0 |
7.3/10.0
---
Is InternationalCupid Worth It? – The Bottom Line Up Front
InternationalCupid takes a pretty basic approach to matching members around the world. Instead of having members complete long personality tests, the site provides users with over 30 search filters they can use to set their match criteria. The combination of a high-quality membership base and robust search filters works well – but you'll probably have to upgrade to a membership to see results.
That being said, free accounts are a good way to get acquainted with the site, even with the limitations. With a Standard account, you can only:
Use over 30 search filters to set your match preferences
Browse profiles
Like and favorite profiles
Communicate with paying members
Send messages
While Standard members can send messages, they won't be able to reply unless communicating with a premium subscriber. After receiving 35 messages in 48 hours, we saw this problem first-hand when all but five were hidden behind a paywall.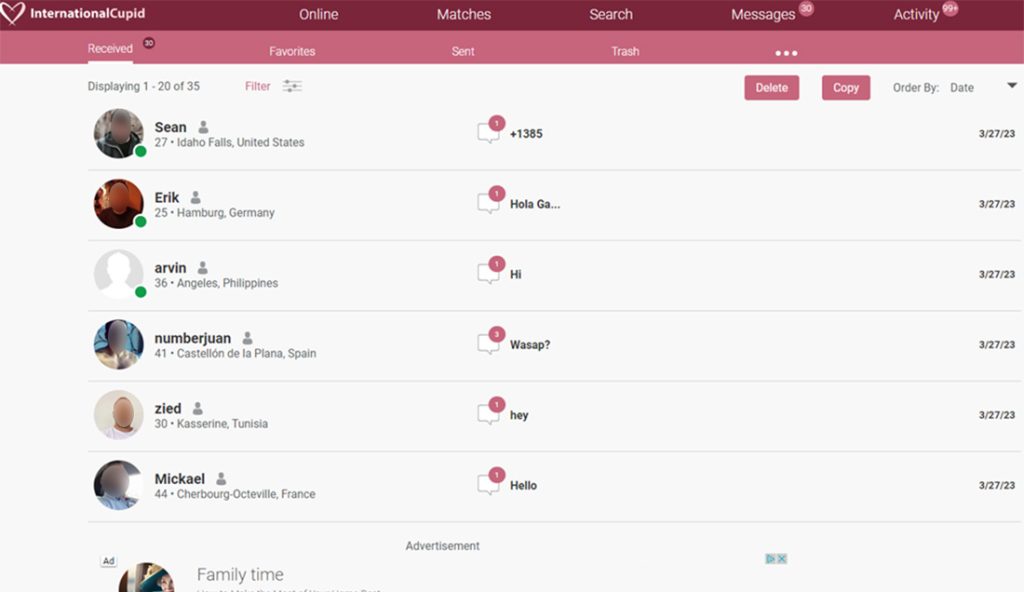 That was frustrating, but we were still impressed with the messages we could see. The premium members who messaged us were nice, complimentary, and ready to talk about relationships right off the bat. From what we saw, the membership base is of the highest quality, but it's just hard to get much traction unless you upgrade your membership.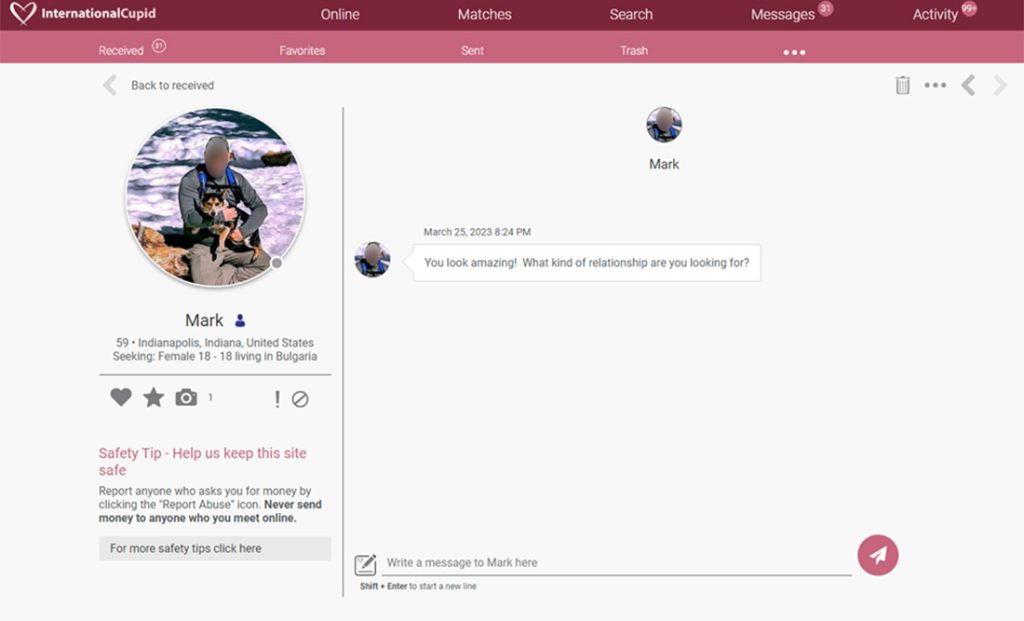 Fortunately, you can get a membership for as low as $13.75 a month if you just want to send, read, and respond to messages. Remember, you'll also have unlimited communication with Standard members if you upgrade. If you want more info, check out our page that covers InternationalCupid subscription prices and plans.  Then, you can pick the plan that has the features you want without going over your online dating budget. 
While the low number of premium members is a turn-off, we still love InternationalCupid's search filters. It has the basic filters you'd expect (appearance, lifestyle, etc.), while also covering background and cultural values. Plus, you can search for people living in a single country or multiple countries, and find members who want to relocate to where you live.
The filters don't really cover personality, though. For that, you need to click on the profiles, and they're pretty robust. A lot of members answer personality questions (listed under "More About Me") and we felt like we knew if we'd hit it off or not after reading the info.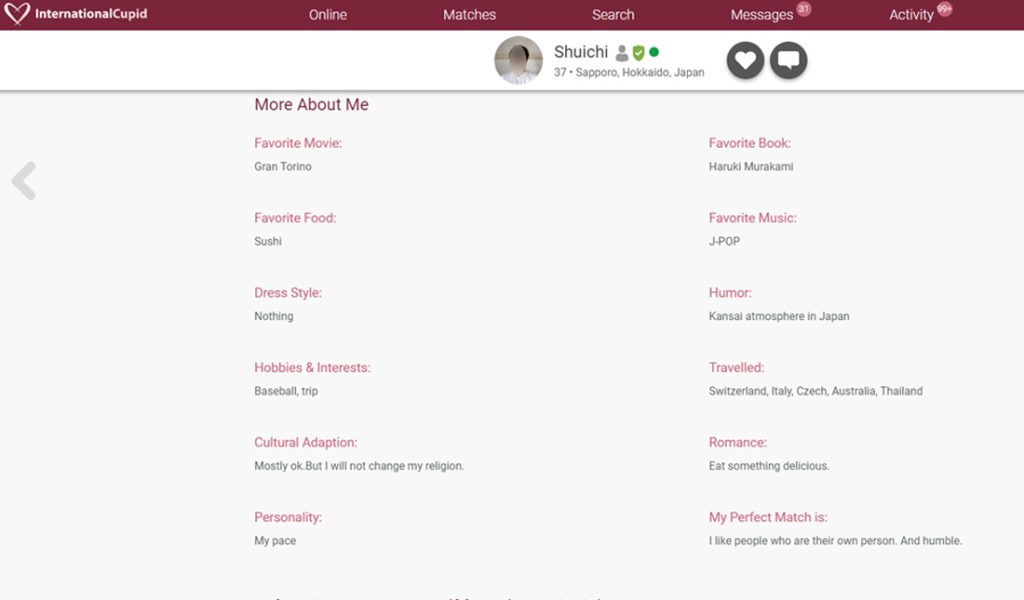 InternationalCupid might not be perfect, but it has a lot of positives. The membership base is engaged and of the highest quality, and the search filters are amazing. We honestly think this is one of the best international dating apps available – as long as you subscribe. Once you're able to message freely, you shouldn't have any trouble connecting with people around the globe.
---
Pros and Cons of the International Cupid Dating App
Pros
Available in over 200 countries.
Free members can communicate with paying subscribers.
Membership base is chatty and ready for serious relationships.
Platinum and Diamond members have larger profiles.
You can find romantic partners from countries all around the world with minimal effort.
The free version of the InternationalCupid app has enough features to make it usable.
The sign up process is quick and enhances your matching experience.
Cons
Not available in the App Store, (but you can get the app on Google Play of use InternationalCupid.com).
Lower engagement rate than other Cupid Media sites.
Most members have Standard (free) accounts.
Doesn't match members based on personality.
Local user pools are often considerably smaller than on non-international dating sites.
Many premium features are reserved for top-tier paid members.
There are some fake profiles on the International Cupid site/app, for which you need to be careful.
International Cupid Features Overview
With such a simple layout, you might think that InternationalCupid doesn't have any interesting features. However, there is a lot more to the site than meets the eye. Get the scoop on some of the features that you can access after creating your account.
Color-Coded Compatibility – Available to Standard and Premium Members
With around four million members, you can expect to click on lots of profiles when using InternationalCupid. Seriously, we still have over 1,000 possible matches after setting our search criteria.
Fortunately, the color-coded compatibility system makes it easy to whittle those potential matches down into something more manageable. Just scroll through the profiles to see if the person matches your preferences and if you match theirs. Green means you're a match, while pink indicates that you or that person doesn't meet the criteria.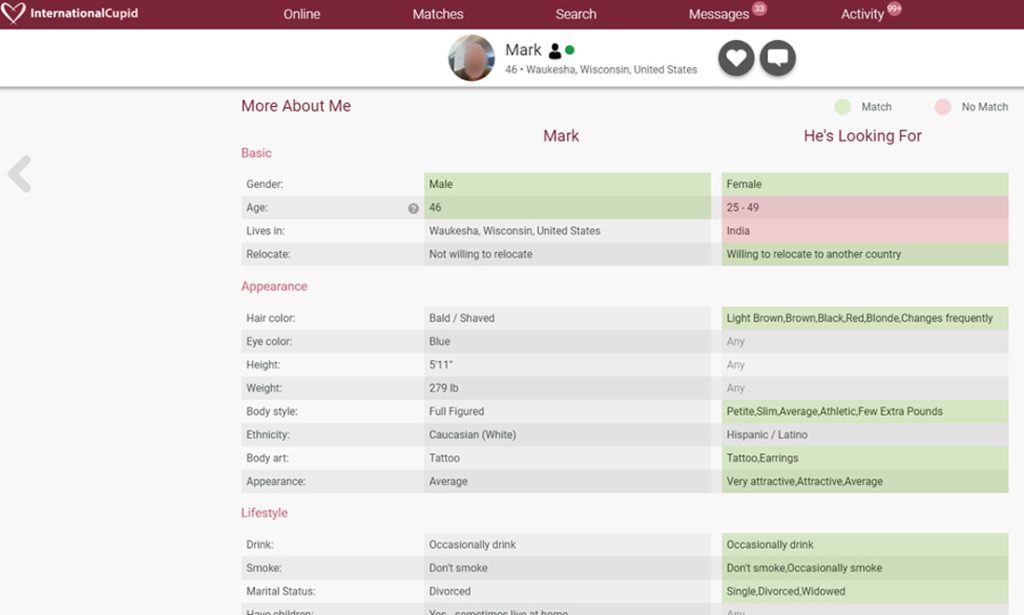 Message Translation – Available to Platinum and Diamond Members
If you watch "90 Day Fiancé," you know the language barrier is one of the hardest aspects of international dating. Of course, those couples also have other issues, but the language barrier constantly comes up.
If you upgrade your membership, you (and the people you chat with) can access instant message translation. Members just have to click on the "translate" button that appears in the chat to use this feature. While it has to be clicked after every message, it's still fast and easy to use.
You can also click "Retranslate" if there's an issue with the translation. Fortunately, it's really accurate, so we never had to click that button.
Make the First Move – Available to Women
Women have the option to "Make the First Move" by sending the same message to dozens of people at once. Now, we like that you can change the default message to make it your own, but we still have a major issue with this feature. You can't avoid being generic when messaging a bunch of people at once, and you aren't even sure if you're sending messages to people you're really interested in.
Still, we tested it out and didn't get any responses. We're going to explain why in the next section of our InternationalCupid review.
Cupid Tags
This is a pretty standard Cupid Media feature, but one we really love. You can tag your own profile with little details that describe you.
These little descriptions become easily searchable identifiers that help you show up in other users' search results. If someone searches for a general set of profiles you may be one of hundreds of results. Now, if they add in a search term that matches your Cupid Tag, you'll suddenly find yourself at the top of their search results.
Quality of Singles – InternationalCupid User Base Review
We started our review of InternationalCupid talking about the high-quality membership base. The members are highly motivated to find long-term partners, and their profiles are full of interesting info – although most don't indicate what they're looking for in a match.
Also, the members are extremely engaged. There are around 5,000 members online (about half men, half women), and they're quick to send likes and messages.
Even so, the quality takes a hit because there aren't many paying members.
We talked about that message blast we sent in the last section of our InternationalCupid review. After not hearing back from anyone, we went to our "Sent" folder and clicked on all 277 messages we'd sent.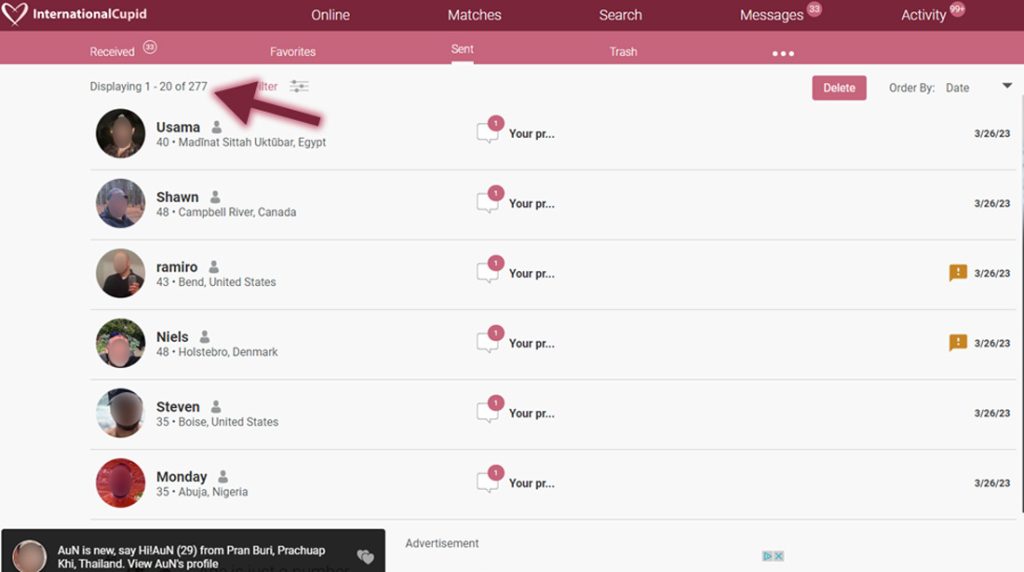 Each time we clicked, InternationalCupid let us know that the member wasn't a premium subscriber and couldn't read our message. Out of 277 members, we didn't find a single premium member.
And we didn't stop there.
We also browsed the search results to find premium subscribers. See, Platinum and Diamond members' profiles aren't just listed at the top of the search results. They're also twice as big as Standard profiles, allowing us to quickly identify premium members.
Again, we didn't find many, likely explaining why we had so much trouble getting responses and reading messages.
Based on this info, we really think it's vital that you upgrade to a premium membership when using this international dating app. And guess what – you can grab a free trial to InternationalCupid to get started.
How to Sign Up for InternationalCupid
Signing up for a free InternationalCupid membership is as fast as it is easy. All you need is an email address, a few minutes of your time, and a good profile pic.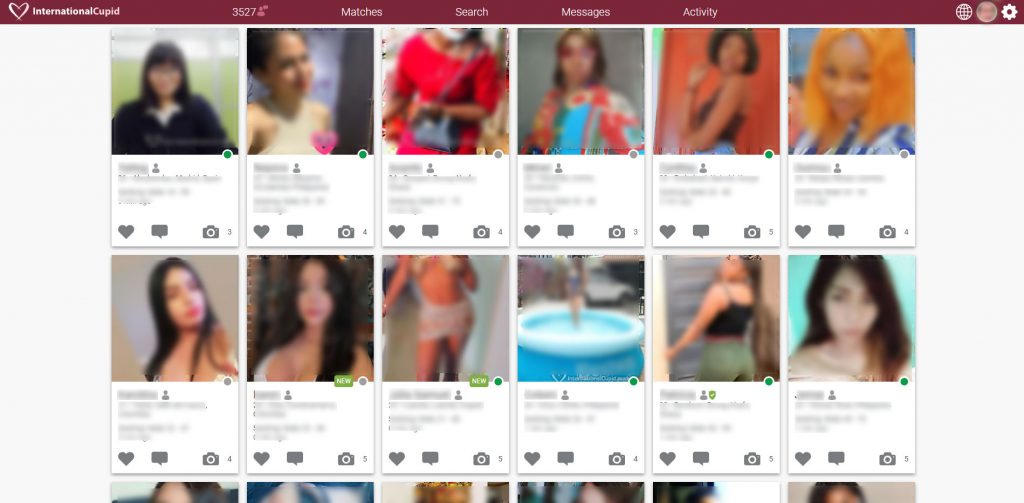 There is a short personality questionnaire, but it's actually pretty fun to take! You can knock the whole process out in just a few minutes. Ready to get started? Simply follow our link below!
Pricing Review – How Much Does International Cupid Cost?
| Membership Type | Length of Plan | Monthly Cost | Total Cost |
| --- | --- | --- | --- |
| Gold | 12 Months | $13.75 | $165.00 |
| Gold | 3 Months | $27.67 | $83.00 |
| Gold | 1 Month | $41.50 | $41.50 |
| Gold | 1 Week | $81.48 | $20.37 |
| Platinum | 12 Months | $17.50 | $210.00 |
| Platinum | 3 Months | $33.33 | $100.00 |
| Platinum | 1 Month | $50.00 | $50.00 |
| Platinum | 1 Week | $100.00 | $25.00 |
| Diamond | 12 Months | $31.67 | $379.98 |
| Diamond | 3 Months | $59.99 | $179.97 |
| Diamond | 1 Month | $89.98 | $89.98 |
| Diamond | 1 Week | $200.00 | $50.00 |
InternationalCupid Alternatives
So, there's a lot to love about InternationalCupid, along with some issues. With that in mind, let's go over some other apps you can use to find partners in other countries. Instead of just giving you the basics, we're going to compare them with InternationalCupid so you can chose the right app for international dating.
eHarmony – Like InternationalCupid, you can engage in local and international dating on eHarmony. Both sites are available in most countries around the world and cater to singles seeking serious relationships. While InternationalCupid matches people based on personal preferences, eHarmony uses the answers to a detailed personality test to find the most compatible long-term partners. Still, eHarmony doesn't offer instant message translation, so it's a better fit for local dating, while InternationalCupid is a better international dating site. (Check Out our Unbiased eHarmony Review)
Zoosk – Zoosk offers local and international dating in over 80 countries, while InternationalCupid id is available in over 200 countries. Most of Zoosk's members want something short-term, unlike InternationalCupid's membership base that's searching for serious relationships. We prefer Zoosk for singles who are traveling and want to have fun on vacation, and InternationalCupid for those who want to find their forever partners. (Learn More by Reading Our Review of Zoosk)
EliteSingles – Also a serious dating app, EliteSingles matches people in over 25 countries to InternationalCupid's 200-plus. InternationalCupid attracts members from all walks of life, but EliteSingles is geared toward successful professionals. Since many of EliteSingles' members prefer finding local partners, we think InternationalCupid is a better choice for looking for love overseas. However, EliteSingles is worth checking out if you're a professional and hope to find a partner with the same drive and ambition. (Read Our Full Review of EliteSingles)
User Complaints About InternationalCupid
After spending some time on InternationalCupid, we poured over user reviews. Check out some complaints found in these reviews of InternationalCupid.
Scammers – According to members, there are lots of scammers on InternationalCupid, with men being the main target. If anyone asks you for money or engages in other suspicious activity, report the profile to InternationalCupid. The support team has a reputation for taking these profiles down when members don't follow InternationalCupid's terms of use.
Most Messages are Hidden Behind a Paywall – Conversations between free members are hidden behind a paywall. Unfortunately, there's a higher percentage of free and paid accounts, so members are left deciding if they should upgrade or ignore the messages. Because of the site's quality, we recommend upgrading to check it out if you're having trouble connecting with premium members.
Expensive Premium Memberships – Members also don't like the cost of membership. While you can upgrade for as little as $13.75 a month, that's with a 12-month commitment. Even with the high price, we think a premium subscription is well worth the cost.
International Cupid Customer Support Options
Phone (US and Canada): 1-844-505-3027
Phone (UK): 0808 281 2918
Phone (Australia): 07) 3186 0281
Phone (International): +61 7 3186 0281
Fax: +61 7 3103 4000
Mail: PO Box 9304 Gold Coast MC QLD 9726, Australia
The customer support team at InternationalCupid.com is available to answer your calls from 9am to 4pm (Australian Eastern Standard Time). If you find yourself needing a little bit of help outside of those hours you will need to find the customer support option at the bottom of their page or in the main drop down menu of the site. Once you select customer support, a window will open that looks like a live chat box.
Don't be fooled, this is just a search field. Begin typing in your issue and the site will look for blog posts, FAQ articles, legal articles, or anything else that might answer your question. We were surprised at how well this system was able to answer most questions we thought of.
---
---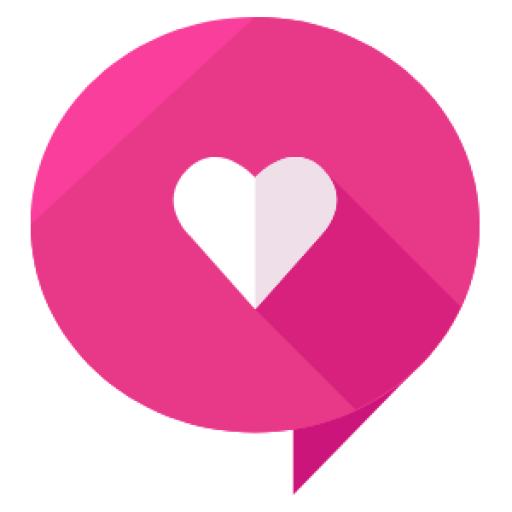 Written By: Healthy Framework Team
The Healthy Framework team has a combined 50+ years of experience in the online dating industry. Collectively, the team has reviewed over 300 dating apps and is known as one of the leaders in the relationship advice and information space. The team's work has been featured on Zoosk, Tinder, The Economist, People Magazine, Parade, Women's Health, Her Campus, Fox, and more.