International Cupid Pricing
International Cupid is an international dating site focused on matching you with other attractive singles to achieve long-term love. At the time of this article, there were over 2700 members online chatting and getting to know each other! Our team breaks down the International Cupid cost and pricing structure in detail for you below.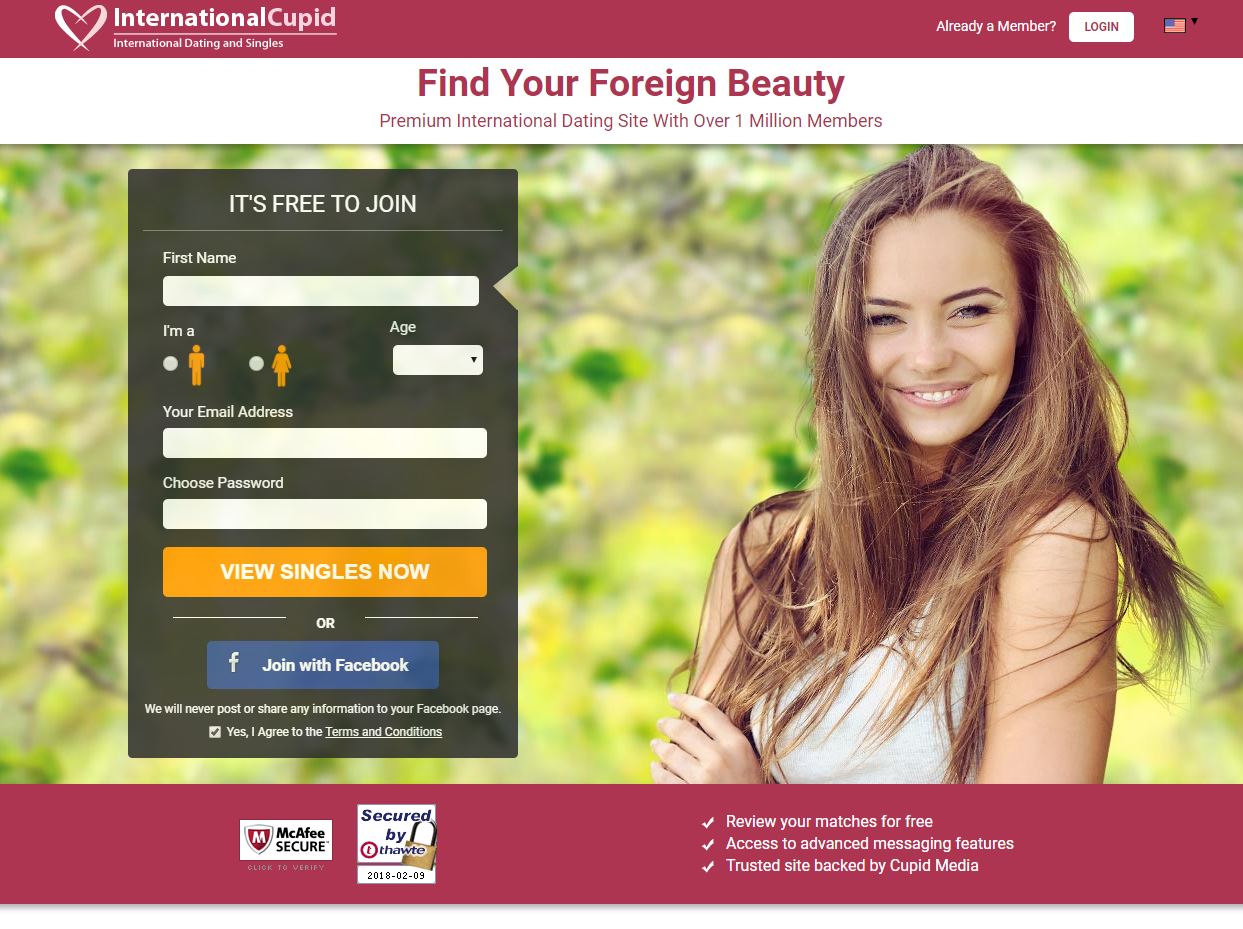 International Cupid Membership Price Table
| Membership Type | Length of Plan | Monthly Cost | Total Cost |
| --- | --- | --- | --- |
| Gold | 12 Months | $13.75 | $165.00 |
| Gold | 3 Months | $27.67 | $83.00 |
| Gold | 1 Month | $41.50 | $41.50 |
| Gold | 1 Week | $81.48 | $20.37 |
| Platinum | 12 Months | $17.50 | $210.00 |
| Platinum | 3 Months | $33.33 | $100.00 |
| Platinum | 1 Month | $50.00 | $50.00 |
| Platinum | 1 Week | $100.00 | $25.00 |
| Diamond | 12 Months | $31.67 | $379.98 |
| Diamond | 3 Months | $59.99 | $179.97 |
| Diamond | 1 Month | $89.98 | $89.98 |
| Diamond | 1 Week | $200.00 | $50.00 |
---
International Cupid offers premium plans at the Gold and Platinum levels. Note that amounts are in U.S. dollars and subscriptions are billed at the beginning of the term in one lump sum. Monthly amounts are only offered for comparison of value.
All of these great subscriptions will give you access to messaging, chatting, and many other perks.
International Cupid Payment Options
This dating site makes subscription payment easy. International Cupid accepts all of the major credit and debit cards, plus also Paysafe, Skrill, and bank transfers. Payment is quick and only takes a minute to get you scrolling.
VISA

American Express

Mastercard

Discover

Diner's Club

Google Pay

Paysafe

Bank transfer

Skrill
A Breakdown of International Cupid Costs and Membership Prices
Two levels of subscriptions are offered on International Cupid – and both of them get you chatting with singles ready for love from around the world. Paid subscriptions get the access to message anyone they choose, chat live with thousands of other singles, and removes those distracting ads.
The International Cupid Gold Plan is the basic membership level. This plan starts at $20.37 for 1 week and gets you access to talking with their great community of singles. Two other plans are the 3 months at a total of $83.00 and the 12-month Gold Plan is $165.00 total, both billed at the start of the subscription. The 12-month plan breaks down to a little over $13 per month, which is not a bad deal!
International Gold Plan Members get many benefits including the ability to browse anonymously and no more distracting ads when you're busy scrolling or viewing profiles.
Platinum subscriptions are top-level access accounts and they come with several extra perks. These exclusive accounts highlight you to other members and rank you above others in the search rankings. In addition to the features included in the Gold Plans, you also get double the profile space and advanced matchmaking services!
The International Cupid Platinum Plans really put you ahead of the pack when looking for your international sweetheart. This membership starts at $25.00 for 1 week of access, $100.00 for 3 months, and $210.00 for 12 months. You can't go wrong with a Platinum level subscription and its great features!
Diamond membership brings you even higher on the list and makes you stand out. This premium comes at a cost of $50.00 for 1 week, $89.98 for 1 month, $179.97 for 3 months, or $379.98 for 1 whole year.
Recent Changes to Pricing
Recently, International Cupid did raise the prices on a few of its memberships. This generally happens in the industry every few years, and can be a sign of improving quality and features!
(2022) 12-month gold plan increased from $10.67 monthly to $13.75
(2022) 3-month gold plan increased from $21.33 monthly to $27.67
(2022) 1-month gold plan increased from $31.98 monthly to $41.50
(2022) 12-month platinum plan price increased to $17.50 monthly
(2022) 3-month platinum plan increased from $24.66 monthly to $33.33
(2022) 1-month platinum plan increased from $36.99 monthly to $50.00
Do International Cupid Memberships Auto Renew?
In order to ensure seamless access, yes, International Cupid subscriptions do auto-renew at the end of the membership term. So if your membership is a 12-month access membership: watch your account for renewal in the 11th month.
If you don't want to renew, then it's easy to cancel by going into your Account Settings and following a few quick steps.
The International Cupid Free Trial
The International Cupid Free Trial membership is a basic level account that lets you browse, favorite, and respond to Platinum level members. Use the free trial as long as you like to browse around, but if you're serious about meeting someone, you're going to have to upgrade to a paid subscription.
Is International Cupid Worth the Cost?
This is an exciting dating site with singles located all around the world for you to choose from. International Cupid is a top-rated matchmaking site. The Member community is very active online (and ready to meet you!).
Their memberships are packed with great features and they are reasonably priced, no matter which one you choose. The 12-month membership of both Platinum and Gold Plans has the best overall value and features. Give International Cupid a try today and you won't be disappointed.