Maclynn International Interview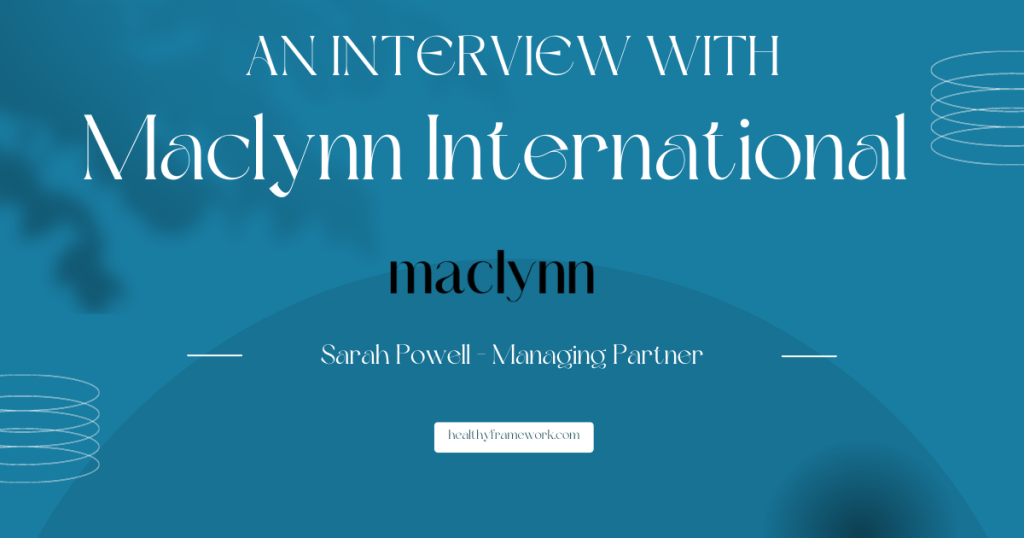 Today, the Healthy Framework team was able to sit down with Sarah Powell, Managing Partner for Maclynn International, a global matchmaking company serving private clients looking for love all around the world. With offices in NYC, London, and Dubai, Maclynn is one of the few premiere matchmaking companies that truly has a global presence. Our own Matt Seymour got a chance to ask about the company's unique approach to matchmaking, misconceptions within the matchmaking industry, the varying relationship goals the company experiences, and what to expect from Maclynn in the future.
Full Maclynn International Matchmaker Interview Transcript
Matt Seymour:
Hi everyone. This is Matt from Healthy Framework. Today I'm very excited to be joined by Sarah Powell, Managing Partner of Maclynn. Sarah, thank you so much for joining today.
Sarah Powell:
Yeah. No, thank you so much for having us. I'm excited.
Matt Seymour:
Yes. Well hey, let's jump right into it. First up, can you tell me what separates Maclynn from the rest of the matchmaking services that are out there?
Sarah Powell:
Yeah, thanks for the questions again. One great thing about Maclynn is that we have a truly international presence. We are also more of a psychology-driven approach, and a lot of our experts have a background in psychology as well. So teams on the ground in London, New York, California. And all of us we guide our clients through this five-stage matchmaking methodology. So it is unique to Maclynn.
This includes in-depth compatibility profiling, values assessments, and then we also maintain a pretty extensive global network, really high quality, everyone's vetted. So overall, this is a really truly tailored experience. A client would have their own dedicated matchmaker. We also offer ongoing dating support, which I think is pretty unique. Lots of resources in-house, so our team of experts really help in every capacity to get our clients achieve their relationship goals.
Matt Seymour:
Awesome. That's some great insight. How would you describe, if somebody's watching this, what is the ideal customer that Maclynn is designed for?
Sarah Powell:
Yeah, so I would say our clients are individuals that are really serious about finding a long-term partner. Polyamory is a big thing out there. I think most of our clients are a bit more monogamous-minded. For example, they generally value their time. They appreciate expert support. And then many of them also require access to higher-caliber people. Maybe they won't find those traditional high achievers online so they're willing to invest a little bit more to access that and have a more bespoke experience.
Matt Seymour:
Yeah. No, that's perfect. Something I've wondered a bit, and I'm sure many others are out there. Right? Hiring a personalized matchmaker is more expensive than a traditional dating app. How would you rationalize those costs to somebody that might be concerned about the higher price tag?
Sarah Powell:
Yeah, valid question. I've thought about this a lot before as well. It's true, you can't really put a price on love, but how can we quantify things? I think really the incredible value of a matchmaker is the time and energy that's saved by outsourcing the dating process. So we have the top-tier best resources that will help conduct the search. We have a trained team of specialists that will vet and plan the dates like a concierge for you, and then we can even get feedback after the dates for our clients.
That's very unique to a service like this. And then again, on top of that, the level of quality that we provide in the matches, I think it tends to yield a higher potential for long-term meaningful relationships. And then, yeah, so basically we're really focused on curating connections that are based on compatible lifestyles, shared values, and I think overall that leads to better outcomes than a traditional dating app.
Matt Seymour:
Yeah, great. That was a wonderful explanation of justifying that. Would you say, are there any drawbacks or potential drawbacks to using a matchmaker that people should be aware of?
Sarah Powell:
Yeah, I mean, matchmaking might not be for everyone. I think generally it does require a little bit more time to properly assess compatibility, at least with our team. Today's dating culture is very accustomed to immediate gratification where you swipe on an app and then you'll go on a date tomorrow. So it does take a little bit more vetting or time to do so. Our focus is, again, those values and relationship aspirations plus attraction.
And we're focused on the quality, not quantity or mass volume. Additionally, I don't think any service out there can guarantee love. If they could, it would be a gajillion-dollar service. But anyways, I think it's important that when we are working with someone we're being really transparent, we're managing expectations, and we really understand the specific nuances and needs of each client to help optimize their success.
Matt Seymour:
Yeah. No, that's a really good set there with it, and I think leads in a little bit to this next question. You touched on this a little bit earlier, at least with the psychology side, but would you say, is there anything unique about the way that you guys find matches for someone there?
Sarah Powell:
We have a lot of resources. I'd say a really cool thing that we have in Maclynn, there's so many creative ways that we connect with people, but we did develop a ambassador program and there is a huge network of over 150 people around the world. They refer exceptional singles to us that might not be found online.
So being plugged into particular communities, alumni groups, specialized cultural groups, religious groups, or maybe the local hairdresser that has every contact under the sun. So it's really a unique way that we've kind of created another way for singles to be referred.
Matt Seymour:
Excellent. I like that. That's got to help uncovering some that you might not have otherwise so that you've got the big database with it.
Sarah Powell:
Yes.
Matt Seymour:
Excellent, and I think you touched on this a little bit. Because you said otherwise you might have a jillion-dollar business, but have you ever struggled to find an ideal match for a client? And if so, what's the process when this happens?
Sarah Powell:
Yeah, I mean, dating is inherently difficult. So there will be times where we encounter a struggle in finding a perfect match. One example of a tough situation with a client is if they had a really broad search, and then in time they've narrowed it down significantly. For example, they're like, "I'll have a global search." Then a week goes by, "Actually, I'd prefer a five-mile radius," so that is going to significantly impact our capabilities.
When this happens, our team does have to really be open with our communication. We'll have to discuss how we're going to adapt our approach. And then maybe challenging them, figuring out how we can better narrow in on the criteria and adjust expectations too. But overall we find that if we do encounter a struggle, the best way is to communicate, encourage, coach the client, and kind of curate a better mindset to help increase their success in finding a match.
Matt Seymour:
Excellent. That sounds like a really good plan. Would you say, are there any misconceptions about matchmakers that you'd like people to better understand?
Sarah Powell:
Yeah, there are so many shows and programs out there on TV, and I would say that is often not reality. So the common misconception about matchmaking that I hear a lot when I'm getting phone calls or meeting people is that they see it on TV and they think it's only like for wealthy men for example. It's like only like the uber rich can afford this. But for us, we are very inclusive.
We'll work with anyone that wants to prioritize finding their person regardless of gender, even sexual orientation. We work with the LGBT community. Then another misconception from TV for example, is that every day is like fireworks, extravagant, Bachelor-type setups. It's not always the fantasy world, but I think people do experience the matching realm more substantial and meaningful connections through our service.
Matt Seymour:
Yeah, that's great. And I appreciate you helping kind of reset those expectations or whatever. If all they've seen is, right, I think was it Millionaire Matchmaker or something for a while, it's not always going to be that.
Sarah Powell:
Glam.
Matt Seymour:
Are there any metrics you're able to share with us? Obviously not like the secret sauce or anything, right, but ideas. I don't know. Like the average time it takes to find a match, success rates, number of clients, anything along those lines that you might be able to share?
Sarah Powell:
Totally. For metrics, that is unique I guess to each app, or business, or whatever their model is. For us, our clients do have various relationship goals. Marriage is not the unified aim. Across our offices we would probably only work with a handful, like 300 clients, at one given time. That's a relatively small number because we're giving really high level of service to those clients. And it's, again, specific to each situation.
But there are areas that we influence and they influence to optimize success. So the two things that we're in control of is our network. There's over 18,000, maybe 20,000 people at this point in our global network. We're really proud of that. It's growing rapidly. And then again, our expertise. Many of our team members have credentials in psychology whether they went to school, bachelor's, master's, and they use that professional experience to influence meeting the right people.
So those are two in our control. Their control is relationship readiness. Again, circling back to what is their goals. Some people have never had a relationship. They've been career oriented and they just want to kind of get their feet wet. Or even like divorcees, widows, they're in a second wind, so to speak, and they just want to date again as well.
So for us, relationship success would be when they want to go exclusive with their match. That is our definition of success because that overall end outcome might vary between our clientele. And then if they have the right growth mindset, those again are our clients that seem to have the most success. And overall, when all of those things align, we have around 85% success rate in matching.
Matt Seymour:
That's a pretty high rate. That's amazing. Very cool.
Sarah Powell:
Thank you.
Matt Seymour:
All right, so last one for you, and this one's kind of fun. I appreciate hearing the different takes from different people. Do you have a favorite success story that you'd like to share from your personal experience there?
Sarah Powell:
Yeah, there are so many. We have this amazing group chat, the Love Gurus Chat, and we're always flicking in pictures, and stories, and messages of all the marriages and babies. A recent match that comes to mind, I like this story because it's like an unorthodox pairing, an almost like against-the-odds type of story. One of my clients, she's a really successful business owner in the Bay Area. And then she ended up meeting a guy in Arizona. So first of all, different areas. They were both professionals.
They have a love for the arts, they have healthy lifestyles, and they both raised their children. So they had a lot of shared experience there. The kicker is they were kind of staunch in their political parties. Registered Democrat, registered Republican, and both of them listed that as kind of a deal breaker. But as a matchmaker you get to know the individuals on a human level, you get to understand the values. And despite a label, I still felt there was compatibility in a lot of other places.
And attraction-wise I think they both agreed they were both attractive. But this was their hangup. They were like, "I don't know about that. If she's this way and I'm this way, I don't know if there's really any momentum here." Almost a non-starter. But after getting to properly consult each person and tell them, "You know, there's actually a lot more alignment here than meets the eye." And they were like, "You know what? We're going to trust you." They met and they are really in love.
They were able to openly communicate and kind of work through those differences where they realized they're not so different after all, and maybe even influenced their own political views too. So they're a bit more understanding of that. They are in talks of moving in. They go on world trips and vacations together. And it's just a really amazing outcome that I think on a traditional dating app where you'd be very quick to dismiss something of that nature, and I think they have this blossoming love story to kind of thank for our expertise.
Matt Seymour:
No, that's excellent. That was a really good sample. Because yeah, I think so often, especially in this swipe culture, folks are quick on attraction or well, Republican, Democrat, whatever the case is. But to your point of being able to know them a little bit better, you could say, "Yeah, but hear me out," kind of thing, so that was an excellent example.
Sarah Powell:
Exactly.
Matt Seymour:
And that's awesome for them. Excellent. Well, thank you again, Sarah, for joining. Definitely appreciate your time. It was great getting to understand a little bit more about Maclynn. We're excited to continue following you guys and see what you do. And maybe we can do another one of these in the future to touch base and just see what the latest is then. But thank you again, really appreciate it.
Sarah Powell:
Thanks, Matt. It's been a pleasure.
Matt Seymour:
Thank you.