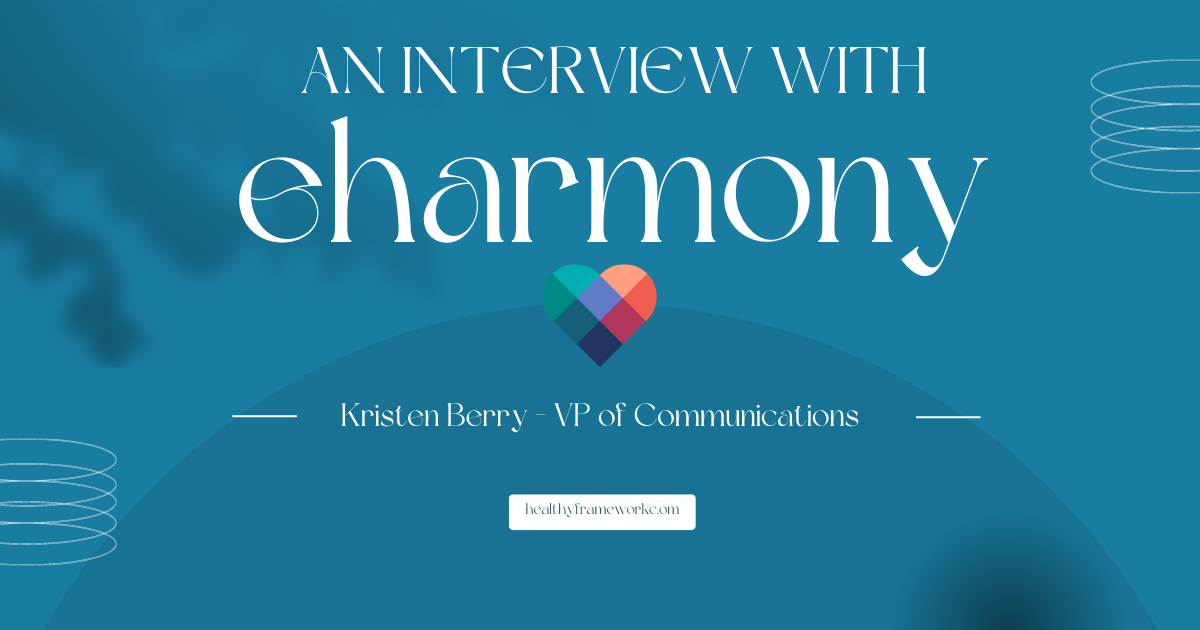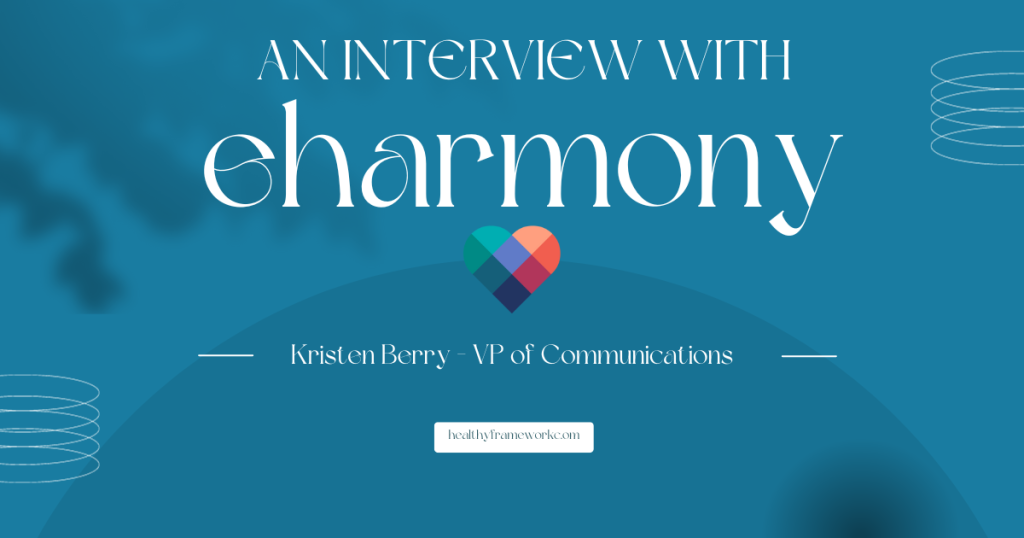 Recently, our team got the opportunity to sit down with Kristen Berry, the VP of Communications and CSR for eharmony, a major dating brand serving millions of customers around the world. Here is that interview in its entirety:
September 2023: Healthy Framework interview with Kristen Berry, eharmony's VP of Communications and CSR
---
What separates eharmony from the rest of the dating apps out there?
Kristen: "At eharmony, real love is at the center of everything we do. As one of the original dating platforms, we've been at the forefront of creating meaningful relationships based on true compatibility and connection for more than 20 years."
"Our fun and thought-provoking Compatibility Quiz helps our members learn more about themselves and what's most important to them in their next relationship, helping them build deep, authentic connections with people they're uniquely compatible with. We're proud that this approach has helped over 2 million people find real love."
---
How would you describe the ideal customer eharmony is designed for? Is eharmony a Christian-only dating app?
Kristen: "We don't have a type – eharmony members represent adults of all ages, demographics, religious beliefs and backgrounds. What our members have in common is a shared desire for meaningful relationships based on something deeper than looks, likes, and location. eharmony is passionate about creating real love for all, and that's exactly what our members are looking for."
---
Is eharmony only for people of a certain age?
Kristen: "Not at all! eharmony is for all adults looking for real love and meaningful connections. For context, over half of our members are Gen Z or Millennials."
---
How has eharmony evolved in recent years?
Kristen: "We've learned a lot in the last 20+ years of helping millions of people find real love. Over the last few years, we've taken steps to become more of the company we want to be, and to provide a platform that's representative of who we are today — a brand and a workplace that strives to be safe, inclusive and welcoming to every member of our community. For example, we recently announced a partnership with GLAAD to address how eharmony can better serve LGBTQ+ daters, which included participating in company-wide trainings and collaborating to improve our matchmaking process to help all our members find real love and authentically express themselves on our platform."
"While we're proud of the important changes we've made, we know that the work to build a diverse and inclusive environment is a continuous process. We are deeply committed to this ongoing journey – it's something we are working on every day."
---
How else have you evolved to embrace this increased commitment to inclusivity?
Kristen: "We spent substantial time bringing our entire team together to formalize a company mission and values statement that reflects who we are today— explicitly reflecting a brand and a workplace that strives to be safe, inclusive and welcoming to every member of our community."
"To accomplish these goals, we've implemented specific actions internally, including establishing a task force to help foster advancement in the areas of product design, marketing and customer care efforts so we become as diverse, inclusive, and bias-free as possible. And we overhauled our benefits package to provide a more equitable array of offerings, including coverage for gender affirming care and parental leave regardless of gender."
"We also kicked off a complete brand redesign in 2020 supported through the investment of millions of dollars in new ad campaigns over the past three years which better represent the diverse array of our members including LGBTQ+ couples. We remain committed to ensuring that our ad campaigns reflect the diverse and dynamic nature of today's society, the eharmony community, and demonstrate what real love looks like for everyone."
"It's important to reiterate that this is an ongoing effort. We remain committed to evaluating ways to ensure all of our members — including our LGBTQ+ members — feel welcomed, included and safe on eharmony."
---
What new features or changes can users expect to see in the coming months and years?
Kristen: "While we can't share specifics at this time, we're continuously evaluating how we can best help our members make meaningful connections and find real love on our platform. Stay tuned!"
---
Romance scams are on the rise across the US. How does eharmony combat this growing problem?
Kristen: "Our Trust & Safety team works hard to make sure our members discover the most compatible matches possible in a trusted environment. Because our free Compatibility Quiz – the first thing our potential members complete – is so detailed, it is a highly effective first step to help identify falsified accounts, sometimes even before matches are made."
"Our Trust & Safety team utilizes a combination of in-house automated fraud detection tools and human review to detect suspicious behavior, and inappropriate content or photos. In our commitment to safety, we also screen our U.S. Premium Member subscriber base against the National Sex Offender Registry, using various vendors to help find the relevant information and increase the chances of detection. Our Trust & Safety team constantly monitors account activity and investigates all complaints of unusual, inappropriate or falsified accounts."
"Of course, while we are proud of our efforts, it is important to note that no method is foolproof and not all violations can be detected for numerous reasons, including due to varying reporting requirements enforced by each State. We encourage members to report any match they may have a concern about for any reason, whether to call our attention to inappropriate behavior, or to share a potential red flag for peace of mind. We make it easy for members to report a match, either directly from the match's profile page or from within their communication with a match. Each report is reviewed by our Trust & Safety team, and all reports are kept completely confidential. Our team is staffed seven days a week to closely monitor these reports."
"Additionally, we offer our members a multitude of tips to help keep them safe at www.eharmony.com/safe-online-dating."
---