Thai Cupid Review
If you're looking for other Thai singles and haven't had much luck, your luck may be changing. Thai Cupid is an online dating site catering to Thai singles and those around the globe looking to mingle with Thai women and men. In our Thai Cupid review, we're going to look at the sign-up process, the quality of the matches, how easy the site is to use, the features, customer support, costs and pricing, free trials, and ultimately whether or not this site is worth it or not for you.
Basically, we are going to look at EVERYTHING so that you can decide once and for all whether or not Thai Cupid is the right site for you. If you're ready to get started, let's dive into our review. Feel free to read the entire review from start to finish or skip ahead to the parts that are most important to you.

Is Thai Cupid Worth Trying? – Bottom Line Up Front
As one of the most popular Thai dating sites around, ThaiCupid has been on our radar for a while. We spent hours testing the membership base and features, and it's safe to say that overall, it's an excellent choice for Thais and Westerners interested in international dating.
That's the bottom line, but how did we get to that conclusion when researching our ThaiCupid review?
First, ThaiCupid offers more choices than most niche dating sites. For comparison's sake, Thai Friendly only has around 800,000 members, while approximately 3 million singles use ThaiCupid. As you can imagine, that means it's a lot easier to be picky on ThaiCupid.
It's also easy to connect with singles since ThaiCupid's membership base is extremely active.
Lots of people log in each day, and we never saw the number of online members dip below 1,200 over the course of a week. There were even more than 2,200 members online on a random Thursday morning.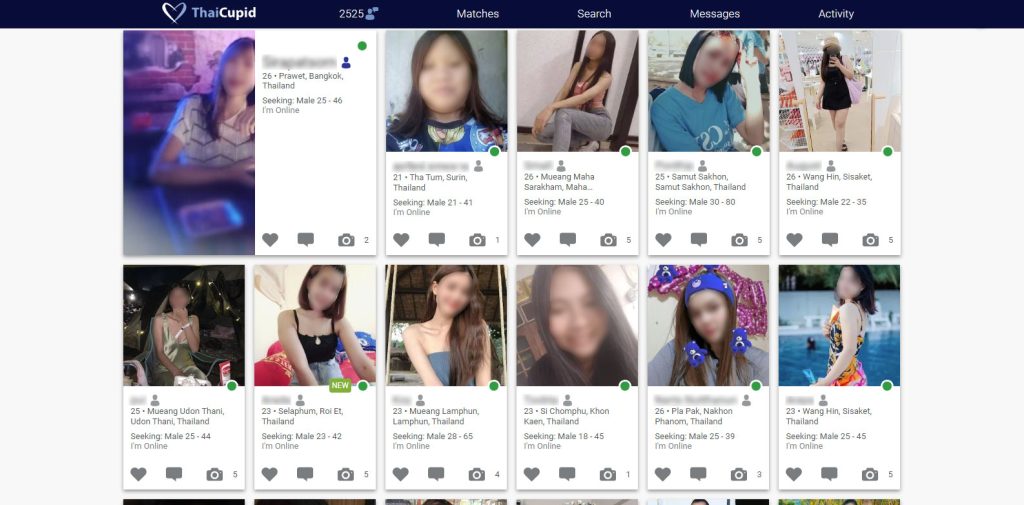 And members don't just log in and out, either. They're fast to send and respond to messages, and instant message translation (for premium members) ensures smooth communication.
ThaiCupid also has some of the best search filters we've seen, even for free members. As a free member, you can set more than 20 search filters. Paid subscribers can access those filters, along with the option to search for verified members. We love weeding out unverified accounts but are still impressed with the free filters.
Now, that doesn't mean everything is perfect on ThaiCupid…
Fake accounts have been a problem on here, so don't be quick to take your communication off the dating app. If someone asks you to move off the app right away, they're probably going to ask you for money. Also, free members can't initiate conversations, although they can respond to messages from paid subscribers.
ThaiCupid might not be perfect, but it's clearly one of the best Thai dating sites. If you're interested in dating Thai singles there's no reason you shouldn't at least sign-up for a free trial and see what you think about Thai Cupid hands on. It will cost you nothing but time. In fact, you don't even have to put in your credit card or any form of payment information.
Overall Thai Cupid Review Score – 8.5/10
| Category | Score |
| --- | --- |
| Starting Cost | $12.92 a month |
| Online Since | 2002 |
| Active Users | Approx. 3 million |
| App Store Rating | 4.4/5.0 |
| Google Play Rating | 4.2/5.0 |
| Our Overall Score | 8.5/10 |
Pros and Cons of Thai Cupid
Pros:
Instant message translation for Platinum and Diamond subscribers
Optional ID verification and other safety features
Robust search filters, including by desire to relocate, background, and cultural values
Option to sign up for a week-long membership to test the site
Cons:
Lots of messages from fake users
Most of the Thai members don't pay for accounts, so Westerners must upgrade to communicate
Unable to send photos via chat
Some members complain of suspended accounts after upgrading
ThaiCupid Features Breakdown
We tested some of the dating app's unique features as part of our comprehensive review of ThaiCupid. Now, we're going to share these features along with our thoughts.
CupidTags – Available to Standard and Premium Members
As part of Cupid Media's network of dating sites, ThaiCupid members can access CupidTags.
You can add tags that describe your personality, lifestyle, and relationship goals, so people with similar interests can find you. Also, search by CupidTags if you're looking for something specific when using the Thai dating app.
Desire to Relocate– Available to Standard and Premium Members
Since most dating sites are designed for people looking for local partners, the desire to relocate isn't normally added to profiles. However, ThaiCupid asks members if they're willing to relocate, and if so, which country they're most interested in moving to after finding love. Even though most ThaiCupid reviews don't mention this, we've noticed it's very popular with members.
Profile Translation – Available to Standard and Premium Members
Members can write their profiles in their native languages, and then ThaiCupid automatically translates them into each member's preferred language. For instance, if you sign up in English, you'll see all profiles in English, even if they're written in another language.
Message Filters – Available to Standard and Premium Members
We were surprised by how communicative members are on ThaiCupid. It's not unusual to receive dozens of messages each day, but only some of the senders will meet your criteria. Fortunately, you can use Message Filters, so you won't get overwhelmed.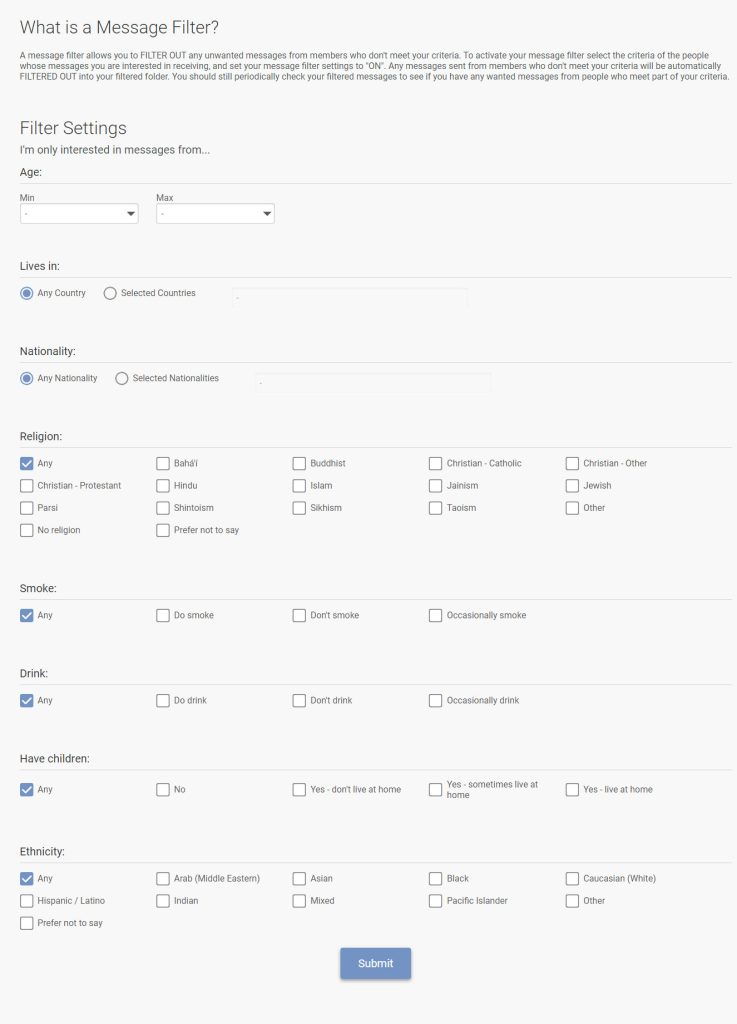 You can also avoid becoming overwhelmed by limiting how often you check your messages. Get our thoughts on how often you should check your online dating messages for some pointers. (We've set up that link to open in a new tab so you can come back and finish reading our review of ThaiCupid if you click on the link.)
Color-Coded Matching – Available to Standard and Premium Members
People tend to put a lot of effort into their ThaiCupid profiles, and all the info can make for dense reading. As much as we love the info, we understand that spending several minutes reading, only to find out you're not a match, is frustrating. That's why we want to talk about the color-coded matching system in our ThaiCupid review.
When you click on a profile, you'll notice lots of green and pink. Green means you're a match in that category, and pink means you aren't. This allows you to quickly review the suitability of the person before reaching out or moving on.
Reverse and Mutual Matches – Available to Premium Members
Standard and Gold members are matched by personal preferences. However, you'll unlock Reverse and Mutual matches as a Platinum or Diamond member. These match types can help you meet singles who are perfect for you.
First, let's take a look at Reverse Matches.
Sometimes, you meet someone else's search criteria, but they don't meet yours. The reason could be something minor, so you don't want to discount those singles. Fortunately, you can check out their profiles by browsing your Reverse Matches.
If you can't stand the idea of connecting with people who don't meet your criteria, Mutual Matches are a better fit. Mutual Matches mean that both people meet each other's criteria, so you don't have to go through the profiles to look for pink. Instead, you'll be all set and ready to talk.
We tested all of the matching algorithms when preparing our review of ThaiCupid, and Mutual Matches are superior by far. It's kind of like going to a personal matchmaker – for a lot less money (and time).
Instant Message Translation – Available to Premium Members
A lot of the men and women on ThaiCupid speak English, but language barriers do pop up. That won't be an issue if you upgrade to a Platinum or Diamond membership – or converse with Platinum or Diamond members.
These members receive instant message translation, even when communicating with people who have Standard or Gold memberships. This is one of the most talked about features in ThaiCupid reviews, and it's a hit with members.
Tell me about ThaiCupid customer support.
Thai Cupid has an extensive FAQ section, phone support, and an email contact for you can fill out to get help with any of your questions. This is WAY more than we typically expect to see from an online dating site which is a welcomed change. Hopefully, you're not going to ever need any help from support, but it's a reassuring sign to know that they have a team in place in case you need some additional assistance.
In case you need to get in touch with Thai Cupid customer support, here are the contact numbers and the times they are open. The times listed are Australian as that is where the company bases their support operations out of. The site also gives you your Member ID on the contact page so that you have it handy to make talking to support that much easier.
Calls are answered Monday through Friday, between 9:00 a.m. and 4:00 p.m. Queensland, Australia time.
Thai Cupid Free Trial
As we mentioned earlier, Thai Cupid offers a fairly robust free trial for you to not only get acquainted with the inner workings of the site but also to interact with some of the members. Most online dating companies won't offer you any communication abilities with a free trial account. Thai Cupid actually lets you respond to messages sent from paying members completely free of charge! This means that you very well may be able to find what you're looking for without ever upgrading to a paid membership account.
You won't be able to initiate your own conversations with a free trial, but we typically don't expect any form of communication to be allowed for free, so this is still a huge bonus. Additionally, you're able to create your profile, upload photos, and surf through all the other member's profiles and pictures. This means that you can get your entire account set up AND see if there is anyone you might be interested in before you even consider upgrading your account.
If you're ready to claim your free trial now, find of the buttons on this page and give it a click (we've included one right below this). It will automatically transfer you to Thai Cupid with your free trial activated.
The Thai Cupid Sign Up Process
The Thai Cupid sign-up process was so fast that it actually made us wonder if we accidentally skipped a step and didn't realize it.
You put in your basic information on the front page of the site (name, gender, age, email, and choose a password), and then you click sign-up, and you are instantly taken to your member area and are looking at potential matches.
As per filling out your profile information, you're able to go in and take care of that whenever you like.
We're huge fans of this because it means you get to see what the site has to offer BEFORE you have to commit any time to fill out your profile. If the matches on Thai cupid aren't to your liking, you'll feel silly if you spent a bunch of time filling out your dating profile. Their sign-up process alleviates this concern.
You do have the ability to join via a Facebook button which will grab all of that basic information for you and make the sign-up process that much faster. The one thing you will have to do (because of the fast sign-up process) is make sure that you go in and set your location to see matches from your area. When you first sign in, you're only going to see matches from Thailand (which is great if you're from Thailand or looking for someone from there). If not, though, you will need to adjust these settings.
Overall, the sign-up process was under 30 seconds from start to seeing matches. You can't beat this.
Price | How much does this dating site cost?
Alright, so if you've made it this far, you're wondering how much it will cost for you to upgrade your free trial to a full-fledged Thai Cupid membership. Below, you'll find the most current pricing for a paid membership.
| Membership Type | Membership Length | Monthly Cost | Membership Cost |
| --- | --- | --- | --- |
| Gold | 12 Months | $12.92 | $154.99 |
| Gold | 3 Months | $25.83 | $77.48 |
| Gold | 1 Month | $39.74 | $39.74 |
| Gold | 1 Week | $79.48 | $19.87 |
| Platinum | 12 Months | $15.00 | $179.99 |
| Platinum | 3 Months | $29.99 | $89.98 |
| Platinum | 1 Month | $45.99 | $45.99 |
| Platinum | 1 Week | $92.00 | $23.00 |
| Diamond | 12 Months | $30.00 | $359.98 |
| Diamond | 3 Months | $59.99 | $179.97 |
| Diamond | 1 Month | $91.98 | $91.98 |
| Diamond | 1 Week | $184.00 | $46.00 |
Thai Cupid accepts payments in the following forms:
Visa, AMEX, Mastercard, Discover Card, Diner's Club
PayPal
PaySafe Card
Bank Transfer
Skrill
All memberships do set to auto-renew, but you can easily shut that off at any time that you want to. What we recommend is that if you're worried about the auto-renewal, just shut it off day one after you purchase your membership and you'll still get to use your entire membership. Then, if you do want/need to renew, you can just flip the switch back on, and you are all set. Your account won't be deleted if there is a lapse or anything crazy like that.
The Differences Between the Thai Cupid Memberships
There are three main memberships that you can choose from – Gold, Platinum, and Diamond. The Gold membership is the less expensive of the three and gives you full communication with ALL members (including free members), removes any advertisements, gives you access to the live chat and messenger, and allows you to hide your profile or browse anonymously.
The step-up membership on Thai Cupid is the Platinum membership. This is the one that comes with all of the bells and whistles. This membership gives you A TON of added benefit when it comes to people being able to find you on the site. You get VIP profile highlighting, ranking above other members in searches, message translations, as well as some additional features.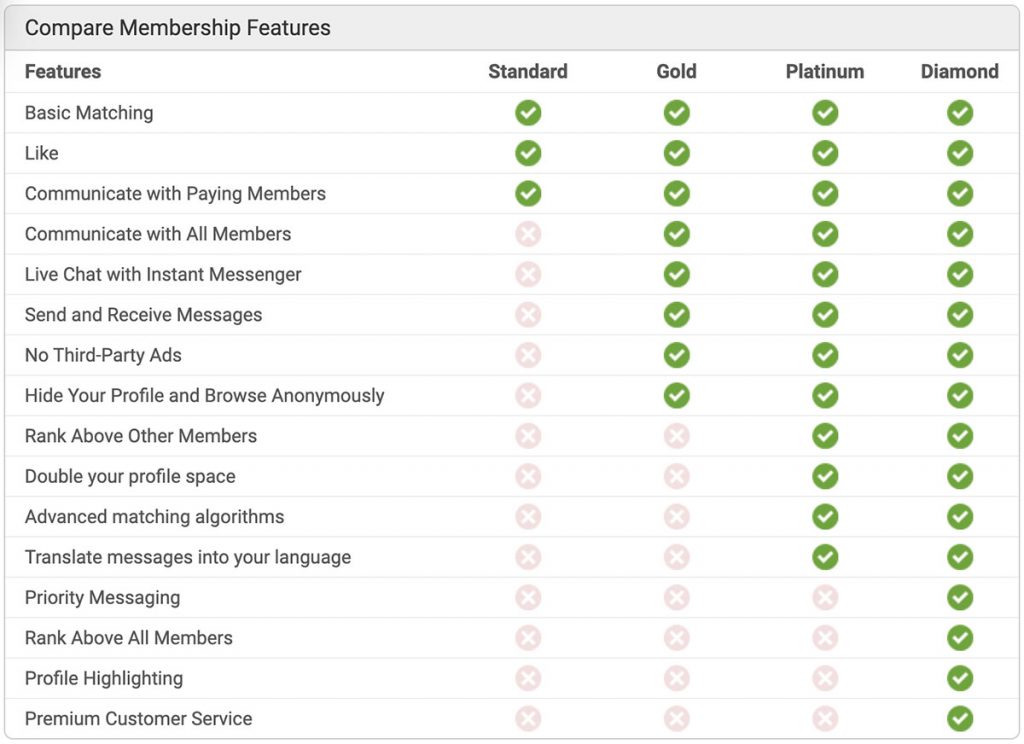 Now the table outlined the feature differences between the three memberships. But which is the right one? In our opinion…
The Gold membership is plenty if you're planning on sending out a lot of messages.
If you're someone that is a little shyer or likes other people to take the first step, you'll probably want to pay the few extra bucks a month and upgrade to the Platinum membership.
Lastly, If you are serious about online dating and want the all the top features that boost your profile to get more views, Diamond is the way to go.