Whether looking for a workout partner or life partner, you might have a new go-to dating (or non-dating) app.
Fitness Singles is a unique online dating site that connects sports and fitness enthusiasts of all levels. So, you can find someone to keep you motivated while you break a sweat. Whether you're into cycling, running, lifting weights, white water rafting, ice skating, table tennis, or the flying trapeze, Fitness Singles promotes that other members share your passion.
The site has created a buzz over the years, featured on Good Morning America, The Today Show, and USA Today, to name a few. But does Fitness Singles live up to the hype? You're about to find out.
Is Fitness Singles Worth It? – The Bottom Line Upfront
Fitness Singles is one of the most established online dating services for singles looking to make a love connection with other fitness and sports enthusiasts. It's been around since 2003 and has two million users in the US, UK, Australia, Canada, Ireland, and New Zealand combined.
It's a bit different than traditional dating sites, as you can use it to find a workout partner or others who enjoy sports or an active lifestyle. Even if you intend to make a love connection, you might make a few new friends along the way as a bonus.
We found that Fitness Singles is worth it if you're OK using search tools and initiating or responding to online messages. However, it's not one of the best algorithm-driven services, so you're not getting a narrow list of recommendations (although you'll get some broad matches). For the most part, though, you've got to put in some work to reap the benefits. If you'd like to try something a bit more modern and intuitive here are a few of our top recommendations for athletic singles…
Fitness Singles Alternatives (With Free Trials):
---
Overall Fitness Singles Rating
| Category | Score |
| --- | --- |
| Quality Matches | 7.0/10.0 |
| Features | 8.1/10.0 |
| Ease of Use | 9.0/10.0 |
| Support | 8.0/10.0 |
| Cost | 8.9/10.0 |
| Overall | 8.1/10.0 |
8.1/10.0
Pros and Cons of the Fitness Singles Dating App
Pros
A niche service for romance or friendship
Established in 2003
Relatively affordable
Cons
Limited matchmaking tools
No dedicated mobile app – phone friendly website only.
Who Fitness Singles Is Good For
Sports and fitness enthusiasts, regardless of favorite activity
Anyone seeking an exercise partner in their area
Singles looking to take advantage of a niche site based on a healthier lifestyle
Who Fitness Singles Might Not Be Best For
Online daters intent on finding their perfect match quickly
People who prefer a dating app to a dating site
Those who aren't excited about fitness or sports
Fitness Singles Review – Table of Contents
Fast Facts About Fitness Singles
Site Name: Fitness Singles (FitnessSingles.com)
Paid or Free: Both – Free signup with premium features available.
Average Sign-Up Time: 5-10 minutes
Paid Membership Pricing: Plans are based on duration with yearly plans under $10/month.
Unique Facts and Figures About the Fitness Singles App:

Fitness Singles launched in 2003
The membership covers two million users in six countries
It's a US-based dating site with an A+ BBB rating
FitnessSingles.com goes beyond traditional dating, creating plutonic workout buddies, too
Fitness Singles Features Overview
We wouldn't consider Fitness Singles to be a feature-rich web-based service. It doesn't even offer an Android or iPhone app. However, it's a niche platform focusing on healthy living, so we can forgive the site for not being uber high tech.
You'll find that the features break down into basic search and communication. There are filters that narrow prospects based on geography or passion. For example, if you're looking for someone else who enjoys weight lifting, you can search for that, or if you just want to meet people in Chicago, you can focus on the region.
Then, you've got communication options where you can "show interest" for free. But emailing and instant messaging are reserved for premium members.
Establish a Profile
You won't find anything too out of the ordinary about setting up a membership with Fitness Singles. It doesn't matter if you intend to stick to a free trial or pay for a plan. There are some basic questions to answer, but some extend to the fitness-based premise of the dating site. You can also upload some profile pics reserved for premium members' eyes only.
Show Interest
The "Show Interest" feature is open to all members, including free users. It's Fitness Singles' way of breaking the ice. And, it only takes about a second, as there's a prepared message that gets sent. One thing to note about this particular feature is that you can only use it once per member. So, if you're really crushing on someone and they don't respond, you can't send another "interest" message. You'll appreciate that limitation when someone is crushing on you, and you aren't feeling it.
Narrow the Field
One of the features you'll most likely use more than others is the filter. With members spread across the country, regional searches are essential – whether you're focused on a love connection or a plutonic workout buddy. You can also input criteria to hone right in on the perfect people. So, if you're passionate about white water rafting, you can find others who are as well.
Email Messaging
The email messaging system is a paid feature and an opportunity to share more. Communication is within the Fitness Singles community, so your personal email remains private. You can send an email regardless of if the recipient is online at the time or not, but it might take a bit to get a reply.
Instant Messages
Where email leaves off, instant messages pick up, as you can internally text another member of the Fitness Singles community if you see them online. As with emails, instant messaging is for paid users only.
The Top 25
Another search feature specific to Fitness Singles is the Top 25. It's a custom, one-click option that presents you with the 25 most active in the community. And, by active, we mean on the site and not at the gym – although that's probably true, too!
Private Photo Galleries
Instead of everyone having access to your private pics, Fitness Singles hides them so you can show and tell when you want. Free members can't see private photos.
The Quality of Singles at Fitness Singles
When avid fitness enthusiasts come together, it's beneficial for everyone. We think you'll appreciate the Fitness Singles community because healthy living is a common thread. Instead of a dating website that circles the globe with singles of all ages, regions, and interests, a shared passion for sports and fitness ups the game and narrows the field.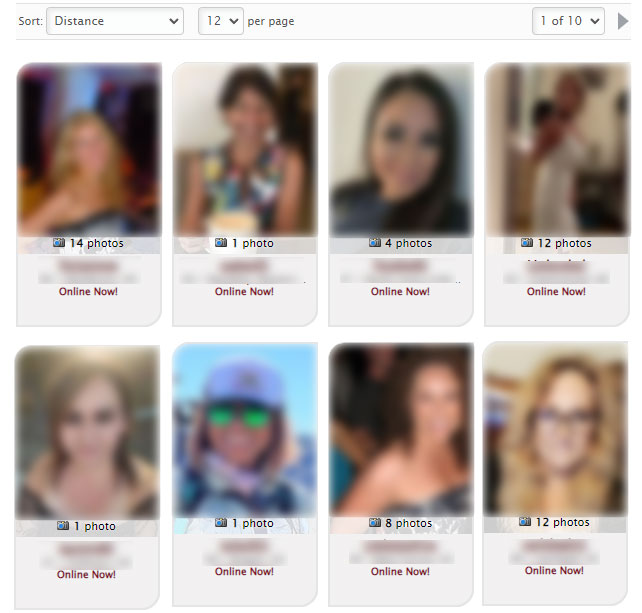 Of course, you will come across some users that you feel aren't in your league, but you should have access to quite a few people who share your interests. And, because Fitness Singles is as much for finding exercise buddies and workout partners as dating prospects, you might make new friends on your way to a love connection.
How to Sign Up at Fitness Singles
Anyone can set up a profile, free or paid members. The question is: will it go live?
Signing up at FitnessSingles.com is straightforward. You'll answer some questions and upload a photo. However, new registrations go through a 24-hour review process. So, don't try to be cute and use someone else's picture or say you play pro football, as Madden NFL doesn't count.
The whole thing will take you about five to ten minutes, though. Then, once you're good to go, you can decide if you're ready to go all-in with a premium plan.
How Much Does Fitness Singles Cost?
As you can see from the rates below, Fitness Singles is much more cost-effective if you're willing to commit.
| Membership Type | Membership Length | Membership Cost |
| --- | --- | --- |
| Premium | 1 Month | $39.99 |
| Premium | 3 Months | $59.97 ($19.99/month) |
| Premium | 6 Months | $79.98 ($13.33/month) |
| Premium | 1 Year | $99.96 ($8.33/month) |
If you join for a year, you can take advantage of the Perfect Fit Guarantee, which gives you an extra year free if you haven't made your intended connections.
Fitness Singles FAQ
What is FitnessSingles.com in a nutshell?
Fitness Singles is a niche dating site that goes beyond traditional matchmaking. Members of FitnessSingles.com are fitness and sports enthusiasts, so finding workout buddies is just as possible as making a love connection.
Are there Fitness Singles apps for Android and iPhone?
No. Instead of a dating app, Fitness Singles is a dating site. However, there is a mobile-friendly site you can access from your iPhone, Android, or tablet.
How much does it cost to join FitnessSingles.com?
While Fitness Singles offers a limited free trial membership, premium is the way to go to take advantage of all of the search and communication features. If you're willing to pay for a year, the paid plan is less than 10.00 a month. However, you can go month-to-month if you want. It'll just cost you about three times more.
What's the best way to contact Fitness Singles with problems?
Fitness Singles provides an online contact form for customer support. There's also a US-based mailing address if snail mail is your thing. That address is 257 S Shore Drive Buffalo, NY 14219.
Do I have to be into fitness or sports to be a part of Fitness Singles?
While there aren't rigid rules attached to Fitness Singles, it helps to be a healthy lifestyle enthusiast. Members of the community expect to meet other like-minded singles. So, it's probably not worth joining unless you're passionate about physical activity.