While I normally lead off these guides with some playful banter and some super cheesy puns (Wisconsin pun intended), I'm going to spare you the dad jokes today and get right down to business. If you're here, you're probably a single man or single woman in Wisconsin who wants to have a little bit more success finding someone on the dating scene.
But if you've gone out and experienced the Wisconsin "nightlife", well…I understand why you're here. This is one of the main reasons that so many singles in the state of Wisconsin are turning to online dating apps—they don't shut down at 9 o'clock every night.
Wisconsin dating apps help you break out of the small social circles that dominate the dating scene in the state, help you to meet new people (even when it's freezing outside), and ultimately—can deliver you some real results.
If you're ready, I'd like to start by sharing our team's picks for the best dating apps in Wisconsin and then share some really cool data and information about the Wisconsin dating scene (and what on Earth you can expect).
Top Rated Wisconsin Dating App
What's the number one complaint we hear from singles in Wisconsin? "I can't find anyone new to date." "I only see the same singles I've seen my whole life." The dating scene in Wisconsin revolves around tight-knit social groups and smaller communities. This is great if you meet someone within your group, but if not, you probably feel stuck.
For this reasons, the best Wisconsin dating app is going to be one that gets you in front of the most quality singles in the state. This is going to be Zoosk. With over 30 million users, it's no wonder so many singles in the state are turning to this app. And what's awesome is that Zoosk caters to all types of relationship goals. So, if you want casual or short-term dating, you can select that. If you're looking for something real and lasting, you can select that.
There's no doubt in our mind that Zoosk is the best option for singles in Wisconsin looking to date online.
Best Wisconsin Dating App for Professionals
The term professional encompasses so many of the major industries we see in Wisconsin—healthcare, finance, insurance, real estate, etc. It even groups in entrepreneurs, business owners, and people who are masters of their craft (whatever that skill or trade may be). If you're attracted to singles who understand your hard work ethic (and also find it attractive), Elite Singles is the Wisconsin dating app for you.
Available on both iOS and Android, this dating app masterfully creates an environment for go-getters and goal-driven singles to connect. Additionally, Elite Singles uses a more classic approach to matchmaking (they send you daily matches and show you a searchable database), and is a welcomed break from the barrage of swipe-style dating apps taking over the market.
Elite Singles may not be best for people in their early 20s, but if you're 30 or older (like almost 63% of the state is), you're going to love it. At the very least, take advantage of the trial account to search for potential matches within your area.
Best for Friends or Dating in Wisconsin

Over the past five years, we've seen a steady search volume for "Bumble" in the state of Wisconsin, with the highest concentration coming from the Madison and Milwaukee areas (as well as the suburbs of Minneapolis across state lines). If you live in those areas, Bumble might be the dating app you should consider joining.
Here's what's cool about Bumble. When you join, you can choose one of three paths—find dating partners, find friends, or find business partners. Yes, you're here for the first of those (which Bumble handles well), but it's neat to know you have some other options if you should so want.
And with Bumble, the ladies are in charge. After a mutual match is made (through swiping), a conversation becomes available. However, only the women is allowed to send the first message. In a state where men outnumber the women (slightly), this could be a welcomed change for some. For others, they may prefer something a little more traditional (and that's okay).
If you want a new spin on dating where the women are in charge, try Bumble. The app is available on the App Store or through the Google Play store, whichever matches your device.
Ideal Dating Site for Religious Singles in Wisconsin

While 71% of people in Wisconsin identify as Christian, less than half say it's important in their life. And an even smaller percentage of those people say they attend church weekly (or even monthly). This, to us, sounds like a lot of casual Christians who want to find someone who aligns with their beliefs but also their level of commitment to the faith.
The ideal Wisconsin dating app if that's you is Christian Mingle. While the app is totally geared towards Christians, it's not as in-depth of a faith-based focus as, say, a dating app like Higher Bond is. And that's not to say that there aren't Wisconsin singles on there who do take their faith seriously; it's just the approach of the app takes a bit more of a casual angle towards faith topics.
What's awesome though—15 million+ accounts on there, which means tons of people for you to connect with.
Additional Resources for Wisconsin Singles
What Makes These the Best Wisconsin Dating Apps?
There are specific reasons that certain dating apps are better in certain states and it doesn't just come down to who has the best commercials or the most members. Here are three of the bigger reasons that we selected these options as the best Wisconsin dating apps for you.
They're designed to be easy to use.
Wisconsin is not known as a tech giant of the world. Sure, a lot of us are great with technology, but some of us aren't. This is why we only recommend dating apps that are easy to use. You might think that every app is easy to use, but that's not the case. Some have less-than-intuitive user interfaces, some have too many features, and some try and overcomplicate a process that doesn't need to be hard. Thankfully, the apps we've suggested subscribe to the "keep it simple stupid" mantra, and we like that.
They're built with sufficient filters to find what you want.
It goes without saying that one of the biggest reasons to use online dating apps is that you can (or at least should) be able to filter down to exactly what you want. This should include things like age, distance, interests, etc. This becomes especially important in certain towns where you have big age disparities or relationship goal disparities.
For example, in Madison, if you go on a dating app without filters, you'll see an overload of singles 18-24 (because of the college). But there is actually a huge young professionals scene (25-35) in the area, and a good scene for those 35+ (including seniors). If you don't have the ability to filter this well, though, your experience will not be great. Yes, as you already guess, these Wisconsin dating apps have you covered.
They come with "small-town" features.
Wisconsin has a lot of small towns, and even some of the bigger towns can feel like small towns. One of the weirdest things about dating in a small town is seeing people you know or maybe have dated in the past. This is why we want dating apps that easily allow you to block other users or hide yourself from people you don't want to see. It might seem like a small feature, but it's imperative in the Wisconsin dating culture, especially for singles who have lived in the same town for a long time (or forever).
What is the Wisconsin Dating Scene Like?
Equally as important as finding the right dating app for you is understanding what dating in Wisconsin is really like. Here are six trends and observations my team and I have seen from our own experiences, reading forum posts, and talking with singles from Wisconsin. Your personal experiences may be wildly different, but a lot of people are going to be able to identify with these trends.
You better believe the weather plays a role.
When it gets cold in Wisconsin, it has a profound effect on the dating scene in three ways. One—the nightlife slows way down and people tend to go on fewer dates because of the weather. Two—cuffing season (when people look for love during colder months) is a real thing, so expect a lot of people to try settling down right before the temperatures start to drop. And three—there's a new trend called "Winter Coating" where exes reach out to past relationships during the colder months for the same reasons behind cuffing season (be wary of this).
The best place to meet someone is the Kwik Trip buffet.
We're kidding. This is just a joke. Although, you never know, right? If you're new to the state and have no idea what we're talking about—you'll find out soon enough what Kwik Trip is.
Don't expect a lot of ethnic diversity.
We're not here to say whether this is a positive or a negative (depends really on your personal preferences), but we do want to point it out. Nearly 4 out of every 5 people (79%) in Wisconsin are White or Caucasian. The closest other group to that would be Hispanics at only 7% and then Black at 6%.
A LOT of people get married right out of high school.
This is a trend we see in the Midwest and the south quite a bit, so it's not that surprising. You'll find that a lot of people end up marrying their high school sweetheart, which can be discouraging for transplants to the state that feel like everyone is married. But, as you'll see in some later data we're going to talk about, many cities in the state actually rank top 10 for the lowest % of married people, so it's not that bad. What this also means is that you may find a lot of singles in their late 20s and early 30s who have had a divorce and may be single parents. While we hope that all high school relationships last forever, it just never really proves to be the case, and this will have an effect on the Wisconsin dating scene.
There's a huge single young professional population in Madison.
As you might expect in a big college town with robust post-grad offerings, you're going to see a ton of young professionals. There is, of course, also a younger dating scene here as well, but that seems to be more on par with what see from most college towns. The young professional scene here seems a lot stronger than other major college towns.
People have polarizing views of dating apps in Wisconsin.
This isn't something new we're seeing, but it's something we don't see everywhere. If you look at reviews, forum posts, and talk to people in Wisconsin about their views on dating apps—no one will tell you that they're just "okay". You're either going to hear that they're the greatest thing since sliced cheese or they're the worst thing on the planet and should be banished to the pits of Michigan. While anecdotal, this tells us that people put a lot of weight into their personal experiences when judging things and may have a tendency to jump to conclusions about products or large groups of people quicker than in other states. For example, if they go out with a farmer and have a bad date, there may be a higher propensity to say that all farmers are terrible. Again, purely anecdotal and some theorizing, but worth looking at.
Two Wisconsin Cities Make Top 25 List of Best Cities for Singles
Sometimes looking at the dating scene at the city level instead of just the state level can give some more specific insight into what to expect. This is exactly what our data team dug into recently.
Our recent data study on the best cities in America for singles produced two results from the great state of Wisconsin. Coming in at 12th was the city of Milwaukee, and coming in at 21st was the city of Madison!
And while the two overall top-25's is impressive, the real area that the cities shined was in the subcategory of the quality of the dating pool. When we ranked each city based on just the quality of the singles, Madison came in 2nd overall and Milwaukee came in 3rd overall! The category looked at:
% of the population that is single (40% weight)
% of high school graduates (12% weight)
Diversity of male and female population (10% weight)
% with access to the internet from home (10% weight)
Google search trends for singles (10% weight)
Prevalence of STDs (13% weight)
Wisconsin Singles Dating Statistics
Just to come full circle and wrap up our discussion on the Wisconsin dating scene, we wanted to share some statistics about the population as a whole. The idea is that this should give you a higher-level, bird's-eye type view of the larger trends and conditions you'll experience when dating in the state. Don't let any of these numbers discourage you as you're only looking for one single person.
Total Population
Population in Wisconsin by Gender
49.9% women in Wisconsin
50.1% men in Wisconsin
Overall Singles (Unmarried) by Gender
49.7% of women in Wisconsin are single
48.7% of men in Wisconsin are single
Population in Wisconsin by Age
12.9% aged from 20-29 years old
12.7% aged from 30-39 years old
11.9% aged from 40-49 years old
13.3% aged from 50-59 years old
25.0% aged 60+ years old
% Households With Internet in WI
80.4% of households in Wisconsin have internet access
Which Wisconsin Cities Are Most Interested in Dating Online?
One of our favorite things to do here at Healthy Framework is dig into data. And when it comes to Wisconsin dating, we wanted to know what major metropolitan areas and cities had the most interest in online dating over the past 12 months. By digging into Google Trends data and search volumes, we're able to pinpoint what areas had the most interest in the topic.
The winner? The Wausau-Rhinelander area! Following at virtually a tie is the Milwaukee area with Green Bay-Appleton and La Crosse-Eau Claire, and Madison rounding out the top five. Here are the full results: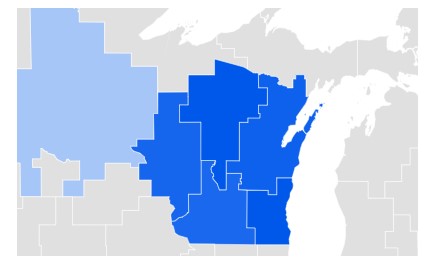 Wausau-Rhinelander WI – (100)
Milwaukee WI – (100)
Green Bay-Appleton WI – (92)
La Crosse-Eau Claire WI – (88)
Madison WI – (86)
Minneapolis-St. Paul MN – (6)

Wisconsin Dating Apps FAQ
What is the best dating app in Wisconsin?
The best dating app in Wisconsin is Zoosk because it has over 30 million members which helps to cut through the issues of smaller social circles, more spread out cities, and a less robust nightlife scene in most areas. Additionally, the app caters to all different types of relationship goals making it a proverbial "jack of all trades" for singles across the state.
Is dating in Wisconsin harder than other states?
Dating in Wisconsin does seem to be a bit harder than in other states as a result of the smaller and tighter knit social groups. This makes it hard if you don't find someone to date within your group or if you're brand new to the state and trying to get plugged in. Ultimately, it's not as 'impossible' as many might make it out to be, but it's certainly not without its challenges that some other states don't experience as intensely.
How much do dating sites in Wisconsin cost to join?
The range of pricing on dating sites and apps in Wisconsin range from about $10 a month upwards to $60-$70 a month, depending on the quality of the site and how long of a membership term you select. Free Wisconsin dating apps do exist, but the quality is just not there and therefor we don't recommend them. If you're serious about getting results, plan to invest a few bucks in your goals.
Where do people in Wisconsin meet other singles?
Your options for meeting singles in Wisconsin may seem limited, but there are quite a few places you can have success (depending on the city you live in). These generally include online dating, local bars and pubs, community events, Meetup groups, house parties, at work, and through friends and family. In some of the bigger cities you may be able to meet singles at nightclubs, but don't expect a lot of results there if you're looking for a more long-term relationship.
---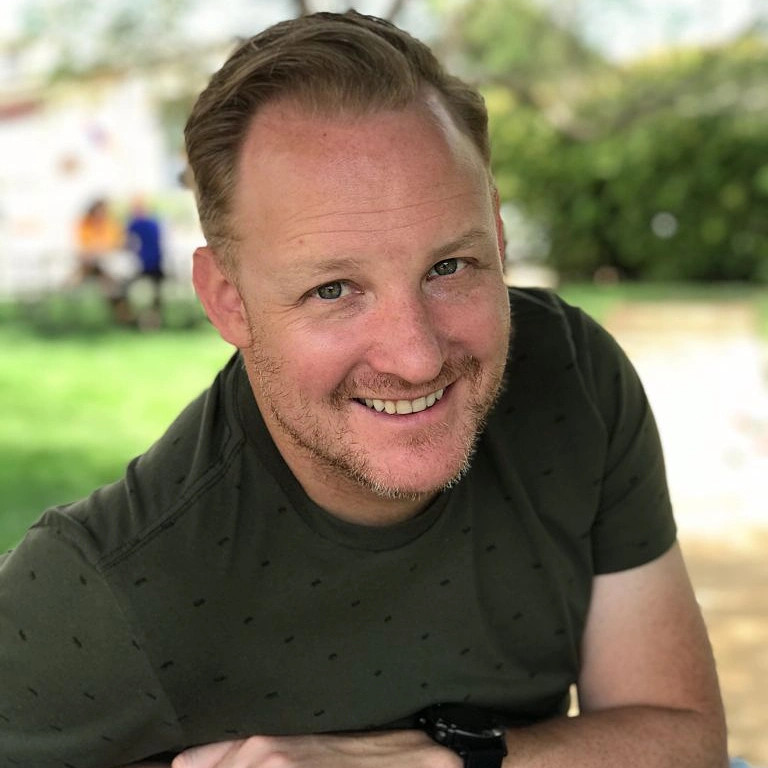 Written By: Matt Seymour
Matt Seymour is a dating industry expert with over a decade of experience coaching singles, reviewing dating apps, and analyzing trends within the industry. With a Masters of Science in Finance (MSF) degree from the University of Florida and extensive knowledge of the innerworkings of the online dating industry, Matt frequently serves in an advisory role to some of the largest dating apps on the market. In Matt's current role with Healthy Framework, he leads the interview team that regularly interviews key dating industry leaders, and leverages his financial knowledge and dating app experience to review and share what singles need to know to get the most out of dating online.