Upward Review

When it comes to dating online for Christians, the need to protect your heart is of the utmost importance. What this means for Christian app companies is that they better bring transparency, strong morals, and the right boundaries and safeguards to create a God-honoring experience where you can also find that special someone.
One of the most recent to enter this arena was Upward, a swipe-style dating app (from the makers of Tinder) aimed specifically at Christian singles. But does Upward offer a safe and and effective way for Christian men and women to connect?
That's what we're talking about today. In our Upward dating app review, we'll share our thoughts, what we like, what we don't like, and what we think you should do if you're trying to figure out if this app is legit and/or worth your time and money.
Is Upward Worth It? – The Bottom Line Upfront
Full transparency—when we're reviewing Christian dating apps like Upward, we put things through a lot more intense scrutiny. Why? Because we know that singles looking for faith-based relationships care a lot more about the quality of the experience.
So, how does Upward stack up? Let's get into it.
In short, Upward is nothing more than Tinder for Christians. It's an app where you swipe left or right (depending on if you like someone). If there is a mutual match (you both swiped right to indicate interest in each other), the app lets you know and a conversation is opened up.
You'll also notice we didn't say "an app like Tinder," but instead we said, "Tinder for Christians." This was intentional. Upward is owned by Match Group, the same company that owns Tinder. It's not something that resembles Tinder, it's literally from the exact same company which may be a red flag for a lot of single Christians.
For us, this style of dating can be effective for casual dating (minus the potential dangerous effects of swipe dating on your mental health) but when you try and make what should be a more serious and intimate process into a streamlined, and photo-driven process—it's a miss for us. As most Christian singles are looking for committed and Christ-centered relationships, you can see the disconnect.
Additionally, there are no good boundaries put in place to protect Christians from things they may not want to see. For example, a quick scan through some of the members in our area and you see quite a few scantily clad photos, a ton of cleavage, and what we personally would call an environment that's just not that wholesome.
Here's one of the first pictures we saw on the app. While some Christians might not have an issue with this image, there are probably quite a few who would. This seemed to be fairly par for the course. (Yes, we blurred the user's face for privacy purposes)
Additionally, the app has some features that it almost seems like they just plain forgot to remove when turning Tinder into a Christian option. For example, you can add stickers onto you profile, which seems like a neat idea. However, some of the sticker options don't seem like they should be within 100 miles of a Christian dating app.
For example:
"Netflix and Chill" (referring to hanging out with the intention of having casual sex)
"Woke AF" (the F stands for the F word)
"Christian Thug" (literally no idea what they're going for with this one)
"Let's Hook Up" (yikes)
"Water Into Wine" (using a Bible story to promote people who like to drink with comment "Just turning water into wine over here, more wine than water though")
This feels incredibly out of touch, but is probably what should be expected from a secular company running a Christian dating app.
Lastly, when we read the fine print during our Upward dating app review, we found that Upward states they may show your profile to people on other apps if they so choose. In our opinion, this is not a great thing. If we join a particular app (especially a niche one), we'd like to keep our business just on that app.
For us, Upward is nothing more than Tinder with the word Christian slapped on the front of it. It lacks the necessary features and boundaries to make the site actually applicable for Christian singles. For that reason, our team scored the app a 6.0 out of 10
An Alternative Option Like Upward (with a free trial)
For those of you who are excited to get involved in online dating, we didn't want our Upward review to leave you discouraged. There are some Christian dating app options out there that do really dial things in well for Christian Singles. One of our favorite alternate options for Upward is a site called Higher Bond. As you'll see in our Higher Bond review, this app was built for Christians first and not as an afterthought on some already used technology
If you want to try online dating but really want it to be in a God-honoring environment, check out Higher Bond now.

---
Overall Upward Rating
| Category | Score |
| --- | --- |
| Quality Matches | 6.5/10.0 |
| Features | 5.0/10.0 |
| Ease of Use | 9.0/10.0 |
| Support | 7.0/10.0 |
| Cost | 6.5/10.0 |
| Overall | 6.0/10.0 |
6.0/10.0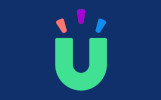 Pros and Cons of the Upward Dating App
Pros
Fast sign up time
Convenient for Christians who are looking to date casually
Good for Christian singles who care a lot about how someone looks (photo-first app)
Cons
Swipe-style dating may cheapen the goal of a Christian dating app.
No limits on photos that some Christians may disapprove of
The platform is only available as an app.
The swipe-style of matching doesn't utilize personality algorithms.
Who Upward Is Good For
More casual Christians
Singles who value looks more
Younger Christian singles who like swipe-style dating
Who Upward Might Not Be Best For
Christians who take their faith very seriously
Christian singles who are looking for committed relationships
Singles who want a safer and more Christ-like dating environment
Upward Review – Table of Contents
Upward Features Overview
What we'd like to look at now are the different features that are available at Upward. Bear in mind that our reviews and opinions of these features are done from a Christian single's lens. Many of these features may be great (or bad) for mainstream singles, but they may be the opposite for faith-focused singles.
At Upward, you have three different membership options—free membership, Premium membership, and Elite membership. Additionally, there are add-ons that can be used with either of these memberships. Let's start be seeing which features come with each membership level and then talk about some of the more prominent features.
| Feature | Free | Premium | Elite | Add On (a la carte) |
| --- | --- | --- | --- | --- |
| See Matches | Yes | Yes | Yes | NA |
| Swipe Matches | Limited | Unlimited | Unlimited | NA |
| Super Likes | 1 per week | 5 per week | 5 per week | Yes |
| Boosts | X | 1 per month | 1 per month | Yes |
| Rewinds | X | Yes | Yes | NA |
| Ad Free | X | Yes | Yes | NA |
| See Who Liked You | X | X | Yes | NA |
| Stickers | Yes | Yes | Yes | NA |
Matches and Swiping
One thing we did like during our Upward review was that everyone does get to do some swiping without paying. The big difference, though, is that free users on Upward have a limited number of likes they can use per day. If you'd like an unlimited number of swipes and likes, you should upgrade to a Premium or Elite account.
Super Like
Want to get someone's attention quickly? Then you need a Super Like! When you Super Like a profile, that person is immediately notified. This way, they can choose to respond to you instantly instead of waiting for them to happen upon you in their matches.
Visibility Boost
Want to get more attention platform wide? Visibility boosts allow you to show up first to other matches in your area for a fixed amount of time. As long as you're doing your part to swipe on matches, this could really help your chances in making connections.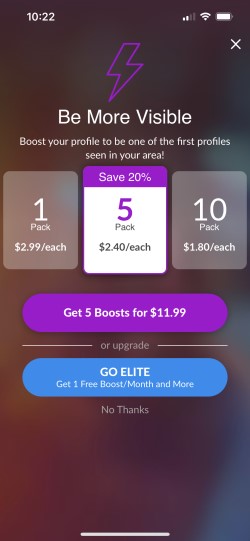 Second Chance or Rewinds
Rewinds are a way to go back and correct a mistaken swipe. These casual dating apps can often unconsciously coax users into swiping marathon style. This leads to mistakes that can be incredibly frustrating. Having the ability to undo those mistakes, without limits, makes Upward a much more enjoyable app.
Removal of Ads
While we didn't see many ads during our last Upward review, it does stink to hear that they're out there. If you do upgrade, though, you won't have to worry about seeing ads anywhere. Showing ads is definitely not something on par with higher quality dating apps, so it was a bit surprising from a Match Group site.
See Who Liked You
Most of Upward's premium services involve ways to get matches faster. See Who Liked You sticks to that theme by offering you a look at the users who have already liked your profile. You can choose to like these users back and quickly create a match/start a conversation.
Stickers
Upward has added a feature called stickers where you can add a little badge that goes right on your profile. It's a way to spark up conversations, inspire interest, or show off the way you feel about something. As of our last review, there were just under 20 stickers to choose from.
While we liked a lot of the stickers, there were a few that could be considered controversial for a Christian dating app. First, the "Woke AF" sticker. AF stands for words that you typically don't use as a Christian. Second, there was a Team Yeezy sticker that is in support of Kanye West, which has become more controversial as he has made some anti-Semitic comments and questionable faith-based remarks.
Third, as you'll see below, there is a Netflix and Chill sticker. We think it's pretty clear why this is not the greatest option for a Christian dating site.
Here are a few of what the stickers look like.

Denominations
When you join Upward, you are able to share what your denomination is. While this is a minimal feature, it is one we did want to share as it will be important to a lot of people. Here are the 13 denominations you can choose from at Upward. You're also able to select Not Sure Yet or Other.
Anglican
Baptist
Catholic
Church of Christ
Episcopalian
Evangelical
Lutheran
Methodist
Nondenominational
Orthodox
Pentecostal
Presbyterian
Nazarene
Not sure yet
Other
The Quality of Singles on the Upward Dating App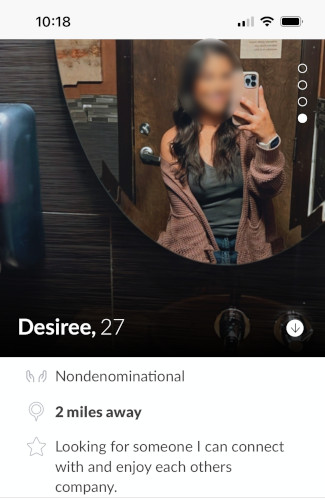 So, our review score for the quality of matches on the Upward dating app could be a little misleading but we want to explain. Are there good looking, real people on the app? Absolutely. However, there are two reasons we knocked a few points off.
First, a lot of the profiles we read seemed quite casual about their faith and dating. While this may be good for some people, it's not ideal for anyone looking for a serious faith-based relationship. Yes, this was anecdotal from our reviews, but it was something our team saw fairly consistently.
The second reasons we knocked the points off was because the profiles weren't very robust. Much like Tinder, they were short and to the point. While this is great for casual dating, not so great to make real connections. So, that's why we said the review score may be misleading. This is at no fault to the people on the app, but we felt it needed to be reflected somewhere.
Overall, though, there are quality singles on the Upward app. We're just not sure the people mixed with the platform creates the best opportunity for serious Christians.
How to Sign Up at Upward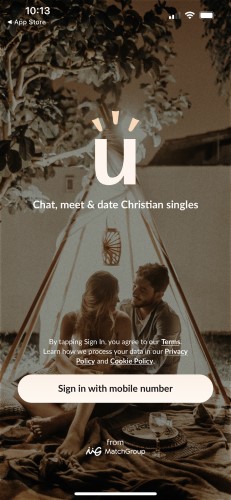 If you're interested in signing up for Upward, the process is quite simple and straightforward. Here are the steps:
Upward is only available as a mobile app, so the first step to signing up is downloading the app to your mobile device. Once installed, open the app to begin the sign up process.
The next step is to input your account information. Adding your information into the sign up page will count as agreeing to the site's term and privacy policy, so give them a read before beginning!
Once you are ready to begin, simply tap "sign in with mobile number." You will add the number linked to your mobile device, then click "continue."
You will receive a code to your phone. This may automatically input into the field labeled "enter your code," or you may have to manually enter the code.

Note: If you have ever received a Shop Pay confirmation code, this code will come from the same number and show up in the same conversation thread!*

You will also need to add an email address, but you can instantly opt out of marketing emails.
After confirming your contact information, it is just a matter of filling in basic profile details like your age, denomination, etc. You will need to upload a photo and activate your GPS to complete the signup process.
All in all, sign up takes between 5 and 10 minutes.
Price | How Much Does Upward Cost?
Here are the most up to date prices for using the Upward app. As previously stated, you do get some usage out of the app with the free trial account. Beyond that, there are two premium membership options to choose from with varying term lengths. The longer the term you select, the lower the monthly cost.
You'll also see that you can purchase several addons a la carte if you'd like. Unlike many other apps, you can actually use these addons without purchasing a premium membership, though, the utility of them goes down quite a bit.
| Membership Type | Length | Monthly Cost | Total Cost |
| --- | --- | --- | --- |
| Premium | 1 week | $8.99 weekly | $8.99 |
| Premium | 1 month | $14.99 | $14.99 |
| Premium | 3 months | $7.49 | $22.49 |
| Premium | 6 months | $5.99 | $35.99 |
| Elite | 1 week | $17.99 weekly | $17.99 |
| Elite | 1 month | $29.99 | $29.99 |
| Elite | 3 months | $14.99 | $44.99 |
| Elite | 6 months | $11.99 | $71.99 |
| Boosts | 1 pack | $2.99 each | $2.99 |
| Boosts | 5 pack | $2.40 each | $12.00 |
| Boosts | 10 pack | $1.80 each | $10.80 |
| Super Likes | 5 pack | $0.60 each | $3.00 |
| Super Likes | 25 pack | $0.40 each | $10.00 |
| Super Likes | 60 pack | $0.30 each | $18.00 |
Upward Complaints
While we're starting to feel a bit like a Negative Nancy, we think it's important to share as much information as possible so that you can make the most informed decision possible. To do that, we wanted to include some of the most common Upward app complaints we've heard.
It's very important that you do realize these are anecdotal complaints, meaning they are from individual users. It's possible that user just had a bad day or is just a negative person. It's also possible, though, that it is the sign of something bigger. The idea with these Upward complaints is just to give you things to possible be on the look out for.
Some users claimed that the notifications are a bit aggressive from the app. You can shut these off and control them, but we did see during our review that you're asked every single time you open the app to turn the notifications on.
Some users don't like the ability to pay for an advantage. We found a few people who weren't happy that users with more money to spend could do things like boost and super like to get an advantage over everyone else.
The lack of Christian focus upset many users. As we outlined in this review, there are a lot of things that feel way more like Tinder than a Christian dating app, and users weren't happy. We'd imagine having things like Netflix and Chill and Woke AF as things you could showcase is not a great start.
We saw the standard complaints. If you search, you'll find a lot of people who claim many of the users are fake. While some of them could be, this is a pretty standard complaint you hear with most apps, so we wouldn't put too much stock in it (but something to be aware of).
There are quite a few complaints about catfish. One thing Upward does not do is much verification past checking that you have a valid phone number (which can easily be faked). This is certainly an issue that every dating app has to face, but some attack it a lot more aggressively than Upward does.
Customer Support Options
Upward's customer support involves a thorough set of frequently asked questions and email based messaging. The question we asked Upward's customer support was answered within 72 business hours, but some users report hearing back as soon as the same day. Overall, this is relatively on par with the rest of the industry. It would be neat to see some form of chat or phone support, but not necessary.
Try Upward Now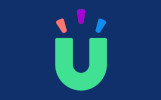 ---
Upward Dating App FAQ
Is Upward a Christian dating app?
Yes, Upward is designed to be a dating app for Christian singles, though, there are some complaints that it's just a mainstream dating app with a Christian label on it.
Can I use the Upward dating app for free?
Yes, there are many features of the Upward dating app you can use for free, though, you will see limitations on your daily number of swipes and likes.
What company owns the Upward dating app?
The Upward dating app is owned by Match Group, the same company that owns sites like Tinder, Match.com, Hinge, and more.