Looking for a way to bring something new to your relationship? Try introducing some date night board games!
We have curated a list of some of the absolute best games that range from fun and challenging to ridiculously sexy. Sure, you could pull out the same old family games you have on the shelf, but where is the excitement in that? There are way too many great options out there to settle for Monopoly or Yahtzee.
When it comes to date night board games, you want to be sure you find something that meets your needs. If you and your lover enjoy a little fun and whimsy, we have games for you. Looking to get things ready to move into the bedroom? Well, we have those too. There is truly a little something for everyone, here.
1. …I Should Have Known That – The Best Game for a Little Competition and a Lot of Fun
If you have ever been dominated at niche trivia competitions, this is the game for you. I Should Have Known That contains over 400 questions that cover things that you, well, definitely should have known.
The game is designed for 2+ players, so there are no alterations needed to bust this out on date night. Be prepared to laugh though, you will be floored by the things you somehow didn't know.
---
2. Love Language – Perfect for Couples Who Want to Improve Communication
If you are looking for a great way to learn about your partner, Love Language will open up the doors of communication. Choose from a wide selection of prompt cards and answer the questions. Soon, you'll be shocked at how much you've learned about your partner.
The questions were created after researching techniques used by top relationship psychologists and are meant to spark fun conversation – not just surface-level small talk.
---
3. Telestrations After Dark – Top Choice for Double Dates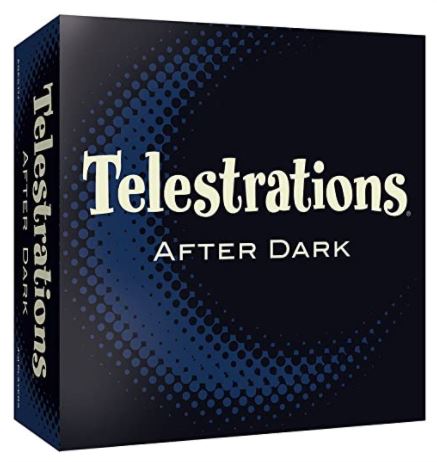 You may have played Telestrations before, but this version is for adults only. The game includes everything you need to get started including clue cards, drawing supplies, and even drink coasters. The game is great for groups of 4-8 and should be in your list of date games for couples.
Use your drawing skills to try and communicate your clue to other players. Sound easy? Trust us; it's not. It is a howling good time, though!
---
4. Monogamy – The Best Selection for Setting the Mood
For a dynamic game that jumps headfirst into intimacy and sensuality, try out Monogamy. This game is as fun as it is steamy. You start with an intense staring contest to determine the order of play, then you let a pair of dice determine your fate.
From answering sexy questions to living out unique fantasies, this game can heat up any date night.
---
5. Talk, Flirt, Dare – Great for Those Who Want More Bang for Their Buck
Talk, Flirt, Dare is three card games in one. First, the "talk" deck includes a series of conversation starters that are perfect for dates or parties. Next, the flirt cards get a little bit spicier with questions meant to provoke smiles, blushing, and affection. Lastly, the "dare" deck brings the action to your party.
If you take on all three levels of Talk, Flirt, Dare, you can expect to get a little dirty and a lot closer.
---
6. The Ultimate Game for Couples – Fun for Couple's Seeking to Strengthen Their Connection
Play with your sweetie or challenge other couples with this fun trivia and trial game. The game has "guess" and "challenge" cards that both test your knowledge of your significant other and push your boundaries with fun dares.
There are a lot of date games for couples that look to heat up the room, but none of them are near as fun. If you are looking for a game that has a lot of replay value, The Ultimate Game for Couples is a perfect choice.
---
7. Cards Against Humanity – Best Option for Couples Who Like Raunchy Hilarity
You may be familiar with Cards Against Humanity as one of the most enjoyable party games on the market, but have you added to your list of games to play on a date night? That's right, many clever people have created fun ways to play with just two people.
One option is to try drawing a few "rando" cards from the deck to combat your sweetie's pick and see if they can beat fate. If you have a dark, cynical sense of humor, you definitely want to give this one a try.
---
8. Unstable Unicorns – A Fantastic Selection for Strategy Game Lovers
The only game where you can build an army of unicorns and use it to crush your spouse. That may sound harsh, but the level of fun is astronomical. Each game takes 30-45 minutes which is the perfect length as a date night add-on.
The game has a ton of expansion packs and even has a 21+ version for those seeking a bawdier rendition.
---
9. Catan – Perfect Pick for a Dinner Party
Is there a board game list out there that doesn't mention Catan? Probably not, since this is one of the most popular, award-winning, adventure board games on the market. Standard play requires 3 people, which means this is perfect for double dates and dinner parties.
Take control of your land and use your sick trading skills and eye for land development to beat out the competition.
---
10. What Do You Meme? – Terrific Entertainment for Lovers Who Need A Laugh
Are you or your spouse a lover of internet culture and modern visual comedy? Then this is the board game for you. When it comes to date night games for couples, this one is bound to bring the most laughter.
What Do You Meme is a vulgar, adults-only card game that matches hilarious text cards with bizarre images. Standard play requires 3 people, but utilization of random cards from the deck turns this into a hilarious, intimate date night party.
---
Just a heads up, we sometimes get a few bucks if you purchase some of the items linked from this page. It's how we keep the lights on. Thanks for your support!
---
Written By: Brandi Brown
Brandi Brown is a daytime copywriter and nighttime novelist. Her projects range from marketing content and commercial scripts all the way to narrative poetry and short fiction. Her debut novel, Bleached, is set to release in 2021.
---