Plenty of Fish Review

Plenty of Fish might be one of the most well-known dating apps out there. This is probably thanks to their "find your other half" commercials that they began running in the early 2000s or their akin to the popular dating phrase "plenty of fish in the sea". Even those who have been married for decades have likely heard of Plenty of Fish.
Still, we all know that something being popular doesn't necessarily make it good. Because of that, we wanted to fish for the truth and see if POF is popular because of a top-notch app or top-notch advertising.
Turns out, Plenty of Fish has gone through quite a few glow-ups over the last 10 years, and there is a lot to discuss. So, if you are interested in figuring out whether POF is the right dating app for you, we strongly recommend buckling up for our full POF review.
Is POF Worth It? – The Bottom Line Upfront


Years ago, Plenty of Fish had a pretty rough reputation mainly surrounding the quality of the members. This was probably due to the fact that the site is largely free to use with minimal barriers to entry. This is a recipe for scammers, spammers, fake accounts, and people looking for something quick.
Since then they were acquired by Match Group and have made some changes including a few new features (which we'll discuss in depth later in the review) and multiple design overhauls. But has the app really improved?
Well, it depends on how you look at it. Does the site look better? Sure. Does the marketing message portray a different type of dating experience? You bet. However, not much at all was done in regards to the barriers to entry or the core functionality that's held this app back. It's still a completely free dating site that only takes a few minutes to sign up. Yes, they added in some phone number verification steps which have helped some, but it's still relatively the same process.
But here's the weirdest thing of all – With the latest redesign POF has started pushing users to other dating apps. On top of various ads placed throughout their app, you can now fins a "try other apps" page in the main navigation menu under My Profile (We've included desktop and mobile screenshots below as proof):
I mean c'mon… No legit dating app does this! And despite some efforts to lower the number of scammers getting in how can we really believe in a brand that doesn't believe in itself?
POF scored a 5.8 out of 10 possible points (Lowered from our previous POF review). Our main problems were with the continuing member quality issue (too-easy of a sign-up process inviting fake accounts), incomplete profiles, multiple reports of unsolicited and inappropriate photos, an excessive amount of ads, and blatantly pushing users to other apps.
So, is Plenty of Fish worth it? Despite an impressive number of users, we think POF still has some growing to do if it wants to swim in the big leagues. If you have absolutely zero dollars to put towards online dating and are okay swimming in the weeds, it might be worth checking out. But if you're serious about finding something special (casual or serious), there are better options (And clearly the team at POF agrees). Our recommendation would be to take their advice and "try other dating apps".
Our Recommendation for the Best POF Alternative – Zoosk
The reason we've selected Zoosk as the best POF alternative is that it's what we view as "what POF is trying to be." It's a platform with over 35 million users that serves people looking for everything from serious relationships to casual dating and hookups.
The difference, though, is that the security and screening parameters in place at Zoosk are far superior to those at POF. The result is a higher quality user experience, less fake or scammer profiles, and a better chance of finding exactly what you are looking for.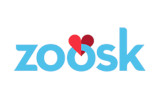 ---
5 Things to Know About POF
POF has undergone multiple design changes in recent years which shows they're actively trying to change the brand's image. However, we still think they have a long way to go to bring the quality up to a level we're happy with.
There are reportedly over 3 million active users logging into POF every day which is a positive statistic to see. There are also over 1.6M user reviews in the App Store and Google Play.
POF is actively rolling out new features which is always nice. However, many of the features seem to cloud the platform, impact user friendliness, and miss the mark with getting you closer to finding someone special.
Plenty of Fish was purchased by Match Group (the owners of Match.com and Tinder) back in 2015 for $575 million.
New features like Live and Que'd up are fun, but not really built to create matches or real connections. They are clearly not trying to invite serious daters to the app (Which is fine as long as that's what you're looking for).
---
Overall POF Rating
| Category | Score |
| --- | --- |
| Quality Matches | 4.5/10.0 |
| Features | 7.5/10.0 |
| Ease of Use | 8.0/10.0 |
| Support | 6.5/10.0 |
| Cost | 7.0/10.0 |
| Overall | 5.8/10.0 |
5.8/10.0
Pros and Cons of the Plenty of Fish Dating App
Pros
It is super fast to sign up and begin using the app.
There is a free version of the app you can try before deciding to buy.
There is a huge pool of singles using POF (over 3 million daily active users).
The developers are actively working on the app's design and features.
Cons
Lower quality of singles when compared to similar apps.
Technical issues are common and hurt user experience.
No video chat functionality (and POF Live doesn't help).
The free version of the app is limited in features and is inundated with annoying ads.
Multiple user reports of unsolicited NSFW pics.
The app has started recommending other dating apps.
The age of an average US user skews a little older (35+)
Plenty of Fish Reviews – Table of Contents
Review of POF Features
In addition to the traditional profile and messaging features, there are some additional things that POF has added to the mix (mostly after being purchased by Match Group) to try and make things better. Some of the features we're fans of, some of them we think missed the mark, and some are downright annoying. Here's a quick look at some of the more meaningful POF features.
POF Live!
Many social platforms have begun implementing a live system thanks to the success and popularity of streaming apps like Twitch and YouTube. Plenty of Fish has jumped on that train as well with their Live! feature.
POF Live! allows users to live stream themselves for their matches and potential matches to see. It is a fun way to get more info about your personality out there, but is even better as a way to learn more about your matches before wasting too much time. The streams are genuinely fun to participate in and you can pass along virtual gifts to get the attention of the streamer, if you'd like.
Overall, this feature is well implemented. However, does it really help you finding dates? From our testing and use of the product, it seems like another form of Twitch that really misses the mark on the intended purpose. Additionally, users are able to purchase tokens and buy gifts for other users who are going live, which again, we think misses the mark for online dating.
Since many of the top POF live streamers have hundreds or more watching them it can make connections hard. Many other dating apps offer one on one date style video chats which we think offer much better results.
We will however give mad props to the POF ModBot for keeping nudity and other NSFW behavior out of these live streams!
Meet Me (Tinder-Style Swipe Dating)
Some dating apps have begun to take inspiration from old-school dating techniques like blind dates and speed dating to come up with exciting ways to implement face-to-face meetups. For Plenty of Fish, that feature is called "Meet Me."
Using this feature is simple. You are shown a series of photos of singles along with some of their basic info. You swipe right on the photo if you are interested in the person and swipe left if you are not.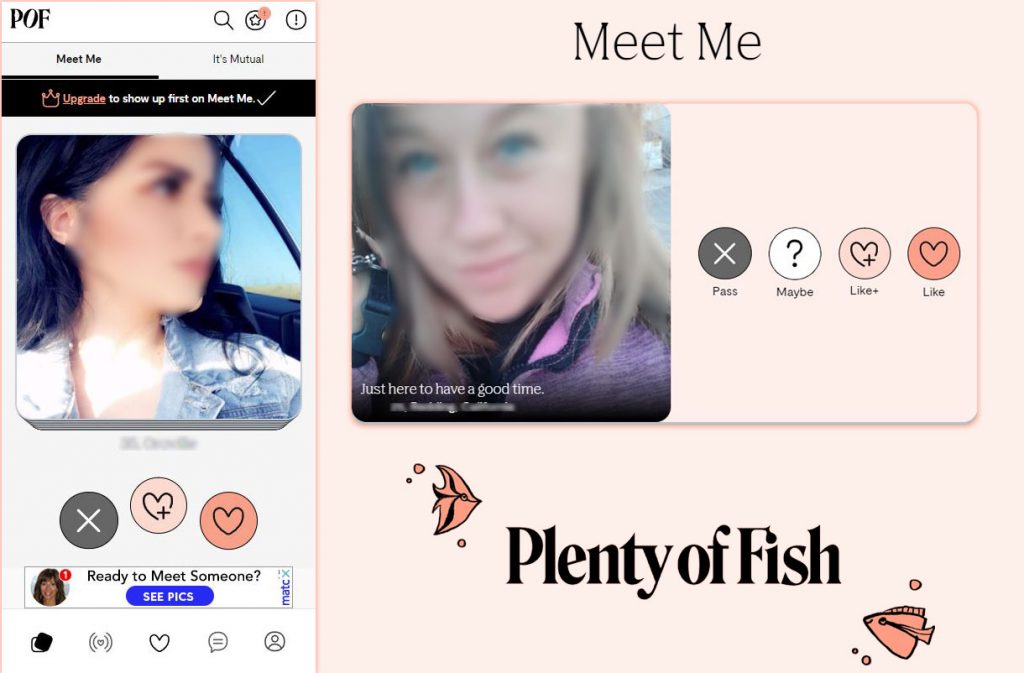 When you swipe right on a profile holder who also swiped right on you, a private chat will open to allow you to communicate and decide on meeting up in person. This method of meeting takes away the restriction of personality matching and the like, which some users really enjoy.
The biggest downside to this feature has to be the ad placement. As you saw in the screenshot it's positioned in a way that leads users to accidentally click it. Annoying to say the least…
Ultimately, Meet Me is like using Tinder, but with the option to switch back to a profile-based matching method at any time.
Priority Messages
If you have done any online dating before, you know that your inbox can get a little wild after some time. Sometimes you can send a message to a match and never hear back. It feels pretty awful, but you might feel better knowing that oftentimes messages are just overlooked and it's nothing personal.
Priority messages help you overcome this! Sending a priority message means the message is pushed to the top of that person's inbox and pinned. It costs 1 token, POF's in-app currency, which you can get for between $2 and $4 a piece.
Que'd Up (A new dating game)
As POF correctly pointed out "online dating isn't one-size-fits-all", so they wanted to offer some new options. Que'd up is one of those new options. And they even put out a video to walk you through playing this new dating game:
And while this is a fun and creative way to interact with potential matches, does it really lead to meaningful connections? Not as far as our reviewers can tell. Even the game's slogan leaves little hope of finding love. "Have some fun and maybe even meet someone while doing it".
If you're looking for some random online fun give this a try for sure. It reminds of something you'd find in a Jackbox Party Pack. But if you're looking for real connections this is another swing and a miss from the Plenty of Fish team.
Text Verification
For an app that's pretty well known for being full of scammers and other riffraff we were glad to finally see this feature added. With this latest update Plenty of Fish has required that all users link their accounts to an active phone number.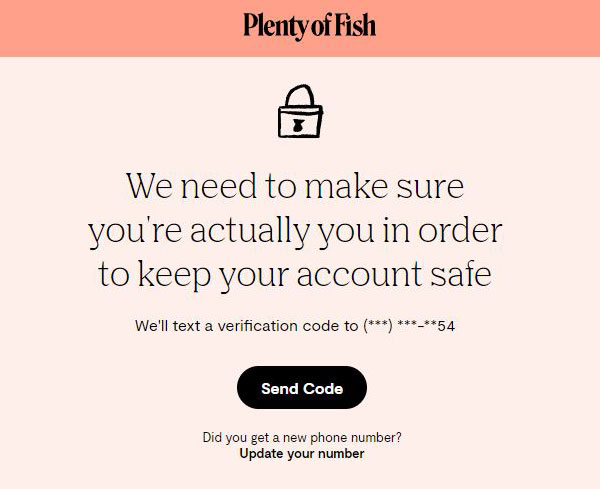 And sure, it's not a catch all… there are still some unsavory fish in the POF sea, but this was a massive step and we're giving credit where credit is due. Well done here POF developers!
Message Controls and Filters
One thing that POF has that we do like is the ability to set a lot of filters for who can message you. You can set things like how long the first message has to be or if they have a photo or not. While we think this is a great step, why not just make every user include a photo of themselves? Again, that's our personal thoughts from this POF review, but it's something worth noting. Either way, the feature is absolutely better than not having it at all.
Ads, Ads, and lots of Ads (Unless you pay)
We said we would be talking about the features POF offers users, but that doesn't mean they're all good. In fact, this last feature drove our review staff to the edge of insanity. As you can see in the screenshot below this dating site has ads everywhere:
Whether you're looking at the latest matches, new members, users in your city, or even just setting up your profile you're always going to be seeing ads. Many users have reported this annoyance, and mobile users especially have been pushed away from the app by accidentally clicking it's invasive ads.
The Quality of Singles at Plenty of Fish
We weren't overly wowed by the selection and variety of singles on Plenty of Fish, but it wasn't a bad experience at all. There are plenty of singles to be found in many areas, but the crowd is generally a bit older and a little less tech-savvy. This means that all those high-shooting professionals in fields like tech, engineering, etc., are likely to be found on more modern apps.
Additionally, a review of POF does need to look at the intentions of the singles on the app.
We have heard a lot of users report that most of the people they encounter on the app are looking for casual hookups and they're not that smooth about it.
Yes, we're talking about pictures you may not want to see… sent unsolicited and such. It's certainly not the case for everyone on the app, but we've heard the most stories like that coming from this app. In fact, even the app's ownership is aware of it and rather than seeking a real solution has posted this jab; POF's virtual gallery of Dick Pics (It's not what you think… Just users named Richard.)
POF Complaints – User Reviews
To give a fair and complete review of Plenty of Fish we wanted you to hear from more than just our team. Here are some complaints that we've been emailed from readers who've used POF.
"Several yrs ago I was on POF for quite a while, but no luck. Then got back on but had lot of trouble with site working correctly. At one time I was a paying member." – J.G.
"Why cant I sign in?" Lynda J.
"I'm not receiving any POF email. No notifications or anything letting me know I have messages. It's almost like my emails from POF are being intercepted." Cindy M.
In addition to these complaints we also reviewed what users were saying in their app store reviews and we noticed some consistent trends. These include lots of technical issues, an abundance of fake profiles/scammers , and POF being overly pushy with ads. We also noticed a pattern of users saying that match preference features like age, distance, and gender don't work at all for them.
Get Started Now!
---
Plenty of Fish FAQ – Answering Questions About POF
Do I have to pay for a POF subscription?
No! You can use POF for free, but your access to features will be limited. Paid members receive access to extended profile viewing, can upload more images, get read receipts, experience no ads, and much more.
What are the perks of paying for POF?
If you decide to pay for a POF membership you will be able to see who likes you, have unlimited likes, search by username, be among the first to look at new members, see extended profiles, get read receipts for messages, and best of all you won't have to look at all the ads free members have to deal with.
What can I use POF Tokens on?
You can spend your POF Tokens on:
Boosts
Super Yes
Priority Messages
How much do tokens cost on Plenty of Fish?
Tokens can be purchased for $3.99 a piece. However, you can save money by buying them in bulk. They come in bundles of 10 for $19.90 ($1.99 a piece) or 5 for $14.95 ($2.99 a piece).
Can you use the POF app without connecting a phone number?
No. As a way to keep accounts secure and limit the number of fake profiles you need to connect a mobile number to verify your account when signing up for the POF app. You will not be able to sign in or browse singles until you've done this.
Is POF good for long-term romance?
POF is pretty versatile in their dating approach. If you can put up with the app's shortcomings, It can be a great way to meet new friends, short term romances, steamy hookups, and long-term partners. The only problem is that you might have to weed through a lot of people interested in things you are not. To improve your experience, try to mention your dating goals in your profile information so it is upfront knowledge for your matches.
---
---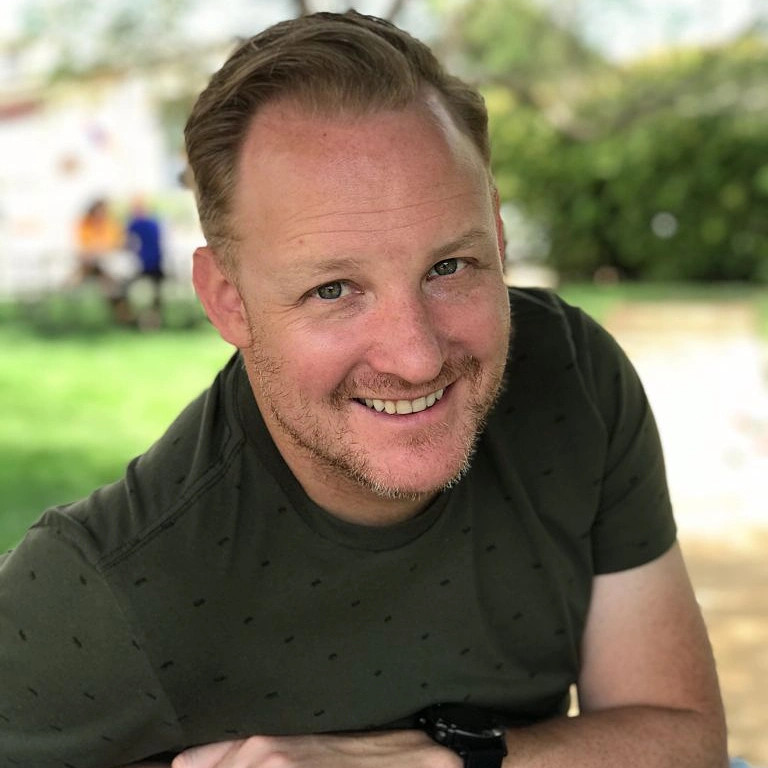 Written By: Matt Seymour
Matt Seymour is a dating industry expert with over a decade of experience coaching singles, reviewing dating apps, and analyzing trends within the industry. With a Masters of Science in Finance (MSF) degree from the University of Florida and extensive knowledge of the innerworkings of the online dating industry, Matt frequently serves in an advisory role to some of the largest dating apps on the market. In Matt's current role with Healthy Framework, he leads the interview team that regularly interviews key dating industry leaders, and leverages his financial knowledge and dating app experience to review and share what singles need to know to get the most out of dating online.