OKCupid Review
OKCupid has gone through quite the rebranding over the years, and we were excited to see where it landed during our most recent OKCupid review. Initially, the app was pretty readily known as a place to meet people for some, you know, casual fun. It was more of a place to find a friend for the weekend than it was to find the love of your life.
However, people have been reporting some success with other types of relationships goals with this app thanks to a focus on shifting into an environment that is more similar to successful serious dating apps like eHarmony and Elite Singles.
So, are these reports accurate? Well, we set out to get to the bottom of it in our most recent OKCupid review! If you're ready to see our results, grab a seat, and let's get into it.
Is OKCupid Worth It? – The Bottom Line Upfront
If you're big on things like gender inclusivity, hot-button political issues (like their newly added pro-choice profile badge), and you like a lot of bells and whistles (available for purchase) in your dating experience, OkCupid might be worth checking out for you. Additionally, much of the site can be accessed for free, with a lot of upgrades and boosts available at additional costs. Some sites also report a userbase size in the 50 million range, which is certainly something that catches our attention if it's true (not confirmed by the company).
Where we start to have a few issues with OKCupid, though, is with the overall user experience. It's one of those apps where it feels chaotic and like there is so much going on it feels like you're lost on where to click or what to do. Sure, this is great if you have a lot of time to dedicate to figuring things out, but if your chief goal is finding someone special—you're probably going to get frustrated.
Additionally, there are ads if you're not using an upgraded membership (which is annoying). You also won't be able to message anyone unless there is a mutual match—so, much like Tinder (owned by the same company), you're at the whim of your pictures and profile getting you in the door. If you're not someone who normally gets a lot of quality messages, you may not be a fan of this.
And if you like having some control with being able to search through your matches, you won't have that option here. OkCupid is basically a swipe-style dating app dressed up with a lot of new bells and whistles.
Overall, OKCupid score a 2.8 out of 5.0 in our most recent review. While some will like their strong push towards gender inclusivity and hot-button political issues, we have some reservations about the user area feeling cluttered and a little chaotic.
Not what you're looking for?
For a lot of people, OKCupid misses the mark (and that's okay). Maybe you have more conservative values and aren't fans of the newly added Pro Choice badges? Maybe you're tired of swiping to get matches? Or maybe you're looking for an online dating approach that is simple to understand and doesn't have a steep learning curve?
If that's you, we want to recommend one of our favorite alternative options—eHarmony. eHarmony is much more focused on real relationships, doesn't have so many features that you get lost, and has an incredibly great track record. And you can check out this site for free, take the famous matching questionnaire (for free), and see if this OKCupid alternative is right for you.
While it's ultimately up to your personal preferences, we think you're going to be a much bigger fan of eHarmony.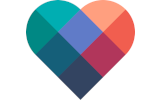 More OKCupid Alternative Options
Zoosk – If you do like the casual aspect of OKCupid but don't like the confusing number of features, Zoosk is a great alternative.
The League – Still like the idea of swipe-dating, but want more curated options (meaning you have to sift through fewer bad matches)? If so, The League is a newer, super-trendy option that works best as an OKCupid replacement in bigger cities around the US.
Higher Bond – Looking for Christian dating? While you can find Christian singles at OKCupid, quite a few have left the site due to their outspoken stances on issues. If you want an alternative option built for singles who value faith as the driving force behind their relationship decisions, check out this option.
Still not sure if OKCupid is the right option for you? Keep reading our review as we're going to go into depth on all the aspects we've already touched on and more.
---
Overall OKCupid Rating
| Category | Score |
| --- | --- |
| Quality Matches | 3.5/5.0 |
| Features | 3.5/5.0 |
| Ease of Use | 3.0/5.0 |
| Support | 3.2/5.0 |
| Cost | 3.5/5.0 |
| Overall | 3.7/5.0 |
3.7/5.0
Pros and Cons of the OKCupid Dating App
Pros
A high level of inclusivity for singles of all genders and sexual orientations
Utilizes compatibility questions to enhance matching
Some reports of a userbase as large as 50 millions
Cons
The app has a history of serious data leaks
Unless you upgrade, you are inundated with ads
Moderators seem to overlook a pretty significant amount of fake profiles
There are still a lot of users that are looking for hookups instead of relationships
5 Things to Know About OKCupid
The company does have a troubled past with a lot of issues surrounding data leaks of user's sensitive information.
The owners of Match.com purchased OKCupid in 2011 for $50 million.
OKCupid gives users the option to place a Pro Choice badge on their profile and donates to Planned Parenthood for any user who does.
While OKCupid is technically free to use, most of the noteworthy features require you to pay.
Unless you upgrade your experience, you are going to be inundated with quite a few ads during your experience.
Who OKCupid Is Good For
Singles looking for a cheap dating site (budget is more important than quality)
Left-leaning singles who value gender inclusivity and hot-button political stances
People looking for more casual dating options
Who OKCupid Might Not Be Best For
Religious and Christian singles who are turned off by some political and moral stances
Older singles (45+)
People who are turned off by chaotic dating app experiences
OKCupid Reviews – Table of Contents
---
OKCupid Features Overview
Let's talk features! One of the most robust areas of our OKCupid reviews was the list of features offered by the site.
And while a lot of features generally is a good thing, we do have some reservations that there's so much going on at OKCupid that it creates a bit of a chaotic environment.
But let's talk about things and let you form your own opinion.
OKCupid Membership Tiers
With OKCupid, you have three different membership tier levels to choose from—Free, Basic, and Premium. The first is, well, free as you might guess. The other two are paid (updated pricing on these is further down in the guide). Here is what you get with each level:
| Feature | Free (Free) | Basic (Paid) | Premium (Paid) |
| --- | --- | --- | --- |
| Ads | Yes | X | X |
| Sign Up Questionnaire | Yes | Yes | Yes |
| See All Photos | Yes | Yes | Yes |
| Unlimited Likes | X | Yes | Yes |
| Deal Breakers | X | Yes | Yes |
| See Your Intros | X | Yes | Yes |
| See Who Liked You | X | X | Yes |
| SuperLikes (weekly) | 1 | 1 | 3 |
| See All Question Answers | X | X | Yes |
Sign Up Questionnaire
When you join OKCupid, you'll go through its 15 question matching questionnaire that they use to compute a matching percentage with other users.
The questions are quite random, but we can see how some of them would certainly be pertinent to matching people together. It's not a real in-depth matching questionnaire like you'll see on Higher Bond or on eHarmony, but it still is certainly better than nothing. Here's a sample of one of the questions (all questions are multiple choice).
See All Photos
Regardless of your OKCupid membership level, you will be able to see all photos from all users at all times. Compared with the rest of the online dating industry, this should be something viewed as a positive perk as many sites limit you to only seeing the main photo or no photos at all.
Unlimited Likes
As mentioned, OKCupid operates on a mutual match system where you only hear from people who also say they like you. That means that in order to send messages, you have to go and like other users. With a free account, you are limited in the number of likes you can send out. However, with the paid accounts (Basic and Premium), you're free to send as many likes as you want, which should inevitably help to increase your chances of a match. It does also, however, increase the chances that some people are just clicking like on everyone and only actually looking at profiles if they have a match.

Deal Breakers
The deal breakers feature on OKCupid is one where you can select things that are "hard no's" for you when it comes to a match. For example, if you don't want to see matches who smoke, you'll need to upgrade to get this feature. One of the drawbacks to this feature is that you may still see people who violate your deal breakers if they haven't answered that question on their profile yet. Still, it should help at least to some degree to increase the quality of your matches to be more like what you're looking for.
See Your Intros
Under each photo on OKCupid is a button where you can click and send a quick comment to someone about their photo or a section of their profile. The idea of this feature is to give you other ways to initiate contact outside of the swiping feature. On one hand we like this because the swiping-only feels limited. However, on the other hand, we're not fans because it's a bit confusing how this relates to messages, what they see, if they can respond, etc. Again, it's that chaotic feeling we continue to allude to seeing during our reviews.
See Who Liked You
The visible likes feature is available for premium members and allows you to see who has liked your profile before you like their profile. Without this feature, you only know if someone likes you if you coincidentally like their profile as well. So, with this feature you get a heads up on who is interested in you which may allow you to shift your interest to those who are more likely to interact with you.
Within about five minutes of creating our test account that was basically empty, we had 19 likes. While this could be as a result of a large userbase, it does raise some suspicions about the quality and validity of those likes.
Super Likes
A feature obviously ripped straight from Tinder (it's okay, they're owned by the same company), is the Super Like. This is a way of liking another member but getting it to rise to the top of their list. It adds some additional pizzazz and attention to a normal like. It's a neat feature when you really want to get someone's attention, but it stinks if you use it and get no luck because you only get 1-3 per week depending on your membership level.
See All Question Answers
Similar to the visible likes feature, this is a perk to those with a premium subscription. There are prompt questions on OKCupid. The way they usually work is that you answer a question and then you can see how others answered the question. With this feature, you will see everyone's answers without having to answer yourself.
The Quality of Singles at OKCupid
The question here went two ways during our OKCupid review—quantity and quality. When it comes to quantity, there seems to be no shortage of singles on the site. According to some unsubstantiated (but probably true) reports, there are upwards of 50 million users on the site. If this is true, that's an incredibly massive amount of people and options.
When it comes to quality, there are some things we had reservations about. First, we saw a lot of profiles during our testing and reviewing that were most likely fake or belonged to people looking for something unsavory. No, we cannot 100% confirm these are fake accounts, but we have a lot of years in the dating industry and we've gotten pretty good at spotting these things.
Honestly, it's probably tough to police these things with 10s of millions of users. But even though we understand why it's a challenge, that doesn't make a difference to a user looking for a top notch dating experience.
Overall, though, it's tough for us to review the actual quality of the people on the site because that's something that depends on your preferences. What we can say, though, are the following:
Some of the profiles are filled out well and some have pretty short answers and are incomplete.
Users seem to do a pretty good job uploading quite a few photos on their profiles.
The larger percentage of people we saw in our reviews were looking for more casual/hookup type relationships.
One other thing that's probably important to point out is that OKCupid is okay with risque photos. We never saw any nudity but we saw plenty of pictures of people flipping off the camera, scantily clad, and "showing what their mama gave them." If you're cool with that, cool. If not, though, we wanted you to be aware.
How to Sign Up at OKCupid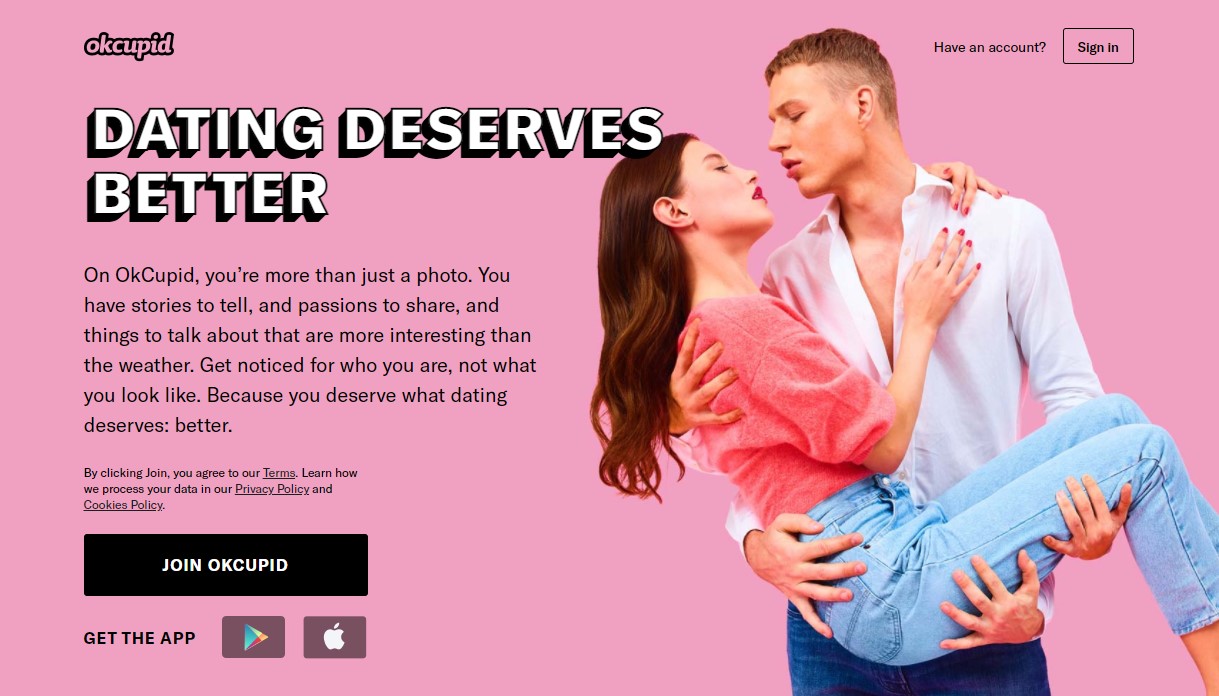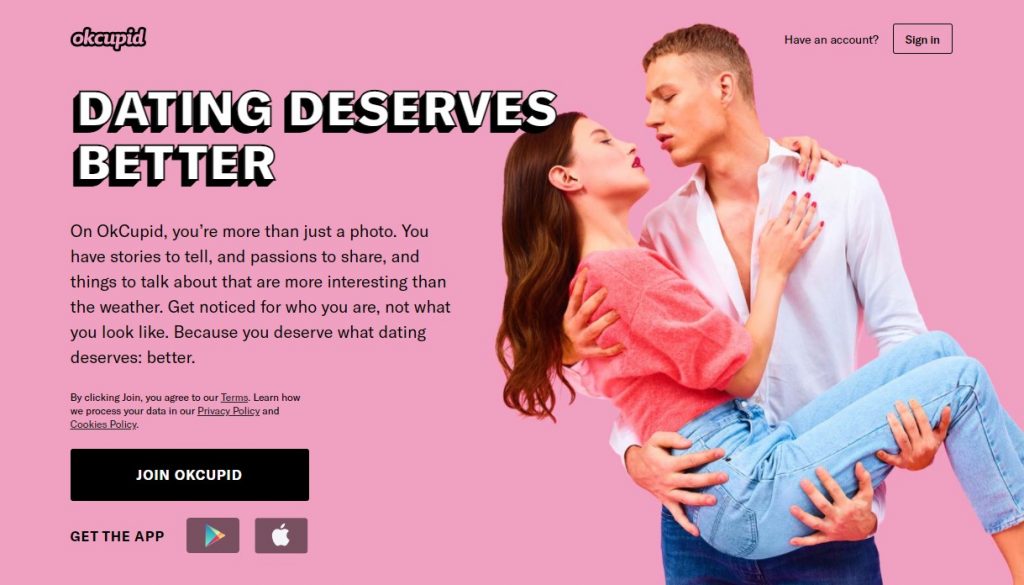 It really couldn't be easier to sign up for the app which was certainly a shining moment during the OKCupid reviews process. Whether you begin by downloading the app or going to their website, the only thing you need to sign up is an email and a password. Once you've provided those, you will be asked to fill in some basic information for your profile including your:
First name
Gender (and they offer more options than just male and female)
Birthdate
Country and zip code
You will then be asked to answer questions about your dating preferences including information about the type of relationship you are looking for, which gender you are seeking, and how old your partner should be.
Then, you will be asked some questions about your personality, which will help the app generate your profile. You'll also be filling in your own bio info in this section, so be sure to take some time and think about how you want to introduce yourself to people.
Before seeing your matches, you will need to answer a few multiple-choice questions regarding your personality, the personality you seek in your partner, and similar bits of information. These questions even go into things like your opinion on astrology, politics, religion, and debt.
Finally, all that is left is to validate your phone number and email to prove you are a real person. The process takes about 10 minutes to get through from start to finish, and does a great job of helping you narrow your search down to the most appropriate matches.
Price | How Much Does OKCupid Cost?
When it comes to OKCupid, pricing is broken down into two categories—membership costs and additional add-ons. For membership costs, there are three memberships—Free, Basic, and Premium. In the features section of the guide we outlined what you get with each of these (scroll back up if you missed it). And for paid addons, you have boosts, which move your profile to the top of people's lists for 30 minutes.
Here's what each is going to cost you at OKCupid. And if you want more details on things like auto-renewal, payment options, and value—check out our OKCupid cost breakdown.
| Membership Type | Membership Length | Membership Cost | Total Cost |
| --- | --- | --- | --- |
| Premium | 1 month | $34.99 monthly | $34.99 |
| Premium | 3 months | $23.33 monthly | $69.99 |
| Premium | 6 months | $17.49 monthly | $104.94 |
| Basic | 1 month | $24.99 monthly | $24.99 |
| Basic | 3 months | $16.66 monthly | $49.98 |
| Basic | 6 months | $12.49 monthly | $74.94 |
| Add On - Boost | 1x | $6.99 | $6.99 |
| Add On - Boost | 5x | $5.99 each | $29.95 |
| Add On - Boost | 10x | $4.99 each | $49.99 |
Customer Support Options
An often overlooked area of OKCupid reviews is the customer service area. What happens if you end up needing some help with something? We've seen some dating apps with zero customer support options, which is why we focus so heavily on what each app we view has to offer.
We had high hopes for OKCupid due to their extensive FAQs, but unfortunately, that is the extent of their customer support. If you can't find an answer to your questions in their FAQs you have the option to send an email, but there is no way to immediately talk to a real person about your concerns.
This means that users unable to use a service they may be paying for are left wondering if their issue is even being looked into. This doesn't paint the best picture of OKCupid, since other dating apps have full-blown customer service teams and moderators who are available to help you any time of day.
Get Started Now!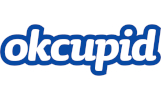 ---
OKCupid FAQ
Do people use the paid features to lie about their interests?
It's definitely possible. The paid features do allow users to look over the veil of the compatibility features, which means they can fake their way into conversations.
What do I get with a free subscription?
With a free account, you can see your compatible matches, send and receive likes, see which profile you've matched with on likes, and send and receive personal messages.
How reliable is OKCupid?
Unfortunately, this is always a tough question to answer, unless the site shares data on results. That being said, we've heard mixed results from singles as to their personal reviews of the reliability of the app. Mainly, those who weren't quite sure what they were looking for had the best results and those that knew exactly what type of relationship they wanted had less stellar results. Again, though, keep in mind that these results are purely anecdotal.
Do I have to link my account to Facebook?
No. OKCupid can be linked to social media sites like Facebook and Instagram, but it is not required.
Is OKCupid available on Android?
Yes! The OKCupid app is available for Android devices, IOS devices, and through the web.
Is OKCupid available on IOS?
Yes! The OKCupid app is available for IOS devices, Android devices, and through the web.
Does OKCupid lead to real relationships?
It definitely can! Users from all over the web report satisfaction with their OKCupid-sparked relationships. In fact, OKCupid has even been mentioned on many marriage blogs, magazines, and other publications as being a place where many people met their significant other.
Can I Use OKCupid for casual friendships?
Technically. During signup, OKCupid does have an option to say you are seeking friendships. However, this part of the OKCupid platform is a lot less active than areas where members are seeking romance.