MatureDating.com Review
If you're looking for love later in life, you'll be happy to know that dating is a lot easier these days. Unlike decades ago, you can hop online and find hundreds of potential partners within minutes. It all comes down to choosing the best mature dating app, so you can get the desired results. MatureDating claims to be the right app for singles 40 and over, but does it live up to the promise?
Instead of taking MatureDating's word for it, we set up a profile and used the site for a full week to evaluate it. We uncovered a lot of important, can't-miss info, and we're ready to let you in on our findings. And since we're going to start our MatureDating review with the bottom line, you'll get our final thoughts upfront.
Our MatureDating Review Rating
With a review score of 1.5 out of 10, Maturedating.com is one of the worst mature dating sites we've ever reviewed. Please read the full review if you have more questions, but we would strongly consider looking into alternatives.
Our Recommendation? – We think mature daters will be much happier trying SilverSingles. It's been in business for over a decade longer than MatureDating and has really proven it's record for success in that time.
| Category | Score |
| --- | --- |
| App Store Rating | N/A* |
| Google Play Rating | N/A* |
| Userbase | Approx. 250,000 |
| Online Since | 2015 |
| Starting Cost | $0.99 a day |
| Our Review Score | 1.5/10 |
*No native app exists for MatureDating.com
1.5/10.0
Is MatureDating Worth Trying? – The Bottom Line Up Front
MatureDating.com is marketed as a dating site for singles 40 and over who are ready to find long-lasting love. After signing up, members can set basic search preferences to find matches, or view profiles one by one in the Like Gallery. While seniors might like the simplistic layout, that's about the only compliment we can give MatureDating.
From the younger-than-advertised membership base to the fake engagement and profiles, this is one of the worst dating sites we've seen.
MatureDating belongs to a partner network of dating sites that includes LoveAgain, Flirt.com, and BeNaughty, among others. Unfortunately, members automatically opt into the partner network when signing up for these sites, meaning their profiles can show up on other sites in the network unless they change their settings.
Because of that, MatureDating.com is full of profiles from people who are well south of 40 years old. That wouldn't be as big of a deal if most of those sites weren't adult-oriented, making them a poor fit for a mature dating site.
And while the young membership base is a big red flag, we uncovered an even bigger issue with MatureDating – fake engagement.
Members also opt into the Promote My Account feature when signing up. Unless they go to their settings and turn it off, MatureDating runs their accounts for them when they're offline. They might not have logged in for years, but as long as they're opted in, their account will continue liking profiles and sending messages.
We had a feeling that feature would lead to a lot of fake engagement, so we ran a test when preparing for our review of MatureDating. Usually, we create robust profiles, but not this time. Instead, we only provided the bare minimum. In fact, we didn't even upload a photo.
Even though the profile didn't have any info, we received tons of engagement, including 30 messages. If that's not a clear sign that the engagement is fake on MatureDating.com we don't know what is.
So, then, the question is, why go to the trouble of faking engagement? That brings us to the next big reveal in our MatureDating.com review. MatureDating uses fake engagement to get people to sign up for premium memberships. See, as a free member, all the messages in your inbox are hidden behind a paywall.
That entices people into upgrading, but then, the engagement stops. Members don't even hear back from the members who reached out to them first. The Kyiv Post and the BBC first exposed this subscription scam way back in 2013, and we experienced it firsthand when reviewing MatureDating's partner site, LoveAgain. Learn more about our experiences by reading our complete review of LoveAgain.
Since MatureDating and the other sites in the partner network are scams, we recommend avoiding them. Fortunately, there are lots of legit mature dating apps out there, including SilverSingles.
Read our unbiased SilverSingles review to see why this is a top choice for men and women 50 and over. Be sure to claim the free trial inside of the review to give the site a test drive before committing to a premium membership.
Pros and Cons of MatureDating.com
Pros
Simple and easy to use interface.
Singles available in all 50 states.
One-day memberships are available, but it's hard to cancel.
Cons
Most of the engagement is fake.
"Interested singles" disappear after members upgrade and respond to messages.
You'll need a paid profile for many of the available features.
Hard to cancel the membership.
Difficult to delete profiles.
Most members are under the age of 40.
MatureDating Features Breakdown
If you've read our review of MatureDating.com up to this point, you know it's a scam. The site manages to run the scam through automated features. Learn more about those and the other features you'll find on this dating site for mature singles.
Flirtcast
You can message lots of members with a single click of the button by sending a Flirtcast. Unfortunately, you can't customize the message, although you can scroll through some options. Even with that, we don't recommend sending Flirtcast for a couple of reasons.
First, legitimate members hate receiving Flirtcasts. They're generic and quickly litter up members' inboxes.
Second, the best online dating messages are unique and geared toward a specific person. You need to read the profile before sending a message, so ignore this feature. Instead, read our guide on sending the perfect first message in online dating. Then, use the info to create amazing messages on dating apps for mature singles.
Promote My Account
MatureDating automatically opts members into the Promote My Account feature, although people can opt-out if they choose. We're pretty sure the site tries to slip this feature by people to increase engagement on the site.
If enabled, MatureDating will run your account for you when you're away. It will like and favorite profiles and send messages on your behalf. If you use the default settings, it will send a mixture of messages related to short-term relationships, random meetups, and serious relationships. You can also choose one of those three options if you want to send a specific type of message to members.
Hopefully, you'll avoid using MatureDating altogether, but if you decide to try it, don't enable this feature. Even if you choose a message type, you won't have real control over how the site runs your account. Plus, you'll be part of the site's fake engagement problem if you use this feature.
Like Gallery
Instead of browsing through a sea of profiles, you can head to the Like Gallery to view profile photos one at a time. This is kind of like a web-based version of Tinder, with the option to like or pass on each profile you see.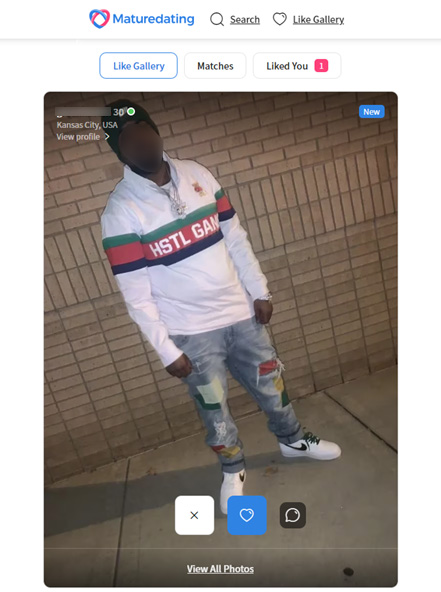 If you end up with a mutual match, you can start chatting. However, free members can only send five messages, and the site hides replies beyond a paywall. We don't recommend upgrading to chat with your matches, either. The site runs a subscription trap, and it's very hard to cancel a premium membership.
Quality of Singles on MatureDating.com – User Base Review
MatureDating.com might claim to be a mature dating site, but that description doesn't fit. We looked for singles between the ages of 18-20 and ended up with pages and pages of profiles to view. That's hardly what we'd expect when on a mature dating site. a lot of the members likely signed up for accounts on BeNaughty and other sites, not realizing they'd opted into the Partner Network.
Making matters worse, a lot of the profiles are fake. We ended up with several hits after running reverse image searches on profiles.
And to be honest, a lot of the profiles that passed the reverse image check still appeared fake. Get our thoughts on fake members on online dating sites so you can avoid scammers.
The profiles are pretty bad on MatureDating, too. They only provide extremely basic information, especially if you're a free member. (Get Some Profile Writing Tips for Seniors)
The non-existent matching algorithm and limited profile data make it pretty much impossible to find compatible singles here. That's why we recommend going with a different mature dating site, such as SilverSingles. Learn more about your other options in the next section of our review of MatureDating.com
MatureDating Alternatives
MatureDating might be a bust, but there are lots of great dating sites for older singles out there. Get the details on three of the best mature dating apps, and find out why they're better than MatureDating.com.
SilverSingles – Unlike MatureDating, most of the men and women on SilverSingles are actually 50 and over. SilverSingles uses an advanced matching algorithm based on the five-factor model of personality, while MatureDating doesn't really have an algorithm. Also, SilverSingles creates around 2,000 couples a month, while we aren't sure if MatureDating leads to any real connections. (Claim Your Free Trial to SilverSingles Today)
SeniorMatch – SeniorMatch is only open to members 40 and up, although most of the members are over 50. On the other hand, MatureDating has more 18-year-olds than you'll find at the local high school. Both sites let members swipe through profiles one at a time or find matches based on personal preferences, but SeniorMatch is a legit dating site with real engagement. (Check Out Our Full Review of SeniorMatch)
eHarmony – A mainstream dating site, eHarmony is open to members of all ages, including 50 and over. It's estimated that around 20% of eHarmony's members are 55 or older, while MatureDating has lots of younger members. MatureDating matches people by location and preference, but eHarmony uses the 32 Dimensions of Compatibility to help people find long-term partners. (Read More About eHarmony for Seniors)
Common User Complaints About MatureDating.com
We weren't surprised to see a lot of negative user reviews of MatureDating.com. Previous members had experiences that were similar to ours, proving once again that MatureDating isn't legit.
Fraudulent Billing Practices – As with other sites under NSI Holding's umbrella, Mature Dating has been accused of billing members who have canceled their memberships. We had to cancel our debit card due to this issue when using LoveAgain, so we don't think it's wise to give this company your financial information.
Fake Engagement – We saw lots of accusations of fake engagement when reading MatureDating.com reviews. Former members say the site uses bots or other methods to send messages to members to get them to sign up for premium accounts. The engagement stops as soon as they pay the subscription fee.
Can't Delete Profiles – MatureDating has a reputation for not allowing members to delete their profiles. It shares this reputation with the sites in its partner network and is another sign that this isn't a legit dating site.
Fake Reviews – A lot of people ended up signing up for Mature Dating after reading positive reviews online. according to those members, those reviews are nothing but fakes. Even Trustpilot states that it's had to delete fake reviews left for this site.
---