There are a lot of incredible and amazing single people in New York City (like you)! But finding these people and figuring out how to get quality dates in the city? Different story. This is where NYC matchmakers step in to help lighten the load, do the heavy lifting for you, and help you to find what you're romantically looking for.
A matchmaker is a professional who specializes in connecting people for romantic relationships. Generally, matchmakers operate in bigger cities, with the biggest of them all being…you guessed it…New York City. This is most likely because of two things. One—NYC is filled with busy people who still want to find love but don't have the time to spend hours on end on dating apps and bad dates.
Two—the disposable income in NYC is quite high (9th in the country), which means more people are financially able to pay the higher price tag for personalized matchmaking services.
So, if you're interested in hiring a matchmaker in NYC and because of the understandably higher price tag, you probably don't want to make a mistake in who you choose. For that reason, our team has laid out a list of the best matchmakers in NYC for you. We'll talk pricing, reviews, recommendations, what you can expect, and ultimately help you pick out the right service for you.
Let's dive in!
The 6 Best Matchmakers in NYC
1. Three Day Rule NYC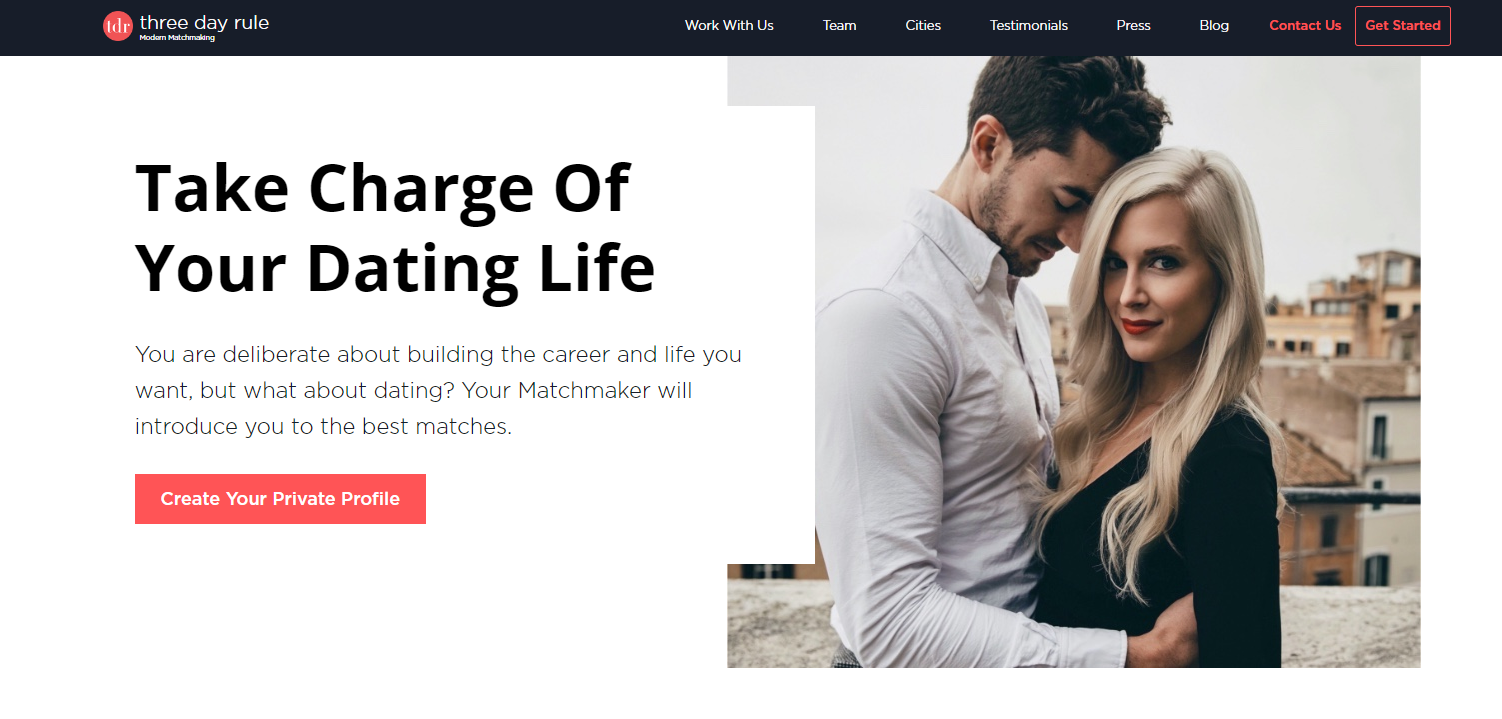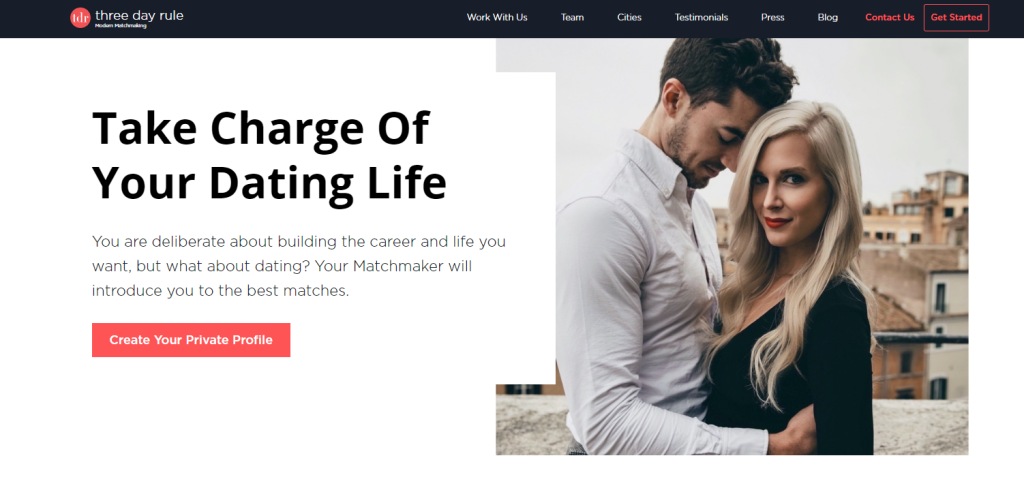 Exclusively available in only 11 cities in the US, New York City is one of the flagship locations for Three Day Rule. What makes Three Day Rule the leading NYC matchmaker? Here's three reasons. One—they have a no-nonsense, effective, and efficient matchmaking process that won't waste your time.
Two—Three Day Rule NYC focuses on identifying your non-negotiables, so you don't get matches that you'd never be interested in. (Spoiler: this should be a given for any NYC matchmaking service, but it's certainly not). The biggest complaint we've seen from New Yorkers about other matchmakers is getting matches that are completely against what they asked for. This won't happen at Three Day Rule.
Three—you get added perks to turbocharge your success. The two biggest are professional dating coaching services and a professional photoshoot—all at no extra cost.
The price of Three Day Rule is less expensive than most other NYC matchmakers when you factor in all the added amenities. If you were to compare strictly on numbers without amenities, it would be comparable starting at around $5,900 total.
Overall, if you're looking to hire a professional matchmaker in NYC and you want the best with the most amenities at an affordable rate—go with Three Day Rule NYC.
If you're ready to take the next step, whether that is signing up, asking questions, or learning more, we'd invite you to click the button below to schedule a 100% free, no obligation consultation with a Three Day Rule NYC matchmaker.
2. Elite Singles

While Elite Singles is a traditional dating app (meaning it does not come with the one-on-one matchmaking services of every other option on our list), the app does offer algorithmically curated matches and is one of our top NYC dating apps. In other words, your matches are still picked for you, they're just picked by technology and not an individual person.
The perk of this? Price. Plain and simple. Where NYC matchmakers cost thousands of dollars, the price of an Elite Singles membership in New York will run you about $50 a month. And while the experience will be wildly different, you can still expect to see good results.
Here's what we recommend. If you have the budget to pay for a dedicated NYC matchmaker, go with Three Day Rule. If those prices are making you sweat a little too much, consider giving Elite Singles a try.
3. Tawkify


After our brief departure from personalized NYC matchmaking services to the world of dating apps, we're back with Tawkify. Tawkify is quite similar to Three Day Rule NYC in that you are paired up with a matchmaker and they help curate individual matches for you.
Where Tawkify stands out is the sheer size of the database that the company boasts is 1 million+ strong. Now, while that seems like a lot of singles to choose from, you have to remember that Tawkify is spread out across the entire US, and we don't know how often they clean up anyone in that database that has met someone new. This means that it's not 1 million people in NYC and the number may or may not be a little high based on how often the list is cleaned. Still, it's a number worth noting.
Pricing for Tawkify is comparable with Three Day Rule, though the higher end VIP packages are more expensive and range all the way up to around $70,000. Does the higher price mean better service? To us, we don't really think so. Tawkify isn't bad by any means; we just think it ranks behind the other options we've already listed.
But if you've already tried those options and need something fresh or you want two NYC matchmakers working at the same time, it's a great second option.
4. Agape Matchmaking
The first three NYC matchmakers on our list are larger companies that specialize in the NYC area. What we wanted to look at now were a few local options that only work with NYC singles. Perks of this? They may have a more in-tune feel with the city. Drawbacks? They also may have smaller networks of singles and fewer resources to use to find what you're looking for. Let's look at our first option—Agape Matchmaking.
Agape Matchmaking is a 6-person team headed up by CEO Maria Avgitidis who has been on the Today Show and CBS sharing dating tips and matchmaking stories. Unfortunately, a web search for complaints and user reviews turned up a lot of unhappy people claiming a lack of match quality and a lack of listening to their needs. One user even said, "Supposed to be for exceptional singles and a dating service with privacy but at one point offered to put a want add (sic) in a newspaper. Constantly provided excuse of challenges instead of trying to improve from each match. No input into matches or much discussions on matches."
Again, these are user reviews so we can't validate them, but they're interesting to look at.
For us, Agape Matchmaking may work if you haven't had any luck with the larger brands, but it wouldn't be the first place we started for a NYC matchmaker.
5. NY City Matchmaking

NY City Matchmaking also falls into the camp of a local option like Agape, but seems to offer a wider array of services than just matchmaking. Sometimes this can be a great perk, and sometimes it can water down the focus a little bit if matchmaking is what you're looking for. Some of those services include online dating profile help, wardrobe consultants, makeup for a photo shoot, mock dating, and more. For us, we like the ingenuity and creativeness, but it does seem to stretch pretty wide in what they offer.
Regarding the matchmaking services for NYC singles, the company does have quite a few positive reviews and success stories, which is always nice to see. The team is headed by Michelle Frankel and is supported by 11 other people.
What was really odd to us, though, is that we saw some crossover between the list of employees at NY City Matchmaking and the list of employees at Agape Matchmaking. Specifically, dating coach Erika Ettin appears to be employed by both companies. As her role is a dating coach, most likely both companies are outsourcing that service to the same person. Is that bad? Not necessarily, but it's not the best look to us when we're trying to gauge professionalism and the true size and reach of a team.
For us, Three Day Rule is still the top pick, but if you really want something localized, NY City Matchmaking is probably a good option worth trying.
6. It's Just Lunch NYC


A list of NYC matchmakers would not be complete without a stop at It's Just Lunch NYC. Now, It's Just Lunch doesn't just offer service locally to the city, but they also offer service nationally, internationally, and in five other places in New York (Albany, Buffalo, Long Island, Rochester, and Syracuse).
Here's what there is to like about It's Just Lunch. It's a big company with a lot of resources, they've been in business for over 30 years, and the name recognition is probably at the top for any of the NYC matchmakers on this list. With all that said, why are they so far down our list?
Well, the company has had some issues in the legal department. More specifically, IJL (short for It's Just Lunch) has been involved in a few lawsuits, including a class action suit that recently settled for just under $5 million. The claim was that the company was not delivering on its promises and was forced to pay past clients and change some of the ways it does business.
While we fully believe the company will learn from this and be better, it doesn't make a lot of sense to us to you a NYC matchmaker with a checkered past when you have better options at your disposal. Still, we wanted to include them on our list in case it's an option you're interested in.
Tips for Using NYC Matchmakers
Now that we've talked who is the real deal and who you might want to pass on, let's talk about how to get the most out of using your NYC matchmaker. Depending on your income level, it may be a sizeable investment, so we want to make sure we're setting you up for success.
Don't Exaggerate Who You Are
NYC is a city where egos run rampant, and competition is at the forefront of most everything. We're not saying that you fall into these traps, but we are saying the temptation is real. Do your best to be honest with your matchmaker about who you are, what you bring to the table, and your relationship goals. The more brutally honest you are, the better the results you'll get.
Be Careful of Falling into the Wish List Complex
We know that NYC is full of beautiful and successful people. And we want to make sure that this tip is not saying you're wrong for wanting to be with one of those people. Here's what we're saying. When you tell your NYC matchmaker what you're looking for, think it through. Don't just rattle off "tall, dark, handsome, and rich" and expect to get great results. Think about what you're really looking for and what is actually important to you for a lasting connection. It's okay to have a list of wants and needs, but don't set yourself up for failure.
Set Realistic Expectations for your NYC Matchmaker
Here's an important note about what you can expect when you hire a matchmaker in NYC. You are guaranteed to get a certain number of dates. You are guaranteed that your dates will fit within your parameters (at a quality matchmaker). However, you are not guaranteed to find a husband or a wife or to have chemistry with every person you go on a date with.
Your matchmaker will do their best to get you matches that they think you'll click with. In the end, though, human emotion and love write the rules. The good news is that it's in the best interest of the matchmaker to find you love because then you'll refer them to all of your friends. Just make sure you're approaching with realistic expectations, so you're not bummed if it doesn't work out exactly how you want.
How to Stay Safe With Matchmakers in NYC
The last thing we want to talk about before we send you out the proverbial door is how to stay safe when dating through a matchmaking service in NYC. Here are a few tips to remember.
Common sense prevails. – Instead of ending with our catch-all tip, we decided to lead with it in light of the fast-pace of New York City. Just because you're using a professional service does not mean you can just turn off your common sense. If something feels wrong or unsafe, it probably is.
Follow common date safety practices. – Some NYC matchmakers background check members, and some don't. But even if you're using a service that does, it doesn't mean that you should throw caution to the wind on your dates. Continue to follow good date safety practices like meeting in a public place for the first few dates, telling a friend where you are going and with who and checking in safe when you get home, and not sharing too much information with your date until you are comfortable.
Make sure your NYC matchmaker protects your data. – Seriously, make sure that your matchmaker keeps your data safe. We haven't heard a lot of issues with the bigger companies selling data or leaking it, but the smaller local companies with fewer resources will need to be checked more thoroughly on this. Remember, a company just saying they keep your data safe means nothing. They need to be able to tell you how they do that.
---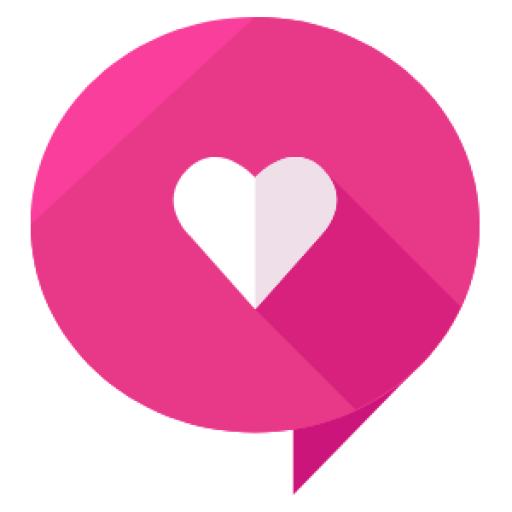 Written By: Healthy Framework Team
The Healthy Framework team has a combined 50+ years of experience in the online dating industry. Collectively, the team has reviewed over 300 dating apps and is known as one of the leaders in the relationship advice and information space. The team's work has been featured on Zoosk, Tinder, The Economist, People Magazine, Parade, Women's Health, Her Campus, Fox, and more.