When you live in a big city like Chicago, most people think finding love is a breeze. There's tons of beautiful people walking around, so you should just be able to walk outside and find love, right?
Wrong. Before you get sad, though, we have good news to share. Another perk of living in the Windy City is that matchmakers in Chicago are ready to help you find that special someone. These experts help to bridge the gap between you and the singles that seem so close yet so far away.
But just as it's important to pick out a great mate, picking out the right Chicago matchmaker is equally important. You need someone who understands you, has a real pulse on the 2.7 million people in the city, and can make introductions that set you up for romantic success.
Let's take a look at the four best Chicago matchmakers now.
1. Three Day Rule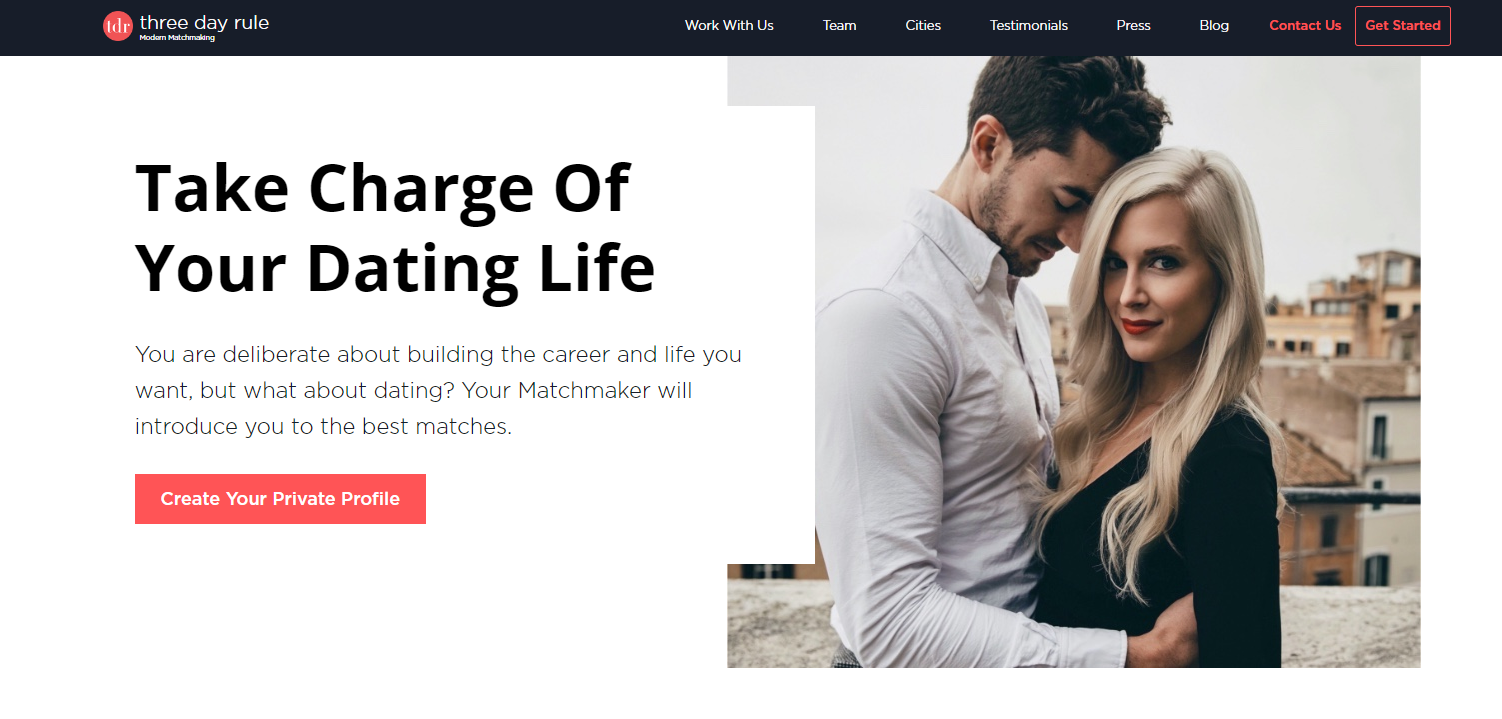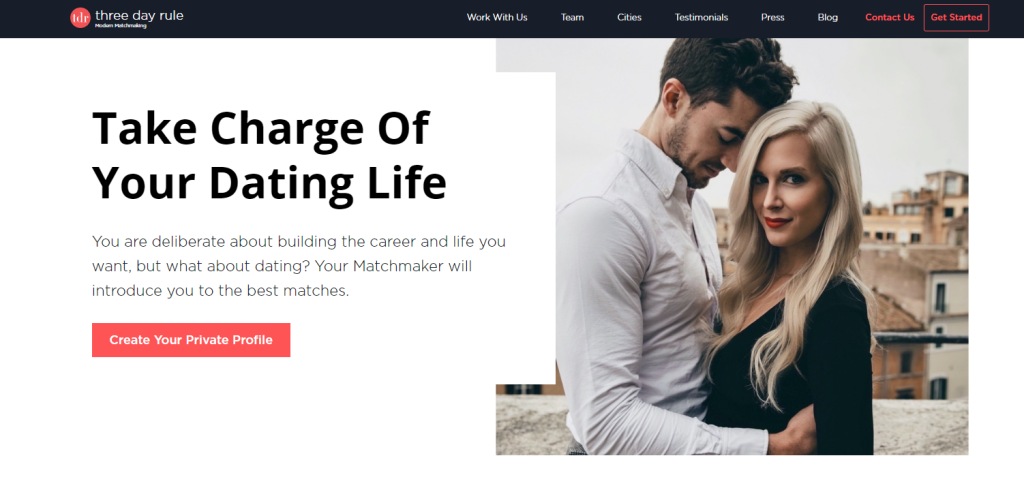 Named after a famous dating cliché, Three Day Rule is the no-competition, hands-down leader for matchmaking services in Chicago. Unlike some of the the "bigger" players in the industry that try and serve everyone everywhere, Three Day Rule focuses on 11 main cities in the US—Chicago being one of them.
Let's take a quick look at the biggest pros and biggest potential drawbacks, so you can decide if it's a good fit for you. There are two main pros that come to mind with Three Day Rule. One—the matchmaking process is incredibly detailed, dials in to what you want AND what you don't want, and gets you matches who fit into exactly what you're looking for. This may sound like it should be a given for a matchmaking service, but it's not.
Two—you get some added bonus perks just for being a member. The two biggest are free professional dating coaching and a free professional photoshoot (and you get to keep the pictures). No matter what membership level you choose, you get these at no extra charge.
For drawbacks, as you probably expect, a personal Chicago matchmaker is going to be more expensive than a traditional dating app. Three Day Rule membership prices start at $5,900. Compared to other matchmakers, this is comparable (and arguably less expensive with the added amenities). Still, depending on your situation, it may be a bigger investment, which we wanted you to be aware of. That said, if you end up meeting your forever person, probably the best investment ever.
If you have more questions, want to get a feel for the program, or are ready to get started, the link below will set you up with a 100% free consultation call with a Three Day Rule matchmaker. If you're at all interested, at the very least you should at least set up a call and get more info.
2. eharmony
Some people who are just exploring the idea of a Chicago matchmaker may find out that they still want to have some control in the process—and that's okay. For that reason, we like to suggest a dating app that automatically curates matches for you based on your answers to questions. The app we're recommending is eharmony.
It works very similarly to a traditional Chicago matchmaker in that it does the work for you in picking out top matches. The only difference is that your matches are selected by an algorithm and not an actual person going through them one at a time. The big pro of this is that you have more control over the process and the price is dramatically less expensive. The big drawback is that you do have to be part of the process and you can't just show up on dates.
Ideally, eharmony is the best of both worlds where you get some help from an automated matchmaker, but you don't have to shell out thousands of dollars to make it happen.
3. It's Just Lunch Chicago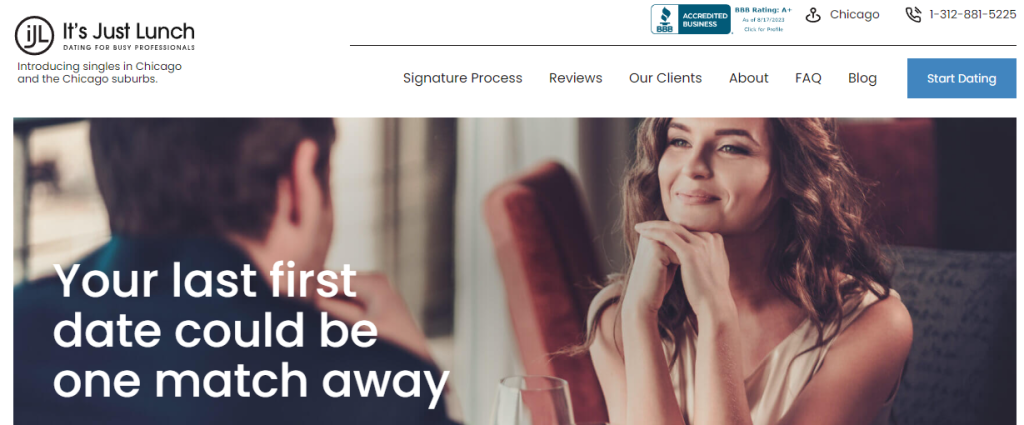 One of the most well-known brands in matchmaking in the city of Chicago is It's Just Lunch. Founded all the way back in 1991, the brand has been helping to match singles for over three decades. One nice perk about It's Just Lunch Chicago is that matches are limited to Chicago and the surrounding suburbs. In some other cities the company services, the net gets cast fairly wide, so you could end up with a match from a bit of a ways away.
The matchmaking team for the area has six women on it (five matchmakers and one CEO of the area), but no men—which is not that unusual, but something we did want to point out.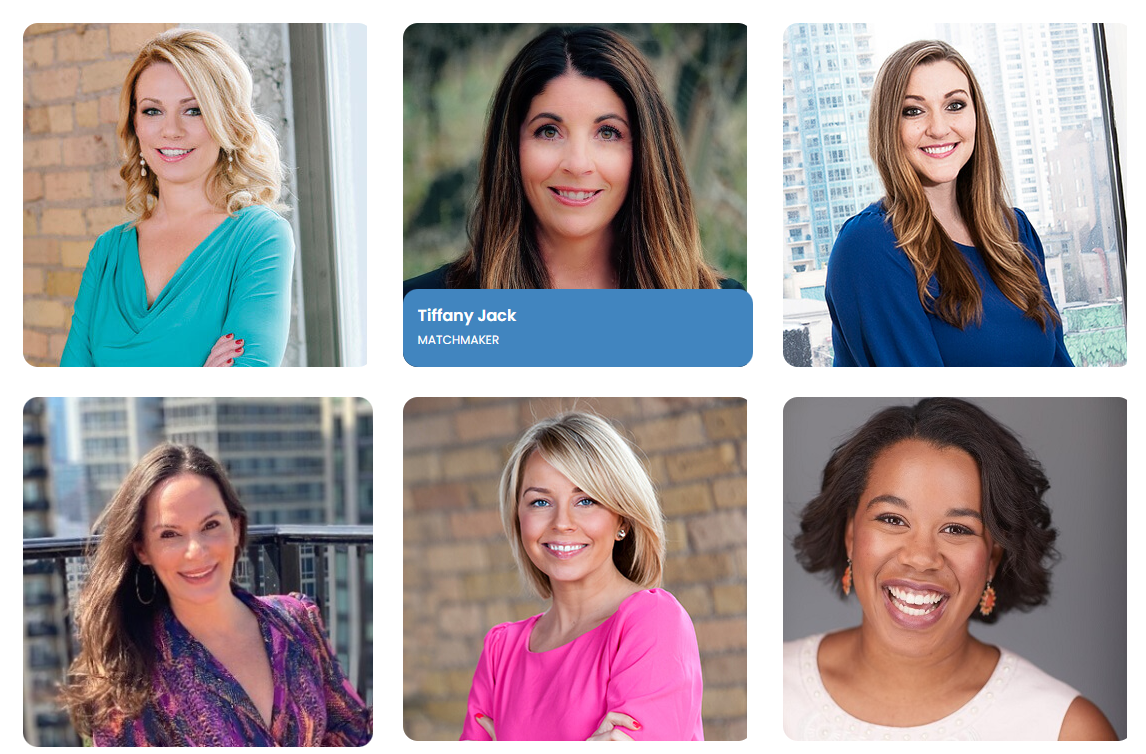 Unfortunately, there is one big elephant in the room that needs to be mentioned about It's Just Lunch. The company was sued in a class-action lawsuit that claimed the service was a "a massive scheme to defraud tens of thousands of single professionals throughout the country." The case dates back to 2007 but was finally settled in 2019 where the company was forced to pay just under $5 million to clients.
We'll let you be the judge of whether or not the company has changed its ways as this stems from quite a ways back, but we wanted to make sure you at least had all of the information.
4. Tawkify


With over 200,000+ matches to date, a decade in business, and 1 million+ singles in the network, Tawkify is a pretty popular option in a lot of cities—including Chicago. What's neat about Tawkify is you have two different types of service you can select, both with different advantages as well as price points.
The first option is to be part of the network, which means you could get tapped at any point in time to be a date for someone who is a client (the second option). You won't have a matchmaker actively looking for you, but you'll be in the database for a match. It's only $99 a year, but there is no guarantee that you'll see anything come from it. It's basically a way to roll the dice to get another "pole in the water".
The second option Tawkify offers for Chicago singles is its client experience. This is where you have a dedicated, real-person looking for matches for you. Pricing on this can range anywhere from a few thousand dollars up to tens-of-thousands, depending on what you're looking for.
If you're curious, we'd encourage you to schedule a free consultation with a matchmaker today through the link below.
5. Matchmake Chicago
No, we didn't make a typo leaving the 'R' off the end of Matchmake in the company's name—that's the actual name. If you're looking for something a little smaller and more localized, Matchmake Chicago could be an option you're interested in. From what we've gathered, it's a very small team of two matchmakers—Lisa and Anna. The duo has been on several local news programs in the area, which does show that they truly are a local-only option.
Some of the services offered by Matchmake Chicago include quality introductions (matchmaking), date planning ideas, and personal coaching if you need it.
The one drawback we see potentially being an issue would be the size of the company's network. We'd hope in a city as big as Chicago this isn't a big issue, but we don't see any claims on the company's website talking about how big their network is. Additionally, during our last review, the company's website still showed 2022 at the bottom of the page, which isn't a great sign of consistent updating being at least a year behind.
But—they truly are local and could be an option worth trying.
---
How Much do Matchmakers in Chicago Cost?
As you may very well already know, having a one-on-one person assist you in finding love does come at a higher price tag. While many of the best dating apps out there are around $30-$60 per month, Chicago matchmakers can run you anywhere from a few hundred dollars all the way up to several hundred thousand for VIP and elite services.
Here's the bottom line on Chicago matchmaker pricing—you'll get what you pay for with a reputable company. At the lower end of the pricing, you may get access to be included in the network like with the $99 per year option from Tawkify. From there, the personalization increases with the pricing.
Matchmaking in Chicago – What to Know
Before we send you on your merry way, our team wanted to share a few things specific to matchmaking in Chicago that we think will be important to you. Ideally, these tips and bits of information can help you understand a lot more about the process in your city.
Chicago is one of the leading markets for matchmakers. – There are a select handful of cities in the US that are hot beds for matchmaking services. As you might expect, these include cities like LA, NYC, Atlanta, Boston, and Chicago. According to search volume trends, Chicago ranks 4th for the most traffic among all cities in the US. What this means is that your chances of success here as opposed to a smaller Illinois city like Aurora or Springfield are much higher.
Executive heavy cities like Chicago do well with matchmaking. – One of the biggest selling points of matchmaking services is the time you save. In cities like Chicago where there are a lot of industries that attract busy executives, expect to see a lot of people turning to these services. This means bigger databases and better chances of positive results for Chicago users. This is why you see Chicago included as one of the 11 cities covered by our leading option Three Day Rule.
There are 12 Chicago matchmaking companies listed on Google. – While this might not sound like a lot of businesses, it's actually quite a few. When it comes to options, you have plenty in Chi-town. That being said, they're not all going to be great, which is why we took the time to lay our out favorite Chicago matchmakers.
---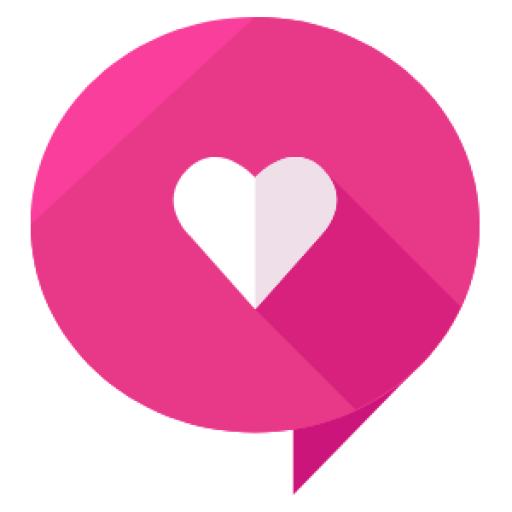 Written By: Healthy Framework Team
The Healthy Framework team has a combined 50+ years of experience in the online dating industry. Collectively, the team has reviewed over 300 dating apps and is known as one of the leaders in the relationship advice and information space. The team's work has been featured on Zoosk, Tinder, The Economist, People Magazine, Parade, Women's Health, Her Campus, Fox, and more.