There are over 126 million singles in the US as of last year. And with a large portion of those people looking for love, we see plenty of companies rushing to the rescue to help save you time, money, and heartache in that search.
While the more popular option over the last two decades has been dating apps, an option that was available long before the apps is starting to make a resurgence. We're talking about matchmaking services. Sometimes we just want the help of a professional to assist us in making meaningful connections and going on better, more intentional dates.
If we're speaking your language, then buckle up because we've got a treat for you. Below, you're going to find our list of the best matchmaking services helping singles just like you find love every single day.
1. Three Day Rule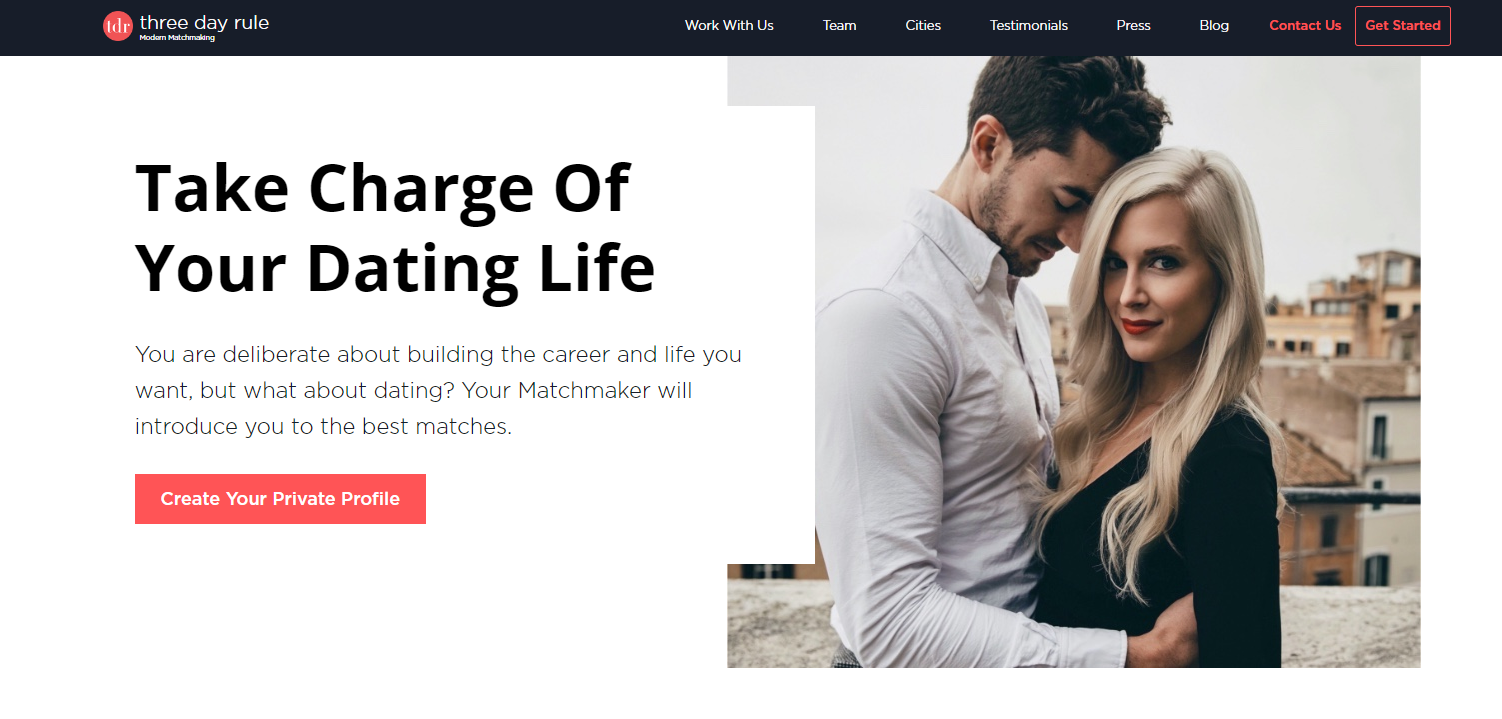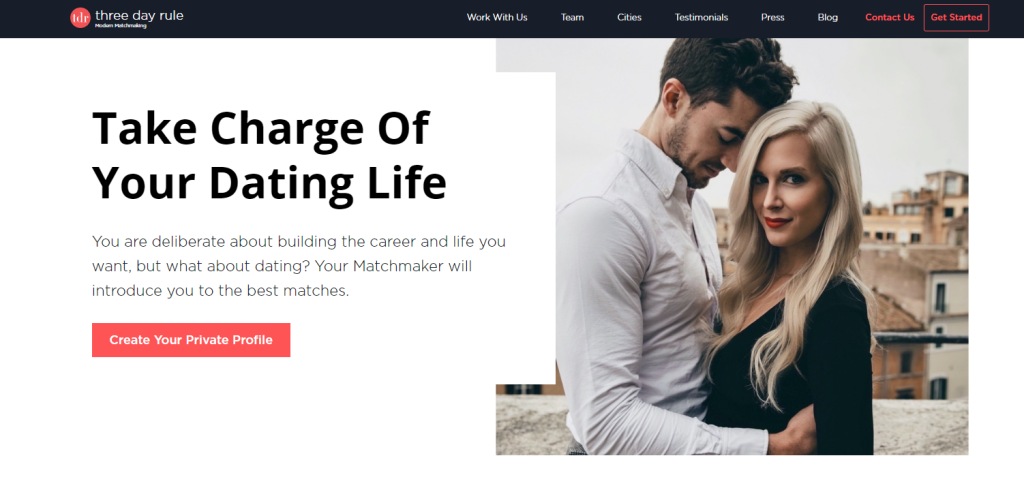 In an industry that is dominated by a few over-hyped and over-commercialized names, there is an elite matchmaking service that you may not have heard of—but you need to. We're talking about Three Day Rule. Now, if you're a big fan of the hit ABC show Shark Tank, you may have heard of the company as they were on the show years ago (didn't end up making a deal, but still some great publicity). Whether you've heard of them or not, there's a lot to get excited about if you're ready to invest in finding that special someone.
First, the matchmaking process is incredibly detailed. Expect your personal matchmaker to take the time to learn your non-negotiables (deal breakers), find out the type of people you think are attractive (by having you send in pictures of people you think are attractive), and get to the core of what and who you're looking for. Second, Three Day Rule has an existing network of over 200k singles, but they also actually "hit the streets" if need be to find the perfect matches for you.
And lastly, Three Day Rule members get several high-value amenities at no extra cost to help them get better results. This includes things like professional dating coaching sessions and even a professional photo shoot! And yes, you do get to keep the pictures and use them anywhere you want.
Here's what it boils down to. There are "bigger" names out there, but in our book, you're not going to get this level of service and results anywhere else.
Pricing: Starts at $5,900; VIP options also available
Process: One-on-one matchmaker
Pro: Highly detailed and effective process, plus extra amenities at no extra cost
Con: Only available in 11 major US cities (unless you're open to travel)
See the Full Three Day Rule Review
Want to learn more or get started now? The link below will help you to set up a 100% free consultation call with one of Three Day Rule's matchmakers.
2. eharmony

For some people, the one-on-one matchmaking is ideal. However, maybe you want curated matches, but you'd still like a little more say in the process? Well, if that's you, eharmony could be the matchmaking service you're looking for.
One of two more traditional dating apps on our list, eharmony uses your answers from an in-depth intake interview to automatically choose top matches for you. What's nice about this process is that you can accept those suggestions if you want, or you're free to search on your own if you want a little more control.
And for those who want to watch the budget, eharmony starts as low as $35 per month for matchmaking, instead of a few hundred or a few thousand like the other options on the list.
It's really up to what type of experience you're looking for.
Pricing: Starts at $35 per month and ranges up to $65 per month
Process: Curated matches automatically selected; more traditional dating app
Pro: Much more affordable than a one-on-one matchmaker
Con: No one-on-one assistance; only automated
See the Full eharmony Review
If eharmony sounds interesting, the link below will get you started with a free trial account to check things out right now.
3. It's Just Lunch


Impressively, It's Just Lunch has been offering matchmaking services for over 30 years. While it hasn't been the smoothest ride for all of those years, you don't have to look far to see a lot of It's Just Lunch success stories.
Unfortunately, you also don't have to look far to see a lot of legal issues and class action lawsuits from disgruntled customers (if you want to hear more, check out our full review linked below). While this isn't something that screams inspiring to sign up, we can't discount the size and scope of It's Just Lunch.
Where the company differs from the other matchmaking services on the list is two-fold. First, each It's Just Lunch city is run independently. This does give you a bit of a more local feel, while still working with a larger company. If you do want to expand your search to other cities, you can also do this, but it will be a more expensive package. Second, IJL (as it's commonly known) does offer service in the UK, Canada, Europe, and Australia, so if you're looking internationally, it could be a good fit.
Pricing: Starts at $1,000 and ranges up to $15,000+
Process: One-on-one matchmaker
Pro: Been in business for over 30 years
Con: Involved in several lawsuits accused of defrauding customers
See the Full It's Just Lunch Review
We do recommend reading the full review and at least touching base on the lawsuit issues before signing up, but we don't want to rain on your parade if It's Just Lunch sounds like the right fit for you.
4. Elite Singles

Our second of two more traditional matchmaking dating apps on the list is Elite Singles. Much like eharmony, Elite Singles focuses more on automated matchmaking, but at a much lower price point than the one-on-one service providers.
Where Elite Singles and eharmony differ is the approach to their userbases. eharmony targets a more diverse group of singles from all walks of life. Elite Singles targets people who value education and business success as key factors when selecting a partner. Both could be a great fit for you because there is a lot of crossover in the middle, the primary marketing push is just a bit different.
Pricing: Starts at $45 per month and ranges up to $60 per month
Process: Curated matches automatically selected; more traditional dating app
Pro: 300k+ new members joining every month
Con: No one-on-one assistance; only automated
See the Full Elite Singles Review
If you're a business professional who values education and wants a matchmaking experience where you get recommended matches but still have some control over the process, Elite Singles may be the matchmaking service you've been looking for.
5. Tawkify


Founded over a decade ago, Tawkify has quickly gained notoriety. By the numbers, Tawkify has a single's network of over 1 million+ men and women, has set up over 200,000+ first dates, and has a Trust Pilot score of 4.6 out 5. The average age of clients in between 30 and 65, though it's open to all ages over 18.
When it comes to membership options, you have two main tracks you can take. For $99, you can join the "inventory" for Tawkify. What this means is that you'll have a profile in their system and you may be tapped to be a match for a higher-tier client. Nothing is guaranteed, and we have heard a lot of people not getting any dates, but it is a less expensive way to throw your hat in the ring. At this level, though, you won't be getting any matchmaking services yourself.
If you want actual matchmaking services, though, those packages tend to start around $3,000 and go all the way up to $70,000, depending on what you're looking for. Tawkify isn't super transparent about their pricing, but this is what we've seen from customer reviews (and sometimes complaints).
For us, if you're looking for the one-on-one service, Three Day Rule is probably a better fit, especially when you look at all the added amenities and the detailed nature of the process. We have also heard a lot of stories of people who tried Tawkify and then moved to Three Day Rule and wished that was where they started.
All that said, Tawkify is certainly a viable option and it may be a good fit for you, especially if you don't live in one of the 11 cities that Three Day Rule services. For the rest of the US and internationally, we'd say Tawkify is a good place to start for one-on-one matchmaking.
Pricing: Packages range from around $3,000 up to $70,000
Process: One-on-one matchmaker
Pro: Large network of singles
Con: Individualized service can be more expensive
See the Full Tawkify Review
6. Local Matchmaking Companies
One additional option you have depending on the city you live in is a local matchmaker. In most major cities and metropolitan areas, there are usually 5-10 local companies that are offering these types of service exclusive to that city. The quality and effectiveness of these local matchmakers is going to vary dramatically, but it is still an option worth considering.
The biggest pro of these types of matchmaking services is the companies are local, which means the matchmakers are going to know the city well, and most of the matches in their database will be local. The biggest con, though, is that smaller companies won't have as wide of a reach when it comes to a matching pool. This means that even though they are local, a lack of resources will mean they have fewer men and fewer women to match you with. Unfortunately, our research shows that this doesn't mean a lower price point, which could be a major bummer.
Pricing: Varies inline with the other companies on the list
Process: One on one matchmaker
Pro: Your matches will most likely all be local
Con: Smaller companies, which means far smaller matching pool
If you want to use a local matchmaking company, you can check out our list of local matchmakers here in the section title "Resources for Matchmaking Services", or you can Google "your city + matchmaking services."
What Makes a Matchmaking Service High Quality
With hundreds of matchmaking services available in your area and all over the country, selecting a top five list is challenging. To help you better understand that process, we wanted to share a few of the more influential factors our team weighs when selecting the leaders. Here are those features:
An Expansive Network of Quality Singles
When you sign up with a matchmaking service, you're effectively buying into the hope that they have someone within their network that is ideal for you. While it only takes one person to make this process a success, a more expansive network of quality singles means more opportunities to successfully service more people.
Yes, you can have success with a smaller matchmaking company or one that goes out "hunting" for matches on the street. However, these operations require a bit too much luck for our liking, and we prefer the more established and far-reaching networks.
Value-Based Pricing Options
We don't expect matchmaking services to be cheap. You're hiring a one-on-one professional to handle a pretty dang sensitive task. What we do expect, though, is for pricing to match the quality of service you're getting. Just because you pay a high price tag doesn't mean you're automatically going to get the level of service you should.
We know that, and that's why we dig deep to make sure the offerings we give you offer pricing that reflects the actual value of the service you receive.
A Track Record That Merits the Higher Price Tag
In addition to being professional and thorough, we expect matchmaking services to be good at what they do! You aren't just paying more for an experience; you're paying more for results. Unless we see a mountain of success stories that look authentic to us, we're not going to be recommending a matchmaker. It may not be fair to newer matchmakers who are good at their jobs, but we don't think the risk is worth it when there are proven service providers out there.
A Defined Process with Benchmarks and Guarantees
Speaking of a great experience, a great matchmaking service better have a defined and refined process to helping you find love. Additionally, they need to have benchmarks in place so you know what to expect and can make sure they're performing.
For example, most packages from Tawkify or It's Just Lunch come with a set number of dates in a set time period. This is a great benchmark to know you're getting what you paid for.
Regarding guarantees, we do not expect a matchmaking service to guarantee you will find love. If they do, they're lying to you. What we do expect, though, is for them to guarantee their benchmarks. If they say they're going to get you six dates in six months, you better get your six dates within six months.
This was actually the basis of a lot of the complaints for It's Just Lunch in that they were delivering matches, but not matching what people asked for or in the promised time frame. Most of these are from individual user complaints that we can't independently verify, but the sheer number linked with the class-action lawsuits starts to paint a picture.
How to Hire a Professional Matchmaker
So, let's say you've decided that a professional matchmaking service is the right fit for you. Awesome! Here are the steps to get signed up.
First, decide if you want a one-on-one service or an automated dating app matchmaking service. If you choose one of the dating app versions (like eharmony or Elite Singles, scroll back up to the top of the page and click on the link under the one you want. From there, create your account, answer the selection questions about you, and you're off to the races. This is by and far the fastest way to get matches literally within the next few minutes.
If you want a one-on-one matchmaker, start by selecting the one you want. From there, click the links we've provided to schedule a consultation call. On this call, the consultant will explain how the programs work, answer any questions you have, and get some information to match you with the best matchmaker. From there, they'll get you set up with someone, and you'll start the process! This process is a little slower from sign up to first match, but there is minimal work you have to do since a real person is doing the work for you.