In 2023, there are so many unique ways you can find love—through dating apps, through friends, on your own, at bars, and the list goes on. One additional way to meet singles that has been around for decades (much longer than any app) is through matchmaking services.
If you're new to the world of romantic matchmakers, you've come to the right place. This guide is packed with information, resources, links, and stories to help you get acquainted. We're going to discuss what exactly matchmaking is, how it works, what it costs, the pros and cons, and answer the most commonly asked questions you may have.
What is a Matchmaker?
A matchmaker is a real person who helps you find people to go on romantic dates with. Generally, a matchmaker is someone who does this professionally (for a living). Technically, a regular person can play matchmaker by helping to set two people up, but the term is usually only used to refer to professionals who do it for a living.
How Do Matchmakers Work?
While different matchmaking services do things differently, the general flow of the process is almost always the same. The first step of the process after you pay for the service is an intake interview. During this process, the matchmaker gets to know who you are, what you like, what you don't like, and what your goals are for your romantic life.
Once the matchmaker has this information, they begin searching their sources to find suitable matches for you based on the information you provided. Sometimes matchmaking companies will have their own database of singles already, and sometimes matchmakers "hit the streets" and start looking for people who match with what you're looking for.
After a potential match has been found, the matchmaking service will help you set up a date to meet the other person. If it works out, awesome! If it doesn't, the matchmaker gets back to looking and finds you another date.
The end goal of almost all matchmaking services is to help you find a serious and committed relationship.
Our Favorite Matchmaking Service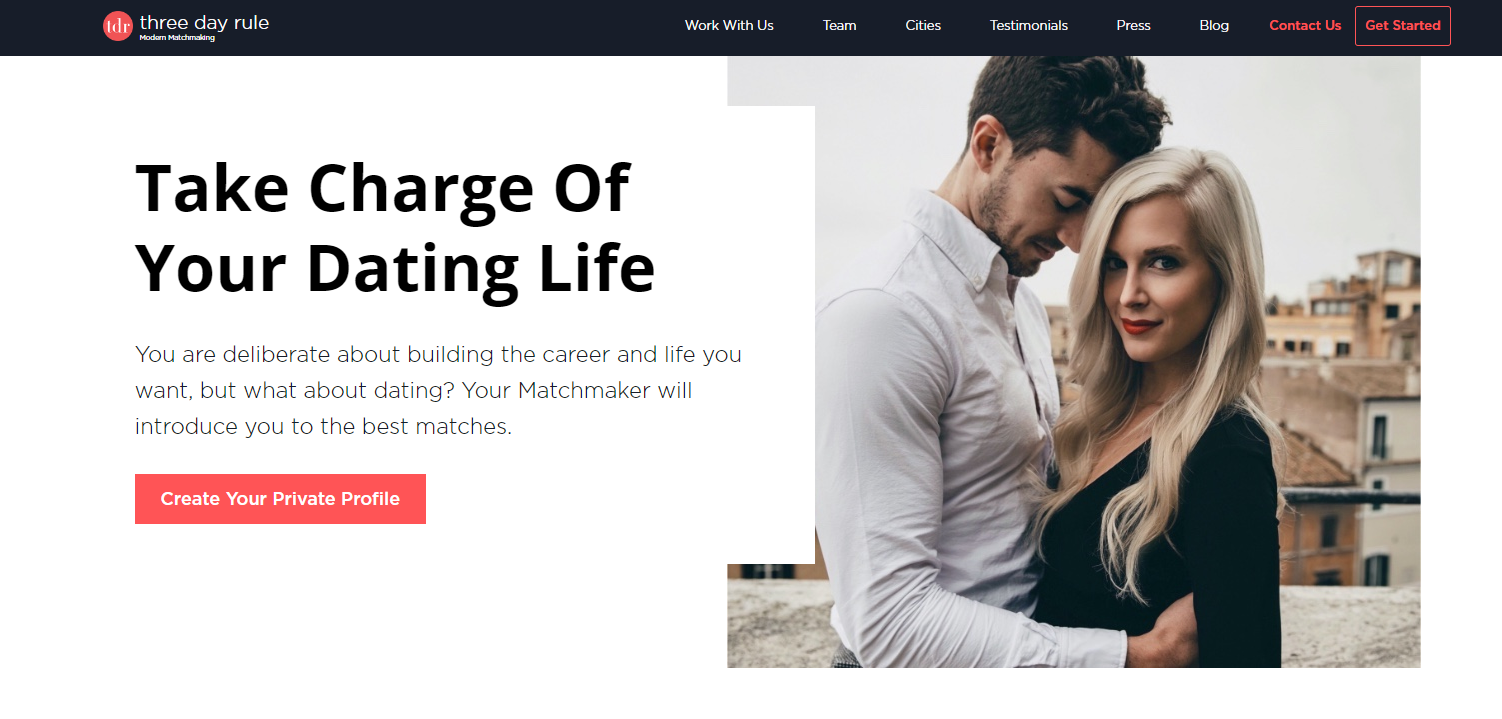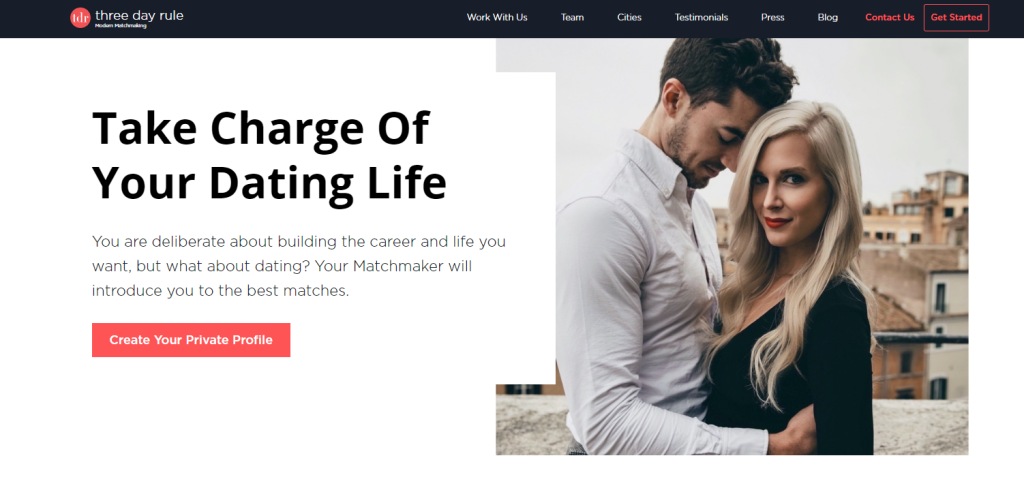 If this sound awesome to you, we want to share our favorite matchmaking service with you. Meet Three Day Rule, a professional matchmaking service available in 11 major US cities with over a decade of success stories to back it up.
What's most amazing about Three Day Rule (or 3DR as the cool kids call it) is that they offer a whole host of additional amenities on top of a highly personalized matchmaking program. This includes a professional photography session and professional dating coaching from one of their trainers throughout your time with the company.
If you'd like to learn more about Three Day Rule, we'd encourage you to check out our Three Day Rule review now. Even better, though, if you want to learn more, the link below will help you set up a completely free consultation with a matchmaker to answer all of your questions lightyears better than we ever could!
Matchmaker Pricing
Here's the bottom line upfront—private matchmaking services are going to be considerably more expensive than most dating apps. This is to be expected, though, as you're getting the most personalized help possible to find love.
It's kind of like when you sign up for a gym. You'd expect that one-on-one personal training would cost more than just access to the gym. But on that same token, you'd expect to see better results from the one-on-one approach. So, it really comes down to a you-get-what-you-pay-for type situation.
All that said, let's talk actual numbers. On the lowest end of the range, you can join some matchmaking services for around $100 per year (like Tawkify). With that, though, you're just getting access to be in the database for matching. You aren't going to get a personal matchmaker for that price anywhere, but you're at least an option in case someone is looking for you!
Startin at around a few hundred dollars, you can get some very limited personal matchmaking services. Options at this price are few and far between, and unfortunately, usually have pretty limited resources to dedicate to you.
As you start to move into the few thousand-dollar range, you really start to get into the heart and soul of matchmaking services. At this price point, you'll be getting some one-on-one help and searching. For many, this is where their journey with a private matchmaker begins.
Beyond this, there are services that go up to tens-of-thousands of dollars all the way up to several hundred thousand dollars. If you're truly looking for elite level service, this is right up your alley. While there are generally still no guarantees at this level (or any level), you can bet your bottom dollar you're getting the best chances of finding someone.
Resources for Matchmaking Services
As the matchmaker craze is making a resurgence, we wanted to share all the resources we have to help you find what you're looking for. Consider us the matchmakers of information! Okay, that was cheesy, but we couldn't help ourselves.
Feel free to take some time and peruse through the links below to find what you're looking for.
Pros and Cons of Using a Matchmaking Service
If you're not sure if a matchmaking service is for you, we want to help. What we truly believe in here at Healthy Framework is giving you both sides of the coin and letting you make the decision. Below, you'll find our lists of the pros and cons of using a matchmaking service. Take some time to read through this information and see if it's a good fit for you.
If you're still unsure after that (or you're ready to go!), why not give Tawkify a call for a free screening to learn more or get started!
Pros
One-on-one assistance in finding someone who is a good fit for you
Personalized help may lead to better results
Matches are pre-screened without you needing to do any work or swiping
Saves time as your matchmaker does the searching for you
Cons
Higher price tag than traditional dating apps
Some people like to have more control in the process
Results are heavily contingent on the quality of your matchmaker
The process may move slower than some people are accustomed to
FAQ About Using Matchmakers
Do matchmaking services actually work?
Yes, many matchmaking services have shared results, success numbers, and testimonials from actual customers. While there are no guarantees that matchmaking services will work for you, the process as a whole has proven to be fruitful for many.
Are matchmaking services better than dating apps?
Currently, no data exists to support or deny this claim. In our opinion, they are just two different ways of finding someone special. If you want one-on-one help where you don't have to do much work but you're okay with a higher price tag, go with a matchmaking service. If you want to be in the driver's seat and do the match curation on your own but at a lower price point, use dating apps.
How do matchmakers find matches for you?
The way matchmakers find matches for you is heavily dependent on the service itself and what tactics they choose to employ. Some of the most popular ways include keeping their own database of singles, searching through dating apps for you, going to events in the city to find matches, and even approaching people they see on the street.
Are all matchmakers good at their jobs?
Of course not. Just as in every profession, there are matchmakers who are great at their jobs and there are some that are going to be a waste of money. We'd recommend sticking with trusted and proven matchmaking services to give yourself the best chances of seeing positive results.
How long does it take to find someone with a matchmaking service?
This will vary greatly by the service you use and the particular level of service you purchase. With most matchmaking services, the first date happens around the 1-2 month mark after they've had time to get to know you and search for matches. If that date goes well, then results happened quickly! If that person doesn't work out, it could take longer—months, years, or you may never get results that way (final results are never guaranteed for obvious reasons).