Match Review
If you were asked to pick the most iconic and well known dating app of the 21st century, Match.com would certainly be the most popular answer. But just because a dating app has been around for over two decades and "everyone knows it's name" doesn't necessarily mean its great, does it?
That's what we want to get into today as our team shares their results from the most recent review of Match's desktop, iOS, and Android platforms. As one of the largest and most popular online dating sites in existence, Match.com has some seriously big shoes (or glass slippers if you're a romantic) to fill. But no pressure, right? Well, either way, we're ready to find out by digging in deep with our Match.com reviews.
In the coming sections, our team takes the proverbial lid off of this dating app giant and breaks it down into a bunch of little small pieces. Our goal with our Match.com review is to try and give you the most honest and accurate picture of what to expect here. We assume you've come here wondering if this app is worth your time, money, and effort and we want to answer that question.
Is Match.com Worth It? – The Bottom Line Up Front
Before we get into the nitty gritty of our Match.com review, we do want to share something that we feel needs to be addressed. In 2019, Match was sued by the US Federal Trade Commission (FTC) for effectively tricking hundreds of thousands of users into purchasing accounts through deceptive and unfair practices. Additionally, the FTC states that Match Group (the owners of Match.com) unfairly exposed consumers to the risk of fraud and offered false promises of "guarantees".
"We believe that Match.com conned people into paying for subscriptions via messages the company knew were from scammers."

Andrew Smith, Director of the FTC's Bureau of Consumer Protection
Yikes. Upon digging further into this, it looks like Match was showing people notifications that they had unread messages from other singles and that in order to read those messages, they would need to upgrade to a paid account. Except, those unread messages were coming from millions of accounts that Match had already flagged as fraudulent.
While we think Match still has some redeeming qualities as a dating app and has kept their nose clean since this incident, we wanted to share this first in case it turns out to be a deal breaker to save you some time.
If you want an alternative option to try that hasn't had issues with the Federal Trade Commission, we'd encourage you to check out eharmony. Often, one of the most sought after comparisons is eharmony vs Match, so it makes sense as a high-quality, and successful alternative.
If you'd like to try eharmony for free now, we've included a link for you below.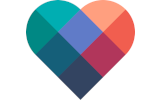 With all that said, now let's get into the remainder of our Match.com review. Bear in mind that the review from here on out is completed with the FTC information in mind, but with a bit more of an open mind to the possibility that the issue has been rectified.
Match.com scored a 6.75 out of 10.0 in our most recent review which is above average but below some of the other comparable alternatives in the market. The app had decent scores across most categories but we had some concerns that features and the look and feel of the app have been relatively the same for quite some time.
Some of the biggest pros about Match are that it's been in business for over 20 years (one of the first ever dating sites launched), it has the resources and backing of a major player in the dating industry (Match Group that owns apps like Tinder, Plenty of Fish, etc.), and doesn't try and overcomplicate the online dating process. If you like the traditional approach and buy into the "if it ain't broke don't fix it" mentality, you may like Match.com
Some of the major drawbacks of Match.com are, of course, the FTC issue, the fact that we haven't seen any meaningful new features added in years, and that the company has lagged behind other Match.com alternative options in marketing and features. In other words, if you like innovation and are tired of the status quo of what online dating has been for over 20 years, you might not enjoy Match.
Pricing wise, Match memberships start at around $20 per month (if you purchase a yearly plan), and range up to around $45 if you buy month to month. This puts Match pretty comparable to similar options, and even slightly less expensive per month if you're willing to commit to a full year.
Who is Match best for? We think there's a little lack of direction there, which probably makes it best for people who aren't sure what their relationship goals are. If you're looking for serious, you may run into a lot of indecision. If you're looking for casual, you'll probably have decent opportunities. What would help here is if you could select your relationship goals on your profile, instead of just leaving it up to people to guess.
What's our overall take on Match? It's certainly in the higher tier of dating apps, with a great iOS and Android presence. The lack of new meaningful features and the whole FTC debacle, though, make it a bit of a miss for us. But, as we get a few years out and they've kept their nose clean, our memory of the incident does start to get shorter.
---
Overall Match.com Rating
| Category | Score |
| --- | --- |
| Quality Matches | 6.5/10.0 |
| Features | 6.0/10.0 |
| Ease of Use | 7.5/10.0 |
| Support | 8.0/10.0 |
| Cost | 8.0/10.0 |
| Overall | 6.75/10.0 |
6.75/10.0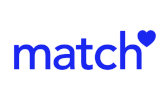 Pros and Cons of the Match.com Dating App
Pros
Self-proclaimed #1 in dating and relationships with over 20 years in the industry
Doesn't overcomplicate the dating process
Can see all photos of matches prior to purchasing a premium membership
Nice sized membership base based on our research
Cons
There are ads on the profiles and throughout the user interface
Many features require an additional purchase on top of the subscription fee
Many prefer eharmony for serious relationships
Profiles can be quite minimal or empty feeling with little information
Numerous reports of bugs and glitches with the software
Sued by the FTC for conning members into purchases
Who Match.com Is Good For
Singles not sure if they want serious or casual dating
People who want a more traditional "catalog" style of online dating
Who Match.com Might Not Be Best For
People certain they want a serious relationship
People who want only casual dating
Singles looking for more robust matching help
Singles who like to be able to learn a lot about matches before messaging
---
Match.com Review – Table of Contents
Match.com Features Overview
We love great features and our Match.com reviews certainly had a good amount of stuff for us to look at. Below, we're going to take a look at some of our favorites and the more notable features the site has to offer.
Upfront, though, how do the features overall compare with other dating sites? Pretty comparable, although we haven't seen a lot of new features added recently. On one side you could say it's the don't fix what isn't broken camp, but on the other side you could say it's falling a bit behind the curve.
Let's look at the features that stood out during our Match.com reviews.
Features by Tier
The first thing we wanted to do is show you all the features that come with each Match.com membership tier. If you'd like to know how much each of these costs, make sure to scroll down to our review section on pricing where we break all of that down.
| Feature | Free | Standard | Premium |
| --- | --- | --- | --- |
| Send Unlimited Likes | Yes | Yes | Yes |
| Message Your Top Picks | Yes | Yes | Yes |
| See Who Likes You | X | Yes | Yes |
| See Who's Viewed You | X | Yes | Yes |
| Unlimited Messaging | X | Yes | Yes |
| View Read Receipts | X | X | Yes |
| Monthly Boost | X | X | Yes |
| Unlimited Rewinds | X | X | Yes |
| Weekly Super Likes | X | X | Yes |
Now what we'd like to do is look a little deeper at some of the more prominent features mentioned in the table above.
The Search Function
Note: This Match.com feature used to be called Discover but is known just called search (probably more fitting).
When you click on the Search button from the top menu, you're taken to a grid view of all of your matches. This view gives you a lot of options for sorting and searching through your matches. You can quickly change your age parameters and location parameters from the top of the page. Additionally, you can sort all your matches by the following options:
Match Picks – Their personal method for showing you matches
Activity Date – Who was online most recently
Newest First – The members who joined most recently
Age
Photo Count – Whoever has the most pictures loaded up
Username
Distance – How far they are away from your home location or the location you searched
Mutual Match – People you have liked that have also liked you.
Reverse Match – These are matches that are looking for someone like you. (You might not have selected that you're looking for someone like them).
This is pretty awesome because they give you a lot of different ways to search through your matches. If you're someone who likes to flip through and find something you like, you're going to like these Match.com options. We call this the catalog style of dating which can be a nice fit for some people or possibly overwhelming for others. It's a personal preference thing.
You can also set your matching preferences to influence this list which includes things like interests, looks, personal details, and lifestyle choices.
The New Discover Feature on Match
Match.com presents your daily matches to you in a fun little format. It's a "tinder-style" presentation. Basically, they show you a picture of a match along with a mini-profile of that person.
You have the option of clicking Skip or Yes if you're interested! They'll show your pictures to some of the same people and if you both click Yes, the app will let you know! What is different than Tinder is if you see someone you like, you can message them without the need for a mutual match to unlock a conversation.
Even if your potential match doesn't use this function, it's still a great way to see your matches not just in a boring list format. Here's what it looks like. Again, we blurred out things and removed the private information.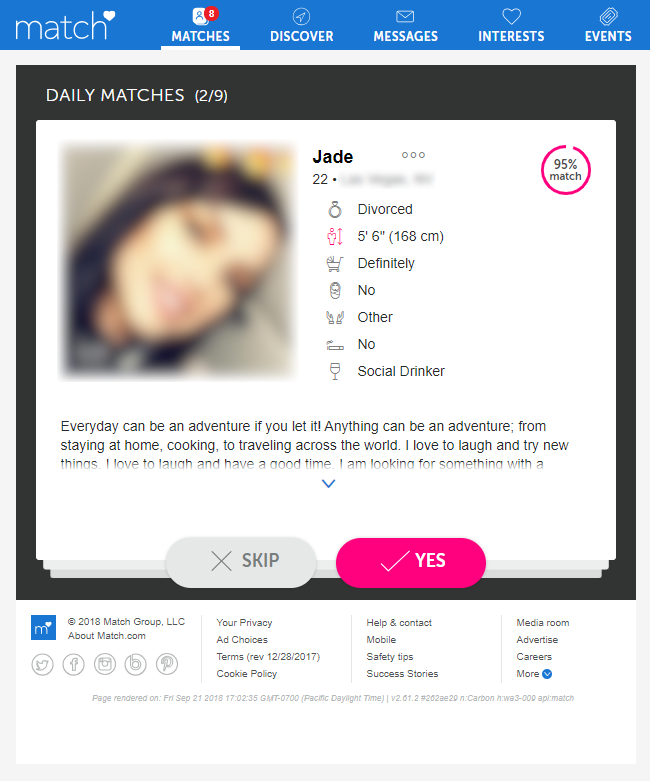 Match.com Events
Match.com does something you really don't see many other places in the industry. They attempt to take the online dating experience offline. How? Well, they have what are called Match.com events. The smallest commitment events are webinars where they teach you tips and strategies to be a more successful dater. The next level up are their mixer events where the site hosts an event at a local establishment and invites all the singles on Match.com from that area. There is usually a small cost to go to the event, but you usually get something for it (not to mention the chance to meet someone special).
The top of the food chain of Match.com events are their trips. Match has trips all around the world that you can pay to go on where you'll get to meet other singles while having a blast. Volunteering in Ecuador? Tanzania camping safari? Lake Tahoe Ski Week? Exploration of Israel? These are just a few of the trips we saw listed the last time we checked the site.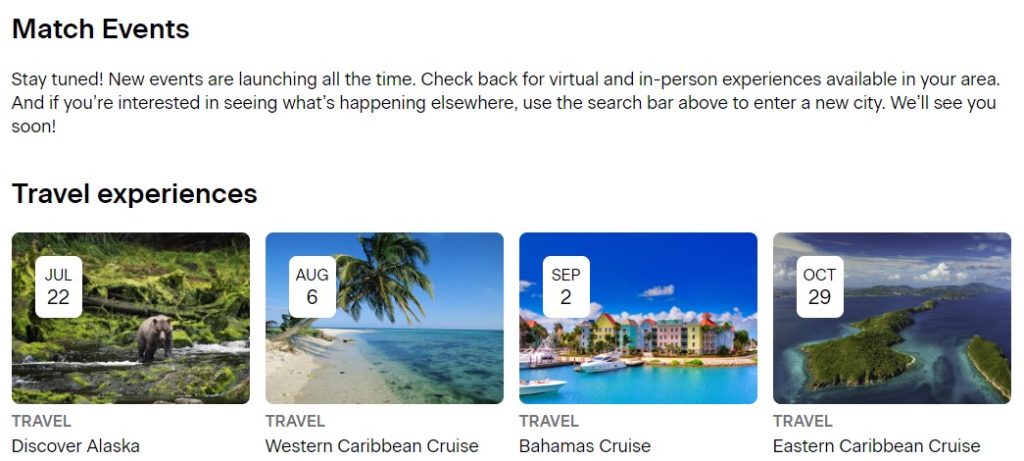 One other thing that caught our eye about the events during our Match.com review was that you could attend events in other cities if you were traveling. Out of town on business and have a few nights free? You can change the city on Match.com and search to see if there are any events going on there. If there are, you're invited!
Match Phone
There is one new feature that we've seen added recently to Match known as Match Phone. With this feature, you and your match are given a private number that you can use to talk and text to each other. The idea here is that it's a safety feature so that you don't have to give out your contact information until you're comfortable with it. We have not tested this feature yet, but it's an interesting one for the security conscious.
How easy is the site to use?
It's safe to say that our Match.com reviews are off to a pretty great start, but we still have quite a bit that we need to look at. The next thing that we want to take some time to analyze is the user interface of Match. Basically, how easy is the site to use? Does it make you want to throw your computer into a swimming pool or does it offer an inviting experience?
First, let's look at the overall feel of the site. In our opinion, we found the site fairly easy to use. We had no real problems finding the things we were looking for, everything was laid out well, and it was an overall enjoyable experience. Now, the layout has changed a little over the years, but it's not really a positive or a negative—just different.
Here's what the profiles on Match.com look like. Again, we've blurred out the photos and personal information.
Notice the layout of the Match.com profiles. They're clean, sleek, and present the information you want to know quickly and organized well. You quickly see their main photo and profile info, and then you can see their photo gallery with all of their other photos down below. If you click on one of these photos, it will pop up in a lightbox so that you can see it larger and clearer.
One drawback you might notice though? Not that much information. Match.com profiles tend to be really light on information, which makes it a lot more challenging to figure out if someone is a good match and worth your time.
You'll also notice something else a little strange in that profile screenshot. What is Jim Gaffigan doing on Miss Brittany's profile? Is that her dad watching over us? Nope, it's an advertisement. While we think Jim is hilarious, we'd prefer not to see ads while we're doing our Match.com reviews or while we're doing our online dating. The good thing is the ads on Match.com are limited, and they don't really get in the way. They also seem to be higher quality products and services, so you don't have to worry too much about seeing something you don't want to. Still, we'd love to see those nixed from the picture, and that's why we docked some points.
There is a second half of the profile when you scroll down that shows what the two of you have in common and what they are looking for. Here's what that looks like.
Everything else you would need from Match.com can be found along the top menu bar that conveniently follows you around fixed as you look through potential matches and profiles.
The Quality of Singles at Match.com
This is always one of the most important questions that people want to get answered. Are there lots of awesome singles on this site or is it filled with fake profiles, flakes, and creepers?
When we logged on to check out the site for the first time years ago at 2pm on a Friday afternoon, there was a note that said there were 126,874 singles currently online. That's certainly an incredible number and the site already had our attention! Note: Sadly, the site doesn't post that information anymore, which may or may not be something to be concerned about.
But, just because there are a lot of people using the site doesn't mean they're quality. Sure, Match.com already passed the quantity test with flying colors, but what about the quality test? Well, here's what we did to find out and what we saw.
We began running "test searches" in a lot of different areas across the United States. We searched for all different age groups and in small and big cities. Once we had our searches, we started looking through the profiles listed and wanted answers to these main questions.
Are the profiles filled out by real people?
Are their profiles with pictures that are real?
Have the members shown been active recently?
Do they seem like quality, attractive people?
The results? Mixed. In our earlier reviews, this said "pretty good." The site seemed to do a good job of removing fake profiles or ones without much information. Today, though, it looks like they may have relaxed their standards a bit on that as we saw several profiles that were incomplete, without photos, or looked like they might not be from a real person.
Now, we didn't interact with anyone during our Match.com review (we want to keep it ethical), so we can't say one way or another anything about bots or anything like that. But, do recall that the app was sued by the FTC for messages sent from millions of fraudulent accounts. This pretty much shows that at least at one time there was a major issue with the validity of accounts.
When you use the Search tab (formerly Discover), you'll see all of your matches that meet your search criteria in a grid format like the screenshot below. You will notice that we've gone ahead and blurred out all of the photos because this is an actual screenshot from our Match.com reviews. We wanted to protect the privacy of the members in this area.
Regarding the different ages, males and females, and locations we checked in our Match.com review, we never had a problem finding a lot of matches with every search. Additionally, each person's profile is attached with an indicator that lets you know if they are currently online, are active, or have been active recently. Basically, it's a quick way to see if someone is still on the site looking for love or if maybe they've found someone and are no longer using the site.
Update: It looks like the profiles on Match only show you if they're online or not now. We were unable to find the feature that said if they've recently been active during our last set of reviews of the app, which is a bit of a bummer.
How to Sign Up at Match.com
While we led off with the quality of matches and the features as the first part of our Match.com review, the first place we actually started was with the sign-up process. You can't see any of the matches until you create an account so obviously, this was first on the list.
The entire Match.com sign up process takes about five minutes max. The first thing you will have to fill out is some basic profile admin information. Ugh, paperwork, we know. Don't worry, it's really not that bad. It's literally your email address, password, and your birthday. This screen will also give you your first glimpse into some of your matches in the background. We've, of course, blurred them out here to protect their privacy.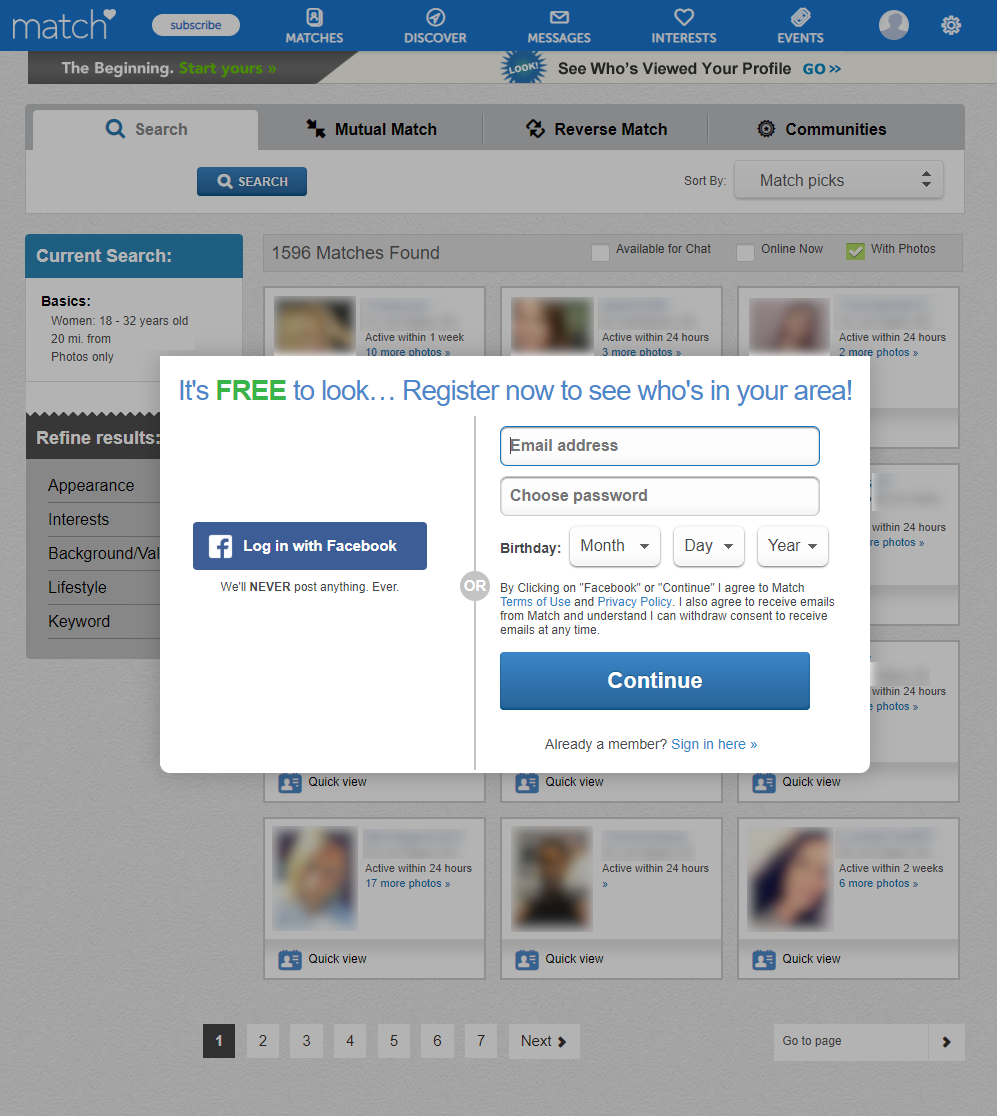 They do require you to fill out some information about yourself before they let you start searching through your potential matches. Below, you'll see a screenshot of what things looked like when we went through and signed up.
Once you click on the let's get started tab, you're first given a serious of questions to answer about yourself. Don't like talking about yourself or nervous what Match.com might ask? No fear, we've listed out all of the questions for you here. Everything is multiple choice except for the "Tell us a little about yourself question." That requires a minimum of 100 characters, and there is no way to skip it.
You'll notice that the last thing you have to do to complete your sign up is upload a picture of yourself. While it may look like you have to upload a photo, there is actually a way to skip this if you don't feel like uploading something right away. We recommend uploading a picture because it will get you way more attention, but if you haven't picked one out yet and need a minute we understand.
The skip button is somewhat hidden (probably to try and entice you to upload a photo), but during our Match.com review, nothing gets past us. We've added a screenshot below to show you where it is in case you want to bypass this for now and get to the matches.
The bottom line here is the sign-up process was quick, easy, and didn't cause bodily harm. Sure, you have to write 100 characters about yourself, but this sentence is over 100 characters, potato. Sorry, had to add a random word in there to click it over the 100 character mark. The point is that 100 characters is literally one sentence. We'd hope that you'd want to take that time to really write about yourself and start building an awesome profile for other singles on Match.com to get to know you.
Price | How Much Does Match.com Cost?
The pricing structure at Match.com is split into two plans known as the premium plan or the standard plan.
| Membership Type | Membership Length | Membership Cost | Total Overall Cost |
| --- | --- | --- | --- |
| Premium Plan | 3 Months | $34.99 per month | $104.97 total |
| Premium Plan | 6 Months | $24.99 per month | $149.94 total |
| Premium Plan | 12 Months | $19.99 per month | $239.88 total |
| Standard Plan | 3 Months | $31.99 per month | $95.97 total |
| Standard Plan | 6 Months | $22.99 per month | $137.94 total |
| Standard Plan | 12 Months | $18.99 per month | $227.88 total |
The premium plan gets you everything that the standard plan has plus a few additional features. If you'd like to know what the standard plan get you and what are the additional features, scroll back up to the features section of the review where we have a table detailing all of that.
Match.com Add ons
Unlike many other online dating brands where you get everything for one price, there is some nickel and diming going on at Match. With each level of membership, you do do have some options of upgrades that you can pay for.
Some of the features are already included in the upgraded plan as detailed below. Also, a few of the features weren't listed as an option under premium, which does lead us to believe they are included already (though, it did not say so on the site).
| Feature | Cost | Standard Plan | Premium Plan |
| --- | --- | --- | --- |
| All Users Can Respond | $9.99 month (extra) | Available | Not Listed |
| Private Profile Mode | $9.99 month (extra) | Available | Not Listed |
| Read Receipts | $2.99 month (extra) | Available | Included |
| Match Phone | $3.33 month (extra) | Available | Available |
| Hand Picked Matches | $11.96 month (extra) | Not Available | Available |
Payment options for Match.com
Credit or Debit Card – Visa, MasterCard, Discover Card, American Express, Diner's Club, and JCB
PayPal
Visa Checkout
MasterCard MasterPass
One additional thing we saw during our Match.com review that we would like to point out is that all accounts are set up for auto renewal. This means that if you don't uncheck this option your account will automatically be renewed and you will get charged again. This is done for your convenience, but if you don't want it to happen you can just uncheck the option from your account settings. If you choose to renew, you can just uncheck it prior or just purchase another membership and your account will stay active.
If you want to learn more about pricing, check out our Match.com cost guide for a more complete breakdown.
Customer Support Options
The customer service section of our Match.com review was another positive for the site. While the options were limited, the option they did offer was pretty good. Additionally, they had a fully fleshed out FAQ section that you could search and get a ton of information from. It looks like they spent a lot of time or money getting someone to write out answers to every question under the sun which is awesome.
As for contacting them directly, they have live chat available Monday through Friday from 8am to 5pm central standard time (CST). We would like to see some support available by email and available over the weekend.
Match.com FAQ
What is the success rate of Match.com?
While Match doesn't give an exact success rate of their matchmaking – they do tout themselves as the number 1 dating site on the web. Unfortunately, it's tough to validate these statistics.
How long does Match.com take to work?
Match can start working right away after you finish writing your profile. Your options will be limited unless you upgrade to a premium plan, but you can start searching through potential matches right away.
Does Match.com have fake profiles?
While every online dating site will have its own fair share of fake profiles, our Match.com reviews showed that the site does do a pretty decent job of screening for fakes. Every profile and every photo is screened by the staff before it's posted. This can cause some delays in things getting started for you, but it's probably an overall net win.
Can I get my money back if I am not satisfied with Match.com?
Once you pay for a subscribing membership, you cannot get any refund back if you're unsatisfied. If you're unsure about if you'll be satisfied, try the Match Free Trial membership first. Millions of people are finding success in love on Match, so you probably will too.
Can you cancel Match.com after a month?
While you can cancel, you're not going to receive any refund. All Match subscriptions are billed in one lump sum, no matter the length of the membership term.
Does Match.com have a free trial?
Match has a great free trial membership that only takes a few steps to get signed up. With a Match Free Trial you can take a sneak peek at the awesome search features and their attractive member community. Check out the "like" or "pass" browsing format, which is a fun way to check out all of the singles matched just for you.
The free trial even allows you to use their powerful search functions, including by attributes, mutual, and reverse searching. You can even save your searches that get you successful results. Check out our Match Free Trial review here.
How much is a one-month subscription to Match.com?
While Match does not offer a one month subscription, they do offer a reasonable 3-month membership for a lump payment of $89.97. Match is a great value as the number one dating site. Many other lesser-rated dating sites cost much more or don't offer shorter terms.
Does Match.com have an app?
A mobile app is available for all Match user accounts. The Match app gives you the same features that you have on the website, but now you can easily search on the go. Responding to messages in the mobile app (with a paid subscription) is also easy. Notifications come through on your phone so you never miss a message.
Does Match.com still exist?
This dating site is live and well. With an active member community of millions across the U.S., you're sure to find many interesting singles no matter where you're located. Match exists and is ready today to help match you with someone special!
Does Match.com really work?
Match is a proven online dating site that focuses on matchmaking singles looking for long term love. Hundreds of couples are finding love on Match every day. Match even has a special site to collect those stories, so you know they're getting a lot of positive feedback!
How long has Match.com been around?
Match has been bringing singles together since 1995. That's 25 years of matchmaking experience – a lot longer than many of the other dating sites out there. Match really knows what they're doing and the site is very popular – so it's not going anywhere soon.
---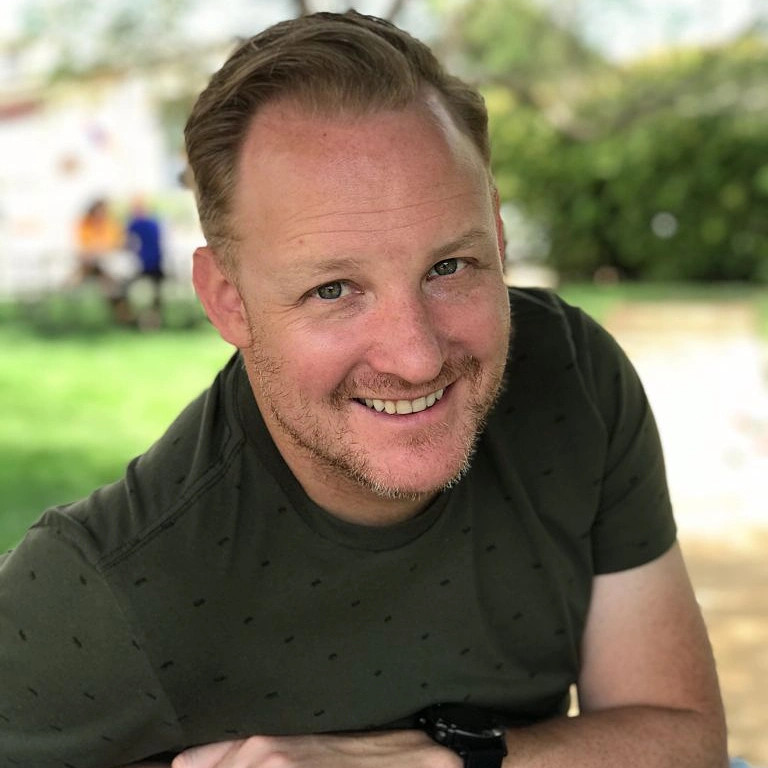 Written By: Matt Seymour
Matt Seymour is a dating industry expert with over a decade of experience coaching singles, reviewing dating apps, and analyzing trends within the industry. With a Masters of Science in Finance (MSF) degree from the University of Florida and extensive knowledge of the innerworkings of the online dating industry, Matt frequently serves in an advisory role to some of the largest dating apps on the market. In Matt's current role with Healthy Framework, he leads the interview team that regularly interviews key dating industry leaders, and leverages his financial knowledge and dating app experience to review and share what singles need to know to get the most out of dating online.