LargeFriends Review
Are you looking for a safe, welcoming dating environment for BBW and BHM singles? According to LargeFriends, that's just what you'll find when using the BBW dating app, but does it deliver? Instead of spending a week or more on the site to find out, keep reading our LargeFriends review to see if it's one of the best plus-size dating apps.
Our review covers all the important details, such as the quality of the site's membership base and the effectiveness of its features. Plus, we'll show you how LargeFriends stacks up to other dating apps for BHM and BBW guys and gals. Let's get started, so you'll be that much closer to choosing the right app.
Is LargeFriends Worth It? – The Bottom Line Upfront
LargeFriends is open to BBW (Big Beautiful Women), BHM (Big Handsome Men), and those who love them. It's accumulated close to 1.8 million members interested in making friends, scoring hookups, and finding long-term partners. You can set basic search preferences to find potential matches or use the Tinder-esque Spark feature to swipe your way to love. In short – It's a solid dating app, but we still think that the top mainstream dating apps provide better matches and more options for the BBW and BHM out there.
---
Before we get into our likes and dislikes, let's look at the account options available on LargeFriends. As with most dating sites, you can use LargeFriends as a free or premium member.
Free members can do the following:
Filter matches by gender, age, country, and state
Like up to 100 profiles a day
Swipe on up to 50 profiles a day
Send and receive winks
Receive and reply to messages from premium members
We tested the free account when creating our review of LargeFriends, and it has enough features for you to make a connection. That's especially true since you can chat with premium members without upgrading, and there are lots of premium subscribers on the site.
For instance, we received 13 messages within 48 hours of opening our account, and seven of them were from premium subscribers. That means we were able to reply to over half the messages without upgrading our account.
If you aren't lucky enough to get lots of messages from premium members, upgrading to a (costly) premium membership might be necessary. Then, you'll be able to converse with anyone on the dating app for plus-sized singles and access all the other features shown in the image below.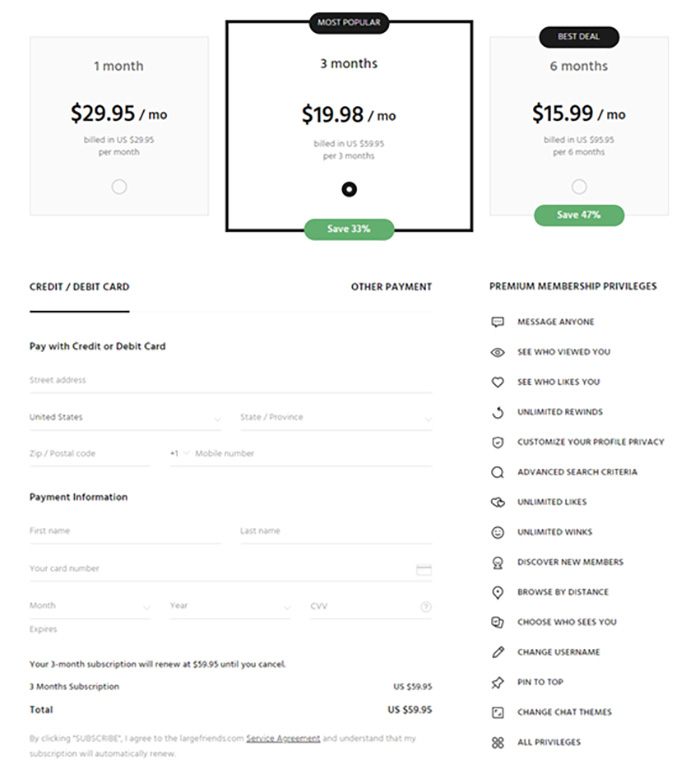 Whether you choose a free or premium membership, LargeFriends' matching algorithm leaves something to be desired.
Free members can only search for profiles based on gender, age, country, and state. Premium members get seven advanced search filters and can set the distance radius, so you can expect better matches, but they're still not spot on due to one big problem.
See, neither free or premium members have access to a critical filter – what members are looking for on the site.
Our matches were full of people looking for everything from friendships and hookups to serious relationships. And let's not forget about the people who just want to satisfy a fetish. With so many different relationship goals represented on LargeFriends, the search filters just don't do the job. Add in the small membership base, and it's just too hard to find a real connection on here.
Instead of using a niche dating site, we recommend going with a mainstream app based on your dating style (serious, casual, etc…).
For instance, eHarmony is the gold standard for people seeking serious relationships. Almost all the members want long-term relationships with the potential of marriage, and you'll find people of all sizes here. And unlike LargeFriends, you'll know that your matches will be a good long-term fit since the system pairs people based on the 32 Dimensions of Compatibility.
What if you aren't ready to settle down yet? The casual dating app Zoosk has members of all shapes and sizes, and most are down for casual dating. You'll feel the app's machine learning algorithm as you use the site, so your matches will get better and better.
Are you unsure which is right for you? See how eHarmony and Zoosk compare.
Overall LargeFriends Review Scores and Ratings
| Category | Score |
| --- | --- |
| App Store Rating | N/A |
| Google Play Rating | 3.5/5.0 |
| Starting Cost | $15.99 a month |
| Userbase | "Over 1,729,700" |
| Online Since | 2002 |
| Our Review Score | 7.0/10.0 |
7.0/10.0
Pros and Cons of the LargeFriends Dating App
Pros
Welcoming environment for BBW and BHM singles.
Most profiles are robust and full of details.
LargeFriends has a dedicated app for android users, meaning you can take your dating journey on the go.
The sign up process is very quick and users can use our free trial link to try it out for free.
Updates profile location when traveling.
Cons
Some members appear to fetishize plus-sized singles
Can't search for members by relationship type
The site allows couples (and those seeking couples to join), giving it a far more casual feel than other dating sites.
Users report LargeFriends accounts often get flagged for "suspicious activity" with normal use.
Doesn't have an iOS app (just web and Google Play)
This almost goes without saying, but if you're not attracted to plus sized singles, the site is not for you.
LargeFriends Features Breakdown
LargeFriends has kind of an old-school look, much like a dating site from the early 2000s. At the same time, it has some fresh, cool features that you won't encounter on mainstream dating apps like Tinder. Get the details on some of the commonly used features so you'll be ready to connect.
Home Feed
The Home feed is the most active spot on LargeFriends. You can view profile updates here and add and look at Moments. Moments are kind of like social media posts, and you can like and comment on them while scrolling through your feed.
If you'd like to become a more prominent member of the community, add some photos and text to the feed via Moments to drum up engagement. Oh, and if you upload any Moments, they'll go on your profile, too. This is your way to show off some personality, so don't hold back.
First Date Ideas
LargeFriends includes a section full of member-posted First Date ideas, and there are tens of thousands to look through. Don't let the number of options overwhelm you, though, since you can filter by category. Actually, the filters here are better than the ones you can use to browse profiles.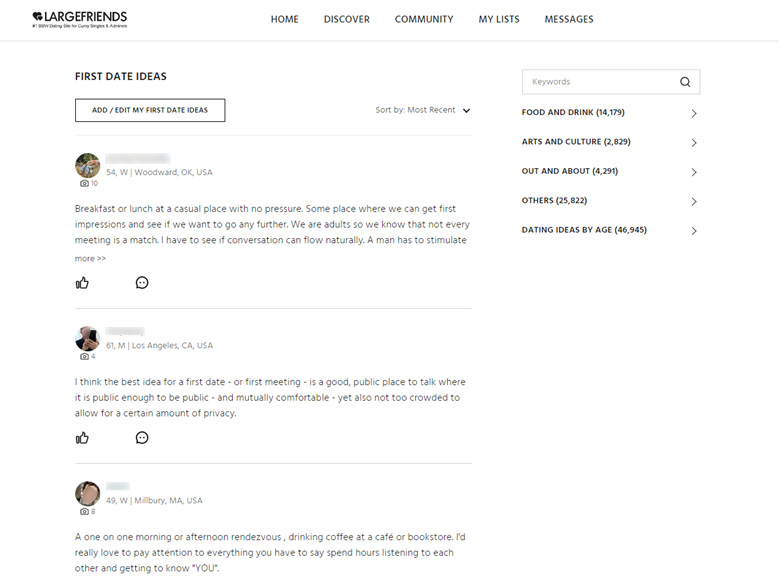 Like Moments, members can also like and comment on these ideas. Who knows – someone might comment on your First Date Idea, leading to a connection.
Winks
Free members can send one Wink a day to initiate contact or respond to messages. You can choose from the list of pre-filled options, but you can't customize the wink.
Winks are delivered to members' inboxes, just like messages.
Based on our experience, it appears that free members send Winks, while premium subscribers send messages. If you're a free account holder and send a Wink to a premium member, that person can write you back. On the other hand, a free member can only Wink back at you, so the conversation won't progress.
Spark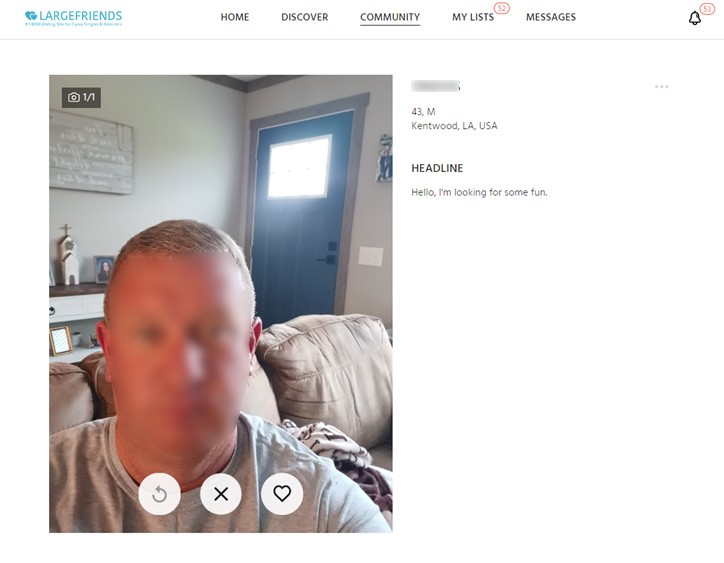 Spark is kind of like LargeFriends' version of Tinder. You can quickly cycle through profiles, liking or passing on each one that comes up. Spark is a lot more fun to use on the app, but you can also access it on the site. Then, instead of flipping through profiles, you'll click your way through your options.
Discover
The Discover tab is the main way to browse profiles on LargeFriends. Basic members can filter their matches by gender, age, city, and state, so you can expect lots of potential matches if you go this route. Unfortunately, those matches will be all over the place since the search filters are so weak.
If you want to narrow down your matches, you can upgrade to a premium membership to unlock the following filters:
Ethnicity
Religion
Relationship status
Smoking
Drinking
Children
Height
Keep in mind that LargeFriends has fewer members than mainstream apps like eHarmony and Zoosk. Thus, if you set lots of filters, you might run out of matches, especially if you live in a rural area.
Chat Prompts
Coming up with what to say can be a challenge, especially if you're new to online dating. LargeFriends makes it a bit easier by letting members select chat prompts when responding to Winks and messages.
LargeFriends' chat prompts are better than we've seen on most dating sites. However, they're still generic, and everyone has access to the same ones. That means members might receive the same messages over and over again, which can hurt response rates.
Sending generic messages is just one of the many reasons you might not hear back from singles on a BBW dating app. Go over some reasons that you don't get responses to online dating messages so you can fine-tune your strategy.
Fun Questions Game
It only takes around five minutes to create an account on LargeFriends, but you have the option to go back and fill out your profile more completely. That includes playing the Fun Questions Game to help you and your matches get to know each other better.
You can see how your answers compare to another member's answers by going to the "More About Me" section on the person's profile. If the person played the game, you can see the results. Also, if the member answered a question that you didn't, you'll be prompted to submit an answer to unlock the member's response.
Comparing answers helped us weed out lots of potential matches. In fact, we found the game to be more effective than the matching algorithm. You can improve your matches and success rate even more by checking out our guide to dating a BBW.
Quality of Singles – LargeFriends User Base Review
Something stood out to use right off the bat when creating our LargeFriends review. The members here seem to be legit and serious about finding matches on the site. At the same time, the membership base is all over the place. Our matches included fetishizers, casual daters, and people seeking long-term relationships, which was frustrating, to say the least.
The profiles tend to differ based on relationship goals. The site's serious daters generally fill out all the sections and provide more info, while casual singles keep it basic.
Screenshot of a Serious LargeFriends Profile
Screenshot of a Casual LargeFriends Profile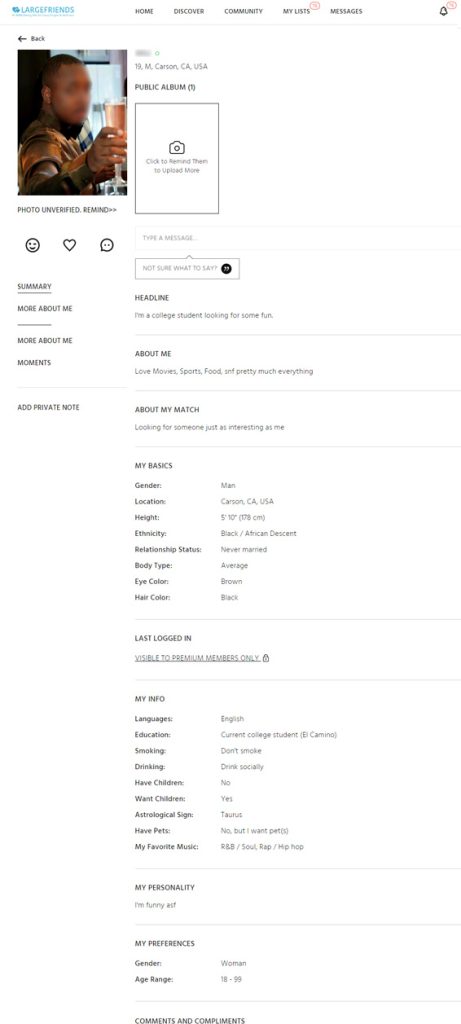 However, casual and serious daters have something in common on LargeFriends. Both groups tend to be active and engaged. Members aren't shy about sending Winks, likes, and messages.

We couldn't find stats on how many of the members have premium subscriptions. However, based on our evaluation of LargeFriends, it looks like at least a quarter of the active members have premium subscriptions.
LargeFriends.com Alternatives
LargeFriends is far from the only dating app for BBW singles. While we prefer mainstream apps, we still want to look at some of LargeFriends' direct competitors. Check them out to see if you should go with LargeFriends or another dating app for BBW singles.
WooPlus – The BBW dating app WooPlus has around three times more members than LargeFriends, and users can chat with their matches for free. While LargeFriends uses the Fun Questions Game to help members get to know each other, singles can fire off questions and answers via Flash Chat on WooPlus. Both are solid dating apps, but WooPlus has the edge due to its larger membership base and free features. (Read Our Unbiased WooPlus Review)
BBWCupid – Free members can't chat with each other on BBWCupid or LargeFriends, but both apps allow free members to communicate with premium subscribers without limits. Both apps also match people based on personal preferences and location, although BBWCupid has over 30 free search filters while LargeFriends only has four. Finally, singles use BBWCuipd for local and international dating, but LargeFriends is mainly a local dating app. (Check Out Our Full Review of BBWCupid)
BBW Plus Singles – While most of the members appear to be legit on LargeFriends, we can't say the same about BBW Plus Singles. Scammers are out of control here, and many of the features don't work as they should. LargeFriends might not be the best dating app for BBW and BHM singles, but it's superior to BBW Plus Singles.
User Complaints About LargeFriends
User reviews of LargeFriends are mixed, with some members praising the site and others sharing complaints. While the complaints are varied, three popped up over and over on Google Play and other review sites. Check out what previous and current members have to say about their experience using LargeFriends.
Shady Business Practices – Customers have left reviews on Trustpilot and other sites accusing LargeFriends of some unethical business practices. Some of the accusations include submitting fake reviews and overbilling. You can avoid being overbilled by reviewing LargeFriends' service agreement, which details the site's three-day trial period and cancellation process.
Ineffective Distance Filters – According to members, the distance filters on LargeFriends don't work correctly. We also tested them, and think the problem isn't with the filters themselves. Instead, the membership base is so small that you'll end up getting matched with people who are outside of your preferred area.
Poor Customer Service – Members have stated that LargeFriends' customer support is slow and ineffective. We recommend reading LargeFriends' FAQ section before reaching out to customer service. Most of your questions can be answered there.
Pricing Review – How Much Does LargeFriends Cost?
There is only one membership type and three different membership term lengths you can choose from. Pricing ranges from $15.95 per month up to $29.95 per month, depending on how long you choose to purchase for.
| Membership Type | Membership Length | Membership Cost |
| --- | --- | --- |
| Gold Membership | 6 Months | $15.95 per month |
| Gold Membership | 3 Months | $19.95 per month |
| Gold Membership | 1 Month | $29.95 total |
Pricing for a largefriends.com membership is all-inclusive and there are no "additional add-ons" or upsells that they're going to throw your way. If you pay for a Gold membership, you get everything. When you first join the site, you're considered a Standard Member which is largefriends.com's version of a free membership.
Comparing the LargeFriends cost with the rest of the industry, this pretty reasonable. A 1-month membership is about a dollar a day (or about 50 cents a day with the 6-month membership). All memberships are charged as a one-time charge.
The 1-month membership at largefriends.com will automatically renew while the other two options do not. You can easily turn this off, though, by contacting support or updating your billing preferences.
LargeFriends payment options include:
Visa
MasterCard
American Express
PayPal
Personal Check
Money Order
LargeFriends Free Trial – Claim Yours Now
The LargeFriends.com free trial is fairly extensive compared to other free trials in the online dating industry. The industry standard is that you gain access to the inside of the site, can look at a few matches, and typically have no communication abilities. With the LargeFriends free trial, we were pleased to see quite a bit more.
Not only do you have access to every member's profile and all of their photos, but you are able to respond to messages and chats from other members completely free of charge. This means that with your LargeFriends free trial, you may be able to find that special someone you're looking for before you even have the chance to consider upgrading to a paid account.
What You Get With Your LargeFriends Free Trial
You can create your entire profile, put in details about your desired match, and upload up to 25 profile pictures
You can reply to unlimited messages and online chats from paying members for free!
Post date ideas and view others, post questions to matches/friends and respond to others, and comment on profiles, photos, blogs, and forums
Access to the "Let's Meet" features and access to ALL member's full profiles and all of their uploaded photos and information
Your LargeFriends.com Free Trial Won't Include…
Sending first messages or chats to members (you can only respond to others)
You can't see how often a member replies to messages
You won't be able to search by who is new, interested in you, location, body type, or who marked that they were interested in you
LargeFriends Dating App FAQ
Do I have to be plus sized to use LargeFriends?
Nope! LargeFriends.com is open to users of all sizes. Standard sized members must be open to dating a plus sized single and there is no tolerance for body shaming on the app.
Is the LargeFriends site for hookups or serious romance?
LargeFriends can be used to find friends, hookups, or serious partners. There are tons of ways to use the app to fit your needs.
Can I download LargeFriends on my Apple device?
No. Unfortunately, LargeFriends is only available through Google Play to be used on Android devices. iOS users may be able to access the website on their mobile browser, but there is no dedicated app available at this time.
What is the Spark feature on LargeFriends?
The Spark feature is a way for users to not get overwhelmed by a sea of matches on the platform. On the Spark page, users are shown a single user at a time and they can quickly choose whether they are interested or not. It is very similar to the swipe-matching seen on sites like Tinder, Bumble, and Hinge.
How can I try LargeFriends for free?
If you want to try LargeFriends.com without the need to input credit card info or pay even a dime, check out our free trial link. It will take you to a free sign up page where you can get your profile created and begin utilizing some free features in less than 10 minutes!
---
---