Jewish Dating Apps
Looking for your Beshert? Tired of your family trying to set you up with the nice Jewish guy or gal from Synagogue? Whatever your reason for joining us today, we're here to help! Jewish dating does NOT have to be that hard.
Yes, when faith is a deal breaker in your search for love it can limit your options. With only about 6.1 million Jewish adults in the US (less than 2% of the population) and that number getting a lot smaller when you take out anyone who is married or in a relationship, it can seem like a lot.
Luckily, you have options and resources to help. Today, we're going to share a list of the best Jewish dating apps designed specifically for people of the Jewish faith.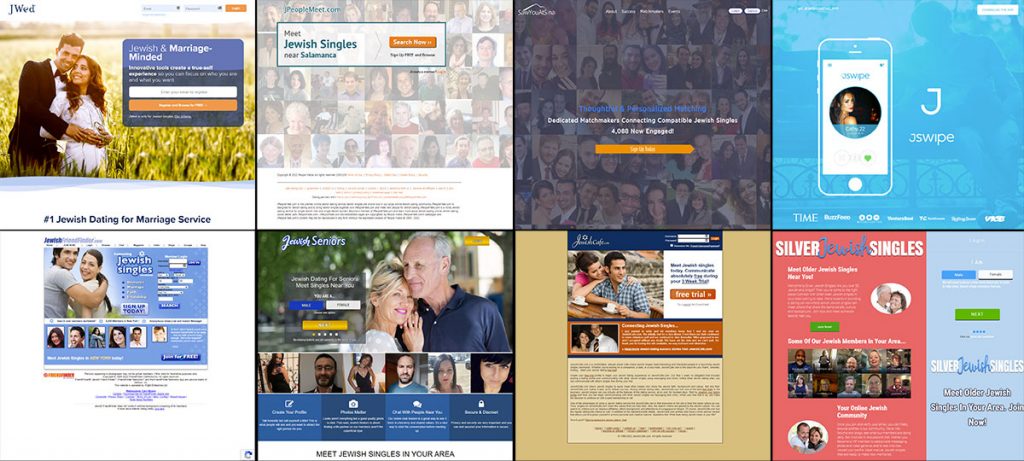 1. Jdate – Best Dating Site for Exclusive Jewish Dating

Best Jewish dating site exclusively for members of the Jewish faith
Connecting Jewish singles for over two decades
Memberships starting around $30 per month – (Free trial link below)
While there are a surprisingly high number of Jewish dating apps out there, few offer a quality product with a large enough userbase to warrant your time and money. The app that does this the best and is lightyears ahead of the game? Jdate.
If you don't want to have to worry about setting filters and sorting through matches to find Jewish men or women who fit your criteria, you'll like Jdate. The overall userbase is smaller than some of the more mainstream app options, but that's because of the niche focus. Jdate is ideal for those who take their Jewish faith seriously. If it's just a part of your family history and not really something engrained in your day to day life, it's probably not the best fit. But if you are someone who sticks with Jewish customs and attends Synagogue regularly, you'll find Jdate to be the top Jewish dating app for you.
2. eHarmony – Best Jewish Dating Site for Serious Relationships

#1 online dating site for marriages and singles
Plenty of active Jewish singles of all ages
Memberships starting around $39 per month – (Free trial link below)
As we mentioned, one of the drawbacks of Jdate is the size of the userbase. And while that isn't as bad as it seems because 100% of the people on the app are, in fact, Jewish, it still limits the total number of Jewish singles on the platform. An app like eharmony (one of the biggest in the dating industry) has more resources, more marketing dollars, and more avenues to attract singles. Yes, they are going to bring in singles from all religious backgrounds, but that also means more Jewish singles.
So, here's how to decide between the two. If you're okay with using the filters on eharmony (that work great) to sort for Jewish-only options, go with eharmony. You're going to have more options, and the features are superior. Period. The only reason we put Jdate at the top is that it is 100% dedicated to Jewish singles (and does a great job at that), which we think warrants the top spot as the best Jewish dating app. But if you're cool with needing to do a little light filtering, go with eharmony. If not, stick with Jdate.
3. Elite Singles – Top Jewish Dating Site for Higher Educated Singles
Over 85% of singles have an above-average education
Lots of Jewish singles, particularly in the 30-40, 40-50, and 55+ age categories
Memberships starting around $32 per month – (Free trial link below)
For many Jewish singles, the search for love involves looking for a highly-educated mate. In fact, there are even some spirited debates talking about how Jewish people just might be smarter than the rest of the world thanks to a particular intelligence gene. Thankfully, there's a Jewish dating app option specifically built for people who value education and intelligence in a mate—Elite Singles.
Want some data? The app boasts an impressive 85% of its members holding an above-average education of some sort. There's not a lot of detail about what the specific criteria there is, but it still shows a focus on education. Note: Previously, we did see data that said this meant people with at least some University or college education, as you can see in the screenshot above.
Big note—much like eharmony, Elite Singles is not a Jewish-only dating app. It's open to everyone, but by its very nature tends to attract more Jewish singles. And also like eharmony, you have filtering options to find those you follow the Jewish faith as well.
4. JWed – Jewish Dating App Specifically for Marriage
Yes, most Jewish singles dating are looking for marriage. It's part of how the faith views dating and relationships. So, having a Jewish dating app that says it's catering to that specific need is a little odd, but we get it. It really goes without saying, but we can see how that fits into a marketing message.
Here are a few things we like about JWed. First, it's been around since 2001, which means a long time in the industry. Second, they are responsible for over 3,700 marriages to date. While that's awesome, we would prefer to see numbers a bit higher over a 20 year period (that's about 160-170 per year). That being said, we understand that not everyone who meets or marries reports back to the dating app they met on.
JWed also does do a lot for safety, is open to all ages, and serves lots of different Jewish backgrounds "from observant to unaffiliated".
For us, we think Jdate, eharmony, or Elite Singles are better options, but if you're looking for someone who has their foot on the gas to getting married, this might be an option worth checking out. The site is all web based, though, so there are no iOS or Android app options for Jwed.
5. SilverSingles – Best Jewish Dating App for Seniors

Avoid endless scrolling and save your valuable time. This app helps Jewish seniors find the best matches through daily suggestions.
Exclusively for singles 50 years and older!
Memberships starting around $28 per month – (Free trial link below)
From the Lord's command to, "Honor your father and your mother." to these words in Leviticus, "You are to rise in the presence of the elderly and honor the old.", the Torah is quite clear that our elders are to be highly esteemed.
Unfortunately many niche Jewish dating apps for seniors do just the opposite. We've gotten many reports of fake profiles and catfish, membership scams, and overly complicated or confusing websites.
SilverSingles is different. No, not a Jewish-only dating app, but it's one that focuses on all seniors but has attracted quite a few Jewish seniors. What we like about it is that it's senior-friendly, has great filters (including ones for faith), and sends you curated matches based on your preferences. The one drawback is that SilverSingles isn't going to get into the nitty-gritty of the Jewish faith in its questionnaire or matching. If this is something you seek, Jdate or even eharmony might be better options.
But if you want a dating app with a lot of Jewish seniors that is easy to use and a lot of fun, try out SilverSingles.
6. JPeopleMeet – One of the First Jewish Dating Sites
JPeopleMeet is part of the People Media family of dating sites, which is the sister company to Match Group. Unfortunately, the sites that are part of People Media tend to be like the "red headed step children" that don't get a lot of love or attention. The idea of JPeopleMeet is great—a dating site dedicated to finding Jewish singles in your area.
However, the execution leaves a lot of wanting and not a lot of fulfillment. For starters, the site feels like it's stuck in the early 2000's (when most of the People Media brands were launched). Second, we couldn't find any mobile apps to support the platform. Third, it looks like there is little to no media coverage on the site, which usually signals a forgotten site or a ghost town.
For us, JPeopleMeet was a great idea and an early pioneer to the Jewish dating scene. However, lack of attention to the site with resources and time (most likely because Match Group has so many other major brands), leaves it as an option that we don't really recommend. We've included it in our list though to give you the most complete picture of the Jewish dating site market.
7. JSwipe – Swipe Style Jewish Dating App
Coming from a Jewish dating site with no app presence, we move to one that only has an app presence. If you're looking to use JSwipe from a computer, you're not going to be able to. The app is only available on the iOS store (for Apple) or through the Google Play Store (for Android).
Now, let's talk pros and cons of JSwipe. Pros—the app store ratings are pretty good (not amazing, but good) with a 3.8 out of 5.0 in the App Store and a 3.2 out of 5.0 in the Google Play store over about 100k downloads. Cons—swipe style dating is a terrible fit for faith-based dating. In fact, a lot of science is starting to suggest that this style of dating is unhealthy and causes emotional fatigue and burnout amongst users.
Frankly, if you're someone who is casually Jewish, you might like JSwipe. If your faith is important and you're looking for a meaningful and lasting relationship, there are probably plenty of better options further up on this list.
8. SawYouAtSinai – Jewish Matchmaking Service
While it's technically not online dating, matchmaking is still a service that some people turn to when they're looking for love. SawYouAtSinai is a Jewish matchmaking service where you pay professionals to hand-pick matches for you to go on dates with. For some people, they'll like the fully hands-off approach. You just get told when to show up and you're on dates. For others, that lack of any sort of control might not be a pleasant feeling.
Let's quickly look at a few of the pros and cons of SawYouAtSinai. Pros—it's very Jewish focused and does have some positive results shared to lean on. They have absolutely helped to build some Jewish relationships. Cons—the entire network is only about 30,000 people, and we're not sure how many of those are still active or not. Additionally, that's an international number, which means if you're looking to date locally, you might be limited on options.
If you have no time to commit to dating and just want someone to do the work for you, SawYouAtSinai may be a good fit. But if you're looking for a bit more of a traditionally online dating experience, there are far better Jewish dating app options to choose from.
Other Jewish Dating Apps
While we did include some of our lesser-favorite options in the above list, there are a few Jewish dating sites and apps we wanted to mention. We felt that these weren't warranting of a spot on our main list (at least yet), but we still wanted to share for the sake of completeness. That way, you know exactly what options there are (good and bad), and you can make the most informed decision possible.
Jewish Friend Finder – This Jewish dating app is one of many in the "Friend Finder" network and offers the same features as it's contemporaries.
Jewish-Seniors – We beg older Jewish singles to avoid this dating site and look into one of the many great alternatives. Common user complaints with this dating app include fake profiles, terrible support, and a subscription model designed to exploit it's users.
Jewish Café – This simple, retro site allows you to quickly search for Jewish singles and easily get conversations going.
Silver Jewish Singles – This is another site designed to help you meet older Jewish singles near you. Despite it's dated look this is actually one of the newest sites mentioned on this page. Too many red flags and poor for our taste.
Super Tova [Redirects to JWed now] – This was a completely free Jewish dating app that has recently been acquired by the JWed team. We're curious to see what they do with the brand, but currently are just forwarding traffic and users to JWed.
There are of course pros and cons to using these Jewish-only dating services.
The biggest pro has to be the ability to only connect with other singles who share your culture and religious background. The biggest downside is that these and all other niche dating sites have fewer users. This leads us to one question that must be answered…
Should You Use a Jewish Only Dating App?
Ultimately this decision is up to you and what you're hoping to get out of an online dating experience. We're not telling you not to use a specifically Jewish dating app, but we're just going to encourage you to consider all the options on the table. The main reason for this is the number of singles you will find with these niche dating services.
Let's take JPeopleMeet for example. This Jewish dating site has been online for over 2 decades making it one of the most established on our list. But, while writing this there were only 26 single women registered in all of the US and Canada between ages 18 and 36.
We understand the importance of finding someone who shares your Jewish background, but just think it's a bit hard to say those 26 singles are so much higher quality that it justifies going with a service like that over something like eHarmony where 2.3 million messages are sent weekly.
Jewish Dating Culture and Traditions
If you're looking to date a Jewish man or woman it's important to understand the culture and traditions that they cherish. Here are some things you can expect from traditional Jewish dating:
Dating is Not a Game – Marriage is Important; this is a key place to start. While not all Jewish singles are urgently looking to get married, many are. If you're looking for something serious this is amazing! You can expect unmatched loyalty if they think you're Mr. or Mrs. Right.
Judaism (Religion) – If your perspective partner is a practicing Jew this will certainly come up. As with all religions there are different levels of devotion, but it's not often that Jewish men and women marry outside of their faith.
Take Things Slow – In line with the Jewish faith many Jewish singles will not engage in any form of sexual activity before marriage. This can mean various things depending on how devout your partner is, but expect dates to be held in public places as a safeguard to purity.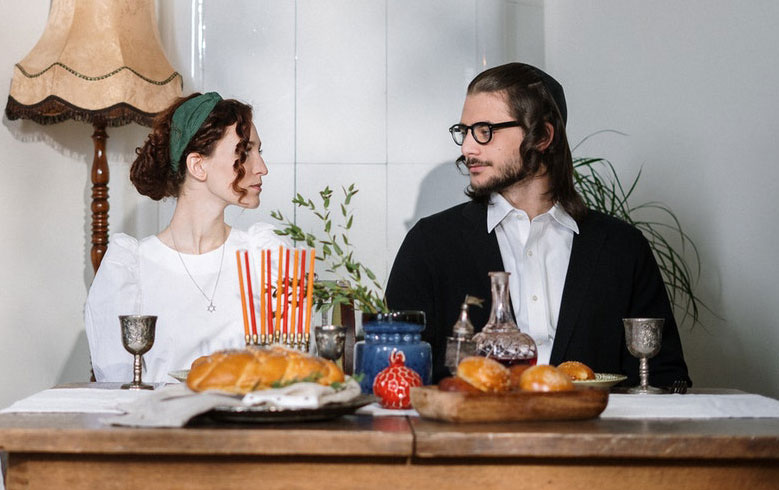 All in all dating Jewish singles can be amazing if you're willing to be understanding and patient. Be honest about your goals and expectations and talk often.
Please Remember – Your Jewish soulmate is a person not a stereotype. Getting to know their culture and heritage is important, but not nearly as important as truly getting to know them and what they think, believe, and want from a relationship.
Jewish Dating and Cultural Terms to Know
If you plan on dating a Jew one of the following words is likely to come up at some point. Let us help prepare you for that with this quick glossary of terms:
Beshert – Jewish people believe that God has ordained soulmates. While scanning Jewish dating apps you might see "Looking for my Bashert" which can be simply understood at "Looking for my soulmate".
Shidduch – Broadly this is the Jewish phrase for "Jewish Dating". Traditonally in this system Jewish singles are introduced to eachother with the goal of marriage in mind.
Kosher – This word has to do with the Jewish dietary guidelines given in the Torah. This includes avoiding shellfish and pork for example. We recommend you understand Kosher food standards if you're going to date anyone Jewish.
Tu B'Av – The Jewish day of love. If you're dating a Jewish guy or gal you would observe this day much like Valentines Day in the US. (It begins august 11th. You're welcome!)
Bashow – This is a term for supervised dating. You may or may not encounter this, but the idea is that by supervising a date Jewish parents can help guide their children in their relationship.
Shadchan – Traditionally a shadchan is one who takes on the role of matchmaker in Jewish culture. He will also often work to convince parents of the validity of his match (again you may not encouter this with modern Jewish dating).
Mazel tov – The big day is here, congratulations! "Mazel tov" is a Jewish phrase used for congratulating someone on a special occasion. (At this point you will probably stomp on a glass though the meaning of this is up for debate.)
Tips for Jewish Singles Looking for Love
Be upfront about your religious goals with the relationship.
Build the perfect profile to attract Jewish singles.
Know yourself, what you want, and what's a deal breaker.
Have fun!
Be upfront about your religious goals with the relationship.
For most people, the goal of Jewish dating is to find another Jewish single to marry. While there are some people who are okay marrying or dating outside of the faith, that's going to be a personal choice. Whatever it is you're looking for, make sure you are upfront about it with anyone that you meet online.
If you're only going to date other Jewish singles, that's great! But you need to make sure that's clear so that you don't string along anyone that doesn't fit that mold. And if you're okay dating people who are not of the Jewish faith, that's okay too. If that's you, you probably don't need to worry about telling someone non-Jewish that you're okay dating them. That would just be awkward 🙂
Build the perfect profile to attract Jewish singles.
Writing the perfect profile is the key to having success with Jewish dating online. While people in person get to know you over the course of time, the first impression online is that much more important. Before you start jumping into things headfirst, take a minute and read the guide we linked at the beginning of this paragraph. It will increase your success rate by a lot!
Know yourself, what you want, and what's a deal breaker.
The last tip we have for successful Jewish dating is to make sure you get started on the right foot. You've got to determine what is most important to you, what you're looking for, and what you can or can't live without. Here are a few questions we recommend asking yourself to get a better idea of what you're looking for with Jewish dating.
Will I only date other Jewish singles, or am I okay going outside the faith?
How serious do I take my Jewish faith? Is it important my partner is on the same level? (Spoiler, it is important!)
Do I only want to date one person at a time, or am I okay going on different dates at the beginning?
What deal breakers are there? Kids? Drinking? Smoking? Lifestyle? Fitness level? Interests? Take some time here to map out what you're okay with. Remember, not everything that you want is a need. Know the difference, so you know what you're okay bending a little on and where you need to stand firm.
Have fun!
Yes, dating can be exhausting, and Jewish dating sometimes can be even more exhausting because the dating pool is smaller. But stay positive, and you just might be surprised to find out the process can be fun. And when you do find that special Jewish woman or man—it's all going to be worth it.
Jewish Dating FAQ
Still have questions about Jewish dating online? You're not the only one! Check out some frequently asked questions from users just like yourself below:
Is Jewish dating for Jewish people only?
It is not, though for it to be considered "Jewish dating" at least 1 Jewish person needs to be involved. (Otherwise it's just dating)
Are there free Jewish dating sites?
Some free Jewish dating services, Super Tova for example, have come and gone. Right now we don't think there are any worth your time. With many things in life the bottom line is you get what you pay for.
That being said, almost all legit Jewish dating apps have free trials or free versions to get you in the door.
Is physical contact allowed in Jewish dating?
Traditionally the answer to this is no because sexual contact before marriage goes against the Torah. As a result many Jewish singles will dress modestly and date in group settings. Ultimately the final answer to this is up to the individuals involved though and what they're comfortable with.
Are all Jewish singles looking for serious relationships?
Many Jewish singles are looking for marriages, but not necessarily all. "All Jewish Singles" aren't really anything. If you want to know what a specific person wants or thinks you just have to ask. That being said, it's worth mentioning once more that most Jewish singles are not looking for casual dating.
Are Jewish dating apps worth the money?
The problem with online dating is the unknown. Most premium Jewish dating sites start at around $10 a month. If you knew you would find your Beshert in a month or 2 or 6… Would it be worth it? For the cost of a few cups of coffee a month you can start your search, which in our opinoin is certainly worth the money.
---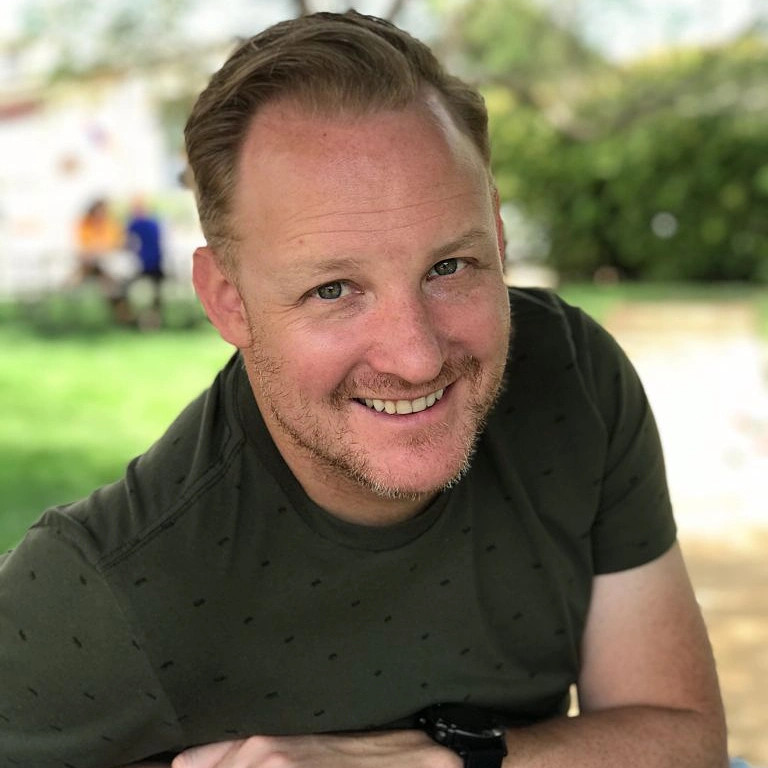 Written By: Matt Seymour
Matt Seymour is a dating industry expert with over a decade of experience coaching singles, reviewing dating apps, and analyzing trends within the industry. With a Masters of Science in Finance (MSF) degree from the University of Florida and extensive knowledge of the innerworkings of the online dating industry, Matt frequently serves in an advisory role to some of the largest dating apps on the market. In Matt's current role with Healthy Framework, he leads the interview team that regularly interviews key dating industry leaders, and leverages his financial knowledge and dating app experience to review and share what singles need to know to get the most out of dating online.