Interracial Dating Apps
Thank the Heavens that long gone are the days of widespread disapproval of mixed race dating and interracial marriages. According to a recent Gallup poll, 94% of people in the US now approve of interracial marriage. And with this increase in sentiment and support, we've seen the growth of interracial dating apps designed to help facilitate these types of relationships—which is fantastic.
But, for full transparency, not every interracial dating app is created equally. Some are amazing and offer an incredibly inclusive and effective atmosphere while other apps mean well but struggle with things like small userbases or being exclusive while trying to be inclusive.
What we want to accomplish today is to share the best interracial dating apps available to you now and tell you why they excel over the other options that still seem to miss the mark.
1. eHarmony – Best Interracial Dating App Overall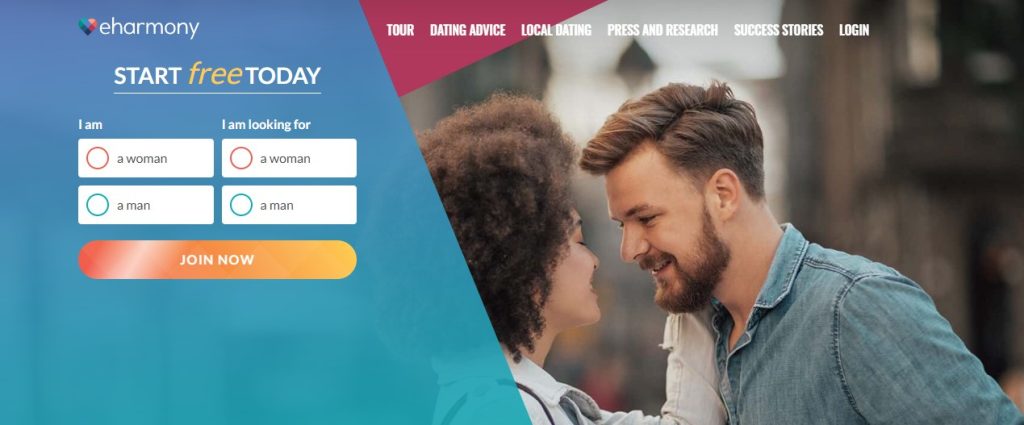 While the majority of people still tend to marry within their race, the past two decades have seen marked growth in interracial and mixed race marriages. One dating app working to help change this is eHarmony. As one of the most inclusive dating apps that works specifically to guide people toward serious relationships and marriage, it tends to find itself on the cutting edge of mixed race dating. In fact, online dating as a whole can help to promote interracial relationships, as most people tend to live, work, pray, and study with people that look just like them.
eHarmony has been around for over 20 years and recently we've started to see the company releasing interracial commercials promoting the service. In addition to this, eHarmony's matchmaking questionnaire asks poignant and direct questions about your views on race and your views on the race of your partner. While they're not trying to change that last 6% of people who don't support mixed race dating, they are trying to ensure that they share diverse matches with people who are open to diversity in their dating.
Ultimately, this means an incredible option for interracial dating. The one drawback for eHarmony when it comes to mixed race dating will depend on your viewpoints. Currently, the app does still allow users to set matching preferences through ethnicity filters.
Is this a bad thing? That's been up for debate. Over the past few years in response to some world events, we have seen some dating apps drop race-based filters. However, studies show that while the reasoning might be positive, the results don't do much for racial minorities. So, we'll leave the judgment on this one up to you. What most people say is that they like the ability to sort and search for specifically what they're looking for.
The bottom line is that we think eHarmony is an incredible interracial dating app that supports inclusive relationships and is a phenomenal tool to help you find the perfect person of any race.
2. Zoosk – Highest Number of Interracial Match Options

When it comes to Zoosk, a lot of the things we said about eHarmony and interracial dating continue to ring true. Yes, it's a traditional dating app that's not solely focused on mixed race dating. However, much like eHarmony, the app takes an extremely positive approach toward being as inclusive and accepting of interethnic dating as possible.
Let's talk a few specifics. For one, Zoosk does allow filtering by ethnicity with eight different options you can mix and match with. Again, this is a pro or a con, depending on where you stand on that feature. Second, Zoosk uses something called SmartPick technology, which is a fancy name for their matchmaking algorithm. While this is not a specific interracial dating feature, it's one that they talk about on their interracial dating section on their website, which leads us to believe that this technology does take that into account.
Here's the big thing, though. For interracial dating to work on an app, the app needs to have a lot of singles from all different walks of life. If you're a Black person who wants to date an Asian person but you're on BlackPeopleMeet, you probably won't have any luck. If you're a Hispanic person who wants to date a Chinese person but you're on Chispa, that's not going to go so hot.
This, again, is why we love to recommend a bit more mainstream of options when it comes to the best interracial dating apps. By utilizing their features properly (sorting, SmartPick tech, etc.), you can get a diverse group of singles to choose from that can heavily promote mixed race dating.
3. Black White Interracial Dating – Best Android Interracial Dating App
As we start to move away from the more mainstream dating apps that work as interracial dating apps into the very niche options, things do get a little more dicey. What me mean is that the number of cons start to increase and run the risk of offsetting the pros. Still, we want to be thorough in our recommendations and rankings in case there is something specific you're looking for.
The first app that falls into this category is "Black White Interracial Dating." As you can probably guess, this app serves a very specific purpose. It's for Black people who want to date White people or White people who want to date Black people. If you're looking for other forms of mixed race dating or are potentially also open to dating within your own race, this app isn't going to be great.
Over the past few years, the number of Black people with a spouse of a different race has tripled from 5% to 18% over the last 25 years, and the number of White people with a spouse of a different race has doubled from 4% to 11%. And with "Black White Interracial Dating" having over 500k downloads on Google Play and an impressive app rating of 4.0 out of 5.0 over nearly 10k reviews, they clearly have a nice sized userbase and are well received.
The app is available on iOS, but it looks like the ratings aren't as great and the number of reviews is considerably lower. Still an option for iOS users, but don't expect as good of an experience based on what we're seeing.
4. Interracial Cupid – Interracial Dating Only Dating App

Interracial Cupid is one of over 30 ethnic dating apps from CupidMedia, a company that focuses on connecting singles of different races worldwide. You might recognize it's sister site, International Cupid, from the hit TLC show 90 Day Fiancé. Most of their sites, though, work to connect people within a certain race. Interracial Cupid, though, is one of the few options that goes against the grain and looks to create interethnic relationships and marriages.
Here are a few things you should expect from the site. Number one—it's a very simplistic and not feature-rich experience. Some people are big fans of this and others may see it as a drawback. Number two—the size of the userbase is probably quite small. With CupidMedia's other sites, they always share how many members the site has on the homepage. This is one of the few sites not showing that, which leads us to believe it's a smaller number.
Of course, the app has over 500k downloads on Google Play, so maybe it's not that small. Out of all of the niche options, this is probably the one that has the most promise for people who are open to more than one race.
5. InterracialMatch.com – Longest Running Interracial Dating Site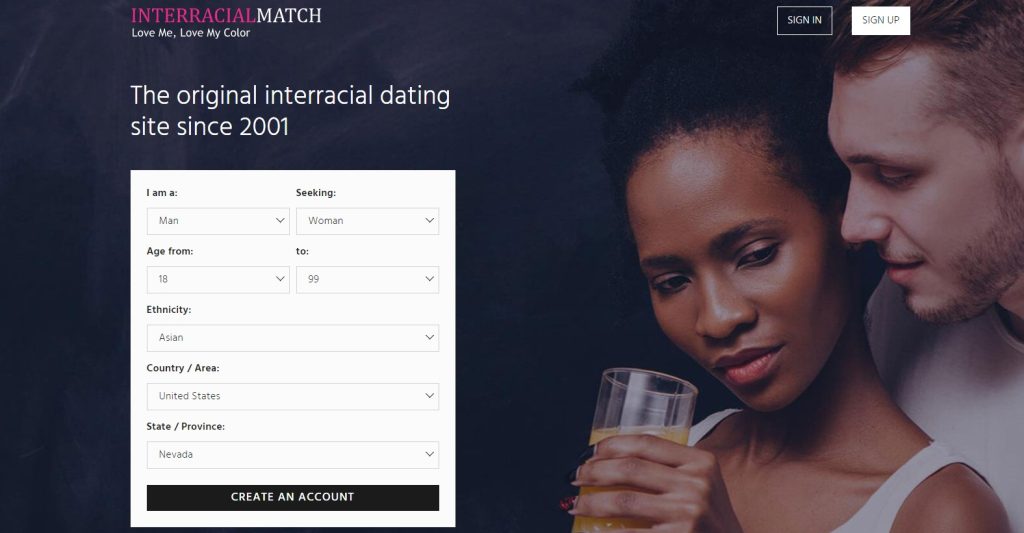 There's usually something to be said about a dating website or app that's been in business for over two decades. Founded in 2001 (the same year as eHarmony), InterracialMatch.com is the longest running mixed race only dating site that we know of. For starters, this earns the site a lot of brownie points because interracial issues were a lot more hotly contested back in the early 2000s than they are now.
The slogan of the site is "Find a love deeper than skin color" which we think sounds nice, but also doesn't really make sense for an option that is 100% targeted at people looking to date someone of a particular skin color. Also, there are no mobile apps available, so your dating experience will be on the desktop version which does feel like it hasn't gotten enough of a facelift since 2001 as we'd like.
Overall, this is not one of our favorite options, but it certainly deserves some merit for being a trailblazer in a time where biracial tolerance of couples was not that high.
6. Interracial Dating Central – Interracial Dating App with Positive Reviews
Rounding out our list of the best interracial dating apps is Interracial Dating Central, another niche option that claims to be the largest interracial dating community. Let's talk about that claim, talk about the things we like, and the concerns we have when it comes to this option.
First, Interracial Dating Central's claim of having the largest dating community is a bit misleading as they're not referring to the size of their signed up userbase, but they're referring to the size of their Facebook page and other social media accounts. That being said, the page does appear to have a decent amount of interactivity, so that probably means at least a decent number of the accounts are real and might translate over to their platform numbers.
One thing we do like about the company's website is that there seems to be a lot of real people and authenticity with the app. This is great, however, this shouldn't be something we should be able to see before we create an account. The company shows actual member profiles on its homepage, which is not a good notch in the privacy and security department. It's possible they received consent first, but that's not possible for us to confirm.
Currently, there is no app version of the site, but there is an updated announcement on their homepage that one is in the works, which will be nice to see.
What Makes Something a Great Interracial Dating App?
Anytime you are looking for a highly specific type of niche dating, and especially when it's one that deals with a more sensitive topic like race and ethnicity, you have to be diligent in selecting the right option. In honor of that, we wanted to share a few of the more impactful reasons we chose these options to be on our list and why we left others off.
Safety Features to Report Racism, Hate Speech, or Other Infractions
Thankfully, 94% of people support interracial relationships, but that still means 1 out of every 20 people won't. If you happen to send a message or a flirt to one of these people and they're not all about it, that's okay. However, if they respond with racism, hate speech, or any other derogatory comments, there needs to be ways to report them and get them removed from the dating app. While this is the case in all types of online dating, it's especially important here.
Ability to Identify as Biracial
Unfortunately, biracial singles have always had struggles with forms and such when filling in their ethnicity because only being able to make one selection isn't sufficient. A good mixed raced dating app understands this and provides the chance to either select "biracial" or select multiple ethnicities that you belong too.
Culturally Diverse Marketing and Membership Base
If a dating app's membership base is too homogenous and not diverse enough, it logistically is not going to be able to work as an interracial dating app. You need to be able to see lots of different people from many different ethnic backgrounds in order to truly create a positive interracial experience.
Helpful Tips for Interracial Dating Online
Lastly, we want to do one more thing for you before we send you out the door. We want to share some helpful tips for singles looking to get into interracial dating, both online and in person. Here are a few of the most important tips to remember.
Realize there are no good dedicated interracial dating apps.
Yes, there are a few apps out there that try and cater only to interracial singles. And while we applaud their effort, here's the problem. They lack the budget and resources of the major mainstream dating apps, which means far fewer singles are going to be on there. For that reason, you're not going to have much luck on a dedicated interracial dating app. Instead, we like to recommend traditional options with features and resources that help you sort and find exactly what you're looking for.
Don't ask for a person's ethnic background.
Most people will self-identify their race—or, for interracial people, races—in their dating profiles, so you'll have some idea in advance. But while you're likely to know immediately if you're attracted to someone, it's bad form to ask someone for their full family tree on a first date. Besides, it takes the fun out of getting to know someone new if you learn every minute detail online.
How do I let other singles know that I'm interested in interracial dating?
Just be up-front about it! If you're a Latina woman and you're attracted to Black men, mention it in your profile. You have a type, and letting people know that can help speed up the process of finding the right match for you. There are plenty of would-be singles who will be much more likely to message you if they already know you're their cup of tea. Be aware, though, that when you publicly put this information on your profile, it has a tendency to invite some mean comments from those who are attracted to you but feel excluded.
FAQ About Using Dating Apps for Interracial Singles
Is it rude to specify that I prefer interracial dating?
It's all in the way you phrase it! Saying "my type is…" is much better received than "I only date people of a certain race." You can also phrase it as "I've found in past relationships that my partners have been…". People on dating apps are diverse, whether it's how they grew up to how they like to spend their spare time. Give potential singles less to wade through if you have a strong sense of who you're looking for. Honesty is always the best policy
Will these interracial dating apps help me meet singles from other countries?
They can, but that is not what they're designed for. The dating apps mentioned on this page are designed to help you meet singles from other races near you. If you're looking to find singles from other countries we recommend you check out our list of international dating sites for recommendations.
If I identify as interracial, will apps automatically match me with other interracial singles?
You're in control here! When you first join a new dating app, you'll be asked questions about yourself, but also questions about who your dream match is. If you care more about educational background or hobbies, you can put more emphasis on narrowing down those options. However, if you'd prefer to put emphasis on someone with the shared experience of being interracial, you'll almost always be able to update your search settings to find you the best match.
---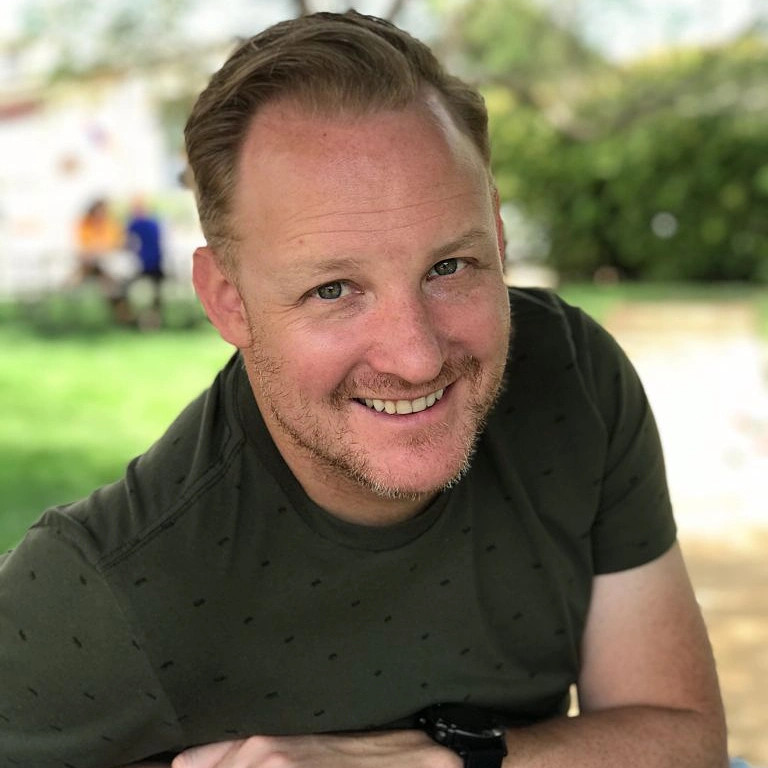 Written By: Matt Seymour
Matt Seymour is a dating industry expert with over a decade of experience coaching singles, reviewing dating apps, and analyzing trends within the industry. With a Masters of Science in Finance (MSF) degree from the University of Florida and extensive knowledge of the innerworkings of the online dating industry, Matt frequently serves in an advisory role to some of the largest dating apps on the market. In Matt's current role with Healthy Framework, he leads the interview team that regularly interviews key dating industry leaders, and leverages his financial knowledge and dating app experience to review and share what singles need to know to get the most out of dating online.