With one of the largest automotive industries in the nation and a bustling manufacturing sector, you'd think that people from Indiana would know how to build just about anything extremely well. However, when it comes to building meaningful relationships and new romantic connections—yea, it gets tough.
Thankfully, the struggle doesn't have to continue. All the pieces and tools needed to meet that special someone are here, they just need to be assembled. All manufacturing puns aside, we're talking about online dating. Indiana dating apps are designed to help you overcome the struggles that the state brings to the table like a slower nightlife scene, more rural areas than other states, and people who just aren't as proactive with dating.
In this guide, we're going to start by talking about the best Indiana dating apps. From there, we'll take a look at what it's like to date in the state, as well as some single's data. And finally, we'll close by answering a few of the most common questions you might have.
The Top 6 Dating Apps in Indiana
Top Overall Indiana Dating App
In a state that's dominated by down-to-Earth, blue collar people (and professionals who still value family), the best dating apps in Indiana are going to be ones that favor real relationships in lieu of random hookups. When that's the calling, we almost always turn to eHarmony.
eHarmony is 100% geared towards real relationships and is bad news bears for singles who want something casual. The matching algorithm looks deep into your views on things like faith, family, and friends, which are things that tend to be of importance to Indiana singles.
If you want the best app for real relationships in Indiana, you've got to check out eHarmony.
Best Indiana Dating App for Casual Relationships
When you're not quite ready to settle down into a relationship, Zoosk is the top Indiana dating app for you. While not as hardcore casual as apps like Tinder, Zoosk still has that fun, game-like feel in what we like to say is an upgraded package. You'll be able to search user profiles traditionally or use the Carousel feature, which is a swipe-like, mutual match tool. The difference between Carousel and what you get on an app like Tinder is that you can still send someone a message even before a mutual match is created.
In a state like Indiana where over one-third of the population lives in rural areas, dating can quickly become a numbers game (or lack thereof). With Zoosk's over 40 million members, that problem quickly fades away making it ideal for the bigger cities like Indianapolis, as well as the smaller cities and rural farm country.
The only thing we'd say that might be a drawback for Indiana singles using Zoosk is that you'll probably get at least some messages from people with different relationship goals. The app caters to serious and casual dating, so expect a little crossover.
Overall, though, a phenomenal Indiana dating app worth checking out.
Best Indiana Dating App for Christianity Focus

Higher Bond is a new Christian dating app designed for Christian singles who take their faith seriously. In other words, if your faith is a big part of your life and not just something you check off when filling out a form, you'll enjoy this app. And in a state like Indiana where over two-thirds of the population is Christian and over half of the population (52%) say their religion is "very important", we think it's a real nice fit.
While still small and growing (was only launched a while ago in 2022), Higher Bond is a fresh take on faith-based dating. Instead of giving you thousands of matches at once that can lead to burnout and emotional fatigue, Higher Bond curates up to five matches per day for you. Once you're done with those matches, you can go about your day so that online dating becomes complimentary to your life and doesn't take it over.
For Christian singles in Indiana, this should be your new go to for online dating.
Leading Indiana Dating Site for Professionals
If you're part of the blue collar workforce in Indiana or one of the nearly 100,000 farmers in the state, Elite Singles is probably not going to be a great option for you. However, if you're a business owner, entrepreneur, or you work in some of the more white-collar type industries in Indiana like tech, you may find the approach of Indiana dating app Elite Singles to your liking.
The entire approach of the Elite Singles app is to market to singles who put a higher value on things like education, corporate success, and financial independence. While we're certainly not saying that blue collar workers or farmers are any less educated or successful than their professional counterparts, the lifestyles tend to be non-complimentary.
If you want to meet someone who understands the demands of corporate America or running your own business, you'll enjoy Elite Singles. If the idea of a power couple gets you excited, you'll like Elite Singles. Because of the make-up of the state, we think Elite Singles is probably better for people in the major cities like Indianapolis.
Top Indiana Swipe Dating App

In a state where the first woman's rights convention dates all the way back to the 1850s, the idea of a dating app that shifts the power back to women can be highly appreciated. The Indiana dating app that does this best is Bumble.
At its core, Bumble aims to break the traditional gender norms that accompany dating. The way it does this is by only allowing conversations to happen on the app if the woman makes the first move (sends the first message). If she chooses not to, no conversation can happen. The idea here is that it shifts the control back to the ladies and creates a safer, lower-pressure environment.
Now, some would argue that it creates more pressure on the women to always have to make the first move. What do we think? We think it's all going to come down to your personal preferences and the style of dating most appropriate for you. If you want to learn a little more about how the app works, make sure to check out our Bumble review first.
Top Indianapolis, Indiana Dating App

Rounding out the list of the best dating apps in Indiana is a really unique option—The League. Now, full disclosure before we dive into this—if you don't live in Indianapolis or the surrounding suburbs, this app will not work for you. The League has chosen to roll out its app only in the bigger cities in the US, and made its move into Indy in 2018.
Here's what you need to know. In order to join The League, you have to apply. You'll be placed on a waiting list. Once it's your turn, your application will be reviewed for entry. If you're one of the lucky ones, you'll be greeted with a pool of singles who are the most successful, biggest movers, and most influential in the city.
How many people get in? Well, the only data we have is from the first group of applicants (known as the founding class). With 2,521 applicants, 20% (509) were accepted. The top three degrees in this group were people with M.S.s, MBAs, and PhDs. The top three jobs accepted were project managers, nurses, and consultants.
It's a neat concept that is not going to be ideal for everyone. What we recommend is that at the very least you get on the waiting list, see if you can get in, and then decide if it's right for you.
Additional Resources for Indiana Singles
4 Reasons These are the Best Indiana Dating App Options
Making the top of the list doesn't just happen. There are strict criteria our team looks at during our exhaustive review process to find the best of the best. Through hours of regular testing, comparisons, and research, we get our list. What are some of the most important factors we look at specifically for Indiana? Here are four of the biggest.
1. Distance searches that make sense.
There are quite a few dating apps out there that work solely off your proximity, meaning that if you're not close to other people—it degrades the quality of your experience. For that reason, we recommend dating apps that use distance search that can be a small or large distance. That way, the app works great for people who live in bigger cities like Ft. Wayne or Indy, but also works for singles who live out in farm country.
2. Dating apps that let you reach across state lines.
Usually, states that border other states have at most one big city right across state lines. With Indiana, though, Cincinnati, Louisville, Chicago, and Dayton are all within a quick drive for people who live close to the state borders. This means that a great Indiana dating app needs to not be limited by state or city borders. This has to do with how the search, matching, and filters are set up. As long as they work off of distance (like we mentioned earlier), you'll be good.
3. Apps that (mostly) favor real committed relationships.
In our experience, people from the Midwest tend to favor real relationships over casual and meaningless hookups. For that reason, the Indiana dating apps listed here tend to mostly favor these types of relationships. We say mostly because we did include Zoosk as an option because it works for serious or casual relationships.
4. Options that work well in college towns but also cities and rural areas.
As we'll mention when we talk about what dating in Indiana is really like, there are a ton of big college towns (Purdue in West Lafayette being the largest). When selecting our top picks, we took this into account with apps that work well for younger folks (like with swipe-style features), as well as apps that work well for older folks and young professionals in those college towns (superb filtering processes). Additionally, the apps need to have enough members throughout all corners of the state, not just in the major cities like Indy, so they're viable statewide.
It's a lot, but some apps are up to the task.
What is Dating in Indiana Like?
Trying to describe exactly what you're going to experience dating in Indiana is impossible because everyone's story is different. However, there are some trends that our team has uncovered that you're much more likely to experience out there. We wanted to take a minute and share them with you here.
Indianapolis has a much stronger dating scene than the rest of the state.
As you might expect, some of the bigger cities in the state are going to have a much different answer to this question, and this is especially true for Indianapolis. The city has more of an active nightlife, a stronger tech/young professional scene, and arguably more dating amenities than other areas of the state. It doesn't mean dating in the rest of Indiana is bad; it's just different.
Ethnic diversity is not something you should expect to see in droves.
When it comes to the ethnic makeup of Indiana, it's predominantly White (77%). The closest to that in second is Black at only 9% and then Hispanic at 8%. This does change significantly city by city. For example, in Indy it's only 51%, 28%, 11%, respectively.
The number of divorced singles in Indiana is higher than the US average.
The number of divorced men and women in Indiana is several percentage points higher than it is in the rest of the country. It probably goes without saying that this means if you're also divorced, you're in good company, and if you're not, the chances of meeting someone who is while dating are higher.
You'll find a lot of blue collar singles throughout the state.
With the major industries in the state being manufacturing and farming, it shouldn't be much of a surprise that a lot of the singles in the state will be blue collar type folks. For dating, this is usually a positive as you have people who understand the importance of hard work and have the time to dedicate towards things like meeting and going on dates. It also generally means a prioritization of family over work, which we also think is a positive.
People tend to move slower than in other places.
It's a trend we see in a lot of the "flyover" Midwest states, and certainly one we see through most of Indiana (minus Indianapolis). People just seem to be a lot slower in the way they date. What's nice is that most of the time it's people being more calculated and not having the sense of urgency you see in a lot of bigger cities. However, sometimes it can really drag out the process unless someone steps up and pushes things forward.
There's a big college dating scene in the state.
With almost 90 colleges in the state of Indiana and 8 that regularly have over 10,000 students, the college dating scene is pretty big in the state. This is especially true in West Lafayette (Purdue), Bloomington (Indiana University Bloomington), and Muncie (Ball State). If you live in one of these towns, expect there to be an abundance of younger singles, bars geared towards younger singles, and an overall environment more favorable to younger singles. If you're over the age of about 25, though, not all hope is lost. You will probably need to get creative about the bars you frequent, learn to use filters on your dating apps, and tap into the grad school crowd in each area (depending on how old you are).
Two Indiana Cities Make the List of Top Cities for Singles in the US
The next thing that we think is important to look at when studying the Indiana dating scene is to look at some of the bigger cities where the larger majority of you probably live. Here's what our research team found:
In a recent data study, Ft. Wayne and Indianapolis made the list of best cities for singles in the United States. The study took a look at 36 different data sets broken down into three main categories. The results showed which cities in the U.S. are the best for singles.
Keep in mind that this study only looked at the largest cities in the country, so these were the only two looked at. Unfortunately, the results for Indiana were neither good nor bad. Out of 90 cities, Ft. Wayne found itself right in the middle with Indianapolis losing out by just a few positions.
45th – Ft. Wayne
47th – Indianapolis
Here's a link to the full data study if you want to see how each city did in each of the categories researched and how they stack up to other popular cities in the US.
The Indiana Singles Scene – Dating Statistics
The last thing we want to look at on our study of the Indiana dating scene is some data. Here are some really helpful "big picture" stats of the population in the state, how many people living in Indiana are single, and the demographic makeup of the single's population. All data is from the most recent Census.
Total Population
Population in Indiana by Gender
50.4% women in Indiana
49.6% men in Indiana
Overall Singles (Unmarried) by Gender
50.8% of women in Indiana are single
48.3% of men in Indiana are single
Population in Indiana by Age
13.4% aged from 20-29 years old
12.9% aged from 30-39 years old
12.3% aged from 40-49 years old
12.3% aged from 50-59 years old
22.9% aged 60+ years old
% Households With Internet in IN
77.6% of households in Indiana have internet access
Source: Indiana Census
Which Indiana Cities Are Most Interested in Online Dating Apps?
A really cool way to get a pulse on the singles scene in Indiana is to look at which cities within the state are most interested in online dating. How do we go about doing this? Well, our team pulled data on search traffic for the entire state looking at major metropolitan areas. What we looked for was which cities had the highest search traffic over the past year for online dating topics.
The city with the most interest and search traffic for online dating topics in Indiana over the past 12 months is Ft. Wayne. Indianapolis came in second place with about 84% of the search traffic we saw in Ft. Wayne. The rest of the top nine cities are listed below. And just to be clear, even if you don't see your city on here, that doesn't mean there aren't tons of high quality singles in your area. These are just the hot spots.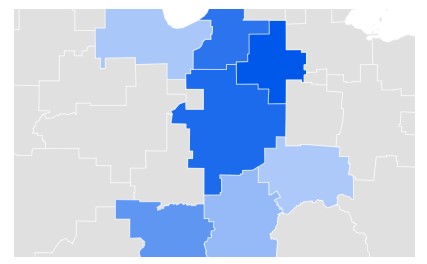 Ft. Wayne IN – (100)
Indianapolis IN – (84)
South Bend-Elkhart IN – (76)
Evansville IN – (47)
Louisville KY – (16)
Chicago IL – (5)
Cincinnati OH – (3)
Lafayette IN
Terre Haute IN
Free Dating Sites in Indiana
If you're looking for free dating sites in Indiana, you may or not have found what you're looking for. Say again? Instead of finding the list you're looking for, you stepped into an intervention. Here's the deal. There are free dating sites available in Indiana like POF and Facebook Dating to name a few.
The problem? Most free dating apps come loaded with ads, don't have the best security, and have a tendency to attract much lower quality singles and scammers. Yes, some options like Facebook Dating who make money from other things do have resources they can use to make things better, but for the most part the other options don't have the resources needed to offer you a quality experience.
We HIGHLY recommend you take a few bucks and invest in your search for love; it will be worth every penny. And to make sure you're still being smart with your money, we've included dating apps with free trials in this guide so you can test things out before making a selection.
This concludes your intervention that we promise is only done out of love.
Indiana Dating Apps FAQ
What is the best dating app or site in Indiana?
The best dating app in Indiana is eHarmony because it caters to the types of relationships that the most singles in Indiana are looking for, and it has the correct distance filters and features to work in both populous areas (like Indianapolis) as well as the more rural farm country areas.
Is it easy to meet singles in Indiana?
What's great about the singles in Indiana is that once you meet, they tend to be quite nice and open to getting to know you better which makes this aspect of dating easier. However, meeting singles in Indiana (without using online dating) is quite challenging as the state is very spread out (only 190 people per square mile) and the nightlife scene in most areas is a bit slower than other states.
What's the best way to meet single men or single women in Indiana?
In our opinion, the easiest way to meet singles in the state of Indiana is through online dating. Not only does it give you quicker access to more singles, but it allows you to filter, sort, and qualify matches to find exactly what you're looking for.
---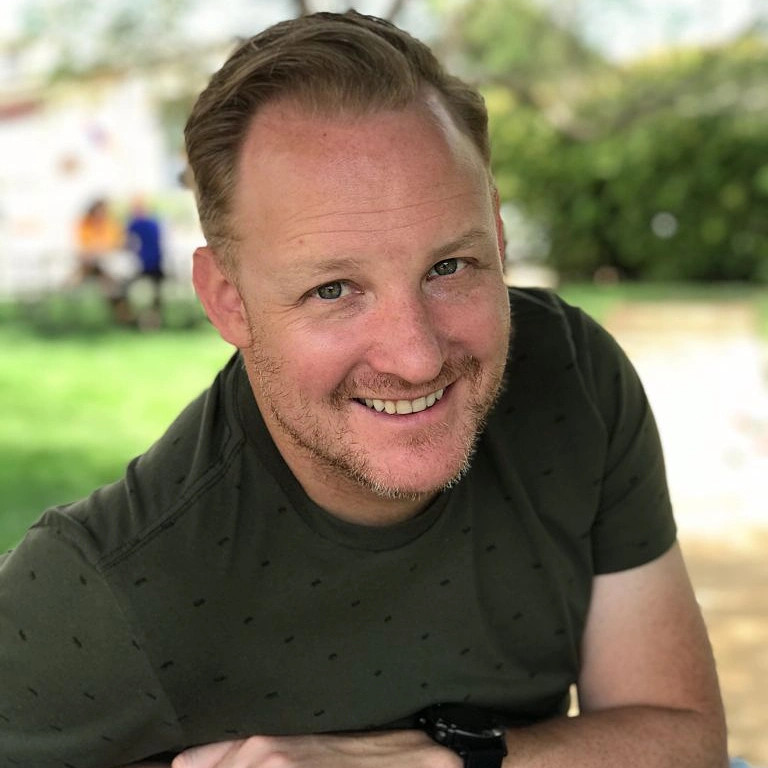 Written By: Matt Seymour
Matt Seymour is a dating industry expert with over a decade of experience coaching singles, reviewing dating apps, and analyzing trends within the industry. With a Masters of Science in Finance (MSF) degree from the University of Florida and extensive knowledge of the innerworkings of the online dating industry, Matt frequently serves in an advisory role to some of the largest dating apps on the market. In Matt's current role with Healthy Framework, he leads the interview team that regularly interviews key dating industry leaders, and leverages his financial knowledge and dating app experience to review and share what singles need to know to get the most out of dating online.