HER Dating App Review
HER is arguably the most popular lesbian and bi dating app on the market, but we want to know if the app lives up to its popularity. Can LGBTQ female singles on HER actually find matches easier than using mainstream dating apps that are LGBTQ-friendly? We looked at all the facts to figure it out!
Whether you are interested in their cost or just want to know if signing up is worth the trouble, we've got the answers to your questions. If you are interested in getting the scoop on HER, read on for our review.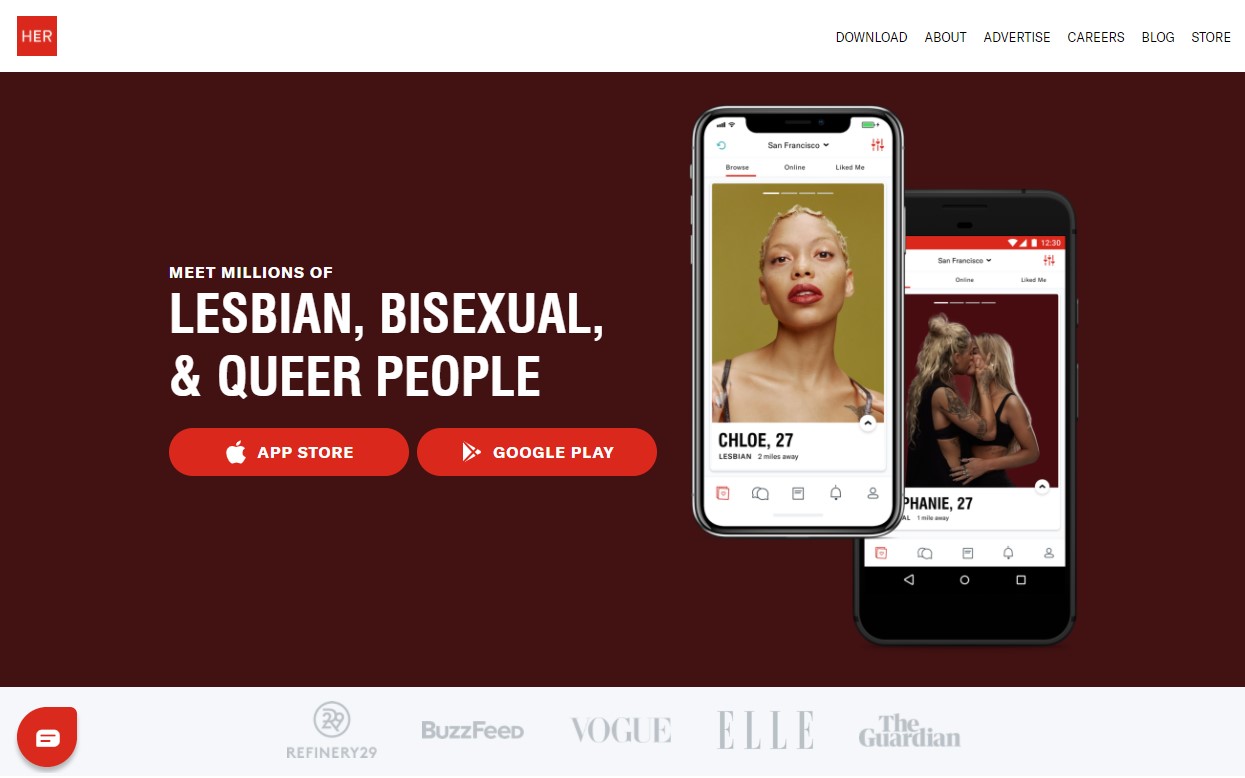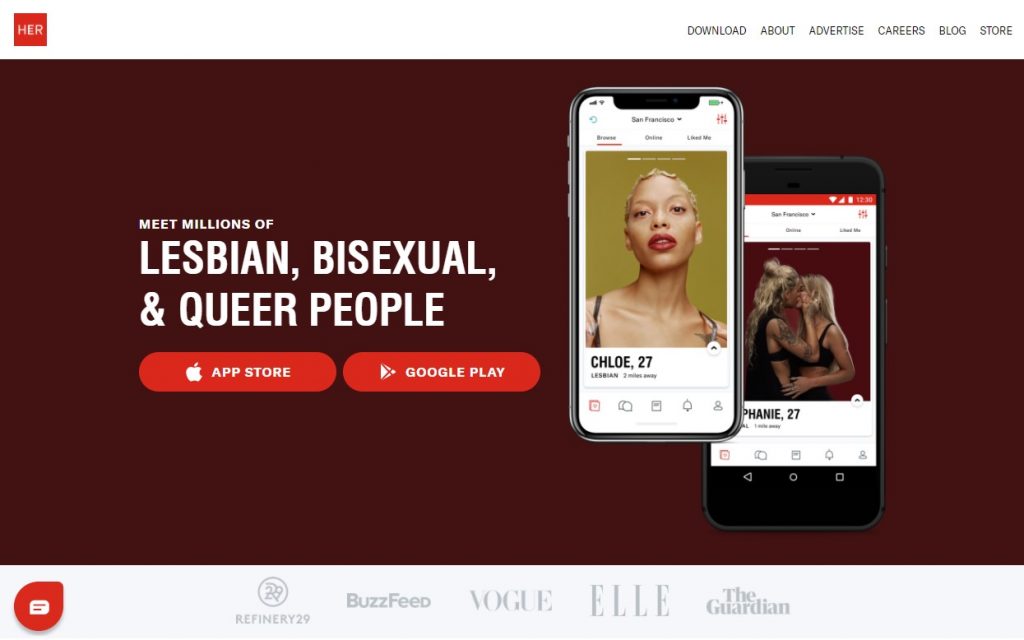 Is the HER Dating App Worth It? – The Bottom Line Upfront
If you identify as lesbian, bisexual, non-binary, pansexual, or queer, HER is totally worth it for you. Sure, some users who are attracted to cis-men may need to use other apps on occasion, but there is a real disparity between the user base on HER versus other sites.
For instance, only 0.01% of female users on Tinder identified as part of the LGBTQ community. This is out of only 7.8 million users! HER has 4 million users in 55 countries that all identity as LGBTQ and are actively seeking someone else within that community.
You can try the app out for free and only need to upgrade to premium if you find the cap on swipes to be too limiting. Otherwise, premium is meant to provide only bonus features that are nice but not necessary.
All in all, we say HER is totally worth a try!
Is HER Right For Me? – HER App Alternatives
Part of finding the perfect partner is using the perfect dating app. But how do you know if the HER dating app is the right fit?
Below our team has listed some alternatives as well as a breakdown of who the HER app is and isn't right for!
Who HER Is Good For
Lesbian, bisexual, and pansexual people looking for a safe place to date.
Singles that like being able to try an app out for free.
Those who want a niche space to find a specific set of potential partners.
Who HER Might Not Be Best For
Those who are unable to pass the criteria check, which includes the need of a photo ID and active social media.
Those who want access to all genders in one place, including cis-men.
Singles who need to access their dating site on a computer instead of a phone.
Overall HER Dating App Rating
| Category | Score |
| --- | --- |
| Quality Matches | 9.0/10.0 |
| Features | 8.5/10.0 |
| Ease of Use | 9.0/10.0 |
| Support | 8.0/10.0 |
| Cost | 8.5/10.0 |
| Overall | 8.5/10.0 |
8.5/10.0
Pros and Cons of the HER Dating App
Pros
HER is a niche site for lesbians, which can help ensure an inclusive environment.
Sophisticated app that is beautiful to look at and intuitive to use.
The base version of the app and a general number of features are completely free to use.
Utilizes communities to create an atmosphere of unity and social interaction.
Uses strict criteria for signing up to keep a safe space.
Cons
Swipes are capped unless you purchase a premium membership.
Users who are also attracted to non-females have to use a second app for their dating needs.
Only available as an app, not as a website.
Fast Facts About the HER Dating App
Site Name: HER Lesbian Dating
Paid or Free: Free site with paid option.
Average Sign-Up Time: Can take up to a few days to verify criteria.
Paid Membership Pricing: Plans starting as low as $7.50 per month
Interesting HER Dating App Facts:

Her has over 4 million users worldwide.
4.2 star rating on Apple's app store.
3.5 star rating on Google Play.
Was created in 2013 and as of 2018 is available in 55 countries.
HER Dating App Review – Table of Contents
HER Dating App Features Overview
HER has a lot of interesting features that makes the app feel more like a loving social media community than a straight up dating app. Let's dive into a few of our favorite features and how they can improve your dating experience.
Communities
Head over to communities to see what's on peoples' minds, post photos, have discussion, and get a feel for the personalities of the singles in your area. This is the feature that helps take HER from a standard dating app and turn it into a hybrid form of dating app and social media.
Rewind Profiles
This is a great feature that allows you to take a look back at profiles you didn't swipe right on the first time. This is great in case you mis-swiped or just overlooked someone by mistake.
Incognito Mode
Search for singles without letting anyone know you are even looking. It is a great way to overcome any anxiety you may have for online dating, but the feature is only available for premium membership holders.
The Quality of Singles at the HER Dating App
The singles on HER come in a million varieties. There is so much fantastic self-expression and open-mindedness on the app, which is something we haven't seen on many other dating sites. It can make it a little tough to find a great match by chance, but there are plenty of search filtering features to help you find the perfect partner for you. Overall, we think you will be really pleased with the singles on HER.
How to Sign Up at the HER Dating App
Signing up with HER is a bit of a journey. You need to prove to the moderators that you are:
18 or over
Female-identified, transgender, non-binary gendered, or queer
Living in one of their available countries
This may be completed through the successful linking of a social media site, but sometimes this isn't enough to verify your status. Especially if you aren't out on social media or don't use your real information.
In that case, you will need to email the mods with the following information and wait to hear back about the status of your verification:
The email address linked to your Facebook account, Instagram username, or Apple Login
Phone number with your country code
First and last name and your name used in the app
Date of Birth
Scan or a picture of valid photo ID that matches your information
Price | How Much Does the HER Dating App Cost?
| Membership Type | Membership Length | Membership Cost |
| --- | --- | --- |
| Premium | 1 month | $14.99 |
| Premium | 6 months | $10 monthly |
| Premium | 12 months | $7.50 monthly |
Customer Support Options
HER is another dating app that doesn't have phone-based customer service. While we are still holding out hope that the expectation for customer support among these apps will someday improve, in the meantime we can only hope that the alternative options are as great everywhere as they are on HER.
The help section of HER's app is filled with actually useful information and step by step instructions. They also list their contact email address in multiple places to allow you to contact them with additional questions and concerns. User reviews show that the response time for these inquiries is fairly quick, which is a real step up from other apps where inquiries are never answered.
HER Dating App FAQ
Will My Free HER Account Expire?
No! Your free account is free forever. This isn't just a free trial to real you in and then paygate access to your matches. Free users can swipe, chat, and participate in communities without a time limit. The only limit is on the number of swipes you can use.
What Do I Do if I Run Out of Swipes?
If you run out of swipes on your free HER account you can either wait for them to reset or upgrade to a premium membership. Premium members do not have a cap on their swiping, which will prevent that issue in the future.
Do I Need a Premium Account to Join a HER Community?
Nope! You can join any communities you like as well as post and comment all with a free account. The added features for premium are nice, but you are completely included in the HER community with the free version.
What Features Come with a Premium HER Account?
Premium members will have access to the following bonus features:
Zero Ads
Premium Search Filters
View Who Has Liked You
Change Your Location
Incognito Mode
Rewind Profiles
Unlimited Swipes
See who's online to chat
Read receipts
1 Free Boost per Month