There are a few pieces of decor that you can bring into your bedroom to enhance your sex life, but none so powerful as a good candle. The right candle can provide you with ambient lighting, aromatic enhancement, and a beautiful piece of decor. Think we're being overdramatic? Take a look at our list of candles for the bedroom and see for yourself.
From fragrant candles with aromatherapy benefits to flameless candles with timing and brightness options, we've got something on this list to pique your interest in bolster your romantic space.
1. Chesapeake Bay Love + Passion Candle – Soy Candle with a Sultry Grapefruit and Mango Scent
Feel the embrace of the tropics with this blend of mango and grapefruit. Did you know that grapefruit is considered a powerful aphrodisiac that has been found to increase sex appeal in various ways? Enhancing romance in the bedroom is about more than picking a pretty candle, it is about finding the best candle scent for the bedroom as well. That's why you don't want to pass up on Love + Passion by Chesapeake Bay.
---
2. LuLu Candles Jasmine and Sandalwood – Perfectly Blends into Minimalist Decor and Provides Long-Lasting Aroma
If you want a candle that fits your aesthetic, this piece by LuLu Candles is the way to go. The sleek black jar and minimalist design helps it fits seamlessly with any existing decor while also offering a bold scent of jasmine, oud, and sandalwood. LuLu Candles using premium soy wax and highly concentrated scents for a long-lasting addition to your bedroom.
---
3. Enpornk LED Flameless Candle Set – Fill Your Room With Passionate Lighting Without the Risk
If you want to create the appearance of a bedroom filled with pillar candles but don't want to risk a fire, you should consider these LED pillar candles by Enpornk. The set comes with 9 Ivory pillar candles of varying height. They are made from real wax for an authentic look, but have LED lights nestled inside them to avoid real flames. Adjust the brightness and run time on the candles for a look that is equal parts pragmatic and sensuous.
---
4. Capri Blue Volcano – Bring an Island Breeze into Your Bedroom With This Citrus and Tropical Fruit Candle
A fan favorite choice of Capri Blue buyers, the Volcano candle emits a timeless scent of tropical fruits and sharp citrus. It is housed in the iconic blue glass vessel that sparked a brand, and has hours of lasting aroma. Light Volcano by Capri Blue and you will be transported to a sunny, beach-side paradise without ever leaving your bed.
---
5. CoCo Benjamin Basil Lime Candle– Rustic, Hand-Poured Candle with Notes of Basil, Lime, and Mango
If you prefer scents inspired by nature, you don't want to pass up this CoCo Benjamin soy candle. We consider it one of the best candles for the bedroom because its scent is pure and bold without having any chemical tinges that linger in the air. The base of basil is beautifully accented with punches of lime and mandarin top notes. Throw all that in with the gorgeous amber jars, and CoCo Benjamin has created a true piece of art.
---
6. La Jolie Muse Jasmine Candle – Stress-Reducing Jasmine Candles With Romantic Parisian Vibes
Just looking at this Candle by La Jolie is an experience in romance. The gorgeous jar and knobbed lid are the epitome of simple elegance, and the smooth jasmine scent is a welcome accompaniment. The notes are deeply floral but don't come close to touching that "old lady perfume" vibe that can often walk hand-in-hand with jasmine. If you want a touch of class in your room, this candle is perfect for you.
---
7. Urban Concepts No.4 Sweet Mango – Experience Bliss with a Sweet Mango Twist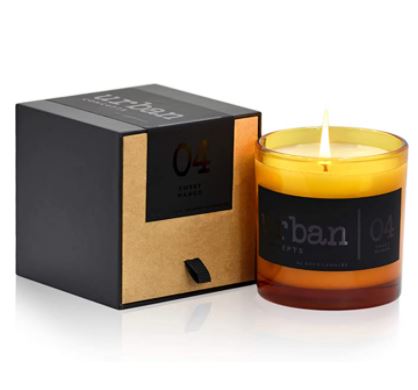 Mango is a highly sought after scent, but takes nuance to pull off properly. When picking the best candles for the bedroom, you don't want to wander into the territory of candy-sweet, child-like aromas. No, this is no roll-on perfume from the plushy, glittery counters of a tween clothing store. Instead, you get a grown-up, sexy scent of the tropics all packed into a cleanly designed jar. Enjoy hours of burn time and avoid the chemically-induced headache of other, cheap attempts at a mango candle.
---
8. Aku Tonpa Flameless Candles – An Easy Way to Create Romantic Lighting Without a Flame
If you are looking for a flameless candle option with a more modern design, try out this 3-piece set by Aku Tonpa. The candles are nestled into traditional candle jars for a look that is less cathedral and more country-house chic. Use the included remote to adjust the brightness and set a timer to preserve the battery life of your candles. These are a safe, efficient, and beautiful, which is why we consider them to be among the best candles for the bedroom.
---
9. Fresh Cut Roses by Yankee Candle – A Tried and True Favorite of Romantics Around the World
Yankee Candle is one of the biggest names in the industry, and for good reason. Their scents are often considered the standard by which other companies base their designs. This fresh cut roses candle is no exception. The floral scent immediately recognizable as heirloom roses in full bloom, but is also accompanied by smooth undertones to give the aroma a nice dimension. The beautiful pink wax is a lovely addition to a bedroom and looks great among freshly cut flowers and other romantic decor.
---
Just a heads up, we sometimes get a few bucks if you purchase some of the items linked from this page. It's how we keep the lights on. Thanks for your support!