Flirt.com Review
Are you interested in engaging in some flirty chatting, and maybe taking things into the real world? Flirt.com promises to connect flirtatious members in the United States and around the globe, but is it legit or a scam? After using the site for a full week, we're ready to give the inside scoop in our Flirt.com review.
First, get our overall thoughts on this casual dating site, and then, learn about the features. Oh, and be sure to stick around to go over some alternatives to Flirt.com.
Wait! – We know your time is valuable, so we just wanted to let you know we do not recommend Flirt.com (and in fact are pretty shocked by some of the things we uncovered). After a thorough review of Flirt.com, we feel that the casual dating app Zoosk is going to be a much better and safer fit for our readers. Learn How to Try Zoosk for Free
Overall Flirt.com Review Rating and Overview
| Category | Score |
| --- | --- |
| App Store Rating | No App |
| Google Play Rating | No App |
| Active Users | Approx. 70 million* |
| Starting Cost | $0.99 a day |
| Online Since | 1997 |
| Overall | 1.0/10.0 |
*This estimation includes users and bots from all partner sites as they share profiles.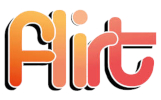 1.0/10.0
Pros and Cons of the Flirt.com Dating App
Pros
Free members can send five free messages
Members can delete photos, which isn't possible on some sites in the Partner Network
Profiles appear to be easier to deactivate here than on some sites in the Partner Network
Cons
Fake engagement
Lots of fake profiles
Appears to run a subscription scam
Premium memberships are hard to cancel
Is Flirt.com Worth It? – The Bottom Line Up Front
As the name suggests, Flirt.com is a casual dating site for singles seeking flings or steamy chats nearby or around the world. With casual dating and flirtatious chatting on the menu, Flirt.com doesn't really use a matching algorithm. Instead, it recommends profiles based on your location and a few search filters, so you can sort through thousands of profiles without running out of members to view. That might sound great, but Flirt.com isn't a legit dating site, and we recommend avoiding it at all costs.
So, let's start our review of Flirt.com with a little history, and then we'll explain how we tested the dating site.
Flirt.com is part of a network of dating sites, including LoveAgain, BeNaughty, and others. Years ago, Cupid plc owned the sites and was accused of sending fake messages to members to get them to sign up for subscriptions.
Basically, the site would send free members messages, and they'd have to upgrade to read and respond to them. After upgrading, the messages dried up.
We tested this on Flirt.com's partner site, LoveAgain, and it appears the network is up to its old tricks. Our free account received 20 messages shortly after we signed up. We upgraded, responded to the senders, and didn't receive a single reply. That wasn't even the worst of it, so check out our LoveAgain review for all the details.
Since Flirt.com and LoveAgain are part of the same network, we were able to use our premium subscription to LoveAgain on Flirt.com. Also, we created a free account on Flirt.com, only providing the info required at signup. We didn't even add a photo. Here's that profile: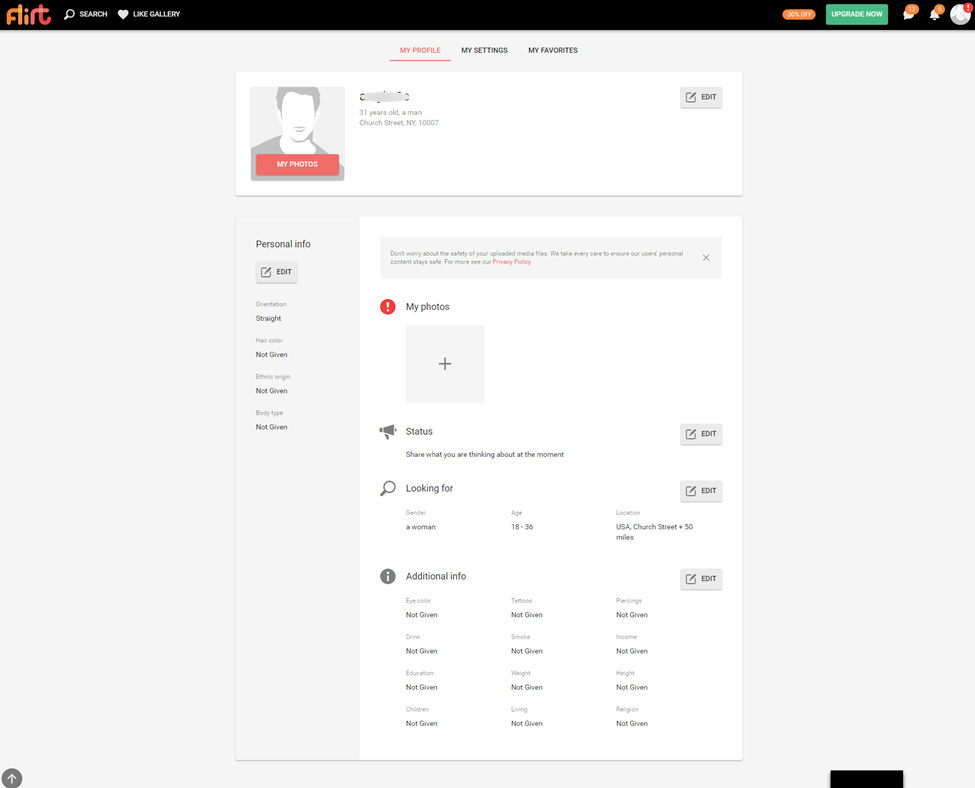 You can tell a lot about a dating site using this type of profile. If it receives a lot of engagement, there's a good chance there are fake members and possibly a scam going on. And based on our experience with LoveAgain, we weren't surprised when this profile received 16 messages in rapid succession.
Unlike LoveAgain, Flirt.com allows members to read messages from Flirt.com members, although messages from people on partner sites are hidden behind a paywall. Free members can initiate five chats but can't respond to messages, so we were prompted to upgrade each time we tried to reply.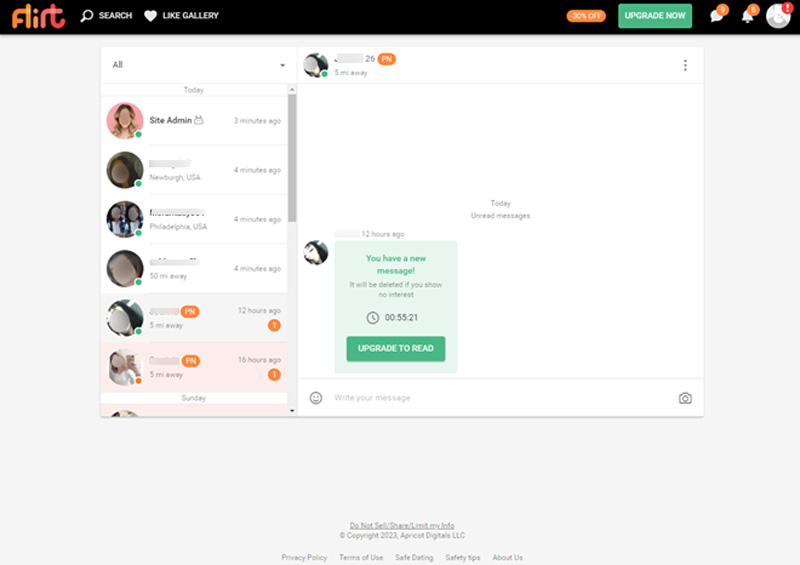 These messages were all low-quality, likely sent using bots. See, members opt into a feature called Promote My Account when signing up, allowing Flirt.com to message members when they are away. Unfortunately, it's hard to delete accounts here, so those members can be away for years, and still have "active" accounts.
As for our premium account, complete with a photo? We didn't receive a single message. We did try to initiate convos, but never got a reply.
This was similar to our experience on LoveAgain. As long as you have a free account, you'll receive lots of messages in the hopes you pay for a premium membership. Once you upgrade, all the engagement disappears.
Even worse, the premium subscriptions are close to impossible to cancel. We had to cancel our debit card after trying to cancel our premium membership on LoveAgain. Apparently, other members have canceled credit cards, and these sites still managed to bill them, so we'll update you if that happens to us.
Our experience with Flirt.com and its partner network indicates that these sites are nothing but scams. Please say away from all of them, including this one. We have created a list of safe and legit casual dating sites that are superior to Flirt.com. Get the scoop on the six best casual dating apps.
Flirt.com Features Overview
So, do you wonder how Flirt.com manages to run the scam? Let's look at some of the features that make it easy for the site to trick members into subscribing.
Flirtcast
Flirt.com's business model seems to be to get as many messages into people's inboxes as possible. One way it does that is through the Flirtcast feature. Basically, you can filter through pre-set messages, and send them out to lots of members at once.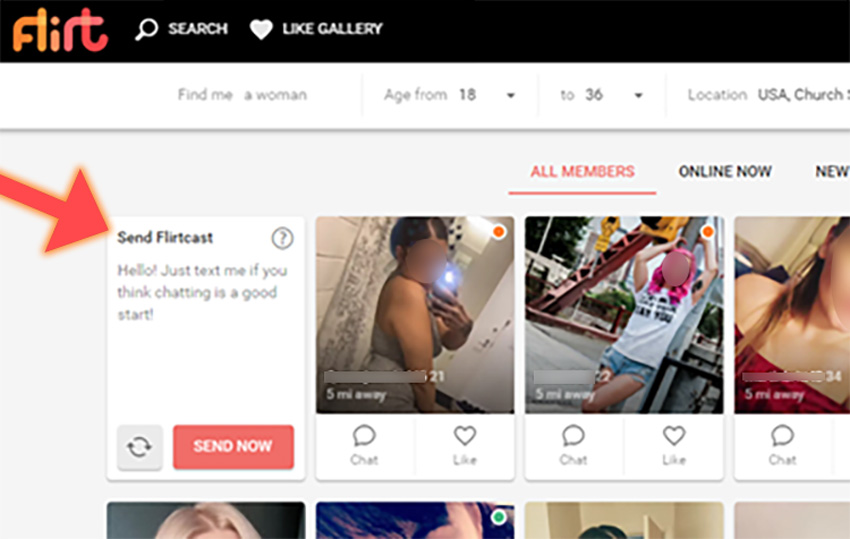 Based on our research, it appears that Flirtcasts only go out to members with free accounts. After upgrading, we didn't receive any of these messages, although our free account did. Thus, we're pretty confident this is part of the subscription scam.
Promote My Account
You have to disable Promote My Account after signing up to Flirt.com and its partner sites.
If you don't, the site will manage your account for you when you aren't logged in. This allows the site to like profiles and add members to your favorites. Also, it can send messages to as many members as it wants, and it'll look like they came from you.
If you go into the settings, you can choose to send messages about random meetups, short-term relationships, or serious relationships. Otherwise, it'll send a mixture of these messages. That means you might send one message asking for a hookup, and another saying you're interested in getting serious.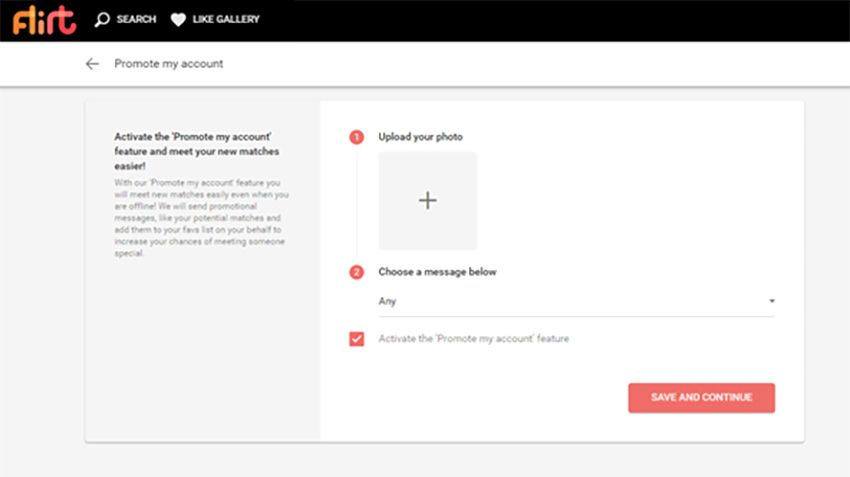 As with the Flirtcast feature, we think Promote My Account is part of the subscription scam. A lot of members probably don't even realize that the feature is enabled on their accounts.
In fact, if it's enabled, it can run those accounts even if the actual member hasn't signed in for years.
The recipient doesn't get any indication when receiving a message from the site on the member's behalf, so you won't even know if you received a message from an active user. If you decide to use Flirt.com or a partner site, we highly recommend disabling this feature. As you can tell by reading our review of Flirt.com, we also highly recommend avoiding this scammy dating site at all costs.
Partner Network Settings
You automatically opt into the Partner Network when creating a profile on Flirt.com. That means your profile will show up on sites like LoveAgain and MatureDating.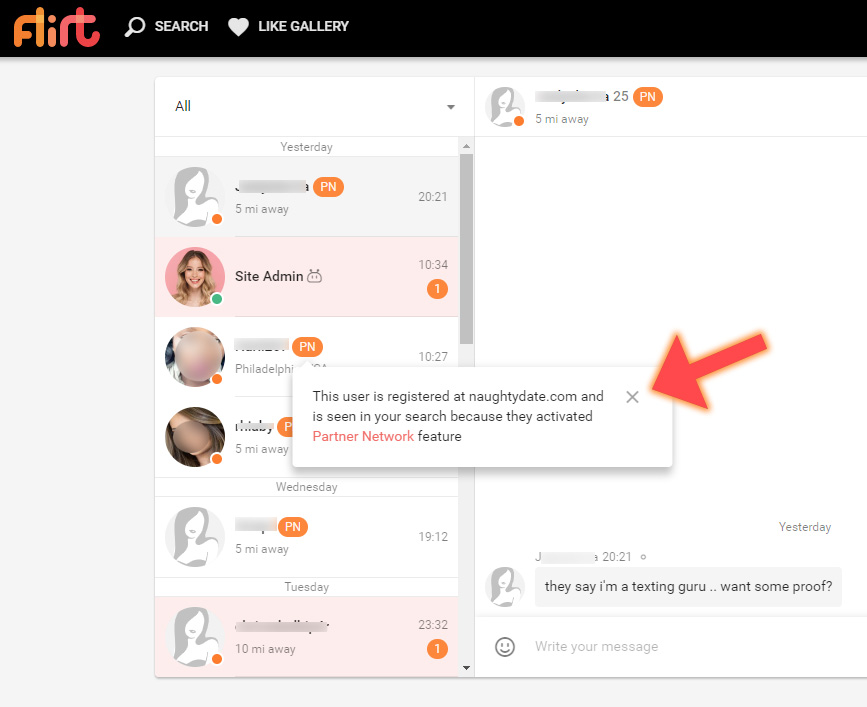 This is yet another way for Flirt.com and sites in the Partner Network to drum up engagement. The sites can use the Promote My Account feature to message members on other networks, enticing more members to upgrade to premium memberships.
If you decide to use the site (and we don't think you should), you can disable this feature in the Settings.
The Quality of Singles at Flirt.com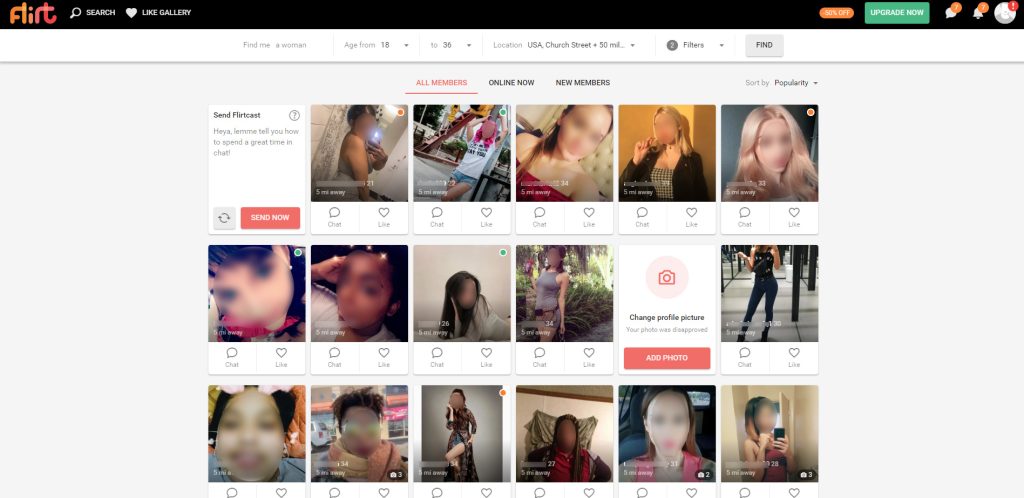 We honestly can't find anything good to say about the singles on Flirt.com. First, we're pretty sure most of the members aren't even running their own profiles since Promote My Account is the default setting.
And then, there's the fact that Flirt.com opts members into the Partner Network when signing up. Thus, you aren't just seeing members who signed up for Flirt.com. For instance, you can end up with members of MatureDating, BeNaughty, and a bunch of other sites.
Fake profiles are also a huge problem here. A lot of the people don't seem to be legit, and we've heard that lots of members claim to live in the United States when they really live in another country. These users try to find victims for online dating scams.
We received dozens of messages in a week, but none seemed to be legit. That's all the proof we need that Flirt.com's membership base is extremely low quality.  Learn more about fake members on online dating sites, so you don't get duped. 
Similar Alternatives to Flirt.com
Flirt.com appears to be a scam, so we recommend checking out the alternatives. Get the details on some legit casual dating sites that you can use for hookups and short-term dating.
Zoosk – A casual dating app, Zoosk isn't nearly as steamy as Flirt.com, but many of its 40 million plus members are seeking flings and short-term relationships. Zoosk has a much more modern layout than Flirt.com, and you can get the app in Google Play and the App Store, while Flirt.com is web-only. Flirt.com appears to be full of fake profiles, while Zoosk uses Facebook and photo verification to keep members safe. Free users can also respond to messages from members with Premium Messaging. (Read Our Full Review of Zoosk)
AdultFriendFinder – AdultFriendFinder and Flirt.com both have an outdated look, but AdultFriendFinder does have its own app, while Flirt.com is web-only. You need to pay to interact with members on both sites, but AdultFriendFinder appears to have more legit, active members (including confirmed profiles), so it doesn't need to run a subscription scam to increase engagement and signups. Now, AdultFriendFinder is steamier than Flirt.com, but you can filter your search settings to see some or no nudity.
Hily – Like Flirt.com, you probably won't form deep connections on the casual dating app, Hily. However, free members can message and chat with matches instead of having to upgrade as with Flirt.com. Oh, and we didn't encounter any fake profiles when reviewing Hily, while that's pretty much all we saw on Flirt.com. (Read Our Hily Review for Our First-Hand Experience)
Reviewing Price – How Much Does Flirt.com Cost?
Flirt.com takes a pretty standard approach to membership cost, but we do want to point out that there is a $0.99 a day trial option (up to 3 days) and there is also a 5 free messages feature for free accounts. Outside of that, membership pricing (as of our most recent Flirt.com review) is as follows:
| Membership Type | Membership Length | Daily Price | Total Price |
| --- | --- | --- | --- |
| Premium | 1 Day | $0.99 | $0.99 |
| Premium | 1 Week | $0.39 | $2.73 |
| Premium | 1 Month | $1.38 | $38.59 |
| Premium | 3 Months | $0.77 | $64.91 |
---
Flirt.com accepts a wide variety of payment methods for their premium memberships, including:
Discover debit/credit cards
Visa debit/credit cards
Mastercard debit/credit cards
American Express debit/credit cards
Diners Club International charge card
Disclaimer – This has been included to provide a thorough Flirt.com review, but is not a recommendation to buy. We strongly recommend looking for more reputable dating apps.
User Complaints About Flirt.com
As with its partner sites, Flirt.com has a history of creating fake user reviews to lure people into signing up. Because of that, there are lots of positive reviews out there, although Trustpilot and similar public user review sites do their best to take them down.
Fortunately, fake Flirt.com reviews are pretty easy to spot. After spending a little time on the top review sites, we were able to weed out the fakers and figure out what real members think. And let us tell you, the real Flirt.com reviews are very similar to our experience on the site. Here are some of the common Flirt.com user complaints:
Bot activity – Members state that most of the activity on the site is from bots, and we have to agree. We aren't sure if Flirt.com sets up bot accounts or uses bots for Flirtcast and Promote My Account. Either way, real engagement is almost non-existent on this fraudulent dating site.
Can't Cancel Premium Membership – We mentioned earlier that after signing up for a premium membership at Flirt.com's partner site, LoveAgain, we were unable to cancel the membership. We eventually had to cancel our debit card to prevent additional charges. Based on user reviews, it appears that Flirt.com runs the same scam. If you pay for a subscription, you will likely continue to get charged unless you cancel the payment method. And sometimes, members still get charged after doing that.
Subscription Scam – Members with free accounts report receiving lots of messages until upgrading. Then, no one responds or initiates contact, so their inboxes remain empty.
Fake Profiles – According to members, a lot of the women aren't who they say they are on Flirt.com. Many of them claim to live in the United States but don't speak fluent English. If that happened once or twice, we'd say maybe those members had relocated. However, it happens way too often for it to not be a scam.
---
---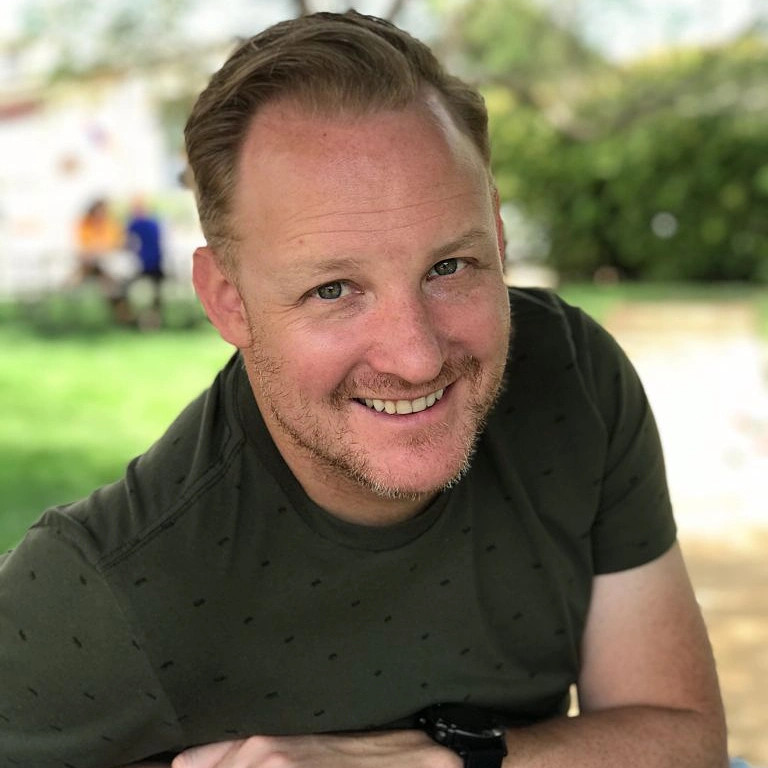 Written By: Matt Seymour
Matt Seymour is a dating industry expert with over a decade of experience coaching singles, reviewing dating apps, and analyzing trends within the industry. With a Masters of Science in Finance (MSF) degree from the University of Florida and extensive knowledge of the innerworkings of the online dating industry, Matt frequently serves in an advisory role to some of the largest dating apps on the market. In Matt's current role with Healthy Framework, he leads the interview team that regularly interviews key dating industry leaders, and leverages his financial knowledge and dating app experience to review and share what singles need to know to get the most out of dating online.