Dominican Cupid Cost
Hispanic singles love Dominican Cupid. The site matches people from around the world and utilizes a really fantastic matching algorithm to help singles find those with whom they can truly connect.
While Dominican Cupid has a lot of fantastic features, they aren't all available when you claim a Dominican Cupid free trial. If you want to get the most out of your membership, take a look through this Dominican Cupid Cost breakdown and find the membership tier that works best for your dating needs.
Dominican Cupid Membership Cost Breakdown
Prices have recently changed because of the addition of a new membership tier! The site has also just recently added the option for 1-week membership at any premium level. This is a breakdown of costs including the new weekly pay options and the diamond level membership:
| Membership Type | Membership Length | Monthly Cost | Membership Cost |
| --- | --- | --- | --- |
| Gold | 12 Months | $12.50 | $149.99 |
| Gold | 3 Months | $24.99 | $74.98 |
| Gold | 1 Month | $38.49 | $38.49 |
| Gold | 1 Week | $76.92 | $19.23 |
| Platinum | 12 Months | $15.83 | $189.99 |
| Platinum | 3 Months | $29.99 | $89.98 |
| Platinum | 1 Month | $45.99 | $45.99 |
| Platinum | 1 Week | $92.00 | $23.00 |
| Diamond | 12 Months | $31.67 | $379.98 |
| Diamond | 3 Months | $59.99 | $179.97 |
| Diamond | 1 Month | $91.98 | $91.98 |
| Diamond | 1 Week | $184.00 | $46.00 |
Here is a screenshot to help you understand what features are included with each Dominican Cupid membership tier: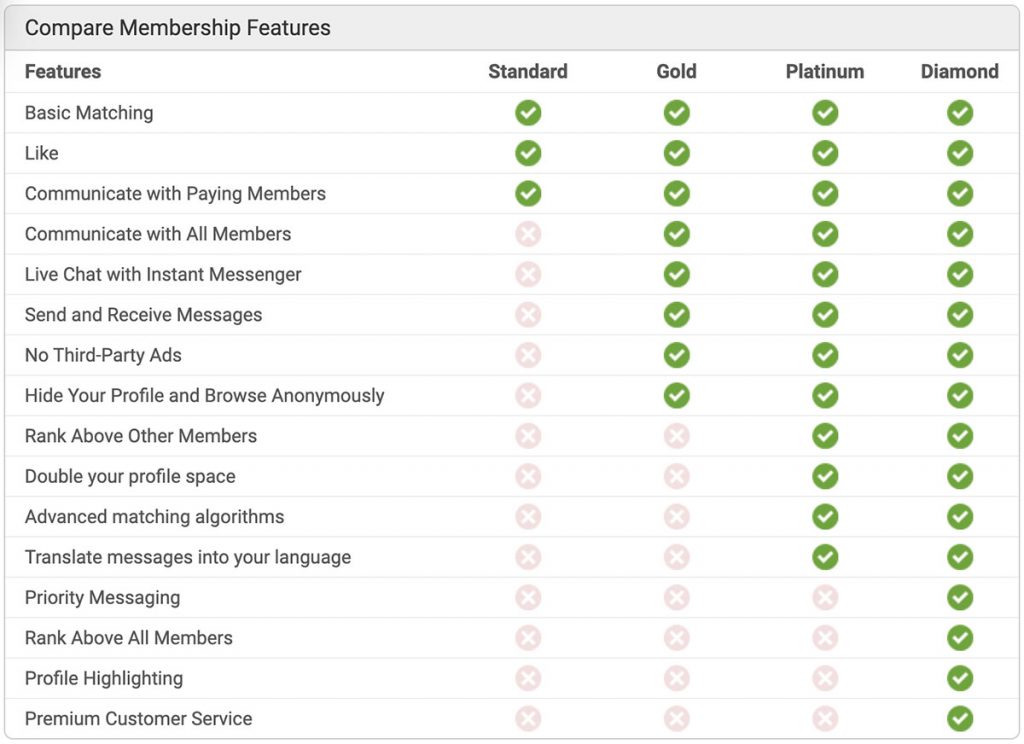 What Are The 3 Paid Dominican Cupid Membership Options?
Dominican Cupid, like other Cupid Media sites, splits its membership into multiple tiers to allow users to adjust their experience. Do you have an unlimited budget and want all the features? The Diamond membership is for you! Do you want some advanced features but can't afford Diamond prices? Consider the Gold membership.
Below, we will look at what each membership type has to offer so you can see if they are worth the price!
Premium Gold Membership Features
Limitless Matching: Once a member upgrades from a free membership to a Gold membership, they will instantly notice more search results. If you are feeling that your searches always turn up the same people, a Gold membership may improve your experience.
Unlimited Likes: Gold members can like as many profiles as they like. There are practically no limits for those with this mid-level membership.
Unbound Communications: Talk to free members, Gold Members, or Platinum members. You won't be missing out on anyone with a Gold membership.
Live Chat/ Instant Messenger: Communicate seamlessly with in-app instant messaging.
Ad Free Experience: Enjoy the app with zero ads! It's the fastest, cleanest, and most appealing way to use Dominican Cupid.
Anonymous Browsing: Want to keep your dating activity secret? Hide your logins and activity with anonymous browsing.
---
Premium Platinum Membership Features
All Gold Features: Platinum is the top-tier plan, so it includes everything from the free and gold membership plans.
Increased Profile Rank: Having your profile show up before other members is important for increasing your match results. Platinum members rank ahead of all other members besides Diamond members.
Expanded Profile Space: Want some more room to show off your personality, hobbies, and other selling factors? Platinum members get extended profile space to include all the info they desire!
Advanced Matching Algorithm: The highest level members get access to an advanced matching algorithm. This means your matches are more likely to be compatible with you on a core level.
Auto Translate System: This is one of the features many users come to Cupid Media sites for! The auto-translation system can transfer the incoming messages from other users into your native language. This helps you find love all over the world!
---
Premium Diamond Membership Features
All Gold and Platinum Features: It should be no surprise that the top-tier membership has access to all the features of the lower tiers!
Priority Messaging: Diamond members get more responses from matches because their messages are always prioritized at the top of their matches inboxes.
Rank above ALL members: While platinum members rank above Gold and free members, Diamond members rank above EVERYONE!
Highlighted Profile: Get a big shiny badge that shows off your Diamond membership status. Plus, you'll stand out among other profiles in the search area.
Advanced Customer Service: Diamond members get the cream of the crop of Cupid customer service. This means highly trained representatives and faster response times!
---
The Best Paid Dominican Cupid Feature – Highlighted Profile
Dominican Cupid comes with a lot of features, and they are almost all great. But there is a certain kind of paid feature that we think is the most useful – profile highlights. They come in general form and also through prioritized messaging, increased ranking, and more.
Any feature that pushes your profile above others will inevitably lead to you getting more matches, faster responses, and an overall better experience with online dating.
Payment Types Accepted at Dominican Cupid
Dominican Cupid accepts a ton of different payment types, including:
Credit/Debit Cards

Visa
American Express
Mastercard
Discover
Diners Club International

Google Pay

Debit Cards
Direct Bank Link
Paypal

Paysafecard
Direct Bank Transfer
Skrill

Does Dominican Cupid Give Refunds?
Cupid Media is one of those incredibly understanding dating companies that does offer refunds under certain circumstances. The vast majority of dating platforms do not offer refunds under any circumstances.
Dominican Cupid will always issue a refund in three situations:
A member's account is experiencing technical problems
The platform has been down due to server issues, technical malfunction, or any other reason for an unacceptable amount of time.
The member requested their refund before initiation or receiving contact from any other member.
Dominican Cupid can also issue refunds on a discretionary basis, so reach out to customer service if you are seeking a refund.
Free vs Paid Dominican Cupid Membership
There are a lot of fantastic paid features on Dominican Cupid, but what can free members do? The free, basic plan includes the following features:
Basic Matching: The matching system for free members isn't anything special. It is based exclusively on your gender preference and location. Still, you can utilize search filters to try and improve your results.
Respond to Paying Members: Free members cannot send messages to other members, but they can respond to messages sent to them by paying members.
Send Likes: This is a vital feature to get the attention of paying members.