Looking for the best swipe-style dating app? Then chances are you've come across both Zoosk and Tinder.
These are two of the most popular casual dating apps on the market, and for good reason. These apps have hundreds of thousands of active users, easy to use features, and can erase lonely weekends in a breeze.
Still, there are a lot of differences between Zoosk and Tinder. It is important to make sure you are using the best dating app for your wants and needs, so be sure to take a look through this guide to save yourself time and money!
Key Differences Between Zoosk and Tinder
Zoosk's matching algorithm learns and updates as you interact with profiles. Tinder's matching system does not learn.
Tinder has one of the largest user bases of all dating sites. Zoosk has a large user base, but not as large as Tinder's.
Zoosk provides match suggestions based on the aforementioned algorithm and learning system. Tinder shows you nearby singles regardless of compatibility.
Tinder is a purely casual dating site with a focus on hooking up. Zoosk is also casual, but the site works well for finding actual romance as well.
Tinder allows you to communicate with a limited number of matches daily (and continuously with matches from previous days), Zoosk requires a paid membership to message members.
Which of These Dating Sites Is Our Favorite?
Zoosk and Tinder both have their perks, especially if you are interested in finding easy, casual romance. However, Zoosk goes above and beyond in the matching category. Zoosk uses a learning system that helps make your matches more meaningful.
Zoosk also allows you to easily see in what ways you and your match are compatible, and can even show you similarly liked social media posts.
Overall, we believe that Zoosk has a better selection of features for those seeking connections that mean a little more than just a one night stand.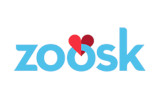 Where Zoosk Shines
Zoosk is a game changer in the world of fast dating sites. While you are still using the same concept of viewing and quickly deciding on profiles, Zoosk learns your preferences as you interact with the site. This means the app will start to see trends on which profiles you skip versus which you like.
This means that the longer you use the app, the better your results are.
Zoosk also has a cleaner, more modern design and interface. All these details combined have created an app that is perfect for finding a quick fling, or using trial and error + time to find a perfect match for long term romance.
Our Favorite Zoosk Feature – SmartPick
Zoosk's SmartPick feature is one thing that really sets it apart from other sites, including Tinder. SmartPick refers to the site's matching system that learns your preferences as you interact with profiles.
Keep passing up on users with a particular political preference or hobby? The app will start picking up on it and avoid showing you matches with that particular trait. This means your match carousel (where your daily matches are shown) will be filled with better matches the longer you use the site.
Tinder doesn't use any matching algorithm and instead on shows you singles that are in a specific radius.
Where Tinder Shines
Tinder is the top player in fast, casual dating sites. When you sign up for Tinder, you know that you are going to end up with matches very quickly, even if they may not pan out to anything spectacular. The site approaches dating as a numbers game, which can be useful for many people!
Tinder is also one of the most fully accessible free sites available. While there is a paid version of Tinder, you can get away with using the free site without issue. Free members simply must deal with a daily swipe cap, but their messages are not locked behind a paywall.
Our Favorite Tinder Feature – Unlimited Rewind
Those who pay for a premium Tinder membership will have access to unlimited rewinds. This is incredibly important for fast dating sites like Tinder because when you get in a groove of swiping, accidental swipes are bound to happen.
On Tinder, you swipe a photo to the right if you are interested and left if you are not. Without the unlimited rewind feature, accidental left swipes can put a real damper on your day. With unlimited rewinds, you can fix those accidental swipes as many times as you need! This lets you stay in your groove and ensure you don't miss out on great matches.
Zoosk has a slower approach to matching, so rewind is an unnecessary feature on their app.
Zoosk vs Tinder: Similarities and Differences
What's the Same:
The sites focus on fast matching by liking profiles.
Both apps are mostly used for finding casual romance.
Both sites base searches off location (Though Zoosk does include other criteria as well).
What's Different:
Zoosk keeps messaging behind a paywall.
Tinder doesn't use any matching algorithms or technology, Zoosk does.
Zoosk matches get more catered to you over time.
Tinder's paid features are just bonuses, Zoosk's paid features are needed to use the site fully.
Tinder's average user age is surprisingly older (35-45) while Zoosk's users skew a bit younger (25-35).
Zoosk Cost vs. Tinder Cost
Zoosk Cost
| Membership | Term | Price Per Month | Total Price |
| --- | --- | --- | --- |
| Basic | ~ | Free | Free |
| Premium | 1 month | $29.95 | $29.95 |
| Premium | 3 months | $19.98 | $59.95 |
| Premium | 6 months | $12.50 | $74.99 |
| Premium | 12 months | $12.50 | $149.95 |
Tinder Cost Over 30
| Plan | Length | Monthly Cost | Total Cost |
| --- | --- | --- | --- |
| Platinum | 1 month | $39.99 | $29.99 |
| Platinum | 6 month | $20.00 | $89.99 |
| Platinum | 12 month | $12.50 | $119.99 |
| Gold | 1 month | $29.99 | $24.99 |
| Gold | 6 months | $15.00 | $74.99 |
| Gold | 12 months | $10.00 | $99.99 |
| Plus | 1 month | $9.99 | $7.99 |
| Plus | 6 month | $5.00 | $23.99 |
| Plus | 12 month | $3.33 | $31.99 |
Tinder Cost Under 30
| Plan | Length | Monthly Cost | Total Cost |
| --- | --- | --- | --- |
| Platinum | 1 month | $26.99 | $26.99 |
| Platinum | 6 month | $13.50 | $81.00 |
| Platinum | 12 month | $9.00 | $108.00 |
| Gold | 1 month | $22.49 | $22.49 |
| Gold | 6 months | $11.25 | $67.50 |
| Gold | 12 months | $7.50 | $90.00 |
| Plus | 1 month | $13.49 | $13.49 |
| Plus | 6 month | $6.75 | $40.50 |
| Plus | 12 month | $4.50 | $54.00 |
Who Zoosk is Best For?
Singles looking for more substance to their dating app.
Those who want their matches to get better as they use the app.
Singles between 25 and 40.
Those who don't mind paying a bit more for a more evolved app.
Singles who want a blend between casual and serious dating.
Who Tinder is Best For?
Singles who want fast access to local, attractive singles.
Those who prefer an app that can be used completely free.
Singles in a slightly older age range (35-50).
Anyone who wants a long-established dating site.
Singles who don't want to feel in a long profile before use.