Well—it's a matchup of heavyweights in the online dating world today! Match vs. Tinder. And based on the fact you're with us here today, it's clear that two of the most popular dating apps on the market have made it to your final decision process.
But which is best for you? Today, we're going to finally settle the debate and let you know which option is better, Match or Tinder. If you're ready, buckle up, grab a seat, and let's dive right into it.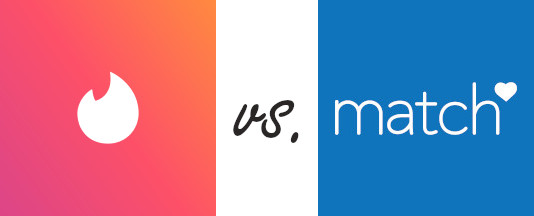 The Bottom Line Upfront
Often, these comparison matchups are quite challenging because both options are similar and serve the same groups. However, today, that's not the case as things are quite simple.
If you're looking for something casual or a hookup and you're a younger single, Tinder is better than Match. If you're looking for something that's a bit more serious and you're a little older, Match.com wins the showdown.
While you can potentially find a serious relationship on Tinder and you can potentially find something super casual on Match, that's not what they're designed for or known for. The bottom line of the Match vs Tinder showdown is that one site is not better than the other. It all depends on what you're looking for.
Other Alternatives to Try for Free
One other thing to consider is that maybe neither of these dating apps is best for you. If you're feeling like that could be the case, you're in luck. Below, we've provided some free trial links to some amazing dating apps that might be a better fit. And the fact that you can sign up for free and test out some of the features before you need to upgrade—that's pretty awesome.
---
Match vs. Tinder More In-Depth Comparison
As w already mentioned, when we do online dating site comparisons, it's usually a real challenge to choose which site reigns supreme and should be recommended. However, today's Tinder vs. Match battle doesn't fall into that category. It's actually a much easier decision than you might think.
Why? It's because both of these online dating apps serve a wildly different purpose. Tinder is specifically designed to target younger singles looking for casual dating and yes, hookups. The app matches people based on very few parameters—gender, what gender you're looking for, age, and proximity. That's really about it.
Match, on the other hand, serves both the casual dating market as well as those people looking for something a bit more serious. It does not boast itself as a site aimed at hookups. Instead, it does try and match people based on more characteristics than just gender, age, and location.
How the Matching Process Works
One of the biggest difference between these two sites is how the matching process works. With Tinder, you are shown "mini profiles" and pictures of people that are close to you in proximity. You swipe either left or right to indicate if you are interested in the person. If you swipe that you like someone and they also swipe that they like you, a match is made and a chat box is opened up. You cannot message someone unless they indicate mutual interest in you.
Match follows a much more traditional pathway for dating. You can search through all your matches, as well as the other members on the site. If you see someone you like, you can send them a message even if they have never seen your profile or indicated interest.
Location vs. Proximity
Another big difference that we briefly touched on is how your location is used with Match.com and Tinder. With Match.com, you put in where you live and your matches are generated accordingly. So, if you're out of town on a business trip and you log into Match, you'll still see your matches that live close to where you do.
With Tinder, though, it's solely based on your current location. So, if you open the app while on that business trip, you'll see matches that are close to where you currently are, not where you live. As you can see, this lends itself much more to casual dating and right now.
More Key Differences Between Tinder and Match
Tinder is a fast-paced dating site that offers some free capabilities, but doesn't offer much in the way of serious dating potential.
Match is a site that costs a bit more to use, but they utilize a compatibility algorithm they've honed over decades to offer a premium matching system.
Tinder can be used completely for free, including communicating through messages. Many of Match's main features are behind a paywall.
Match is better for finding long term romance and commitment. Tinder is intended for finding friends, flings, and hookups.
Tinder has a varying cost structure based on age, tier of membership, one off purchases, and more. Match has an easy to follow pricing structure.
What's the Same Between the Two Apps
Both sites have huge user bases with singles from small towns and big cities.
It is free to sign up on both sites, though premium memberships will cost a fee.
Both platforms are owned and operated by the Match Company.
Tinder's Top Selling Points
Lots of features to keep things fun – Tinder's premium tiers come with a huge amount of bonus features like boosts, super likes, rewinds, and more.
Free to use and communicate – Tinder's free version is very usable and includes the ability to send and receive messages.
Great for casual romance – Tinder is most popular for being a site where singles can find others interested in friendships, flings, and casual romances.
Easy to use – Tinder is one of the most popular dating apps out there and has become a base model for many of the newer sites coming out. Their interface is easy to understand and a breeze to learn.
Match's Top Selling Points
Perfect for finding true love – Match focuses on finding compatible matches that will lead to long-term romances and fulfilling relationships.
You do very little work – Other than finishing your personality exam and filling in preferences, the matching process is simple and out of your hands.
The process isn't overwhelming – Match delivers a small batch of matches each day, which keeps users from getting overwhelmed by choices.
The platform is simple to use – Match is a great site to use for anyone, even if you don't have a lot of computer experience. The site is very intuitive and it is simple to learn how to use all features.
Final Answer on Match vs. Tinder
Here's the major takeaway. If you are younger and looking for casual dating or hookups, go with Tinder or dating apps like Tinder. If you are looking for something between casual and longer-term, then Match.com is probably a better fit. And if you're looking for some other options and maybe some Match alternatives, here are some really great dating sites to consider (with free trials).
Cost Difference of Match vs. Tinder
In case you're still on the fence and budget is important, we did want to share some updated information on the cost differences between these two dating apps. Tinder comes with a bit more for free, but to get the full benefits of each option, you will need to upgrade to a paid premium plan. Match, on the other hand, offers limited things for free but has a most streamlined payment subscription option.
The biggest difference between Match.com and Tinder when it comes to pricing is that Tinder charges more if you're over the age of 30, whereas Match.com charges the same no matter what your age.
Match Cost
| Membership Type | Membership Length | Monthly Cost | Total Membership Price |
| --- | --- | --- | --- |
| Standard Plan | 1 Month | $45.99 | $45.99 |
| Standard Plan | 3 Months | $31.99 | $95.97 |
| Standard Plan | 6 Months | $22.99 | $137.94 |
| Standard Plan | 12 Months | $18.99 | $227.88 |
| Premium Plan | 1 Month | $50.71 | $50.71 |
| Premium Plan | 3 Months | $34.99 | $104.97 |
| Premium Plan | 6 Months | $24.99 | $149.94 |
| Premium Plan | 12 Months | $19.99 | $239.88 |
Tinder Cost (Over 30)
| Plan | Length | Monthly Cost | Total Cost |
| --- | --- | --- | --- |
| Platinum | 1 month | $39.99 | $29.99 |
| Platinum | 6 month | $20.00 | $89.99 |
| Platinum | 12 month | $12.50 | $119.99 |
| Gold | 1 month | $29.99 | $24.99 |
| Gold | 6 months | $15.00 | $74.99 |
| Gold | 12 months | $10.00 | $99.99 |
| Plus | 1 month | $9.99 | $7.99 |
| Plus | 6 month | $5.00 | $23.99 |
| Plus | 12 month | $3.33 | $31.99 |
Tinder Cost (Under 30)
| Plan | Monthly Cost | Annual Cost | Save |
| --- | --- | --- | --- |
| Tinder Gold 1-month | $14.99 | $14.99 | ~ |
| Tinder Gold 6-months | $8.83 | $52.98 | 41% |
| Tinder Gold 12-months | $6.92 | $83.04 | 54% |
| Tinder Plus 1-month | $4.99 | $4.99 | ~ |
| Tinder Plus 6-months | $3.00 | $18.00 | 37% |
| Tinder Plus 12-months | $2.33 | $27.96 | 53% |
Who Tinder is Best For?
Singles between the ages of 20 and 35 who are looking for fast and casual romance.
Those who want an app they could potentially use for free from start to finish.
Anyone who wants to steer away from pricey dating sites that are filled with people seeking marriages and babies.
Who Match is Best For?
Mature singles who are tired of hookup culture and casual dating sites.
Those who prefer a site to match them based on compatibility and take all the guesswork out of the equation.
Singles who like an easy to follow pricing structure and memberships that include everything they need.