If you've been looking into online dating for any length of time, then we are certain you've come across the names Match and Plenty of Fish. These are a couple big hitters in the online dating world and have been airing television ads for over a decade.
Even when online dating was at the butt end of the media's jokes, these companies stood by their service and continued to grow and offer a pivotal service to millions of people around the world. With such large and confident personas, it can be difficult to determine which app/site is the right one for you.
If you are facing this choice, take a look through our head to head guide where we compare each site's features, price, and general usability. It is the easiest way to find out which app can enhance your dating journey.
Key Differences Between Plenty of Fish and Match
Match has a streamlined matching process that includes using your personality evaluation and preferences to hand select you a small group of users each day.
Plenty of Fish allows you to search through a larger selection of users, but still incorporates your preferences when showing your matches.
Match has very few features and includes messaging in the premium user package.
Plenty of Fish has a wide selection of features. Many of the features are included only in the premium package, but messaging is free.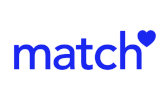 Why Match is Worth a Download
Match is a site that has been impressing the public for over 20 years. Since their creation, Match has reported incredible statistics to support their matching system and how well it works. They claim that 1 in 1,369 dates lead to marriage. When you consider there are over 20 million members on the site, those numbers really blow you away.
One poll shows that 30% of couples that met online met on Match and 42% of interactions on Match end in a date. So, if you have tried online dating before and had little success, perhaps it is time to give Match a try!
Why You Should Try Plenty of Fish
Plenty of Fish (POF) is one of the biggest dating apps in the world. They have over 150 million registered users and have won multiple awards as the top pick for digital dating over the last few years. Launched in 2003, POF isn't quite as established as Match, but has equally as impressive of a following.
Other Great Dating Site Options
For many, neither of these sites seems like all that great of a fit—and that's okay! If that's you, we've included a list of some amazing options that you can try completely free. Take a few minutes and check out some of the best dating apps we've recommended below.
How Match.com Compares with Plenty of Fish – Similarities and Differences
What's the Same
Both POF and Match have the option to narrow your matches based on base compatibility along with your preferences.
Match and Plenty of Fish are both catered to singles who are looking for a long-term, serious romance.
Both sites have a free sign up option with a limited number of features.
What's Different
Match exclusively provides hand-picked matches to their members, which means users have to do very little to find success on the app.
POF provides messaging services to their members for free while Match only allows premium members to utilize the chat function.
Plenty of Fish's paid membership includes a large number of add-on features like ad free, meet me, message status, and more.
Top 3 Match Features
Custom Matches – While you can navigate through matches on your own, Match's biggest feature is that they will show you 5 (sometimes more) matches that are perfect for you each day. If you are using Match for their compatibility algorithm, that number can feel small. However, the goal is to keep dating from feeling overwhelming by giving you too many matches at once.
Reverse Matches – This lets you see a list of matches that are considered incompatible with you. This is a great way to learn to appreciate the matching algorithm but also helps you avoid talking to the wrong matches in the general search area.
Match Phone – Match has provided you a way to have voice calls with your match without having to divulge your personal, private information.
Top 3 Plenty of Fish Features
Chemistry Predictor – POF's answer to Match's compatibility algorithm, the Chemistry Predictor uses your behaviors, personality assessment, and preferences to narrow down local singles to the best options for you.
Meet Me – This area is for singles who are open and willing to meet up quickly. This can be used as a hookup feature, so if you aren't looking for that, beware. However, it is also a great way to meet new people and find a friend to spend time together with on short notice.
Super Yes – A simple feature that tells others you are exceptionally interested. POF claims that using this feature can increase your match rate by nearly 50%!
Plenty of Fish Cost vs. Match Cost
Plenty of Fish Cost
| Membership Type | Membership Length | Monthly Cost | Total Cost |
| --- | --- | --- | --- |
| Premium | 3 months | $20.94 | $62.82 |
| Premium | 6 months | $15.70 | $94.23 |
| Premium | 12 months | $10.47 | $125.64 |
| 1 Token | N/A | N/A | $3.99 |
| 5 Tokens | N/A | N/A | $14.95 |
| 10 Tokens | N/A | N/A | $19.90 |
Match.com Cost
| Membership Type | Membership Length | Membership Cost | Total Overall Cost |
| --- | --- | --- | --- |
| Premium Plan | 3 Months | $34.99 per month | $104.97 total |
| Premium Plan | 6 Months | $24.99 per month | $149.94 total |
| Premium Plan | 12 Months | $19.99 per month | $239.88 total |
| Standard Plan | 3 Months | $31.99 per month | $95.97 total |
| Standard Plan | 6 Months | $22.99 per month | $137.94 total |
| Standard Plan | 12 Months | $18.99 per month | $227.88 total |
Who Match is Best For?
Singles who are looking for the easiest way to find the most compatible singles in their town.
Those who don't mind paying extra for features that have been crafted over more than 20 years.
Anyone who wants a site they can sign up for and search for free before determining if paying for a membership is the right choice.
Who Plenty of Fish is Best For?
Older singles looking for a well-established app. The highest percentage of users are over 40 years old.
Singles who want to be able to message users without signing up for an expensive, premium account.
Anyone that likes having the versatility of being able to search for singles by area, compatibility, or general interest.