Online dating has become a common part of modern Jewish dating. It's no surprise since using a dating app isn't that different from going to a real world matchmaker – a common tradition in the Jewish community.
Because of this popularity, there are many dating sites that specifically target Jewish singles. Two of those sites, JDate and JWed, are the stars of this dating site analysis.
Both sites take their tasks seriously and consistently update their following with information about how many marriages they've created. So, if both sites are leading to successful relationships, which one should you use?
Your dating goals, needs, and desires all play a role in that choice! Read on for our breakdown of the sites and their features so you can determine which option is best for you!
Key Differences Between JDate and JWed
JWed requires users to be of the Jewish faith and you must provide details to prove as much. JDate allows users who are not Jewish so long as they are open to converting.
JDate has two tiers of service, free and premium. JWed has a free tier, a paid "standard" tier, and a paid "plus" tier.
JWed claims to have led to over 3,000 Jewish marriages. JDate claims to have led to 68% of all Jewish weddings since 2008.
JDate has more features available to users than JWed, even at the highest paid tier.
Which is the Best Dating Site for Jewish Singles – JDate vs. JWed
We took a deep look into both sites to determine which is best for Jewish singles. The criteria we considered includes design and functionality, features, and cost.
Design and Functionality – JDate Wins
JDate's site is clean and easy to navigate. The graphics are modern and make you feel like you are using a high end site. JWed was the opposite. The design looks like it hasn't been updated since the days of AIM and Myspace. The site is difficult to navigate and the upgrade section takes reading of the fine print to find a separate page to tell you what you are even paying for.
Features – JDate Wins
JDate has a plethora of features for paid members including a match percentage breakdown, LookBook for swipe-style matching, traditional page views, read receipts, activity log, anonymous browsing, and more. Some of those features are even available to free members.
JWed only has a few simple features like messaging, profile blocking, and a dating coach. All features are hidden behind a paywall except the ability to read messages sent from the highest paying members.
Cost – JWed Wins
JDate's amenities come at a higher price tag than JWed, though there are savings available to those looking to purchase multiple months of membership at a time. JWed's prices at first seem far less expensive, but adding the "plus" option to your account brings the price up to just a few dollars less than JDate.
Overall Winner – JDate
JDate outshines JWed in practically every arena. If you are looking to find a serious relationship with a Jewish single, JDate is the best app for you!
Other Dating Sites Jewish Singles Will Love
We love the niche dating sites available to the Jewish community, but there are dozens of other fantastic dating sites that can offer an equally positive experience.
If you are looking to expand your dating search beyond the Jewish community, take a look at some of these amazing dating sites/apps.
How JDate Compares with JWed – Similarities and Differences
What's the Same
Both JDate and JWed cater to the Jewish community by creating a space that is almost exclusively Jewish singles.
JWed and JDate are both focused on creating marriages, so these apps/sites are not appropriate for those seeking hookups or casual flings.
Both dating sites do a good job of accommodating all varieties of the Jewish religion.
JDate and JWed both employ amazing moderators that work hard to keep the platforms safe from fake accounts, scammers, and bigots.
What's Different
JDate allows users who are not Jewish, but who are willing to convert. JWed has a strict policy that only Jewish singles can sign up. You must include information about your Rabbi or conversion journey to help prove you are of the faith.
JWed has multiple payment tiers with different levels of access to features. JDate only has one paid tier, which includes all amenities available on the platform.
JDate offers a feature known as LookBook, where users can quickly like or dislike profiles for a fun, fast-paced experience.
JWed has profile writing and dating coach options for top paying members.
JDate Cost vs. JWed Cost
JDate Cost
| Membership Type | Membership Length | Membership Cost |
| --- | --- | --- |
| Premium | 6 months | $29.99 per month |
| Premium | 3 months | $44.99 per month |
| Premium | 1 month | $59.99 per month |
JWed Cost
| Membership Type | Membership Length | Monthly Cost | Total Cost |
| --- | --- | --- | --- |
| Premium | 1 month | $24.95 | $24.95 |
| Premium | 3 months | $18.00 | $54.00 |
| Premium | 6 months | $14.95 | $89.70 |
Who JDate is Best For?
Jewish singles looking for a site that has been proven to lead to happy and successful marriages.
Those who are open to converting to Judaism and want to participate in a high end dating experience.
Singles who want a modern dating platform with lots of great features.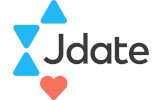 Who JWed is Best For?
Singles who don't want to date anyone who isn't already practicing Judaism.
Those who don't mind a dating site having fewer features or design qualities in exchange for a small monthly savings.
Jewish singles who could benefit from access to a profile writer and dating coach.