Sometimes when we're doing dating app comparisons, it's a real challenge because both apps are good for people with similar relationship goals—sort of like comparing Pepsi and Coke. Is that the case when it comes to eHarmony vs Tinder? Not even close. Each of these dating apps serves such a wildly different purpose and relationship goal. This is more of a, say, Pepsi vs Vodka match up. With that in mind, let's get into it.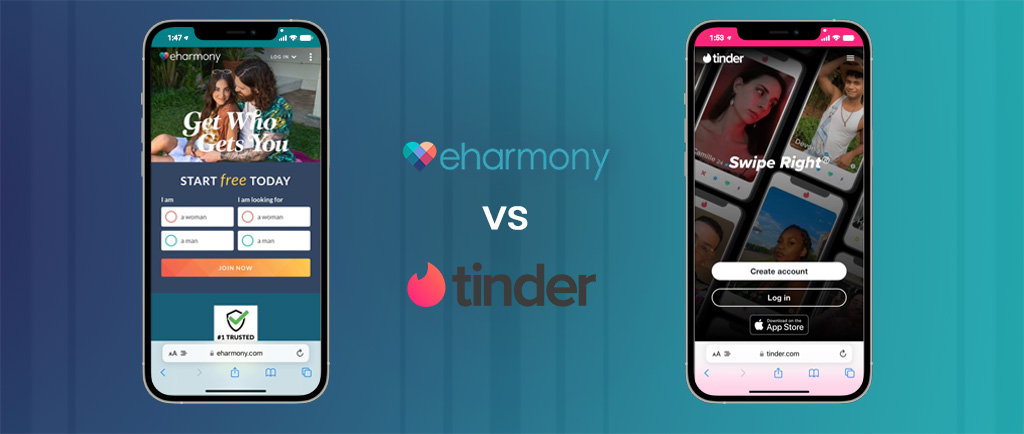 The Full eHarmony vs Tinder Breakdown
There are three main areas we need to look at when comparing eHarmony and Tinder—the goal of each app, the matchmaking processes, and the price differences.
Differing Relationship Goals
The biggest difference between eHarmony and Tinder is the types of relationships they're designed to create. Tinder is designed to help people make fast, location-based connections with other singles who are looking for casual dating or random hookups. eHarmony, on the other hand, is designed to help people make calculated connections with other singles who are looking for committed and lasting relationships.
Period. Hard stop. Yes, we have heard some rare anecdotal stories of people finding real love on Tinder, but in no way, shape, or form should you approach that app looking for that type of a relationship. If you want a real relationship that could lead to commitment of some sort, try eHarmony. If you're looking for casual dating or random hookups, go with Tinder or consider some other casual dating options that might be better.
The Different Matchmaking Processes
The second difference about these two dating apps is how they go about matchmaking, which you'll see goes hand-in-hand with the types of relationships they're known for. Tinder is a swipe-style dating app where you indicate your interest on a bunch of singles within your matching parameters. If one of those singles also swipes to indicate they're interested in you, a mutual match is made, you both are notified, and a chat opens up. Your matching pool is also determined by your exact location using the location services on your phone.
eHarmony, on the other hand, uses a compatibility algorithm to curate best matches for you. No mutual match is needed in order to send a message, and your matches aren't determined by your physical location, but by the home location that you put in on your dating profile.
Because of this, the sign up time on eHarmony is considerably longer than it is on Tinder. Tinder you can be up and running in about 5 minutes whereas eHarmony is probably going to take you 30-45 minutes.
Pricing Comparison
Pricing wise, the initial cost of an eHarmony membership is going to be more than a Tinder membership. However, an eHarmony membership comes with all of the available features, whereas Tinder is filled with a la carte addons that can add up quickly. But, Tinder does come with a little bit of free functionality, so if budget is non-existent, you can at least get some utility there.
Quality wise, both of these apps are great at what they do. The question of eHarmony vs Tinder really isn't about overall quality, but it's more about what your personal relationship goals are.
Who Wins – eHarmony or Tinder?
While picking a winner here might be a moot point because it's like comparing apples to oranges, we still want to do that. For us, the winner is going to be eHarmony, based solely on the concerns we have with swipe-style dating and what it may be doing to your brain. But, if you're not looking for a committed relationship or dating that could lead to that, eHarmony will never be a good fit for you.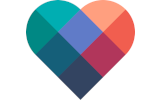 ---
---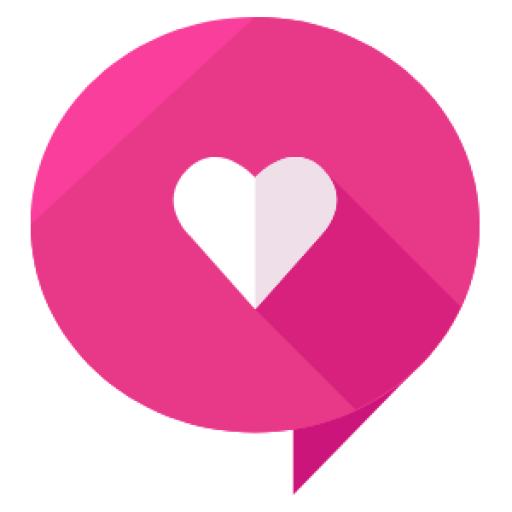 Written By: Healthy Framework Team
The Healthy Framework team has a combined 50+ years of experience in the online dating industry. Collectively, the team has reviewed over 300 dating apps and is known as one of the leaders in the relationship advice and information space. The team's work has been featured on Zoosk, Tinder, The Economist, People Magazine, Parade, Women's Health, Her Campus, Fox, and more.