eHarmony and Match.com are two of the most iconic titans of the online dating industry. Both founded and in operation now for over two decades, each has certainly proven that it brings something special to the proverbial table of digital matchmaking. But, which dating app is better? Is it eHarmony, or is it Match? And even more importantly, which is a better fit for you?
Today, we're going to get to the bottom of the Match vs. eHarmony debate once and for all.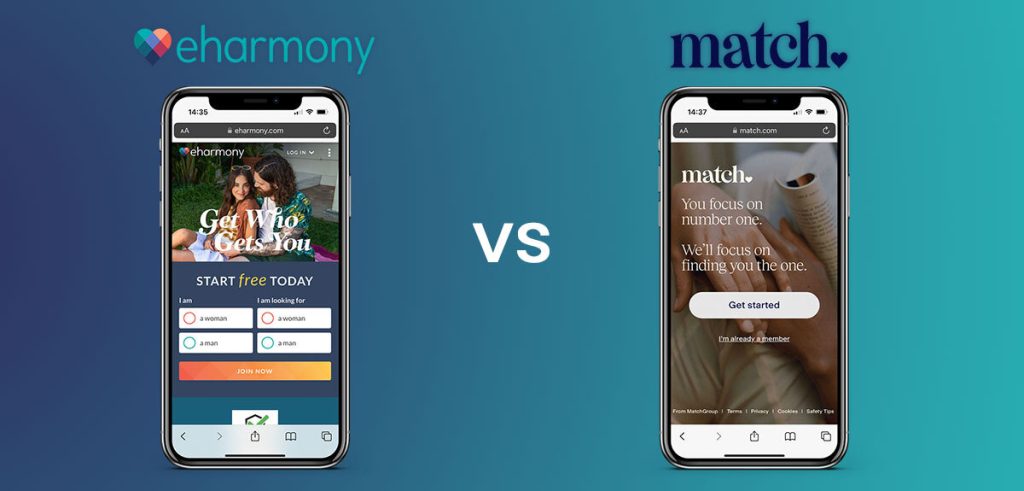 Comparing Match vs. eHarmony – The Bottom Line Upfront
Before we get into our more thorough (bordering on exhaustive) comparison between these two dating apps, we want to provide an upfront synopsis of the most important takeaways. We'll take the biggest pros and cons of eHarmony and compare how they stack up against the biggest pros and cons of Match. We'll share who wins in what categories and what concerns you should be aware of in others. And when it's all said and done, we'll give you our pick for you based on what you're looking for.
Where eHarmony Beats Out Match
The three biggest areas where eHarmony beats out Match.com are features, track record, and in the area of committed relationships. Something that irks us about Match is that it's been the same interface and relatively the same features for a long, long time, whereas eHarmony has rolled out new features and constantly seems to be making improvements to the user interface.
With track record, eHarmony publicly shares that they've helped over 2 million people find love through the platform. Unfortunately, we haven't seen any public declarations from Match abut their success rate, so we have to give the win to eHarmony by default. That being said, if Match did have more impressive results, we think they'd be shouting those from the rooftops?
Finally, one thing we can say definitively is that eHarmony is the optimal choice for someone looking for a serious or committed relationship. You'd be hard pressed to find anyone on eHarmony who isn't committed to the process of finding someone special. This gets "policed" by the more in-depth sign up process, the targeted marketing, and the curated matchmaking process that helps to weed out those who may want to play games or date casually.
It only took us about 10 seconds to find someone looking for something "not so serious" on Match during our last review.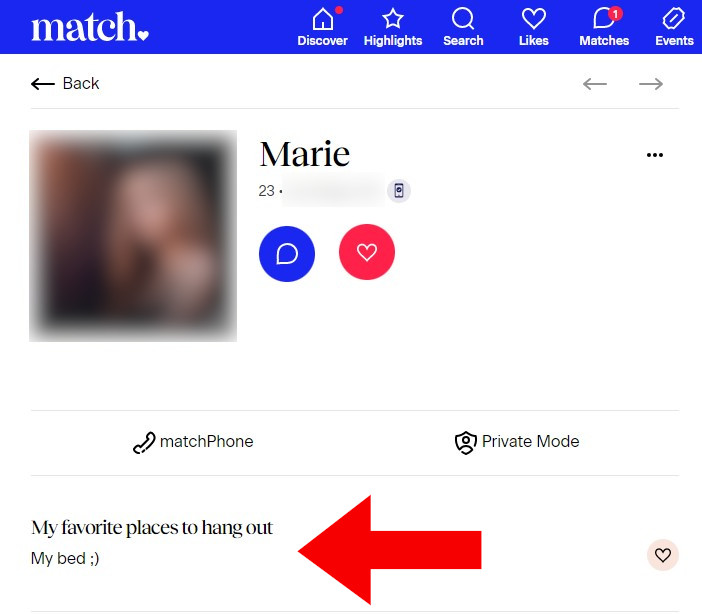 Ultimately, eHarmony wins over Match with their robust suite of features, prominently shared track record of millions of successful couples, and a focus on more committed relationships. If these are things that are important to you, give eHarmony a try.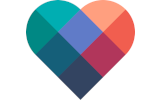 Where Match Shines Over eHarmony
On the other side of the aisle, the three biggest areas where Match.com beats out eHarmony are price, time investment, and a wider range of relationship goals. One of the perks we said about eHarmony was that it does a great job of weeding out people who aren't serious about the dating process. Two of the ways they do this are by charging a higher price for premium memberships and requiring users to commit much more time to the sign up process. While the results of this are welcomed by many, you have to ask yourself if you're okay investing more time and money for better results, or if you'd prefer a less expensive and lower commitment option.
The sign up process for Match.com takes maybe 5-10 minutes to start seeing your matches. On eHarmony, that process can easily take 30-45 minutes as you answer the matching questions they used to feed their matching algorithm. Again, this may be something you prefer as it does deliver high quality matches, but it does take more time.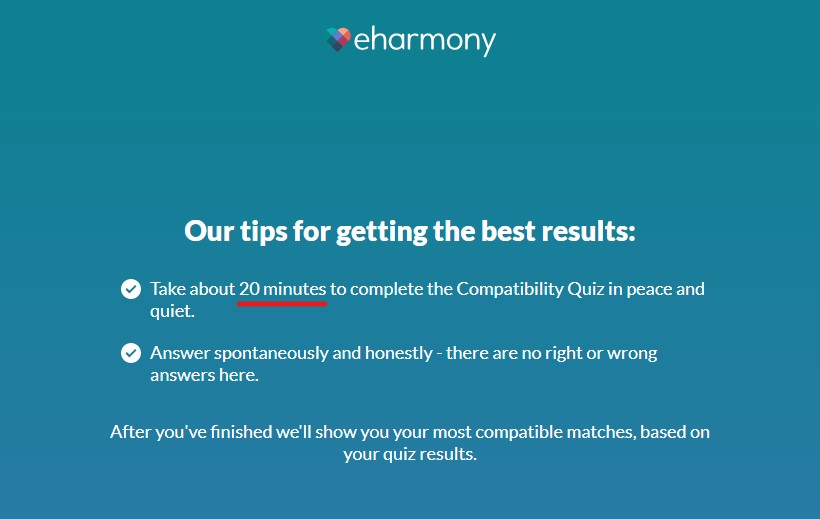 Price wise, a 6 month membership will run you about $22.99 per month at Match.com That same 6-month membership at eHarmony is listed at $69.90 per month. One caveat to point out here is that eHarmony almost always has a 40-50% off deal running for new members (not public, but available through the links provided on this page), which brings that down to around $35-$40 per month. Still, that's nearly double what Match is going to cost you.
Lastly, Match.com is a dating app that can work for people who are looking for something serious, casual, or somewhere in the middle. For many who might not know what they want in a relationship, this is a big win because you can bounce around without having to commit to one thing or the other.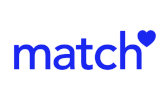 Our Winning Pick – eHarmony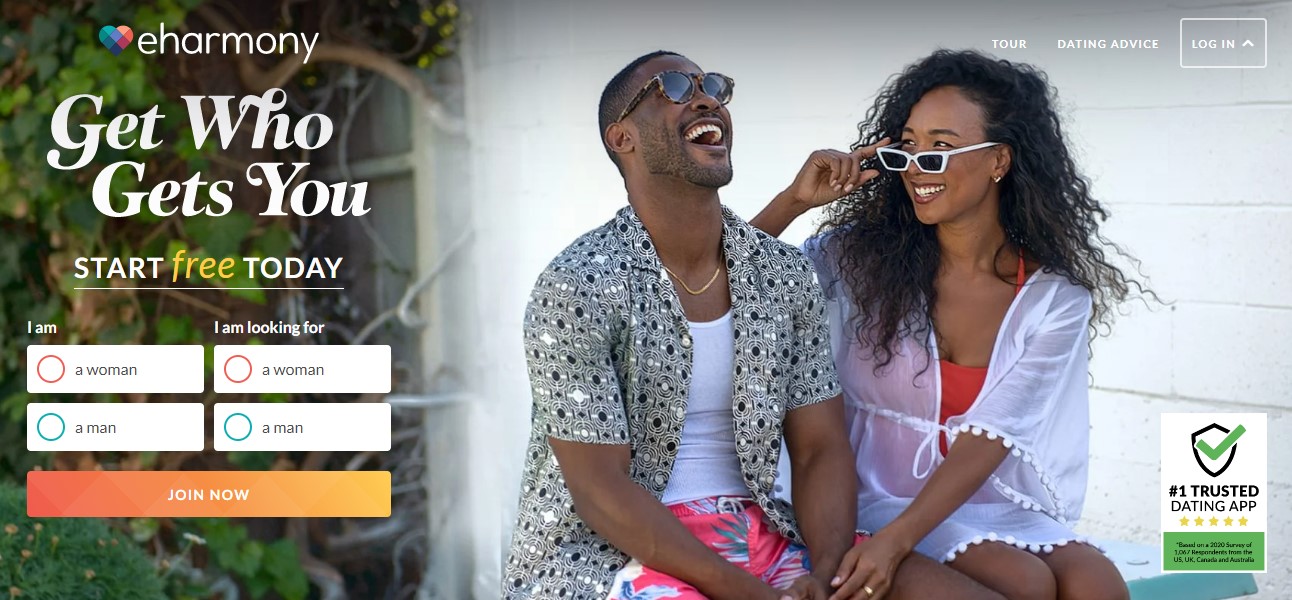 For us, the clear winner in the eHarmony vs. Match debate is eHarmony—under one condition. If you aren't looking for a serious relationship, eHarmony is never under any circumstances going to be the winner for you. If you're looking for something casual, Match definitely beats out eHarmony, but still might not be the best casual dating app option.
The price difference between the two dating apps isn't great for eHarmony when you only look at the actual dollar amounts. However, when you approach it in terms of value, we think the extra money you're paying for eHarmony is worth it for the added features, constant improvements, less flaky userbase, and proven (and displayed) track record of success.
---
A Deeper Comparison of Match and eHarmony
To round out our discussion, we wanted to look at a few more areas of comparison between Match and eHarmony that may be meaningful to you if you haven't been able to make a decision just yet.
Match.com Wins on Price But Not on Value
We briefly touched on this earlier, but wanted to share a few more details about the cost comparison between the two dating apps. In terms of absolute dollars, Match is certainly cheaper. You will pay less money to use Match.com's premium services. However, absolute cost is not the best way to assess the quality of a dating app. Like with anything in life, just because something is cheaper doesn't necessarily mean it's the best option for you (or even the best option overall).
When assessing this category, you have to take a value-based approach and compare the features you get in relation to what you're going to pay. For example, if a dating app is less expensive (like Match is) but it takes you twice as long as four times as many bad dates (that cost money), is it really less expensive? And even if it takes the same amount of time but one brings you a heightened experience with better results, is that worth a few bucks extra—especially with something as important as finding that special someone?
eHarmony Wins on Features Due to Innovation and Ease of Use
The signs of a great dating app are one that continues to innovate and add new features to better the experience for its users. While we have seen a few new features from Match (they just released the ability to like elements of someone's profile in 2023), the constant innovation trophy (if there were one) goes to eHarmony.
Additionally, we feel that eHarmony's profiles are easier to navigate and have a bit less cluttered feel. We've added a few screenshots below for you to compare what they look like. And yes, those are ads on the sidebar of the Match platform (Match lets companies advertise on most of their apps). Not ideal.
eHarmony Profile Screenshot
Match Profile Screenshot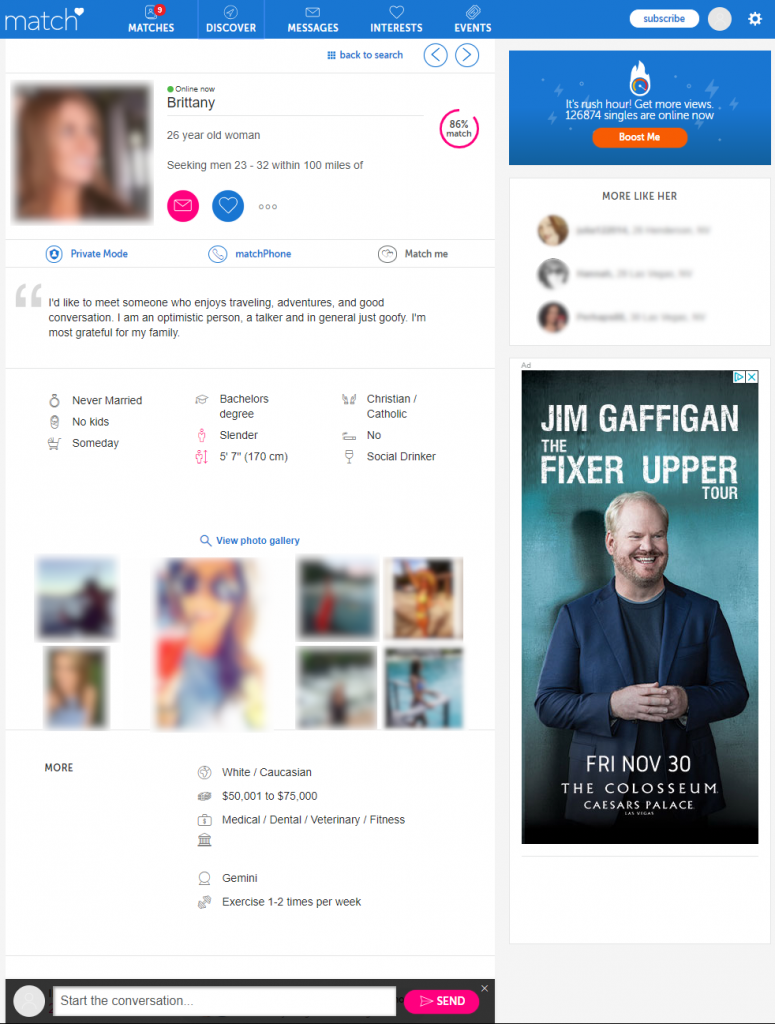 Customer Support is a Dead Heat Between eHarmony and Match
Both dating sites had extensive customer help sections that we would deem industry standard or better (and comparable to each other). With eHarmony, we liked how detailed and extensive the FAQs were and that they offered phone support, but it was more challenging to get in touch with an actual person through the web. Match also had a nice FAQ section and it was easier to find the live chat function than it was at eHarmony.
All in all, we'd call this section a draw, but possibly a slight win to Match.
Match vs eHarmony FAQ
Has eHarmony or Match.com led to more marriages?
Based on all the data we've seen Match has more users, but a lower success rate. The folks at eHarmony aren't shy about reporting that "over 2 million have found love" or that "a new match is made every 14 minutes". Match, on the other hand, hasn't shared any data that we've seen.
Which brand has been around longer – Match or eHarmony?
Both of these brands are elders in the online dating industry, but Match has been around a few years longer:
Match.com launched on April 21, 1995
eHarmony launched on August 22, 2000
Which means Match.com is exactly 5 years, 4 months, and 1 day older than eHarmony.
Are there better dating apps than Match and eHarmony?
A lot of the answer to this question lies in what you're looking for. If you're not looking for something serious or long lasting you're probably not going to be a huge fan or eHarmony or Match. We recommend you check out our full guide to online dating apps to find the perfect one for your needs.
---
---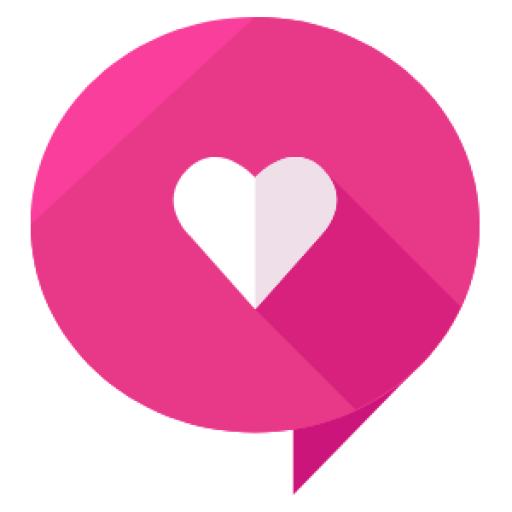 Written By: Healthy Framework Team
The Healthy Framework team has a combined 50+ years of experience in the online dating industry. Collectively, the team has reviewed over 300 dating apps and is known as one of the leaders in the relationship advice and information space. The team's work has been featured on Zoosk, Tinder, The Economist, People Magazine, Parade, Women's Health, Her Campus, Fox, and more.