eHarmony and Hinge are currently two of the most popular dating sites in the United States. They both have huge user bases and rave reviews, so how are you supposed to choose which site is best for you?
Today, we are taking a look at the major differences between these two sites and the stand out features each has to offer. Whether you decide to give both sites a try or only have time for one, we've got all the information you need to choose what's best for your dating journey!
Key Differences Between eHarmony and Hinge
Pricing – Hinge memberships cost as low as $9.99 a month while eHarmony's price tag is higher at $35.90 a month. Hinge is definitely less costly at face value, but this is largely because of the fact that eHarmony tries to make sure their app is catering to only people looking for serious relationships.
Matchmaking – eHarmony uses an algorithmic matching system, Hinge allows you to swipe through all appropriate singles in your area. This is more than just a difference in style. The swipe style approach of Hinge by nature is more appearance driven than compatibility based dating apps like eHarmony. In short, Hinge takes a fast approach to dating and eHarmony wants you to take dating much more slowly.
History – Hinge launched in 2012 and didn't really become popular until 2019. eHarmony on the other hand, launched in 2000, and has been in the online dating scene for over 2 decades. Though there is something exciting about checking out new apps like Hinge, there is also definitely something to be said for the longevity of eHarmony and how they continue to evolve and remain relevant.
Relationship Goals – eHarmony is heavily focused on long-term romance and marriage; Hinge says it is for long-term romance but has a much more casual feel about it. People have found meaningful relationships through both apps, when looking for serious dating, users generally choose eHarmony over Hinge.
Profiles – Hinge has a basic profile for easy viewing, eHarmony has long, in-depth profiles. We find that this suits the goal of each of these sites quite well and gives users exactly what they're looking for with either dating app.
Which of These Dating Sites Is Our Favorite?

eHarmony and Hinge both have their positives and negatives.
eHarmony is a great dating site with personality- based matching that can't be beat. They work hard to make sure matches are paired based on core values and as a result they lead to more long term romances than any other site on the market. They even claim to be responsible for 3% of all modern US marriages!
On the downside, eHarmony is expensive. The process to sign up is lengthy and there is a lot less control on choosing matches. The big focus on personality can take away from the concept of physical attraction, which some users can find bothersome.
Hinge is a fun and youthful dating app that has a huge user base. The site focuses on long-term commitment while offering fast-paced functionality like the hookup sites younger singles are so used to. It is simple to sign up on Hinge and the cost of a premium membership is super affordable!
Hinge also has less of a reputation for longterm romantic success due to being such a young company. Additionally, many users do use Hinge as a hookup site, which negates their overall purpose.
In the end, we think that eHarmony is the better choice of site for those seeking meaningful, long term relationships. But if you are a young, adventurous single, you can't go wrong with either choice!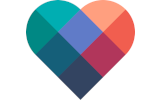 Who Hinge is Best For?
Younger singles with a casual approach to serious dating.
Singles who prefer tinder-like swipe style functionality.
Singles looking for a highly affordable dating app.
Singles who are willing to meet soon after matching.
Who eHarmony is Best For?
Mature singles looking for serious romance.
Those who prefer personality-based matching systems.
Singles who want detailed information on profiles.
Singles over the age of 30 and more established in life.
Hinge Cost vs. eHarmony Cost
eHarmony definitely costs more than Hinge. Not really much debate there. For more detail on this we've broken down the cost of each dating app below, but before we get that we want to encourage you to look at more than just dollar signs when weighing the cost and value of any dating app.
It's important that you understand what both Hinge and eHarmony have to offer their users. Just because you go with the cheaper one doesn't mean you're "saving money" if it's not actually a good fit to help you find the type of relationship you're looking for. That being said, here's the cost breakdown we promised.
eHarmony Cost
| Membership Type | Membership Length | Membership Cost |
| --- | --- | --- |
| Premium Light | 6 Months | $65.90 per month |
| Premium Plus | 12 Months | $45.90 per month |
| Premium Extra | 24 Months | $35.90 per month |
Hinge Cost
| Membership Type | Membership Length | Total Cost | Monthly Cost |
| --- | --- | --- | --- |
| Premium | 1 Month | $34.99 | $34.99 |
| Premium | 3 months | $64.99 | $21.66 monthly |
| Premium | 6 months | $99.99 | $16.66 monthly |
eHarmony's Standout Features
Matching Algorithm
eHarmony's main and most talked about feature is their matching algorithm. This feature is so popular that many other dating sites have taken to trying to replicate it.
When you sign up for eHarmony, you will need to complete a long personality assessment. Your answers help the dating software to determine your core personality traits and values. This is used to compare singles in your area and determine which matches are right for you.
This means that when you are shown matches through eHarmony, you know that you are more likely to get along, have common interests, and have similar outlooks on life.
IceBreakers
IceBreakers are a quick and easy way to start a conversation with your matches. You can send them a pre-written question that gets the conversation flowing easily. This is perfect for singles that are a little rusty or socially awkward. Hinge doesn't have these, so you'd be on your own with the conversation flow.
Additional Search Preferences
Paid members can adjust their search preferences to narrow down your picks based on certain preferences including religion, body type, and more.
Hinge's Standout Features
Unlimited Likes
Hinge Paid Members have access to unlimited likes. This means your dating journey never has to end and you can ensure you are doing all you can to find the perfect match for you. Just remember that liking too many members at once can make it difficult to keep your conversations in order!
Advanced Search Filters
The advanced search filters on Hinge allow you to narrow down the singles in your results to those that match some of your major dating preferences. Want to avoid smokers, overly religious singles, or those of a specific political party? Advanced search filters can do that!
Expanded Search Radius
Willing to travel for a better chance at love? Hinge lets you expand your search radius to see singles from surrounding cities. This is a feature many sites don't offer, but can make all the difference in getting outside of the bubble of singles you've already dated!
Voice Messages
Hinge is all about making real connections and their voice message system is one aspect of that. When you are hearing your matched voice on a regular basis you are more likely to build a real relationship.
Video Prompts
If you are stuck on what to talk about through Hinge's video messaging system, you can use a video prompt. These expertly written prompts are meant to open you up and expand the conversation with your match. This is a great way to improve the overall conversation and deepen connections.