Depending on how plugged into the online dating industry you are and how much experience you have with these two apps, you may think that eHarmony and Bumble are quite similar or you may think they are wildly different. And in reality, both of these are true statements. While they share many similarities, there are quite a few key differences to be aware of.
Today, we're going to dig in to the eHarmony vs. Bumble battle. We'll share the key differences between the apps, what they have in common, and give you our recommendation on which is going to be the best for you.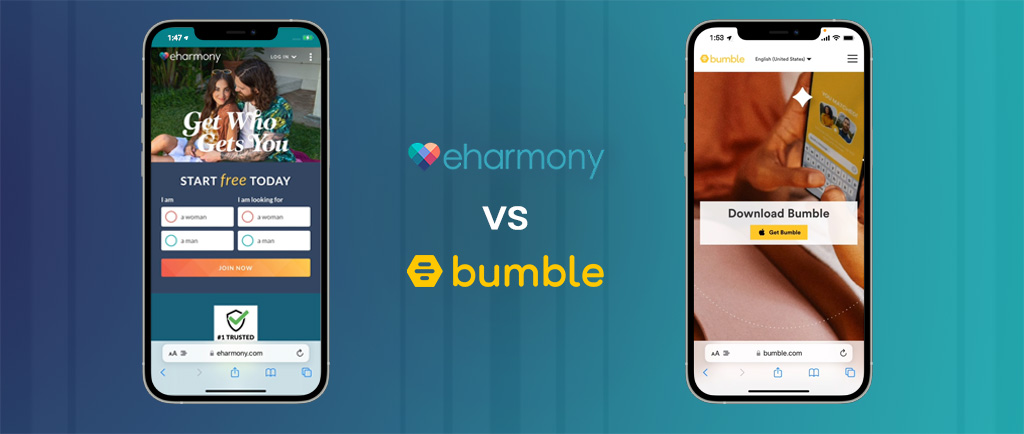 Key Differences Between Bumble and eHarmony
Dating Process – The biggest difference between Bumble and eHarmony is how you meet and match with other singles. Bumble is a swipe-style dating app where you go through a list of quick short profiles to decide who you are interested in. When you're interested, you click a button to indicate that or a button to indicate you're not interested. Other users on Bumble do the same thing, and if there is a mutual match (you both select you like each other), the opportunity for a conversation becomes available (with one catch we will discuss in the next bullet point). With eHarmony, the site leverage a matching algorithm based on questions you answer and then shows you potential matches with more robust profiles. If you see someone you like, you can send a message, even if there are no indications of a mutual interest. It's a much more classic form of online dating.
The Messaging Process – We already mentioned that with Bumble there has to be a mutual match in order for their to get the chance to exchange messages. With eHarmony, if you can see their profile, you can send them a message. But there is one other caveat to point out. Bumble is all about putting the women in the driver's seat. When a mutual match occurs, only the woman can send the first message. If she doesn't send a message in the first 24 hours, the match goes away. Men cannot send the first message on Bumble, but they can on eHarmony. In that sense, Bumble is quite a bit more restrictive.
Location – eHarmony and Bumble are both huge in the U.S., as well as other markets like Canada, the UK, and Australia. Additionally, if you want to meet singles from other countries, you have that option as well. The only real difference with location is that eHarmony tends to work based off of your home location, whereas Bumble can be changed when you are traveling (hence, why it's probably better for casual dating and eHarmony better for real relationships).
Relationship Goals – As we already alluded to, one of the bigger points of the eHarmony vs. Bumble battle is the purpose of the relationship. With eHarmony, it's all about real relationships, long-term, and more serious type relationships. With Bumble, it's going to be a mixed bag of people looking for casual dating, as well as some looking for something more serious.
Quality of Singles – Both dating apps do a pretty great job when it comes to the quality of singles. The real difference here seems to be with the other categories discussed that we'll touch on more in the next section of which option we like best.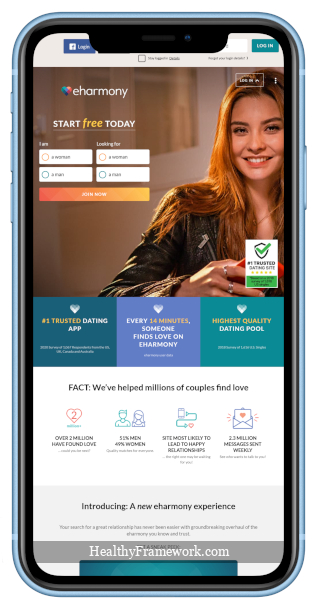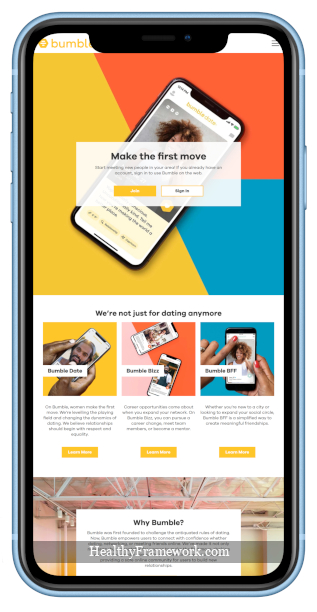 Which of These Dating Sites Is Our Favorite?
eHarmony and Bumble both have a lot of merits.
For eHarmony, it's a top-of-the-line, feature-rich take on classic dating. You won't find many (if any) other dating apps out there with more resources put behind creating a great user experience. And with over 2 million people finding love through the app, it's a winner when it comes to real relationships.
For Bumble, it's a pretty trendy option that really went to shake up the online dating game with the woman-first approach. While some people have said they love that feature, it has been a turn off to some women and men who either want the ability to reach out or don't want to always have to do all the work.
For people looking for serious relationships, eHarmony is the clear winner. If you're looking for something casual, Bumble is the pick, though, there are some other casual dating options we might recommend first.
Overall, we think that anyone looking for meaningful connections should opt for eHarmony! The app is built on the idea that compatibility is the first ingredient to true love. However, if you are just looking for a fling or something requiring less involvement, Bumble is worth a download.
With that all said, eHarmony is our pick as the overall winner of the eHarmony vs. Bumble battle.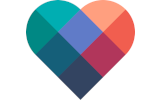 ---
Bumble Cost vs. eHarmony Cost
When it comes to the cost comparison of Bumble vs. eHarmony, there is a lot to unpack. At first glance, you'll see that overall Bumble looks to be a lot cheaper than eHarmony. And while that is correct, it is important to point out a few things. First, Bumble does a lot more "nickel and dime-ing" when it comes to features and perks. With eHarmony, though, you pay one membership fee and get access to everything.
Second, it's important to point out that you shouldn't ever look at cost in terms of just numbers. Yes, eHarmony will probably cost you a few bucks more, but are you getting a lot more features and quality for that? We think so. So, just looking at dollars only, Bumble looks to be less expensive. However, when you toss in the quality of the experience you're getting for what you're paying for, eHarmony is lightyears better.
Keep in mind as well that eHarmony often runs sales where you can save quite a bit on your membership fee. They rarely post these sales to the public, though. They only show them to people who already have a free trial account (like the ones you can get by clicking the links on this page).
eHarmony Cost
| Membership Type | Membership Length | Membership Cost |
| --- | --- | --- |
| Premium Light | 6 Months | $65.90 per month |
| Premium Plus | 12 Months | $45.90 per month |
| Premium Extra | 24 Months | $35.90 per month |
Bumble Cost
| Membership Type | Membership Length | Membership Cost |
| --- | --- | --- |
| Premium | Lifetime | $149.99 |
| Premium | 6 months | $99.99 |
| Premium | 3 months | $59.99 |
| Premium | 1 month | $29.99 |
| Premium | 1 week | $13.99 |
| Premium | 1 day | $3.49 |
| Boost | 6 months | $59.99 |
| Boost | 3 months | $39.99 |
| Boost | 1 month | $18.99 |
| Boost | 1 week | $6.99 |
| Boost | 1 day | $1.99 |
| Spotlights | 1x | $4.99 |
| Spotlights | 5x | $12.99 |
| Spotlights | 15x | $29.99 |
| Spotlights | 30x | $49.99 |
Who eHarmony is Best For?
Mature, established singles looking for love.
Singles who don't mind paying more for better quality results.
Those who aren't interested in hooking up or casual flings.
Singles who want algorithm-based matching.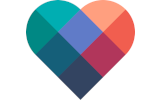 Who Bumble is Best For?
Singles that are only looking for a casual fling.
Those who want a very affordable dating platform.
Singles who want to use their dating app all over the world.
Younger singles that are just getting into online dating.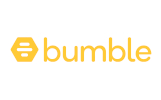 ---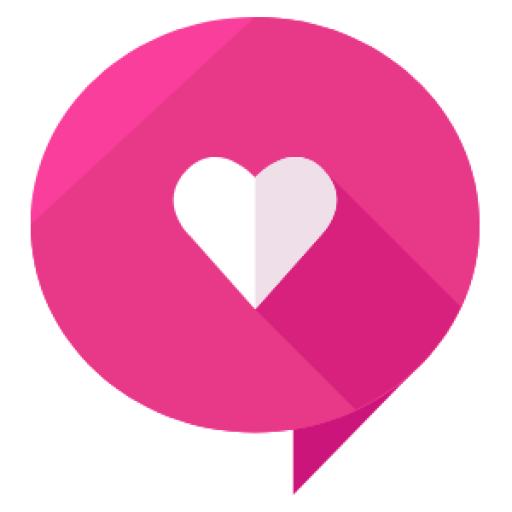 Written By: Healthy Framework Team
The Healthy Framework team has a combined 50+ years of experience in the online dating industry. Collectively, the team has reviewed over 300 dating apps and is known as one of the leaders in the relationship advice and information space. The team's work has been featured on Zoosk, Tinder, The Economist, People Magazine, Parade, Women's Health, Her Campus, Fox, and more.