Hot girl summer was fun and being single is a blast, but eventually the weather gets cold and we are all looking for someone to keep us warm. That's where apps like Bumble and Hinge come into play.
Both sites focus on fast and casual dating, but they approach the process in unique and individual ways.
Bumble takes an approach that gives female users a lot of power and turns the dating industry on its head. Hinge, on the other hand, takes away all the cringe dating app terminology and turns casual dating into an experience that feels a bit more controlled. 
So, if you're trying to settle the debate on Hinge vs. Bumble to figure out which app is the perfect fit for you, you've come to the right place. In this article, we'll look at the key differences between the two, share which option is our favorite, present a few alternatives you may not have heard or thought of, and help you decide once and for all what the best dating app for you truly is.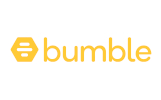 Key Differences Between Bumble and Hinge
Bumble has such an intense focus on women first where women are the only ones who can send the first message after a match.
Hinge has a lengthy sign up process that includes filling in prompts and crafting a long profile. 
Bumble has a specific version of their site that is dedicated to meeting platonic friends, whereas Hinge is only focused on dating.
While user data is not public, it appears that Hinge has a younger userbase than Bumble.
If you're looking for a more in-depth breakdown, keep reading as we'll look at comparing features, costs, and more as we continue our Bumble vs. Hinge debate.
Additional Options to Consider
Neither of these options sound that appealing? Looking for something a little different? Want some apps you can try for free? We got you! Here are a few other online dating apps that come with free trials
Which of These Dating Sites Is Our Favorite?
Picking our favorite from the Hinge vs Bumble debate is a tough one! There's quite a bit to like (and not like) about each option. That being said, let's get into it and give you our answer.
Bumble has a cool and modern approach to feminine safety in the dating market and creates a powerful yet simple shift in the way dating sites work. This has led to a large and active female user base, which in turn makes the app a nicer place for straight male singles.
The downside to Bumble is that the same feature that makes the site safe and fun for straight women and men makes it challenging for gay women and men.
Hinge has the same essential functions of sites like Tinder, but they do so in a way that is more modern, nicer to think about, and simpler to use. We love all the cute terminology that Hinge has to describe features like boosts, likes, super likes, etc.
The issue with Hinge is that as much as they adjust the appearance of the app, it still works similarly enough to sites like Tinder that it attracts some members you may be trying to avoid. The kind that message you disrespectful things and ghost you if you don't send them inappropriate messages or images.
When we take everything into consideration, our determining factor is "who can get good use from the site." If you are looking for an option that gives women more of the control and has a greater emphasis on more serious relationships, Bumble should be the option you go with. If you're looking for something that could be serious or could be casual, Hinge is probably the right pick for you.
And if you really want to try some other unique options, scroll back up to our additional options and check out some of the free trial accounts we've provided for you!
How Bumble Compares with Hinge – Similarities and Differences
In case you're still on the fence, we wanted to share some more information and get deeper into the weeds. The Hinge vs. Bumble debate may be a new one, but it's probably one we're going to see for quite a while from these two dating app giants.
What's the Same
Both sites provide a modern approach to casual dating by upgrading the typical swipe-style app.
Hinge and Bumble are both far more popular with women than sites like Tinder or OKCupid.
Bumble and Hinge are both good sites for making friends or meeting new people without committing to a romantic encounter.
What's Different
Hinge has stepped away from the swiping action and opted for individual match feeds from which you can like and dislike users. 
Bumble only allows female users to initiate messages, which keeps women safe from unsolicited photos, unwanted messages, and general harassment. 
Hinge is open to users of all sexual orientations, which is a feature Bumble struggles to accommodate due to their women-first rule. 
Where Hinge Shines
Hinge has shown a mastery in taking what works about modern dating and changing what doesn't. They know that being able to look through users at a fast pace is what users like, but the aimless swiping makes users feel numb and disconnected.
Instead, they've opted for a three section feature of display matches. The first section shows you users who have already liked your profile – a feature you usually only see on premium accounts. In fact, it is a paid feature on Bumble.
The second section are people that fit your search preferences, the third are specifically chosen matches using Hinge's premium matching algorithm. The entire process makes Hinge a much more useful app for making enjoyable connections.
Where Bumble Shines
Bumble is similar to Hinge in that they focus a lot on making casual dating safe, but they do so by relinquishing the power of messaging to female users. Many users adore the shift in power. Women say they feel more confident in dating on the app and men like that there is less pressure to open conversations.
Of course, being a woman doesn't prevent you from being innapropriate. So there are great reporting functions and vigilant moderation to protect all users, men included, from fake, predatory, or scam accounts.
Bumble Cost vs. Hinge Cost
While looking at features and quality are important, cost is also something to consider when weighing your options. Below, we've included pricing for both options to help you make your decision. Remember, though, just because one option is less expensive does not automatically mean it's a better fit for you. Would you spend a few extra dollars to find the man or woman of your dreams? We'd hope you would!
Bumble Cost
| Membership Type | Membership Length | Membership Cost |
| --- | --- | --- |
| Premium | Lifetime | $149.99 |
| Premium | 6 months | $99.99 |
| Premium | 3 months | $59.99 |
| Premium | 1 month | $29.99 |
| Premium | 1 week | $13.99 |
| Premium | 1 day | $3.49 |
| Boost | 6 months | $59.99 |
| Boost | 3 months | $39.99 |
| Boost | 1 month | $18.99 |
| Boost | 1 week | $6.99 |
| Boost | 1 day | $1.99 |
| Spotlights | 1x | $4.99 |
| Spotlights | 5x | $12.99 |
| Spotlights | 15x | $29.99 |
| Spotlights | 30x | $49.99 |
Hinge Cost
| Membership Type | Membership Length | Total Cost | Monthly Cost |
| --- | --- | --- | --- |
| Premium | 1 Month | $34.99 | $34.99 |
| Premium | 3 months | $64.99 | $21.66 monthly |
| Premium | 6 months | $99.99 | $16.66 monthly |
Who Bumble is Best For?
Women who have had bad experiences on other casual dating sites and are looking for more protection.
Men who feel overwhelmed by the prospect of having to initiate messages and come up with ice breakers while dating online.
Anyone who wants the flexibility to find friends, casual flings, or longterm romance all in one place.
Who Hinge is Best For?
Singles of all sexual orientations who want to find love with the most modern approach.
Those who want to deviate from swiping right and left and find a better way to view local singles.
Anyone who wants premium level features available for free.