Dating? Auctions? What's Your Price? If you're equal parts confused and excited and want to know more, you're right where you should be.
In this What's Your Price review, we're going to answer the million and one questions you probably have. How does What's Your Price work? Is it legit? What kind of a dating site is it? Is it safe? Is it worth it?
We'll give you all the information, explanation, and resources you need to determine if this is going to be a good fit for you.
Whats Your Price is a unique app that operates somewhere between the worlds of casual and sugar dating. We're going to say up front that the somewhat taboo, auction style dating experience offered by this app isn't going to be a fit for everyone. For that reason we've included a couple links below that you can click to compare some alternatives to What's Your Price for both casual and sugar dating (that may better fit your style and relationship goals).
Is What's Your Price Worth It? – The Bottom Line Up Front
Generally, we start these sections of our reviews with our findings on whether or not a dating site is legit. However, in this situation, we think it's more important to start by explaining exactly how WYP works and then sharing our review findings.
How What's Your Price Works
Here's the premise. Women put a lot of work into getting ready for dates. They have to purchase makeup, nice clothes, get their hair done, keep things tight at the gym…they put a lot of time, money, and effort into looking good for the men. What's Your Price feels that these ladies should be compensated for their efforts. This is where the auction side of things comes in. Men (and yes this can go in reverse) are able to send offers for first dates.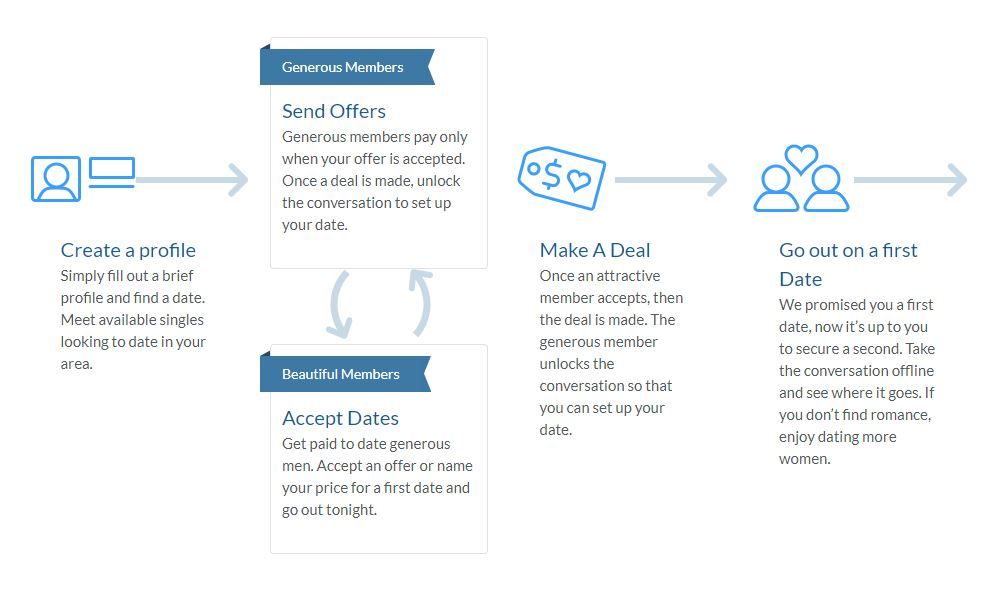 What's an offer? A What's Your Price offer is an agreement to pay for the woman's time on your date. Sound like an escort? While it's similar (at least in our opinion), the owners of the site say it's nowhere close.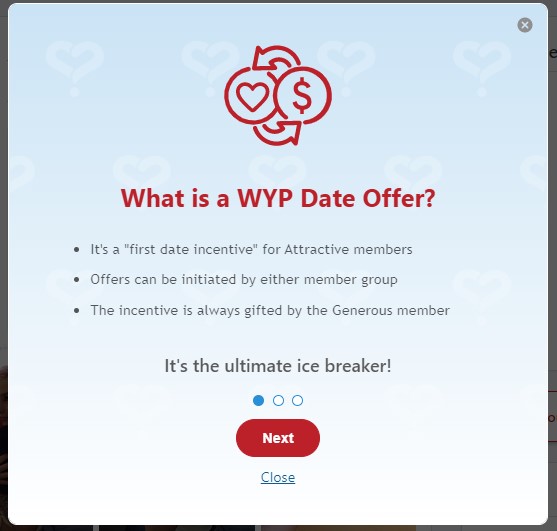 They say that it allows the men to get to the front of the line and let the women know they're taking the date seriously. It allows them to prove their value and commitment from day one. In the old days, men would bring offerings to the father's of women to try and get a date. According to them, What's Your Price is just throwing it back to the old school.
Our WYP Review Findings
Now that you understand how the process works, let's talk about our review findings. Overall, we scored What's Your Price an 8.5 out of 10 possible points. The strongest score came in the category of quality matches as WYP has plenty of men and women who were truly interested in this format of dating.
The weakest score came in the area of cost, mainly because this format of dating can get expensive. The site itself is quite affordable, but you do have to factor in the fact that you're going to also be paying to go on the date and paying for the date if you're the one making the offer. If you're the one going on the date, it's a heck of a good deal.
All in all, What's Your Price is definitely a unique spin on dating that will be great for some people and a complete miss for others. It really all depends on what you're looking for.
And just to address the elephant in the room, there are some people that claim What's Your Price is quite similar to an escort service. To our team of reviewers, the feelings on this were mixed. Some of our team thought that's exactly what it sounded like where some of our team agreed with the What's Your Price staff that it's just a more direct form of dating that fixes a lot of the common problems with the system.
Regardless of that, though, if it sounds intriguing to you, WYP nails it on the concept. We highly encourage you to check things out for yourself through the free sign up link we've provided below. That's the best way to see if this style of matchmaking is a good fit for you.
---
Overall What's Your Price Rating
| Category | Score |
| --- | --- |
| Quality Matches | 9.0/10.0 |
| Features | 8.0/10.0 |
| Ease of Use | 8.0/10.0 |
| Support | 8.5/10.0 |
| Cost | 7.5/10.0 |
| Overall | 8.5/10.0 |
8.5/10.0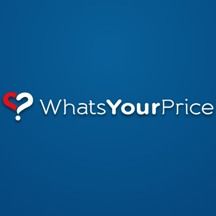 Pros and Cons of the What's Your Price Dating App
Pros
A wildly unique approach to fixing modern problems with dating
Minimal chance of ever being ghosted for a date
No subscription fees; pay as you go
47 million+ date offers sent (8 million+ accepted)
Cons
Fairly new concept that may be tough to understand
May carry a stigma some people don't like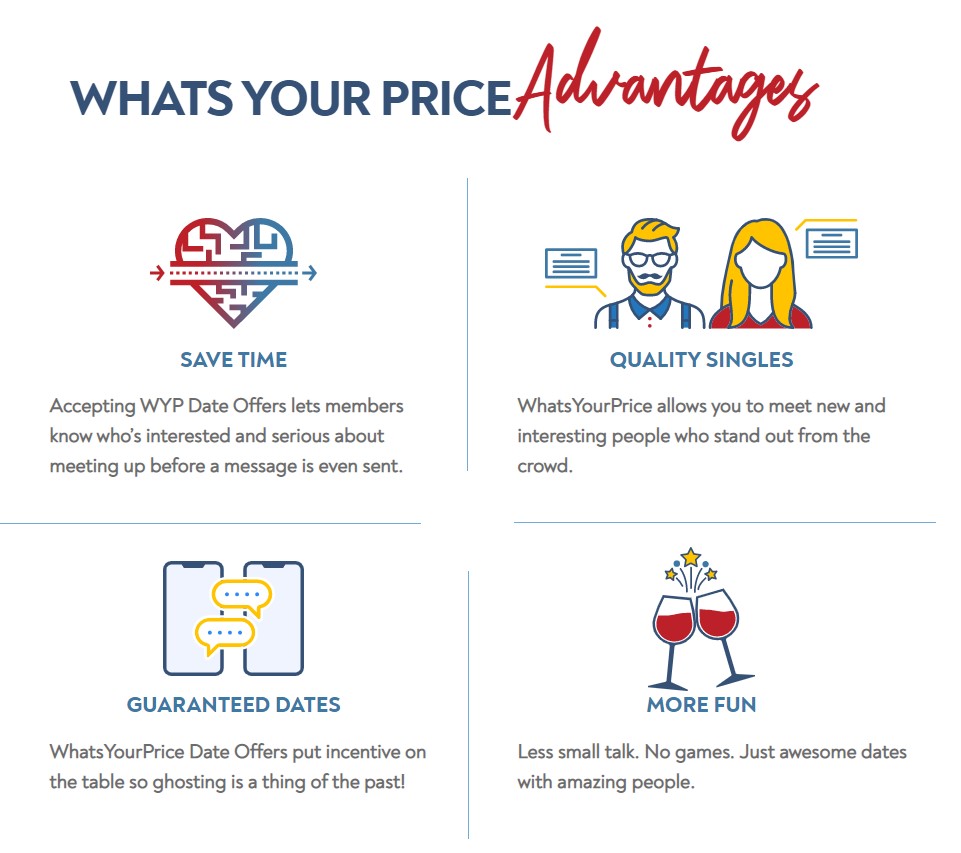 Who What's Your Price Is Good For
People who want to try a unique spin on the dating process
People who would like to limit ghosting in exchange for a monetary investment
Who What's Your Price Might Not Be Best For
People who are worried what others might think about how you met
People who prefer a more traditional style of dating
What's Your Price Review – Table of Contents
What is What's Your Price?
What's Your Price is an online dating site that utilizes a bidding-style process to facilitate dates between two groups of members—attractive members and generous members. While not short on controversy, WYP facilitates incentives (in the form of payment) for attractive members in exchange for going on dates. In layman's terms, generous members (usually men) make an offer to pay an attractive member (usually a woman) in exchange for their time going on a date.
Site Name: What's Your Price, whatsyourprice.com, WYP
Paid or Free: Free, no subscription. Only pay when a deal is made with a match
Average Sign Up Time: Less than 30 seconds for bidders to get to list of singles, 5 minutes for those being bid on
Paid Membership Pricing: No subscription fee, you only pay when a deal is made
What's Your Price Features Overview
While the entire concept of What's Your Price is a lot to wrap your head around, the site doesn't compound that by bombarding you with a lot of unnecessary features. Here's a quick look at the features we found during our recent review that we felt were worth mentioning.
User Profiles
Overall, the WYP profiles are quite straightforward, simple, and not over the top. On each, you'll have the ability to fill out your basic information, a few short answer questions, add some photos (public and private), and select the type of relationship you're looking for (labeled as "Interests"). The six options for interested include dating, friendship, long-term, discreet affairs, casual dating, and mentorship.
We actually expected everyone on the site to just check all the boxes, but we were pleasantly surprised to see that people only checked what they were interested in. The profiles that seemed a little money-hungry usually only had sugar dating checked. The more down to Earth profiles that were looking for a little more than just a transaction had the other options checked.
In the center of the page, you'll see the sections where they tell you a little about themselves and what their ideal first date looks like. You'll notice that unlike a lot of other online dating sites, they don't have a million questions. These were the only two questions they had, and it was nice to see. This means it's not going to take you nine years to finish filling out your profile and get to dating.
Review wise, we like the profiles at WYP. There's no need to overcomplicate this aspect of online dating like a lot of more progressive apps do. And it's also nice that there are public and private photo options, so you can decide who gets to see which photos. Here's a screenshot of what the profiles look like at What's Your Price. Yes, we blurred out the pictures and the person's information for privacy but you'll see all of that and more when you go to the site (and without having to pay)
The Bidding Process
To reiterate, the bidding process is the heart and soul of the What's Your Price matchmaking process. The way this feature works is quite simple.
The bidder sees someone they like. They make a bid for a certain dollar amount to secure a date.
The person receiving the bid gets the bid and can Approve, Decline, or Counter.
Once an offer is accepted, the bidder can use some of their credits to unlock the conversation with the other person (this is how the site makes its money).
Once the conversation is unlocked, it is up to the two people to arrange the date and how payment will take place. All date payments are handled separately from WYP without them involved at all.
ID Verification
One neat feature we saw during our review of the What's Your Price app was the ability to verify your identity by sending in a copy of your ID. When you complete this, you get a badge on your profile that lets other users know you're not a fake account and you're serious about meeting up.
The Search Function
The one thing that we liked about the search function at What's Your Price is they eliminated the "unnecessary clicks" that other dating sites sometimes make you do. Normally you have to click on the search button to go to the search page, select your options or select a saved search and then click to search. Only then will you see your options.
The thing is this. How often are your options you want going to change? Probably not that often. When you click the search icon, it automatically searches for your normal search. If you want to change anything, you can flick the filters button and get that all squared away. This set up is much better in our opinion. Here are the different search options that you have with What's Your Price.
Dark Mode
The last feature we want to give WYP props for during our review is that they have the option of Dark Mode. This is a quick setting that reverses the colors on your screen so everything looks dark and is a lot less taxing on your eyes. It's a feature that a lot of people might not care about but for people that spend all day on a phone or computer, it's a nice touch.
The Quality of Singles at What's Your Price
Always the number one question when looking at a new online dating site is whether or not the singles on there are quality…as it should be. There's no point in joining What's Your Price or any dating site if they have garbage matches that aren't worth your time.
Here's what we found. For the fellas, there is no shortage of hot women on this site. We checked in a lot of different cities with our searches and let's say the whole search was pretty easy on the eyes. From reading through some of the profiles, we did see that there were some women who looked to be money-hungry, but there were also a lot of women that seemed to be interested in potentially finding more than just a quick buck.
We expected this but we were pleased with the number of women that were looking for more than just a sugar daddy/baby relationship. There were plenty looking for dating and long-term as well. Regarding men ready to pay for dates, as you might expect there was no shortage.
From talking with some of the girls that have used the site before we found that there is a healthy mix of quality on the site. Some of the men are great, successful men who are willing to put out a few bucks to get a first date with a pretty lady.
There were also reports of some guys looking to low-ball and offering like $5 for a date. While this isn't an issue for the right guy, it goes against what the site is trying to accomplish. It's hard to show you're serious if you're only willing to commit $5. That being said, there were plenty of men who understood the culture of the site and were willing to compensate accordingly.
Overall, we were pleased with the quality of matches and singles we saw during our What's Your Price reviews. If you're looking for a sugar daddy/baby type relationship or looking for something a little more, you're going to be covered at What's Your Price.
How to Sign Up at What's Your Price
Here's what you can expect when signing up at What's Your Price.
For Bidders (People who want to pay for the dates)
We can say confidently that we have not seen a faster sign-up process before in our entire careers of reviewing online dating sites. And no, we aren't just saying that. You put in your name, gender, what you're looking for, your email and your location and click join and then you're immediately taken to your member dashboard and staring down a ton of match options.
For Those Being Bid On (People who want to be paid for dates)
If you're someone that is interested in being bid on, What's Your Price does require that you fill out the basics of your profile before you start looking around. They will take you to the upload photo page, but you can click the main logo at the top of the page and bypass that for now if you'd like to. This realistically only took us about two minutes to fill out, but we put five minutes in case you're a little slower filling out your basic information.
For Everyone
The one thing you will notice about the sign-up process is that you'll need to complete three things before you can start making bids or accepting bids.
Verify Your E-mail Address
Complete Your Profile
Load a Picture (and get it approved)
You have to complete these three things before they unleash you out into the world. You'll notice in the last step that it says you have to upload a picture AND get it approved. What's Your Price does this to cut down on fraud and fake accounts. It takes them usually less than 24 hours to confirm your photo, but during busier times it can take up to 48 hours. While we wish we could dive right in, it's nice to know they're looking out for fraud and policing the accounts.
You'll see this until they approve it on the left-hand side of your profile.
Remember, though, this is just to be able to actually bid. To see profiles, you don't have to go through all of this just yet. If you'd like to get signed up now, use the link below and you'll be set up with a free sign up account automatically.
WhatsYourPrice Free Trial Review
So, in the last section you learned how to sign up and take advantage of the WhatsYourPrice free trial (and rest assured we won't be rehashing any of that here). In this section we'll be reviewing what you do and don't get when you sign up for a WhatsYourPrice free trial account.
Remember – This dating site's membership is quick to sign up for and completely free. They don't ask for credit card information until you're ready to bid on a single you want to meet.
What You Get With Your WhatsYourPrice Free Trial
The WhatsYourPrice Free Trial lets you into the fun bidding party to look around and begin searching for your next partner.
Profiles have room for a lot of information and photos, so you can show off your unique personality.
Free trial members can favorite the singles they like and once your profile is approved, you can start bidding on the singles you want to meet.
What You Don't Get
With any membership on WhatsYourPrice, you've got to spend money to get someone on a first date with you.
This site doesn't have messaging or chatting like other dating sites do – making a bid opens up the ability to message, but only that one person.
The WhatsYourPrice Free Trial membership lasts as long as you'd like to stay at that level – but with 3 million members, we're sure you'll find someone!
Price | How Much Does What's Your Price Cost?
Most of you reading this What's Your Price review probably skipped to this section, and we totally get that. With such a new concept like this, it can be confusing to understand how it all works. Let's break it down for you.
First, there are no subscription fees. Joining the site is 100% free, and there is no monthly fee. If you're interested in making date offers, though, you'll need to purchase credits. When a date offer is accepted, you use some of your credits to unlock the ability to chat with your match. This is basically how the site gets paid. Hopefully, you weren't expecting them to be running this site without any plans of making money.
Credits are bought in packs of three different amounts (see exact costs below).
| Message Credits | Cost | Price Breakdown |
| --- | --- | --- |
| 100 credits | $50 | $0.50 per credit |
| 500 credits | $150 | $0.30 per credit |
| 1000 credits | $250 | $0.25 per credit |
Paying For the Dates
So, how does this part all work? You aren't paying a membership fee, but you are bidding on dates. What happens when a date is accepted? Well, the money that you bid is NOT for being used on the date. That money goes to the girl you're going on the date with. You are also expected to be the one picking up the tab for the date as well.
The transfer of money does not take place over the website but is done in person. What the site recommends is that you give half of the money up front and the second half on the back end when the date is over. This makes sure that you don't get stiffed and that your date doesn't just run away. Additionally, if a date or bidder does not live up to their bargain, you can report them to the site, and they will be instantly banned from the site. Most people aren't going to want to end their time on What's Your Price, so they'll stick to the arrangement.
So, how much does a date usually cost? Well, from what we gather anywhere between $50 and $200 is normal. The average as said by the site themselves is usually around $120. We've also seen that if someone wants more for a date, they're usually just about the money and might not be someone you should pursue unless that's the sort of transaction you're looking for.
Basically, you don't have to pay for anything until you get ready to set up your first date. You'll pay some credits to What's Your Price, and then you'll end up paying for whatever you agree upon with your date. If you're someone being bid on, you'll pay nada 🙂
If you're ready to check things out for yourself (for free), click the link below and get ready to experience something like you've never seen before in the online dating world.
Customer Support Options
The customer support at What's Your Price is fairly standard. Fairly standard for us means good, not great, but sufficient. They have a nicely laid out FAQ section and a support ticket function. We really would like to see them add some way to get instant help like a live chat function or phone support. While a lot of online dating sites don't have either, we think in this day and age we're going to start viewing it as something necessary.
Overall, though, the support is more than sufficient. You shouldn't really need immediate help with anything. It's good to know their FAQ section is well thought out and planned out and that they have a support ticket system in place for you to use.
---
What's Your Price FAQ
What is the success rate of What's Your Price?
According to What's Your Price, there are 47 million date offers sent with 8 million accepted . This would be about a 17% success rate on each offer. That means that if you were to send about five date offers, you would statistically land one date. And if you sent 10 date offers, you'd most likely land at least 2.
How long does What's Your Price take to work?
With over 47 million bids placed already, What's Your Price works faster to the first date than many other sites. While chatting and flirting may be fun online – this online dating site skips right to the first date and then secures it with a real monetary bid. So, What's Your Price works as fast as you can place your first bid on a hottie of your choice.
Does What's Your Price have fake profiles?
Fake profiles seem to be very limited on What's Your Price. Anyone who is inactive gets wiped from the site after a certain period of time. And trolls can be reported to the site admins with a single click. The members on this dating site appear to be active – you can view if someone's online by a little green circle icon and you can also rank your searches by who was most recently logged in.
Can I get my money back if I am not satisfied with What's Your Price?
On What's Your Price, "generous" members purchase credits to message and set up first dates with attractive members. Once you've purchased credits you will not be able to get any money back, even if you're not satisfied with your account. What's Your Price is free for attractive members to use.
Can you cancel What's Your Price after a month?
There really is no subscription term to these accounts. Once you purchase your credits, as a generous member, you won't be able to get a refund back. Accounts last indefinitely until you're marked as inactive and removed from the active search. So yes you can cancel after one month by removing your account or you could just stop using it.
Does What's Your Price have a free trial?
This is where What's Your Price is really exciting – there is no official free trial account because you don't need one. This dating site is all about the bidding process between generous members and attractive members. You bid for the first date before ever starting a conversation, which by What's Your Price's proven system makes the first date a sure thing. The generous member gets their date and the attractive member gets compensated for their time getting ready for the date.
How much is a one-month subscription to What's Your Price?
This site's proven matchmaking strategy focuses on the bidding for a first date by the generous member. No formal subscription is needed for this site – but generous members do purchase credits to be able to bid on and message the attractive singles. Credits take a long time to expire – so there's no time limit or subscription to worry about.
Is What's Your Price dating site free?
Yes, both generous member accounts and attractive member accounts are free on What's Your Price. Attractive members actually get paid to go on first dates with the generous, successful members on the site. The only cost is for generous members to purchase credits, which they use to message and set up first dates with.
Does What's Your Price have an app?
Unfortunately What's Your Price does not have a mobile app. You can use their website in your mobile browser with no problem. Just navigate to the What's Your Price website and then log-in like usual. You should have no problem scrolling profiles, viewing your bids, or responding to messages from the browser while on a mobile device.
Does What's Your Price still exist?
This online dating site is one that's been around for over 20 years and it still has an active, growing membership. One reason for What's Your Price's continued success is because it has a focused matchmaking process based on bidding that gives a solid incentive to make the first date happen. With over 4 million offers made by over 3 million members – members keep coming back to use What's Your Price's novel dating system.
Does What's Your Price really work?
With What's Your Price's novel approach to dating, this auction type dating site brings together beautiful singles with generous members that may not have met in real life without the help of this site. What's Your Price really works with their first date bidding process. Every first date is secured with a monetary bid, which compensates the attractive member for their time and to get prepped for the date.
How long has What's Your Price been around?
For over 20 years, What's Your Price has been matching the most successful generous members with the most fun and attractive singles from across the U.S. This site has helped many couples meet and they're not going anywhere soon – members are active in making bids and sign-on frequently.