If your time and getting real results are important to you in your search for love (and they should be), you may be considering enlisting the help of a professional. While many people start by turning to dating apps (and some have good luck), others quickly realize that dating apps still require considerable effort and may still feel like an uphill battle.
Enter Three Day Rule. Three Day Rule is a professional matchmaking company offering to do the work for you. Named after a popular dating rule cliché, this professional matchmaking company gives you the chance to work one-on-one with a professional matchmaker (a real person) to find the man or woman of your dreams.
We can hear your questions from here. Is Three Day Rule worth it for me? How good are they at what they do? How does TDR work? Is this the same Three Day Rule I saw on Shark Tank (Spoiler: it is!)?
In this Three Day Rule review, we're going to dive headfirst into all of these questions and more. By the time we get done today, you'll know definitively whether it's a great fit for your relationship needs or not.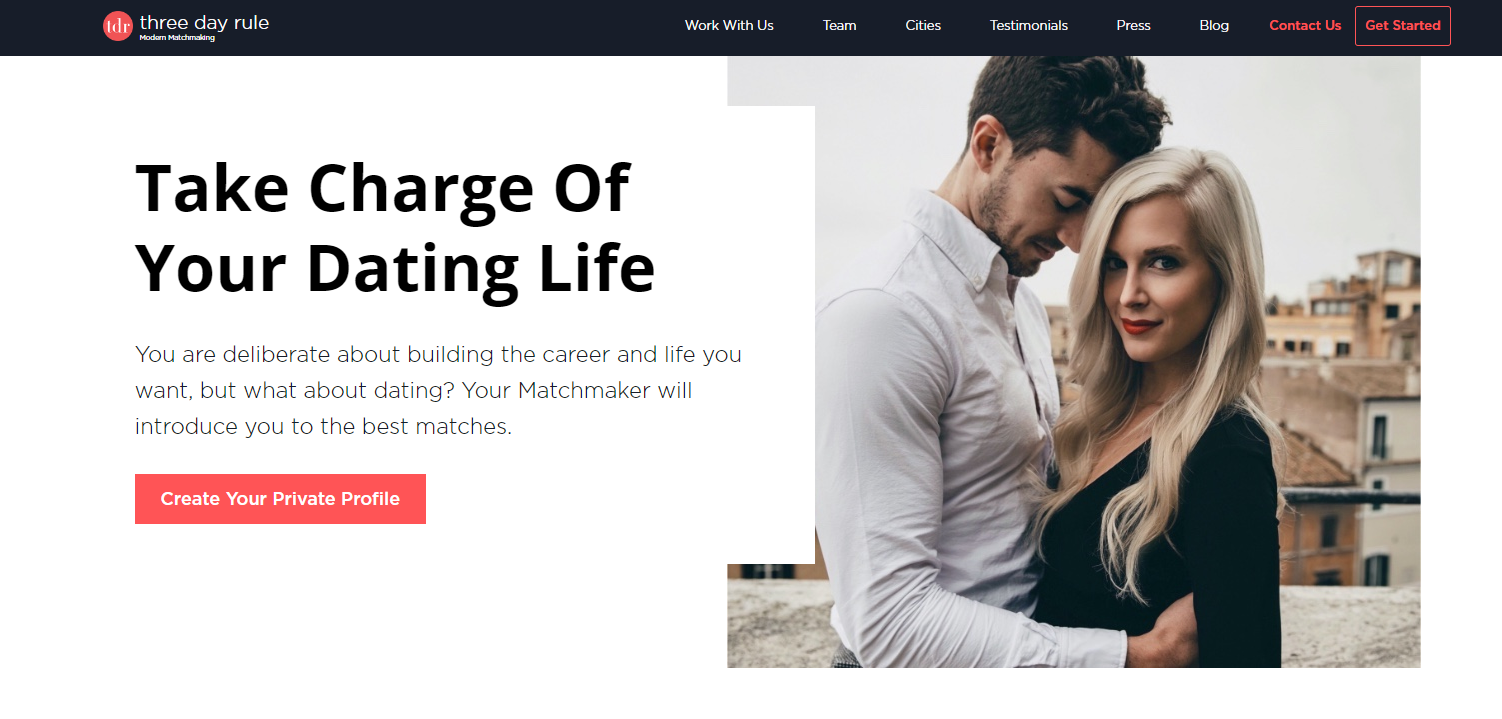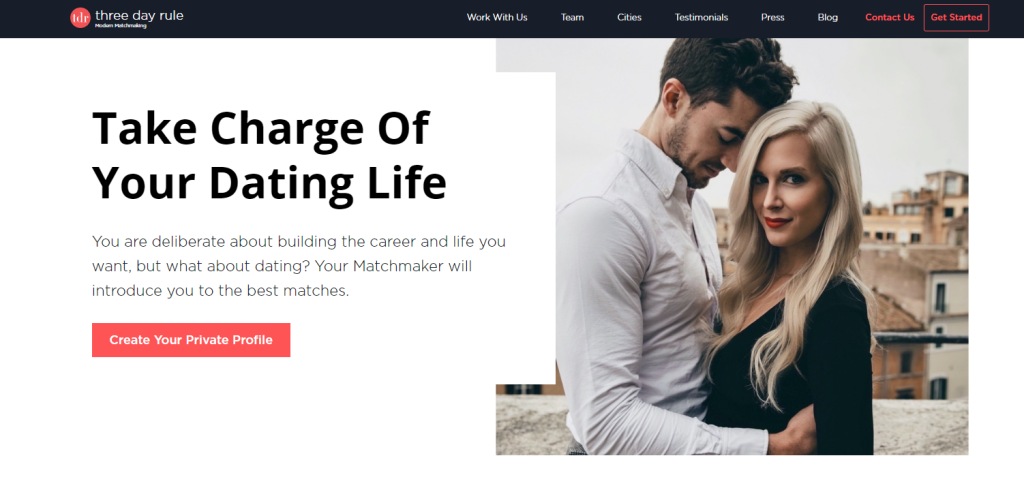 Overall Three Day Rule Rating
| Category | Score |
| --- | --- |
| Quality Matches | 9.0/10 |
| Features | 9.5/10 |
| Ease of Use | 9.0/10 |
| Support | 9.5/10 |
| Cost | 8.5/10 |
| Overall Score | 9.2/10 |
9.2/10.0
Three Day Rule – The Bottom Line Up Front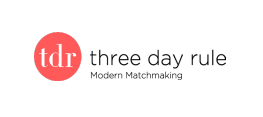 When it comes to professional matchmakers, there are quite a few options out there. Unfortunately, most of them have shown struggles living up to their commitments to deliver quality matches and justifying their higher price tags. If you need an example, just take a minute to read about the legal troubles of matchmaker It's Just Lunch.
Is it the same story with Three Day Rule? Thank the heavens no. In fact, Three Day Rule looks to be a breath of fresh air in an industry crowded with pretenders. Let's get into it.
First, let's get something out of the way upfront. Three Day Rule may be less expensive than most other matchmaking companies (especially when you factor in all the value you get), but it is by no means inexpensive. Memberships start at $5,900 and go up from there for higher levels of service. When you look at companies like Tawkify where pricing can be as high as $70,000, though, TDR's pricing seems way more down to Earth.
If that price point is worth the investment to you and within your wheelhouse, stick around as we're about to tell you everything you get with that. If it's not, you may want to consider checking out a leading dating app that uses automated matchmaking at a much lower price point.
The first thing we really liked during our review of Three Day Rule was the added amenities to support your journey that are included for free in every package. These include things like a free professional photo session to help you get some amazing pictures and free professional dating coaching to help you get a leg up on the competition. These are invaluable perks no matter where you're at in your search for love.
Second, we were big fans of the attention to detail Three Day Rule provides when looking for matches. They do things like have you send in photos of people you find attractive to curate stronger matches, really get to know the core of who you are and what you want, determine your six most important non-negotiables (and respect those choices), and vet all of your matches face-to-face before they send them to you.
Is Three Day Rule worth the higher price tag? We think so. If it's in the budget and finding that special someone is truly important, this is a phenomenal next step. Company Founder Talia Goldstein says it best, "You are deliberate about building the career and life you want, but have you put that same drive and ambition into dating?"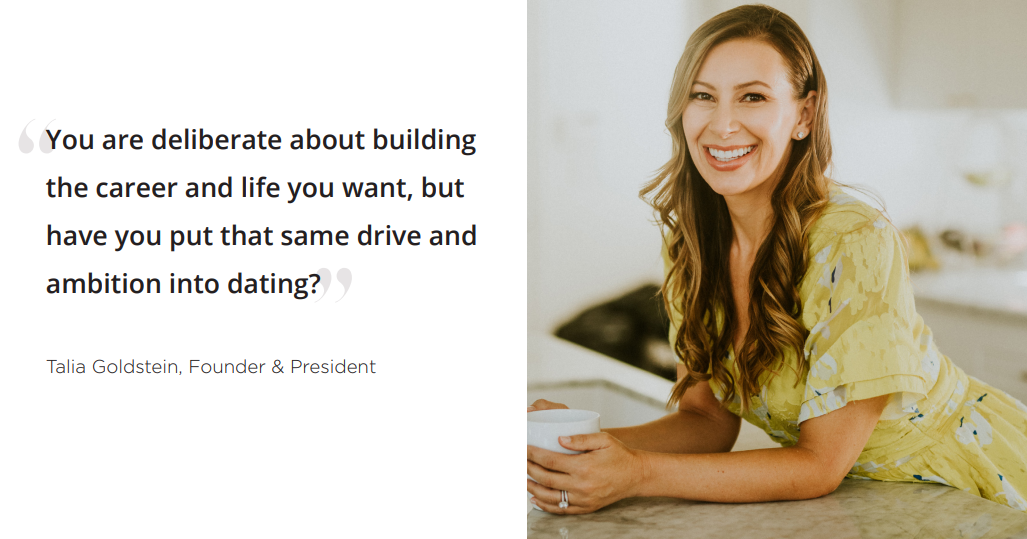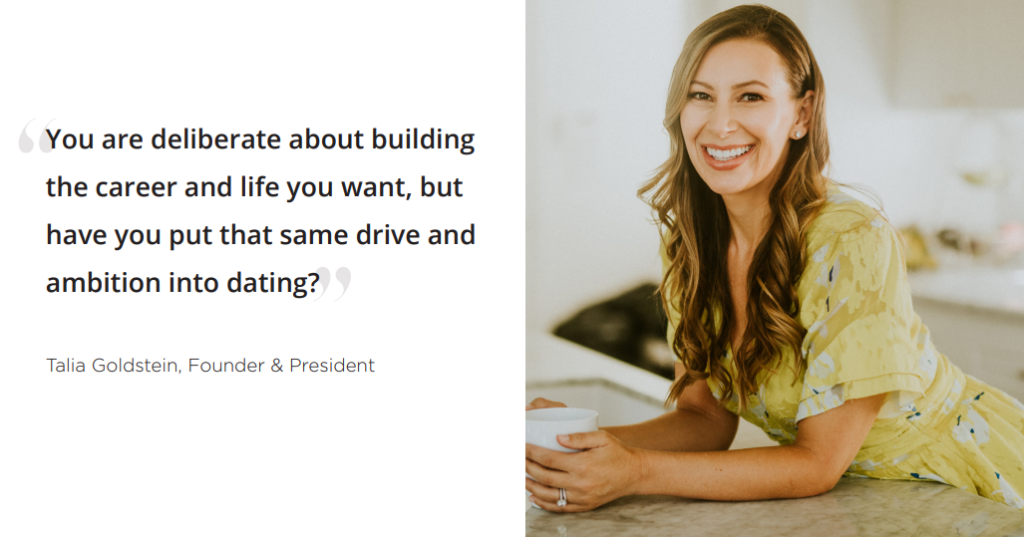 But before you go running out the door, let's talk about any potential drawbacks to be aware of. We aren't trying to say TDR is not an amazing matchmaker; we just want to make sure you have complete information before getting started. We already mentioned the pricing is higher than with dating apps but much more affordable in the matchmaking world, especially with all the extra added value. If you're budget sensitive, this could be a drawback
Three Day Rule is also really only a good fit for people who live in one of the 11 major cities the company currently services which include Boston, Chicago, LA, Miami, Orange County, NYC, Philadelphia, San Diego, San Francisco, Silicon Valley, and Washington DC. The one exception to this is that if you're open to traveling to meet someone in one of these cities, you can still use the service and you'll still be taken care of.
Here's the bottom line. Three Day Rule has the intimate feel of a small and personalized boutique company but the reach and resources of a major corporation. It's the best of both worlds. If you're serious about finding love and want the help of a seasoned professional, use the link below to schedule your free consultation call now.
Pros and Cons of Three Day Rule
Pros
Stellar track record with 10+ years in business
Attention to detail with high-quality matches
Free professional photoshoot included
Free professional dating coaching included
Less expensive than competitors
Cons
Not ideal for people living in rural areas
Smaller userbase than more commercialized options
Three Day Rule Review —Table of Contents
What is Three Day Rule Matchmaking?
Three Day Rule is a professional matchmaking service founded in 2010 by Talia Goldstein and Val Brennan. Since its inception, the company has been showcased on many major publications, but is most famous for being featured on Season 4 of the ABC investment show Shark Tank.


While none of the sharks chose to invest that day, many singles across the country are choosing to invest in Three Day Rule. Currently, the company's network of singles is over 200,000 and growing.
Three Day Rule originally launched in Los Angeles. From there, they expanded into San Francisco and eventually expanded to a current total of 11 major cities with plans to expand further in the near future.
How Does Three Day Rule Work?
The overarching matchmaking process at Three Day Rule is much like what you'd expect to see at any similar service, but the real differentiation happens in the details.
Here's how it works. When you sign up with TDR, the company pairs you with a matchmaker who gets to know everything about you. Where other companies stop at a phone call, TDR goes a step further to have you do things like send in pictures of people you find attractive, so they can really dial in on the emotional and physical preferences you have.
Once your matchmaker has a good handle on this, they begin searching the company's database of singles, personal network, and even going as far as to "chase someone down the street" if they think they're a good match.
When they find a match for you, they'll show you their picture and help you set up a date. If the date goes well, awesome! If not, they'll gather feedback from both you and your date to help in curating an even better match the next time around.
In the next section, we'll look a little deeper at some of these features and a few areas where the company differentiates itself from the competition.
Three Day Rule Features Overview
While the full list of features offered by Three Day Rule is extensive, we wanted to take a minute to highlight a few of the more prominent and impactful ones.
Getting to See Pictures Before a Date
What you may not know is that most matchmaking services won't show you pictures of your matches before you go on a date with them. Why? Well, to be honest, we're really not sure. But nonetheless, Three Day Rule does actually show you pictures of your matches before the date, and vice versa. We think if you're paying a higher price tag, you really shouldn't have to operate in the dark, so we're fans of this feature.
Strict Adherence to Your Non-Negotiables
Many of the other matchmaking services have a long list of negative reviews saying that their matchmaker sent them matches that didn't fit what they wanted. Thankfully, TDR takes time to identify your six most important non-negotiables and guarantees your matches will fit within those guidelines.
Professional Photographer Session
This is pretty neat. Since they're going to be showing your photos to matches, wouldn't it be cool to have lifestyle photos that show off you? Well, Three Day Rule includes this with every package. What's also cool is that you get to keep the photos, so if you want to use them on dating apps as well, you can.
Professional Dating Coaching
We can all use a little extra help and guidance from time to time. Each Three Day Rule membership comes with a few sessions with a professional dating coach where you can talk about things like your attachment style, flirting technique, etc. It's a perk we haven't seen anywhere before, and we're big fans.
Ability to Trade in Remaining Matches if You Meet Someone
What happens if you hit it off with one of your matches? First, yay! That's the entire goal of this. What we found during our Three Day Rule review is the company will allow you to trade in the remaining time on your membership for relationship coaching sessions. This means your leftover time won't go to waste, but will be used to help increase your chances of success with the person you're hitting it off with.
Three Day Rule Pricing
As we already alluded to, hiring a personal one-on-one matchmaker is going to cost more than a traditional dating app. If this surprises you, take a moment and think about it—it really shouldn't.
So, how much does Three Day Rule cost? Well, the company offers two main memberships.
The three month premium package is $5,900 (total), and the six month premium package is $9,500 (total).
Here's what you get with each package:
A guarantee of at least (3) or (6) dates, respectively
A guarantee that your matches will meet your non-negotiable criteria
A session with a professional photographer
Professional dating coaching
One neat thing to point out here is that the number of dates truly is just a minimum. If Three Day Rule finds more amazing people during your time as a member, you'll get additional dates/matches at no additional cost.
Payment is due all upfront, and there are no refunds offered. This is quite standard amongst almost every matchmaking service, but we wanted to make sure to include it just in case you weren't aware.
VIP Upgrades at Three Day Rule
One additional thing to note that you won't see published publicly—Three Day Rule does offer some higher level VIP packages for anyone looking for an even higher level of service. If that's something you might be interested in, make sure you ask about it when you schedule your free consultation call from the links on this page.
The Final Word on Three Day Rule
Here's the Three Day Rule review in a nutshell. If you can afford the higher price tag, live in one of the cities they service (or are open to travel), and are ready to make a real investment in your search for love, Three Day Rule is a fantastic option.
If your budget is tight, you don't live close to one of their serviced cities, and you're not quite ready for this level of commitment, it's probably not the right option for you.
---
---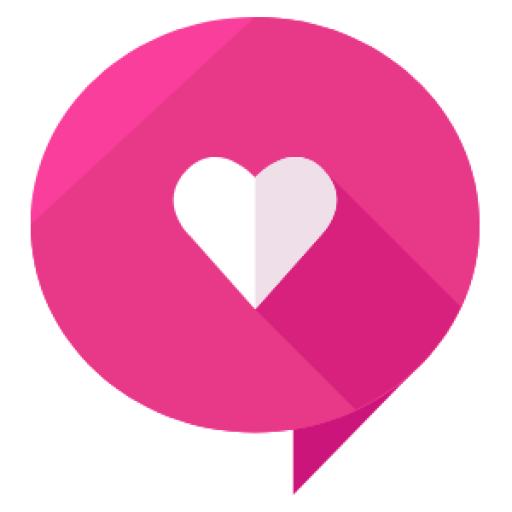 Written By: Healthy Framework Team
The Healthy Framework team has a combined 50+ years of experience in the online dating industry. Collectively, the team has reviewed over 300 dating apps and is known as one of the leaders in the relationship advice and information space. The team's work has been featured on Zoosk, Tinder, The Economist, People Magazine, Parade, Women's Health, Her Campus, Fox, and more.