Before we jump into our most recent reviews of The League dating app, let's paint a picture for you:
You spent a lot of years getting to where you are in life. You have a place to live, a great job, and you live comfortably. Everything is great, except you are lonely. So, you sign up for the first popular dating app you come across, hopeful that you'll find someone who matches your energy and priorities.
Instead, you find a sea of young singles that seem more interested in notching their bed post than they do in finding a compatible match. Where are all the grown ups? That's where The League dating app comes in.
The League is an app that realizes that elite singles have a hard time finding compatibility on most standard apps. Their private, member-only approach to online dating sounds great, but is it really worth it?
Today, we're going to take you on a journey through our recent The League dating app reviews—its features, costs, members, the waiting list, and so much more. Ready to get the real scoop? Just read on!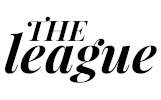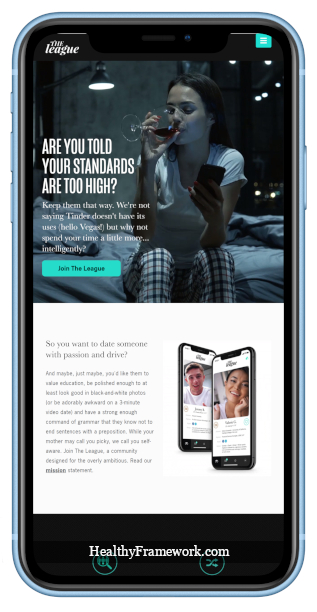 ---
Is The League Dating App Worth It? – The Bottom Line Upfront

People tend to be scared away from The League because it's quite exclusive. You're required to get on a waiting list to join, you have to be voted onto the platform by an internal team, and then it costs a few bucks more than some other options out there.
Trust us, we understand how frustrating and off-putting this might be at a quick glance. However, it's all done with good reason and actually achieves the purpose it set out to.
By making it harder for people to get in, The League is able to keep one of the highest quality groups of singles anywhere on the web (that is if you define quality by success, influence, and having your life together—which are perfectly acceptable ways to define that).
And frankly, the process works. If you're looking for the movers and shakers, the influencers, and people who have or are on their way to crushing it in life—you're going to love The League dating app.
And as for the waiting list? You can always hop on the list by signing up for The League today, and try out another great dating app while you wait. There are also ways to expedite your review process but it will cost you a few bucks extra if you're accepted.
Here are a few more specifics about who this dating app may or may not be best for.
Who The League Is Good For
Singles who live closer to bigger cities as userbases are much larger there than in rural areas
Anyone who has ever been told they are too picky when it comes to dating.
Singles who don't mind waiting a little longer to ensure they only get great matches.
Well-established, career-driven people who can get approved for a membership.
Who The League Might Not Be Best For
Those looking for immediate access to singles.
Singles who aren't willing to go through the approval process.
People looking for lower-cost dating apps.
---
Overall The League Dating App Reviews Rating
| Category | Score |
| --- | --- |
| Quality Matches | 9.5/10.0 |
| Features | 8.5/10.0 |
| Ease of Use | 9.5/10.0 |
| Support | 8.75/10.0 |
| Cost | 8.0/10.0 |
| Overall | 9.25/10.0 |
Pros and Cons of the The League Dating App
Pros
You can avoid wasting time on singles that aren't at the same life-level as you.
The private-membership style of dating can protect you from falling victim to singles who lie about their life achievements and goals.
No standards are too high for dating on The League.
Cons
Can be pricey to expedite your membership approval.
You may be on the waitlist for a few weeks or more.
Verification is a lengthy process and requires linking to socials and lots of photos.
---
The League Dating App Reviews – Table of Contents
---
What is The League Dating App?

The League dating app is a fairly new online dating application (founded in 2014 by Stanford Grad and former Google employee Amanda Bradford) that boasts the highest caliber of singles in the country. In fact, the dating app requires users to get on a waitlist in hopes that they can be accepted by the internal team, users, and a backend algorithm. The end result? A highly selective dating app with all the movers and shakers in the city.
What's unique about The League dating app is that it launches by city instead of a nationwide launch approach like you see from other apps. The team spends long hours designing the app and rollout for each major city before launching. This allows the team to tweak the algorithm and practices to best fit the city for the greatest results possible.
How Does The League Dating App Work?
When you sign up for The League, you'll figure out real fast that it's not the same as your traditional mainstream dating app options. First, users are required to get on a waiting list for the opportunity to join the app. You'll fill out some information about yourself, upload your profile, and link your LinkedIn or social accounts to your profile.
All of this is so the internal team at The League can review your application and decide if they're going to grant you access to the site or not. Yes, we weren't kidding when we said it was elite and private.
If you're accepted to the app, the team will let you know and you'll be prompted with options for purchasing a membership. From there, you're shown a hand-picked group of 3-5 matches every day in the evening (around Happy Hour). If you see someone you like, you can send them a message!
The League also has some other features that you can take advantage of to meet more people a little quicker, but we just wanted to cover the main functionality of how The League dating app works in this section.
Fast Facts About The League
Site Name: TheLeague.com
Paid or Free: Paid site with a limited free trial
Average Sign-Up Time: The application can be completed in under 10 minutes.
Paid Membership Pricing: Plans starting as low as $67 monthly
Unique The League App Facts and Figures:

The League has around 250,000 active users each day.
4.2 star rating on the Apple App Store.
As of 2016, The League expanded their age requirement to include singles over the age of 40.
The median user age on The League is 28 years old.
The League Dating App Features Overview
Let's talk features! When it comes to the features of this dating app, they're (as you might expect) quite different from everything else that's out there. Sure, the "see matches and send messages" premise is still the same, but there are quite a few other things you can do to enhance you chances of success.
Let's get into them.
The League Membership Tiers
With The League, there are four different membership tiers. Guest is the "free" version you get when you are first accepted into the app. With this, you'll be able to do some responding to other members and have minimal access to a few features. In order to really see results, though, you'll probably need to upgrade to one of the paid tiers.
The paid tiers are in three levels—Member, Owner, and Investor. As you move up the tiers, the price does increase but so does the features you get. Here's a breakdown of what you can expect at each level.
| Feature | Member | Owner | Investor |
| --- | --- | --- | --- |
| Daily Matches | 5 | 6 | 7 |
| Bonus Sign Up Matches | 5 | 6 | 7 |
| Weekly Video Dates | Waitlist | 6 | 7 |
| Multi-City Dating | 2 cities | 3 cities | 4 cities |
| Friend Requests | 5 daily | 6 daily | 7 daily |
| See Past Prospects | Yes | Yes | Yes |
| Read Receipts | Yes | Yes | Yes |
| Profile Stats | Yes | Yes | Yes |
| Hide Your Age | Yes | Yes | Yes |
| Undos and Rematches | X | Yes | Yes |
| See If They Liked You | X | Yes | Yes |
| See Everyone Who Likes You | X | X | Yes |
| Hide Profile | X | Yes | Yes |
| Power Moves | X | Yes | Yes |
| Power Move Notes | X | X | Yes |
| Prescreen Live Dates | X | X | Yes |
Daily Matches
Your daily matches are the new users you're shown each day that the app thinks are best for you. Each day you'll get the number that corresponds to your membership level. This is the most basic function of the app. If you're a free guest member you'll get three per day.
Bonus Sign Up Matches
When you sign up for a paid account, you'll get a bonus batch of matches on your first day. So, if you're Investor level, you'll get 14 matches on your first day to get you started.
Weekly Video Dates
This is a weekly feature the site runs (usually on Sundays) where you can do video speed dating through the app. You can quickly go on a bunch of mini-dates with users from the app. And if you're the highest tier of membership, you can actually prescreen and select who you go on your mini dates with.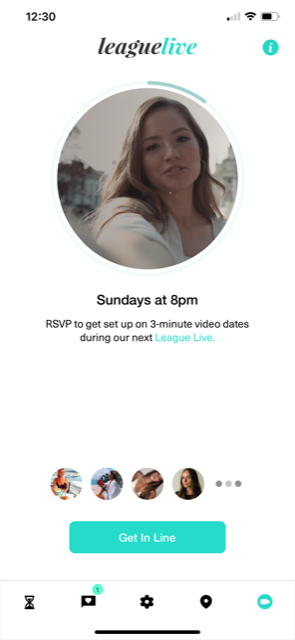 Multi-City Dating
If you're someone who travels a lot, this might be a great feature for you. Instead of being locked down only to matches who live in your city of residence, you can add in extra locations that you want to see matches from.
Friend Requests
There's a fairly robust group and events area of The League that gives you more opportunities to get involved and meet people. If you happen to see someone you like, you can get connected to them further with a friend request.
See Past Prospects
Each day you get a new batch of prospects from The League. What happens if you want to go back to someone from yesterday or earlier? This is where this feature comes in.
Read Receipts
When you send a message, this feature lets you know that your message was received and when it was read. It's a nice peace of mind feature that we love seeing in reviews.
Profile Stats
For our data folks out there, these stats will help you to know how your profile is performing. If it's not doing as well as you'd like, this can give you the nudge to try something new and compare results to maximize performance.
Hide Your Age
The League dating app mentions they believe there can be a bias when it comes to age (and we don't think they're wrong in a lot of situations). With this feature, you can choose to hide your age from other users.
Undos and Rematches
If you make a mistake with removing a match or you want the chance to go through some options again, these features will give you that.
See If They Like You
At the Owner level and up, you'll be able to see if certain members have indicated an interest in you. If you're the highest level Investor, you'll get to see a full list of everyone who has indicated interest in you!
Hide Profile
This feature allows you to keep your profile hidden from everyone unless you use the power move feature. It's great if you only want interest at a certain time or if you've found someone that you want to explore things with first.
Power Moves
This is a feature you can access from the Owner Tier and up. This allows you to push your profile to the top of the results of other singles. It is a quick way to boost the amount of people who see and are interested in your profile!
Concierge Support
The Concierge is another VIP feature that essentially boils down to live customer support. If you've read any of our dating app reviews before, you likely know how strongly we feel about live customer service options for dating apps. Even if it is only available for top-level members, we are just happy it is an option.
Approval Algorithm
What you may not see as a user is the intense amount of process going on in the backend of the app. In a recent interview with Google, the founder of The League discussed the challenges and methods the company uses to vet its waiting list to find the top tier singles it promises. In tech towns, it's easier through the company's connection with LinkedIn. However, there are challenges in cities and areas where there are a lot of creatives who are high performers who might not use LinkedIn.
While we're not going to dig into the technical backend of The League dating app during this review (and it's proprietary knowledge we don't know), we can say this. The app is leveraging a ton of technology to manage it's quality userbase and keep the cream of the crop rising to the top. As you'll see in the next section of The League dating site review—they crush it when it comes to quality.
Party Scout
It looks like The League is working on rolling out a new feature where you can anonymously see where a lot of other people on the app are congregating (if they choose to share that information). We don't have a lot of details about how this works just yet but it's interesting enough for us to mention during this review.
The Quality of Singles at The League
The League's wait listing practice and intense verification may be a bit frustrating, but it results in there being nothing but top-notch profiles and high quality singles on their app. They take away the need to pick apart profiles for red flags in an attempt to avoid duds. If you are a part of The League, you know the singles will be good.
Additionally, something we really liked during our reviews of The League dating app is the ability to link your socials (and even your LinkedIn) for verification. No, the app won't post on any of those, so don't worry about that. What it does do, though, is use those to make sure the single men and women you're chatting with are real people. Bye bye catfishing and fake profiles.
We also noticed during our testing that if you're not active for a while on the app as a guest, you will get removed for flakiness! This is another great way they keep the quality cranking!
How to Sign Up at The League
Signing up for a membership is simple and only requires a few pieces of information to help verify your identity and determine your qualities. These include:
Your name, birthday, and location
Links to your social media (we recommend LinkedIn, but Facebook is an option as well)
Your email address and phone number
A filled in bio
A set of dating preferences
After you have applied for a membership you need to wait for approval from the mods, which can take a few weeks. If you pay for a membership, the mods will actively try to coach you into ways to improve your profile and information to help you get approved.
Price | How Much Does The League Cost?
Yes, The League dating app is expensive. It's actually one of the most expensive dating app options out there. The weekly price is even more than most monthly pricing out there.
That being said, The League is clearly not for everyone. If you are able to afford it, though, you are paying for quality—and they do deliver on it. Pricing is billed weekly or monthly (your choice), and is set to auto-renew (but you can cancel that at anytime and still get the rest of your time).
And, as mentioned, you have three different tier levels (technically four with the Guest level) to choose from. Here's the most up to date pricing we've seen.
| Membership Type | Membership Length | Membership Cost (Weekly) | Total Cost |
| --- | --- | --- | --- |
| Guest | Unlimited | Free (Requires Waitlist) | Free (Requires Waitlist) |
| Member | 1 Week | $99.99 | $99.99 ($399.96 monthly*) |
| Member | 1 Months | $74 | $299.99 |
| Member | 3 Months | $33 | $399.99 |
| Owner | 1 Week | $199.99 | $199.99 ($799.96 monthly*) |
| Owner | 1 month | $99 | $399.99 |
| Owner | 2 Months | $62 | $499.99 |
| Investor | 1 Week | $399.99 | $399.99 ($1,599.96 monthly*) |
| Investor | 1 month | $249 | $999.99 |
| VIP | 1 Week | $999.99 | $999.99 ($3,999.96 Monthly*) |
| VIP | 1 month | $625 | $2499.99 |
Customer Support Options
The League's customer support options are pretty par for the course when it comes to guest, tier one, and tier two members. There is a selection of FAQs that can resolve most issues and an email address to send further inquiries. However, Investor tier members will have access to a concierge, which is essentially live customer support that can help them with any issues on the app as well as give them general dating advice.
Get Started Now!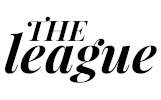 ---
The League Dating App FAQ
Does The League have singles that are right for everyone?
The League has a wide variety of singles that are all really high quality; however, they also allow you to be pretty particular in your preferences. So, if you set your preferences with a really narrow scope on the partner you want, you are naturally going to see fewer results.
Do I have to link my account to Facebook?
No! You have a few options for verification on The League. You can link to Facebook, link to LinkedIn, or pay for a higher membership where you will be manually verified.
Do I have to upgrade to VIP to access all features?
No. Though upgrading is the only way to get consistent access to these features, you can also purchase tickets, which can be exchanged for bonus features like boosts and power moves.
Do matches expire on The League?
Yes. Matches expire after 21 days, so be certain to share your personal contact information within that time if you plan to continue talking.
Does The League dating app reject people?
Yes, The League dating app does reject some users if it does not feel that they match who the app is best designed for.
---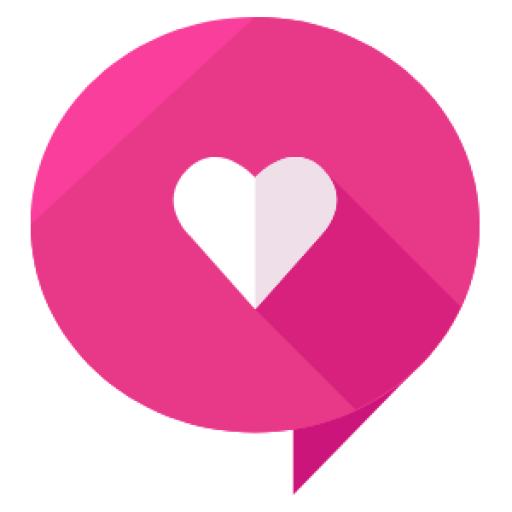 Written By: Healthy Framework Team
The Healthy Framework team has a combined 50+ years of experience in the online dating industry. Collectively, the team has reviewed over 300 dating apps and is known as one of the leaders in the relationship advice and information space. The team's work has been featured on Zoosk, Tinder, The Economist, People Magazine, Parade, Women's Health, Her Campus, Fox, and more.