Tawkify an online matchmaking company that has been around since 2012, but has gained some serious traction over the last couple of years. The site claims to be the future of online dating and says that their secret is using humans instead of machines, algorithms, or other technology to create a custom matching system.
Well, we aren't so easily convinced! So, we wanted to get a real, insider look at what Tawkify has to offer users to see if it is worth your time and money. To help you decide whether or not Tawkify is the right fit for you we've reviewed everything from the cost of services, to the brand's history, included features, customer service, and more.

If you're not in the mood to spend $10,000+ on online dating (literally what Tawkify might end up costing you), let us save you some time. Click here to see a list of some of the greatest high-end dating apps that are proven to get results, but won't charge you an arm and a leg for love like Tawkify.
Overall Tawkify Review Rating
| Category | Score |
| --- | --- |
| Quality Matches | 7.5/10.0 |
| Features | 7.0/10.0 |
| Ease of Use | 8.0/10.0 |
| Support | 9.0/10.0 |
| Cost | 4.0/10.0 |
| Overall | 6.5/10.0 |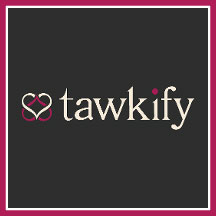 6.5/10.0
Is Tawkify Worth It? – The Bottom Line Up Front
First things first, Tawkify is a matchmaking service not a dating site. They're pretty big on making sure everyone knows that. But, is that a good thing? Well, in many ways this depends on who you are and how much money you have to spend (because it can get pricey).
Tawkify currently offers 3 client experiences. A low-cost, $99-a-year option that allows you to be tossed into their dating pool as a potential match for higher end members, a multi-thousand dollar service ($3,000+) that guarantees you get one curated date a month, and a VIP version of that client service that for a $10,000 non-refundable "engagement retainer" gives you priority status and a few more features as seen in the screenshot below: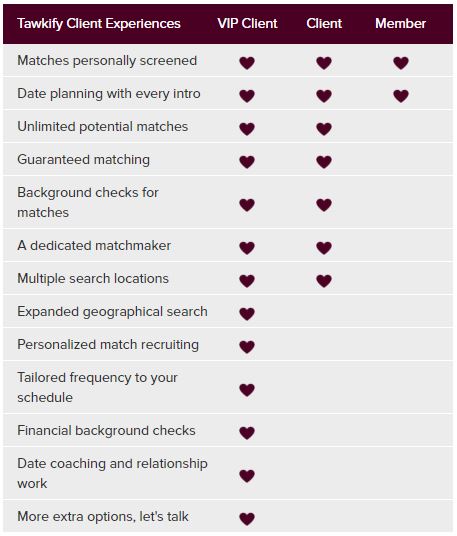 It's worth noting that the $99 Tawkify base membership doesn't guarantee you anything. It just puts you in a pool for "potential matches". Members are basically viewed as inventory. Only higher paying clients are guaranteed any time with a matchmaker or even any dates. (So it's completely possible you will drop $99 on nothing… and you wouldn't be the first.)
The jury is still out on whether or not the full-member service is worth the cost. Sure, Tawkify does take some of the guesswork and anxiety out of online dating, but it also takes away some of the transparency and individual power of choosing matches.
It is also a slow process and you are essentially paying around $500 for one blind date with some matchmaker's definition of a seemingly perfect partner.
And while we're serving up dirty details we had to talk about a few deceptive marketing points we think you should know about before visiting Tawkify yourself (We'll talk about these more in depth later in the review).
Background checks – Despite marking them as a benefit of expensive client packages the terms of use state that Tawkify is not required to conduct background screenings (They only screen you the paid user).
34% Off 1 Year Membership – Once you're all signed up and it's time to pay you're going to see a $99/yr fee to "start your journey" discounted from $150. Also not true. Everyone gets charged $99 for base membership, there's not real discount.
"Complimentary Screening" – If you click to sign up you will see a page (pictured below) that claims you've been specially selected for a free screening, but it must be completed before the end of the day. This is blatantly untrue. You will still be able to sign up free tomorrow and the next day (and probably forever). This is just a scummy way to try to push users into signing up and giving them money faster… we're not impressed by it.
Here's the bottom line, if you're super eager to work with an online matchmaker and want someone else calling the shots of your online dating journey then please sign up. This app is literally made for people like you and certainly has seen some successes.
But, at the end of the day you know you better than some matchmaker, right? So, if you're the type of person who wants to carve out your own destiny, or wants to be able to scroll through profiles to singles you find interesting, or even just a person who doesn't want to spend upwards of $10K a year on blind dates, then Tawkify is not for you.
It's true modern dating can be hard, but if you're remotely tech savvy you can definitely handle it! We've listed some of the top dating apps below for any of you independent online daters (or those looking for effective dating at a reasonable price).
Best Tawkify Alternatives (With Free Trials)
Pros and Cons of Tawkify
Pros
The matchmaking service is supposed to lead to much more successful matches than standard dating apps.
Tawkify claims to have over an 80% success rate when it comes to dates seeking second dates.
It takes no effort. After signing up, you just sit back and wait for your perfect date.
Cons
The matchmaking aspect of the site makes the process take a long time (1 date per month).
Base level members are guaranteed nothing even though they're paying for the service.
Not all members are background checked (Even clients can be matched with non-screened members).
The site is far too expensive for most singles and can't really be used for free.
There is no app for Android or iOS. (Completely website based)
Tawkify Review – Table of Contents
What is Tawkify?
Tawkify is a unique online matchmaking website launched in 2012 by Kenneth Shaw (a Stanford grad and the geek of the project) and Elizabeth Carroll (Tawkify's first matchmaker, who you may know her from her column in Elle "Ask E Jean"). They wanted to create an an online dating experience that would stand out from other apps on the market. And like it or not, they've certainly done that.


Though the brand has seen some major changes including some redesigns and the addition of CEO Kellie Ammerman in 2019, the core functionality remains the same. The biggest change we've seen over time is that as the brand's user base and public recognition grew so did the price. It's almost comical to look back to early coverage of Tawkify when a match only cost $19.
Fast Facts about Tawkify
Site Name: tawkify.com
Paid or Free: Paid site with a limited free trial
Average Sign-Up Time: 2 minutes
Paid Membership Pricing: Plans starting at several thousand dollars
Unique Tawkify Facts and Figures:

Tawkify has a 4.6 star trust rating through TrustPilot.
Most Tawkify users are between 30 and 65 years old.
Around 55% of users on Tawkify are male.
The site sees over 20,000 active weekly users.
Tawkify clients can expect one new match per month.
Tawkify Features Overview
Tawkify is a site of surprisingly few features. This is largely because there's little to nothing for you as the user to do other than make sure your matchmaker has a good grasp on your relationship goals, history, personal values, and match preferences. Once that's been done you sit back and wait for them to start setting up the blind dates.
Matchmaker Service
The overarching feature on the site, and really the whole idea behind Tawkify, is the matching service (formerly known as Tawkify Concierge). Most of the features we mention in this section are technically a facet of this service, but we thought it is important to touch on them individually to give you a full understanding of the product.
Tawkify's Matchmaker service is reserved for "clients" who pay for the advanced service. "Members" are kept in the dating pool with the potential of being chosen for the clients, but have no access to other concierge services themselves (or basically any features… sorry members).
The matchmaker works to ensure that they find each client matches so they can go on a monthly blind dates with someone the matchmaker sees as being your "best match on paper". Personal coaching sessions are also available to help you get the most from these encounters.
Tawkify's FAQ states that most matched clients find relationship success within the first 12 dates (or approx. between $6,000-$10,000 spent)
VIP Rating Standards
The VIP rating system is used by the Matchmakers to determine if a match is good enough for their client. VIP is an acronym for values, interests, and preferences. These are the three main factors considered when a matchmaker considering possible pairings.
The matchmaker will also personally screen both parties and ask a series of questions to try and gauge compatibility.
Background Checks
We're covering this as a feature because it's sold as a feature of Client and VIP membership, but there's something you need to know.
According to the Tawkify Terms of Use…
"You understand and agree that Tawkify is not obligated to conduct criminal background screenings or identity verification checks on its users or to otherwise inquire into the backgrounds of its users"
They go on to say while they may explore the background of any user at their discretion, "Tawkify makes no representations or warranties regarding the conduct, identity, intentions, legitimacy, or veracity of tawkify's users". So who the heck are they background checking (if anyone)?
This it also covered in the terms and it turns out that only users who purchase client subscriptions will be background checked. So, if you're a clients and your matchmaker matches you with someone who is just a member there is a very good chance that person was never background checked.
Curated Dates
When we said all you have to do is sit back and wait we really weren't kidding. Along with picking out all the matches all dates are planned by the concierge service. You just have to trust them and show up at the right time.
Some singles find this to be the best way of ensuring their dating life remains active and fulfilling while others are worried about the amount of power being taken from their hands. Still, Tawkify claims this part of the service greatly improves the experience for users because they know the dates are safe, interesting, and curated to their tastes.
Send a Friend (Referral System)
There is one final Tawkify feature we wanted to mention and this one is actually something you can do. They have implemented a system that allow you to earn credit toward future matches as a reward for referring friends and helping to grow their userbase.

Any of your invited friends that sign up as clients will earn you a $100 credit toward your membership fees. There is no cap on how many people you can refer to the site. That means if you get all 25 singles in your office to sign up, you just earned $2500 dollars off your membership! It's definitely a great way to take the sting out of the high membership fees if you know someone who may be interested in what Tawkify has to offer.
The Quality of Singles at Tawkify
One of Tawkify's largest selling points is how incredibly high-quality the matches and pool of singles are. There may be a selection of crummy singles on the site, but since there's no way to browse of scroll you'd never know it. All the weeding of fake accounts and weirdos is done by the concierge.
You simply lean back and let your dollars pave a way to curated matches and preplanned dates. So in short, if you're a Client or a VIP the matches are ultimately as good (or as bad) as your matchmaker. If you're a member then who knows, you might not even get any matches at all.
How to Sign Up for Tawkify
Signing up for Tawkify is a bit different than other dating platforms. At first it starts out pretty standard with gathering your name and basic information. Then it moves to a few basic profile setup questions to help a future matchmaker get acquainted with you (this initial process should take 3 mins or less).
After that you will be taken to a landing page where you can decide whether or not you want to pay for Tawkify. If you decide to pay, there is a phone screening that must be completed for all levels of users, so be prepared for that. If you're not ready or willing to pay at that time you'll have to come back because there's nothing further to do.
Outside of the phone screening, the process is straightforward and takes only 2-3 minutes to complete. If you'd like to give Tawkify a try you can check out the site by simply clicking our link below.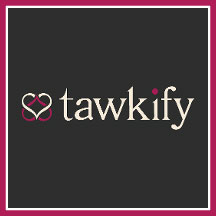 ---
Reviewing Tawkify Pricing – How Much Does Tawkify Cost?
| Membership Type | Length | Total Cost |
| --- | --- | --- |
| Member | 1 year | $99 |
| Client (Classic) | Varies | Around $3,000 (Based on # of matches) |
| Client (VIP) | Varies | Client cost + $10K deposit |
---
The pricing table above is based on official prices put out by Tawkify Inc and should serve as a baseline, but there have been many confirmed reports of users paying much more than $3,000 to get a few dates as a Tawkify client. Below we've listed some examples from the case of Stanfield v. Tawkify and verified BBB complaints.
$3,700 for 6 matches
$10,000 for 12 matches (Later offered 3 dates for $3,000)
$4,900 for 6 matches
$2200 for 3 matches
$3,400 for 6 matches (Actually charged $3,500)
$3,900 for 6 matches
… as you can see the true cost of becoming a Tawkify client is variable
Refunds are possible in some instances, but certainly not easy to get. After reading the brand's 3,093 word cancellation and refund policy we found a few key points we thought you should know:
$99 membership subscriptions are non-refundable no matter what.
Any refund amount awarded will only be up to 50% of what you paid.
For VIP Clients a $10,000 retainer is kept by Tawkify in all circumstances.
Even if all goes well and you find a match you will get no money back.
Important – As stated in their terms of use, Tawkify subscriptions will automatically renew (for the same amount and duration) unless you make a point to cancel. Keep this in mind to save yourself a ton of stress and money (Refunds don't apply here either…)
For anyone looking to try Tawkify we also wanted to note that prices are only increasing. At the time of our last review premium Tawkify membership only cost $1,497, $2,694, or $5,088 for 3, 6, and 12 months respectively.
Tawkify Complaints
The best way for us to give a truly unbiased review of Tawkify is to present opinions beyond those of our review staff. To do this we've been encouraging readers to contact us with their thoughts and experiences. Below you will find some excerpts from emails we received as well as common issues and complaints we've found in other public reviews.
"Are these Tawkify prices for real? It looks like its 3x as expensive as it was last month for just a 3 month membership. Can this be legit?" – Kimberly L.
"I actually got approached and asked to be part of their 'inventory' where I wasn't a paying customer but they'd use me on dates with people that were. I told them explicitly a few deal breakers for me and the first date I went on…the exact opposite of what I had told them. I know I wasn't a paying customer but an awful experience I asked never to repeat." – Billy P.
In addition to these write ins from our readers we noticed some common trends in user reviews of Tawkify. The most common were users complaining about the value they got for the money, not getting refunds they felt they deserved, or not feeling the matches were compatible. Something we found interesting was that some users reported in person matching being difficult because matchmakers didn't provide enough information. "All he told me was a first name and described their outfit".
There was also an abundance of users who paid $99 for membership and didn't get a single match. And can you really blame them for being upset about that?
Customer Support Options
The entire concept of Tawkify is like having a personal customer support agent helping you find a date at all times. Still, there may be times you need to reach beyond that aid and Tawkify has a typeform for that.
You can access this support by clicking "contact us" at the bottom of any of the site's pages. Once there, you will be asked to input your name and choose from a variety of options to help narrow down your issue.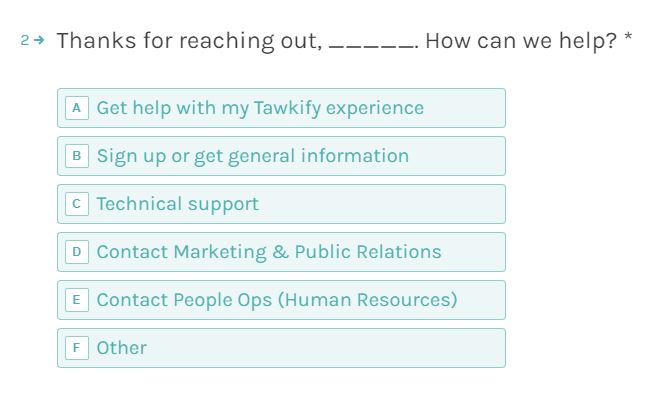 The page will have you type out your question at the end and it will look like you are going to be connected to customer support, but that isn't the case. Instead you will give them your email and wait for a customer support agent to get back in touch.
There is no described time frame for these responses, but many reviews on TrustPilot claim they received responses within a few hours.
In addition to this we found a phone number for general questions and found ways to contact Tawkify by email or sending a letter hidden deep in their terms of use:
Tawkify Phone: (844) 494-7280
Support Email: [email protected]
Mailing Address: Tawkify, Inc. 3 Germay Dr, Unit 4 #2488, Wilmington DE 19804
Closing Thoughts on Tawkify
Welp, by now we've looked at everything Tawkify has to offer users in 2023. It's definitely safe to say that this site isn't going to be for everyone, but we hope that this has helped you in your decision making process.
If you still have any questions about Tawkify, would like help picking a suitable alternative, or would like to share your own experiences with the site we'd love to hear from you. Thanks for reading!
---
---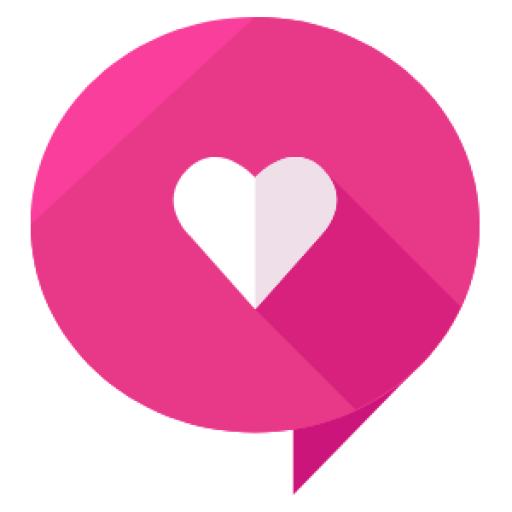 Written By: Healthy Framework Team
The Healthy Framework team has a combined 50+ years of experience in the online dating industry. Collectively, the team has reviewed over 300 dating apps and is known as one of the leaders in the relationship advice and information space. The team's work has been featured on Zoosk, Tinder, The Economist, People Magazine, Parade, Women's Health, Her Campus, Fox, and more.