Tawkify is a dating site that has been around since 2012, but has gained some serious traction over the last couple of years. The site claims to be the future of online dating and says that their secret is using humans and technology to create a custom matching system.
Well, we aren't so easily convinced! We wanted to get a real, insider look at what Tawkify has to offer to see if it is worth your time and money.
From the cost of services, features, customer service, and more, we've got all the information you need to make a decision on whether or not Tawkify is worth your time.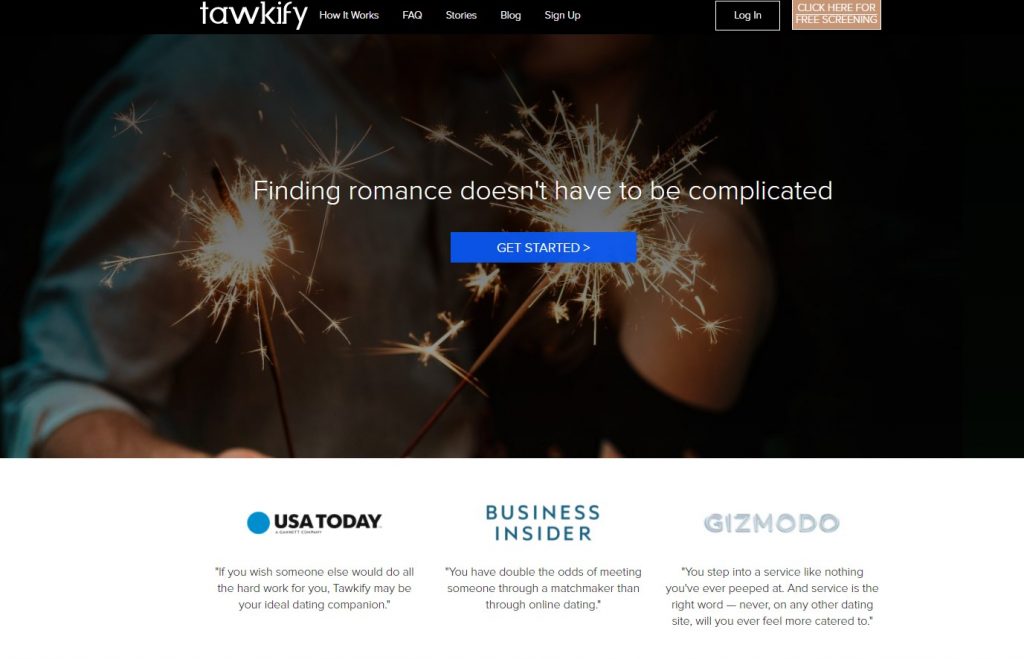 Tawkify – The Bottom Line Up Front
There are two very different sign up options on Tawkify. A low-cost, $99-a-year option that allows you to be tossed into the dating pool for higher end members, and a multi-thousand dollar service that guarantees you get one single, curated date a month.
We believe the lower-cost service is pretty worth it. Sure, you may get nothing out of it, but you also might get a lot of interesting curated dates for less than 9 dollars a month.
The jury is still out on whether or not the full-member service is worth the cost. Sure, Tawkify does take the guesswork and anxiety out of online dating, but it also takes away some of the transparency and power of choosing matches.
It is also a slow process. You are essentially paying close to $500 for one date with a seemingly perfect partner. If you are someone who is finding themselves spending that much on dating in the first place, then we think Tawkify is definitely worth it for you!
But if you want a more affordable and equally as effective option, we've got a few options you might want to check out. In the list below, we've included a ton of great options you can try right now!
Best Tawkify Alternatives (With Free Trials)
---
Overall Tawkify Rating
| Category | Score |
| --- | --- |
| Quality Matches | 7.5/10.0 |
| Features | 8.0/10.0 |
| Ease of Use | 8.0/10.0 |
| Support | 9.0/10.0 |
| Cost | 4.0/10.0 |
| Overall | 7.0/10.0 |
7.0/10.0
Pros and Cons of the Tawkify Dating App
Pros
The matchmaking service leads to much more successful matches than a standard dating app.
Tawkify claims to have over an 80% success rate when it comes to dates seeking second dates.
After signing up, you just sit back and wait for your perfect date.
Cons
The matchmaking aspect of the site makes the process take a long time.
The demand for the highest level matches can leave some singles behind.
The site is incredibly expensive and can't really be used for free.
Who Tawkify Is Good For
Singles willing to pay top dollar for custom-curated matches.
Anyone who wishes they had a concierge for their dating life.
Singles who want a site that is straightforward and not inundated with features.
Who Tawkify Might Not Be Best For
Singles who are dating on a conservative budget.
Singles who are not as well established in life as others.
Those who want to have control over more of the matching process.
Tawkify Review – Table of Contents
Fast Facts About Tawkify
Site Name: tawkify.com
Paid or Free: Paid site with a limited free trial
Average Sign-Up Time: 2 minutes
Paid Membership Pricing: Plans starting at several thousand dollars
Unique Tawkify Facts and Figures

Tawkify has a 4.5 start trust rating through TrustPilot.
Tawkify's users are predominantly 24-35 year olds.
Around 55% of users on Tawkify are male.
The site sees over 10,000 active weekly users.
Tawkify Features Overview
Tawkify is a site of surprisingly few features because the features they offer are beyond what many other sites can do.
Concierge Service
The overarching feature on the site is the concierge service. Each feature we mention is technically a facet of this service, but we thought it is important to touch on them individually as well.
Tawkify's concierge service is reserved for "clients" who pay for the advanced service. "Members" are kept in the dating pool to be chosen for the clients, but have no access to other concierge services themselves.
The concierge works to ensure that they find each client a perfect match so they can go on a monthly, completely curated date.
VIP Rating Standards
The VIP rating system is used by the Concierge to determine if a match is good for their client. VIP is an acronym for values, interests, and preferences. These are the three main factors considered when a concierge is making compatible matches.
Custom Dates
Another thing the Concierge is responsible for is completely curating a date for the pair they have matched. Some singles find this to be the best way of ensuring their dating life remains active and fulfilling while others are worried about the amount of power being taken from their hands.
Still, Tawkify claims this part of the service greatly improves the experience for users because they know the dates are safe and curated to their tastes.
The Quality of Singles at Tawkify
One of Tawkify's largest selling points is how incredibly high-quality the matches are. There may be a selection of crummy singles on the site, but you'd never know. All the weeding of fake accounts and weirdos is done by the concierge.
You simply lean back and let your dollars pave a way to fantastic matches and interesting dates!
How to Sign Up at Tawkify
Signing up for Tawkify is a bit different than other dating platforms. There is a phone screening that must be completed for all levels of users, so be prepared for that when signing up.
Outside of the screening, the process is straightforward and takes only 2 minutes to complete. If you are ready to get started for free, simply click our trial link below!
Price | How Much Does Tawkify Cost?
| Membership Type | Length | Total Cost |
| --- | --- | --- |
| Premium | 3 months | $1497 |
| Premium | 6 months | $2694 |
| Premium | 12 months | $5088 |
Customer Support Options
The entire concept of Tawkify is like having a personal customer support agent helping you find a date at all times. Still, there may be times you need to reach beyond that aid and Tawkify has a typeform for that.
You can access this support by clicking "contact us" at the bottom of any of the site's pages. Once there, you will be asked to input your name and choose from a variety of options to help narrow down your issue.
The page will have you type out your question at the end and it will look like you are going to be connected to customer support, but that isn't the case. Instead you will give them your email and wait for a customer support agent to email you with the information you need.
There is no described time frame for these responses, but many reviews on TrustPilot claim they received responses within a few hours.
Try Tawkify Now
---
FAQ
I Paid for a Year of Tawkify Premium, but I Found a Partner after 3 Months. Can I Get a Refund?
Absolutely! If you pay for a prolonged membership and need to cancel after a period of time that equals the bottom tier membership (3 months) the prorated cost of the membership will be refunded to you. You can read about refund terms on Tawkify's terms of condition page.
I Paid for the $99 Membership. Am I Guaranteed a Date?
No! While there is no cap on how many dates you can be matched to, the site also clearly states there is no guarantee you will be matched at all. In fact, we have found that non-client members sometimes wait up to 12 months to ever be chosen as a match.
Why Is There a Phone Screening?
TAwkify is a matchmaking service that prides itself on finding compatible couples and keeping them safe. Part of this process is to have an interview with members where you can discuss things like hobbies, career, family, dating goals, and more. This process helps keep scammers and catfish off the site.
Is Tawkify LGBTQ Friendly?
Yes! Tawkify claims to be willing to matchmake for all singles over the age of 18 with no restrictions based on sexual orientation or gender identity.
How Does The Referral System Work?
When you are a Tawkify client, you have the opportunity to invite your friends to the site. Any of your invited friends that sign up for a clientship will earn you a $100 credit toward your membership fees. There is no cap on how many people you can refer to the site! If you get all 25 singles in your office to sign up, you just earned $2500 dollars off your membership!