SugarDaddy.com has become one of the most popular and prolific "Sugar" dating sites on the web. When it comes to this type of dating (older men, younger women) it is important to make sure you are using a site or app that focuses on the safety of the users.
That's why we've taken this deep dive into everything the site has to offer. In this SugarDaddy.com review, you will learn about the site's amenities, cost, customer service, security, and much more.
If you are interested in the Sugar dating lifestyle and want to give SugarDaddy.com a try, read on for all the information you need!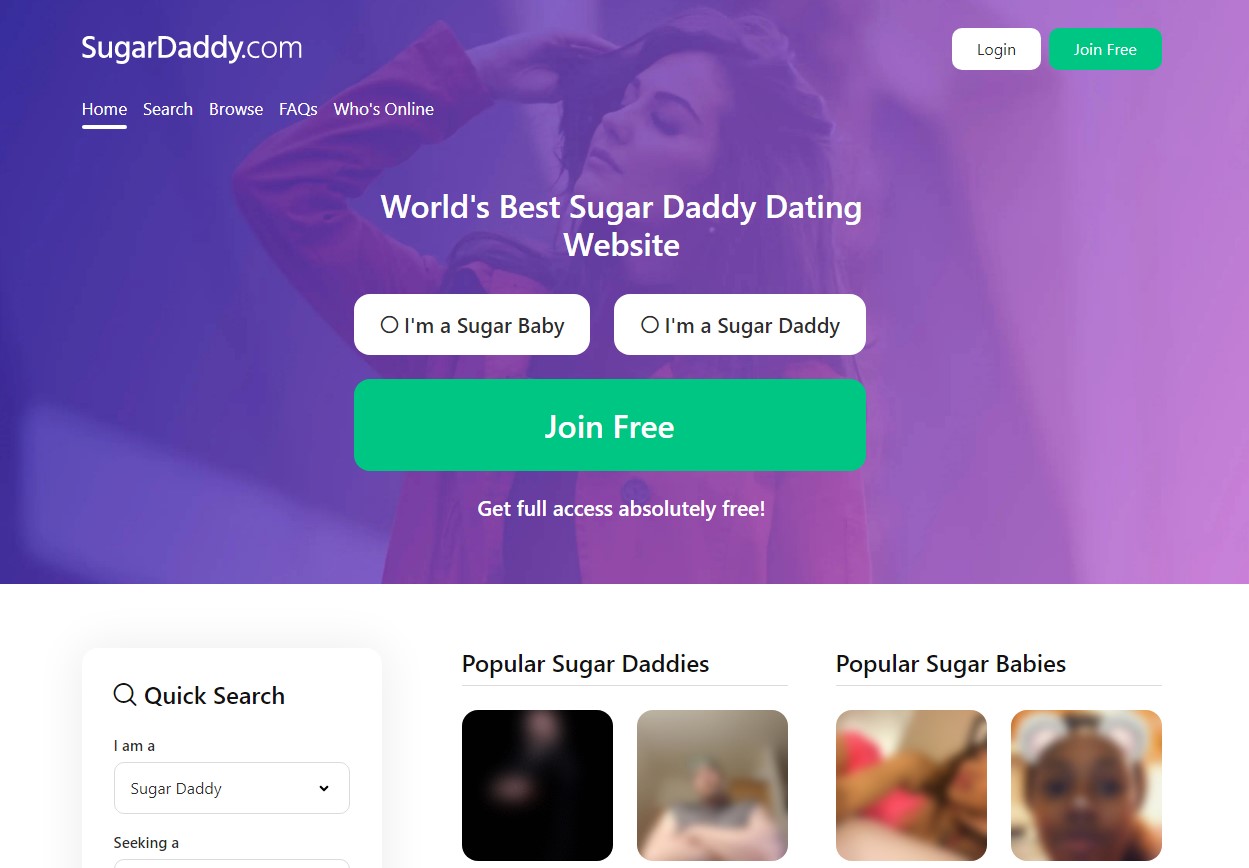 Is SugarDaddy.com Worth It? – The Bottom Line Upfront
SugarDaddy.com is one of the nicest "sugar" dating sites we've ever seen. The site doesn't have traditional recurring payments, which some users may not love. However, this form of paying for specific amenities can save users a lot of money.
We also love that SugarDaddy.com is a good place for relationships that aren't focused on money to blossom.
For some, "sugar" dating isn't a lifestyle they enjoy. It can be surface-level and frustrating at times. However, if you are interested in being a Sugar Daddy or Sugar Baby then it important to use a site that focuses on your safety and security, which is why we highly recommend SugarDaddy.com!
---
Overall SugarDaddy.com Rating
| Category | Score |
| --- | --- |
| Quality Matches | 9.0/10.0 |
| Features | 8.0/10.0 |
| Ease of Use | 9.0/10.0 |
| Support | 9.0/10.0 |
| Cost | 8.0/10.0 |
| Overall | 9.0/10.0 |
9.0/10.0
Pros and Cons of the SugarDaddy.com Dating App
Pros
Professional, high-quality site with an easy-to-use interface.
Signing up is fast and simple.
The site allows you to look for relationships that aren't just "sugar dating."
Some of the best dating site customer service we've seen.
You can verify your identity for safer dating.
Cons
No income verification options.
Amenities are purchased with credits, not monthly memberships.
Only available in 4 countries (US, UK, Canada, Australia).
Who SugarDaddy.com Is Good For
Sugar Daddies who want a wide selection of Sugar Babies to browse.
Those who want to control how their money is spent on the site.
Sugar Babies who want their Sugar Daddies to have confirmed Identities.
Those seeking an older/younger relationship without the "sugar" label.
Who SugarDaddy.com Might Not Be Best For
Sugar Babies who want their Sugar Daddies to have confirmed income.
Those who prefer a single, monthly charge for all amenities.
Singles not looking for an older/younger relationship.
SugarDaddy.com Review – Table of Contents
Fast Facts About SugarDaddy.com
Site Name: SugarDaddy.com
Paid or Free: Paid site with a limited free trial
Average Sign-Up Time: ~ 10 minutes
Paid Membership Pricing: Credit bundles starting as low as $59
Unique SugarDaddy.com Facts and Figures

83% of users on SugarDaddy.com are from the US.
Site sees over 250,000 visitors a month.
There is no downloadable app for the website.
The website is optimized to be used in any mobile browser.
SugarDaddy.com Features Overview
SugarDaddy.com is an interesting site because they don't hide features behind multiple tiers of membership. Instead, signing up is free and you can purchase any feature you want to use with credits. The credits are purchased in bundles from the site and can be replenished at any time. Here are a few of the great features these credits can buy!
Conversations
Though it is a basic feature of most dating sites, most major sites lock conversations behind a recurring monthly paywall. With SugarDaddy.com, you use 10 credits to fully unlock any conversation and it remains unlocked permanently. No more having to pay for a full month of service to re-access conversations with your matches!
Secret Photos and Videos
You can also use your credits to unlock secret Photos and Videos. Of course, your match must first grant you access to their album (which you can request for free), but once they have you simply pay your credits to see what is inside!
Priority Customer Support
You don't have to spend credits on priority support, but once you've made a credit purchase you have access to paid member support, which is faster and more convenient than the standard support and FAQ page.
Higher Search Ranking
Those who pay for credit bundles will also receive a higher ranking in others search results. If you like the idea of floating to the top of other singles' pool of selections, then purchasing a credit bundle can help you with that!
Members Blog
All users have access to the members blog, not just credit holders. This area can help you navigate "sugar" dating in a way that is both safe and effective!
The Quality of Singles at SugarDaddy.com
SugarDaddy.com is filled with successful older men and attractive young women. If that is what you are looking for in a dating site, then the quality of singles at SugarDaddy.com is amazing!
It is important to note that Sugar Daddies cannot confirm their income through the site, but they can verify their identities. We've found hundreds of verified accounts of successful, well-groomed, handsome men. The women with verified accounts are amazing too – beautiful and vivacious.
SugarDaddy.com has some of the best "sugar" singles we've seen!
How to Sign Up at SugarDaddy.com
Signing up with SugarDaddy.com is surprisingly fast and easy. You will be navigated through the creation of your profile page as you sign up. Some items – like the tagline and description – are required, but some items you can skip through if you choose to.
The entire process takes around 5-10 minutes depending on how quickly you can read and type!
There is also a verification process that isn't required, but is recommended. This process only takes a few moments and can be accessed from your profile's main dropdown menu.
The easiest and fastest way to get started with SugarDaddy.com is by following the link below for access to a free trial!
Price | How Much Does SugarDaddy.com Cost?
| Membership Type | # of Credits | Price Per Credit | Total Price |
| --- | --- | --- | --- |
| Credits | 100 | $0.59 | $59 |
| Credits | 500 | $0.34 | $169 |
| Credits | 1000 | $0.29 | $289 |
Customer Support Options
SugarDaddy.com has a great customer support backing. If you need help before signing up, you can utilize the FAQ page or use the contact link at the bottom of the webpage for further assistance via email.
Once you've signed up, the FAQ page becomes larger and easier to navigate and the contact page is located directly in your profile drop down menu. You can also access links to report user abuse.
Those who pay for credits get priority customer service, which leads to faster responses and some real-time assistance.
Try SugarDaddy.com Now
---
FAQ
Is SugarDaddy.com Gay Friendly?
SugarDaddy.com makes it simple for older men to meet younger women. There is no option to adjust your gender as a Sugar Baby, which means the site is not helpful for men seeking men.
How Old Do I Have to Be to Use SugarDaddy.com?
Like most dating sites, you must be 18 or older to sign up for SugarDaddy.com.
Can I Upload Nude Photos or Videos?
No! SugarDaddy.com has strict rules on photo and video uploads and one rule is that there is to be no nudity. Uploading nudity can result in a ban on your account. If you want to send explicit photos you must gain express permission from the recipient and do so on an outside communication (personal cell number, email, etc.).
Is SugarDaddy.com Safe to Use?
Yes. SugarDaddy.com utilizes SSL encryption to keep your information and data safe and also allows simple reporting to help monitor user behavior. If you ever feel unsafe on SugarDaddy.com, reach out to the customer service team for help.
Do I Have to Pay Sugar Babies Through the Site?
SugarDaddy.com does not allow you to send money through the site to any users. Paying users for dates is not a stipulation of SugarDaddy.com and if monetary transactions take place during a date it is of your own accord and beyond the scope of the intentions of the website.