SeniorMatch launched in 2001, making it one of the most established mature dating apps on the scene. With over 6,000 daily active users, it's also quite popular, but does that popularity translate into success for its members? And what type of people can you expect to find on the site?
In order to answer those and other questions, we spent seven days and countless hours on the dating site. After reviewing hundreds of profiles and testing the features, we're ready to share our thoughts. Keep reading our SeniorMatch review to find out how our experience went – and if we recommend the app.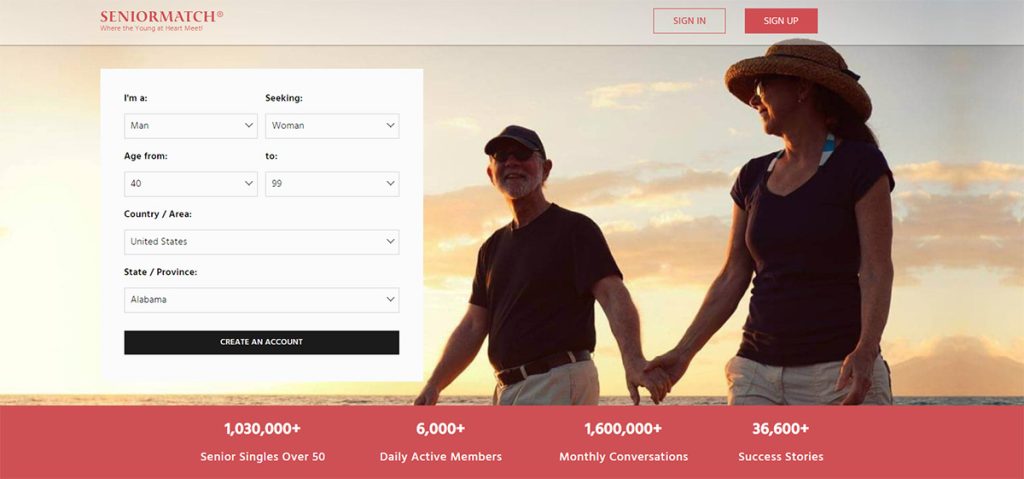 Is SeniorMatch Worth It? – The Bottom Line Up Front
A mature dating app, SeniorMatch is open to singles 40 and over, but over 1,030,000 of the members are over 50. It takes about five minutes to sign up, and then you can set search preferences to browse profiles or use Spark to flip through options one by one.
Free members can only filter profiles by gender, age range, country, and state, while premium members access nine additional search and sorting filters, including a distance radius setting. The system has led to more than 36,600 success stories – but it's far from a sure thing.
Let's not get ahead of ourselves, though. Instead, we want to start our review of SeniorMatch with the membership options.
First, you can test the matching waters with a free account on SeniorMatch, which allows you to do the following:
Search for members by gender, age, country, and state
Like up to 100 profiles a day
Swipe on up to 50 profiles a day using Spark
Send and receive winks
Reply to messages from premium members
Use community features (Moments, First Date Ideas, etc)
Free accounts are usable, as long as premium members contact you so you can reply. However, the search filters are incredibly limited, especially since you can't search by city or distance.
For example, we set our location to Baton Rouge, LA, and while our first six matches were from Louisiana, they were all located 1-5 hours away. Since most seniors don't feel like traveling for hours for dates, so this is a major issue.
You can avoid that issue by upgrading to a premium membership for as low as $15.99 a month. Then, you can browse matches by distance, set additional search filters, initiate convos, and more. Check out the pricing for senior dating sites to see how SeniorMatch stacks up against the competition.
Along with searching profiles by city and distance, premium members can set the following filters:
Ethnicity
Religion
Relationship status
Smoking
Drinking
Children
Height
While the extra filters are helpful, they simply don't stand up to top-tier mature dating sites, such as SilverSingles. SilverSingles has members fill out a short personality test when signing up and matches them based on the five-factor model of personality. This leads to compatible matches that go far beyond the superficial traits that SeniorMatch uses.
While we aren't impressed with the matching algorithm, the membership base is another story.
Now, there are some fake accounts, and some members try to find victims for romance scams. Also, we found quite a few members who appear to sexualize older men and women, so we don't think they're looking for true love. Still, the majority of members are interested in finding compatible partners for serious relationships.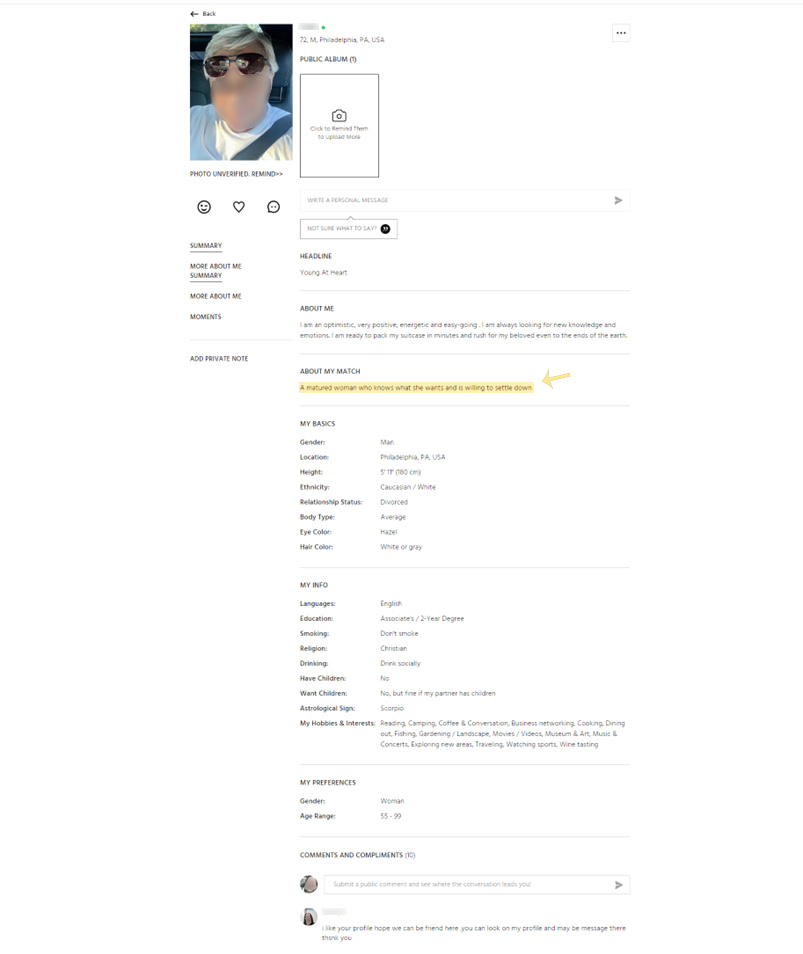 They're also chatty. Members exchange over 1.6 million messages a month and engage in community features, like the Senior Dates section and Moments tab. Now, a lot of messaging back and forth is needed to make up for the poor matching algorithm, but still, you can't help but love an engaged membership base.
Overall, SeniorMatch is solid, but it's far from one of the best mature dating apps available. With a better matching algorithm and over 50,000 premium members around the world, SilverSingles is the best choice for singles 50 and up. Claim your free trial to SilverSingles to check it out.
---
SeniorMatch Review Scores and Basic Info
| Category | Score |
| --- | --- |
| App Store Rating | N/A* |
| Google Play Rating | 3.7/5.0 |
| Starting Cost | $15.99 a month |
| Online Since | 2001 |
| Active Users | 6,000+ Daily |
| Our Review Score | 7.0/10.0 |
7.0/10.0
Pros and Cons of the SeniorMatch Dating App
Pros
Approximately 1.6 million messages are exchanged on SeniorMatch each month.
Over 36,600 success stories!
Free members can reply to messages from premium subscribers
Most members want serious relationships
Members can add detailed profile info (although most don't)
The site and app are simple to use whether you are well-versed in computer tech or barely ever get online.
You can try the site for free.
Cons
Standard members can't filter matches by distance or city
Weak matching algorithm only considers superficial preferences and interests
Can take up to 24 hours to get your profile approved
No iOS app (although SeniorMatch is available on Google Play and the web)
The UI is intentionally simple, which may feel boring to the more tech-savvy user.
There is a slight gender disparity (only 40% of users are men).
Not all features are free to use.
Senior Match Features Breakdown
SeniorMatch is a pretty straightforward site, so you don't have to be familiar with online dating to use it. However, using a new site can be overwhelming, so it's helpful to learn about the features first. Thus, we're going to look at some of the most important features in this section of our review of SeniorMatch.
Spark
Instead of setting your match preferences, you can let SeniorMatch do the work for you by using the Spark feature. The site will bring up one profile photo at a time, along with limited info. You can like or pass on each one based on the info provided or click on the username to see the full profile.
Keep in mind that you can only swipe through 50 profiles a day as a free member. Once you hit your limit, the countdown timer will start. Then, you can resume swiping once the timer hits zero.
Fun Questions Game
We recommend playing the Fun Questions Game after creating your account. You can answer as many questions as you want, and the answers will go on your profile under the "More About Me" section. Once you play, you can compare your answers to the answers provided by other members. If the member answered a question that you didn't, you won't be able to see the answer until you provide yours.
The Fun Questions Game is the best way to get to know more about members. Unfortunately, most people don't take the time to answer the questions, so you might have to click through a handful of profiles before getting a hit. Still, it's worth the effort if you want to find compatible matches.
Activity Feed/Moments
You can connect with other members and stay on top of the happenings on the app by checking out the Activity feed. It contains member-uploaded Moments consisting of images, text, and hashtags, along with site-wide status updates.
For instance, if a member verifies a profile photo or updates a headline, it shows up in the feed.
Since this is a dating site, a lot of the Moments read like personal ads, with people listing their attributes. Members can like and comment on the Moments, so this can be an effective way to make connections.
Posted moments also go on the member's profile. You just need to click on the "Moments' tab after opening the profile to see any updates they've posted.
One thing to keep in mind – Moments don't get much engagement on SeniorMatch. While we like the feature, you'll need to go beyond these posts if you want to make connections on the site.
Friendly Senior Jokes
Do you like a good chuckle? If so, you can check out the Friendly Senior Jokes section on Senior Match. Members upload their jokes, and others can like and comment on them. The site added the feature in 2022, and it's already popular with members. In fact, it appears to get more engagement than any other section on this dating app for mature singles.
First Date Ideas
SeniorMatch's parent company, SuccessfulMatch, includes First Date Ideas on all of its sites. Sometimes, we aren't too crazy about the feature, but we like it on SeniorMatch. The community has some great ideas, so this section can help you if you're getting back out on the market. Also, check out our guides for dating over 50 for additional help.
Winks
It's normal to feel a little shy when hitting the dating scene as a senior. While you might be too nervous to send a message, you can let singles know you're interested by sending winks. If you're a premium member, be sure to send a message along with a wink. That way, the recipients can respond, even if they're free members.
Quality of Singles – Senior Match User Base Review
There's a lot to dig into regarding SeniorMatch's membership base. First, there are three types of members on SeniorMatch, starting with singles who are 50 and older. Over 1,030,000 folks fit into that category, and they have a lot in common.
Most of the 50 and over crowd are widowed or divorced, and ready for a serious relationship or long-term companionship. According to SeniorMatch's internal data, you're most likely to find these singles in the United States. Some of the most popular states include:
New York
California
Texas
Alabama
Georgia
Florida
Illinois
Nevada
Arizona
Washington
However, that's far from an all-inclusive list. We found seniors looking for love all over the country.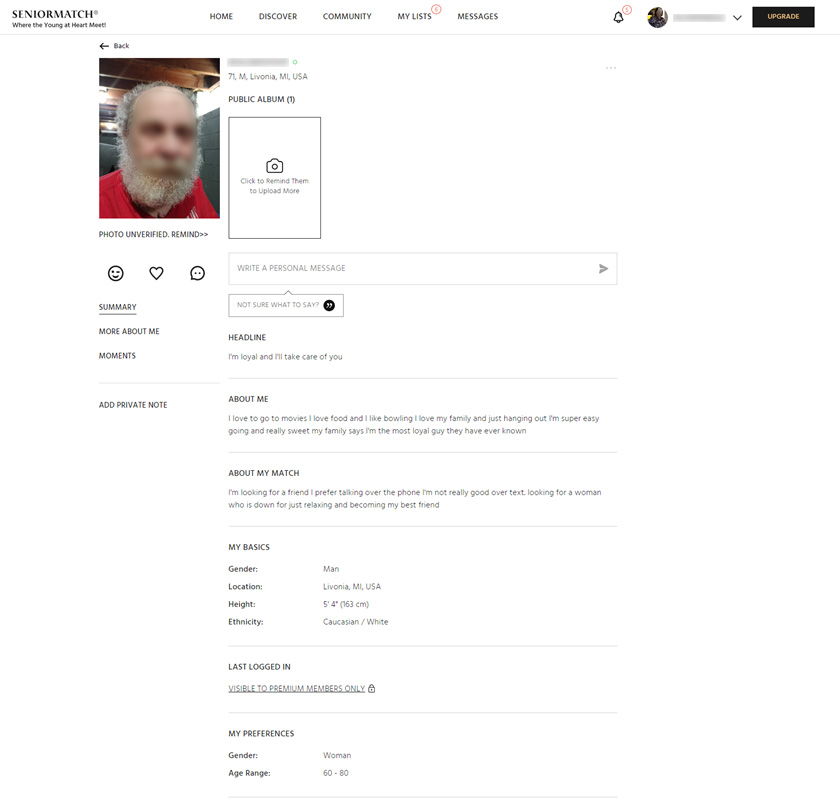 Now, let's move on to the second type of member: people in their 40s. Instead of looking for soulmates, the folks in this group are mainly seeking out a tryst with an older man or woman. They can be a little more forward than the older crowd, and we've heard they make some members uncomfortable. We've included a couple screenshots of these overly casual SeniorMatch profiles below:
And finally, there's the third type of member that's probably the worst of all: the faker or "catfish". SeniorMatch reviews profiles and does a pretty good job of removing fake accounts. Still, we noticed that quite a few slipped through the cracks. You'll see an example of one we exposed in the screenshots below:


No one tried to scam us, but we've heard that others haven't been nearly as fortunate. Fortunately, though, the scammers are pretty easy to spot. Get some tips by reading our guide on spotting online dating scammer photos.
So, we've covered the differences between the three types of members, so now, let's look at what they have in common – their profiles.
As with all of SuccessfulMatch's sites, the signup process is pretty fast, and people can go back and add more info to their profiles. Most of the people here keep it pretty basic, though, which doesn't pair well with the site's simplistic matching system. Without being able to glean much from profiles, you have to spend time chatting people up to see if they're a true match.
But that's where things get better. Around half of our matches were premium members, showing a real dedication to making connections. Also, this explains why over 1.6 million conversations take place on the SeniorMatch site each month.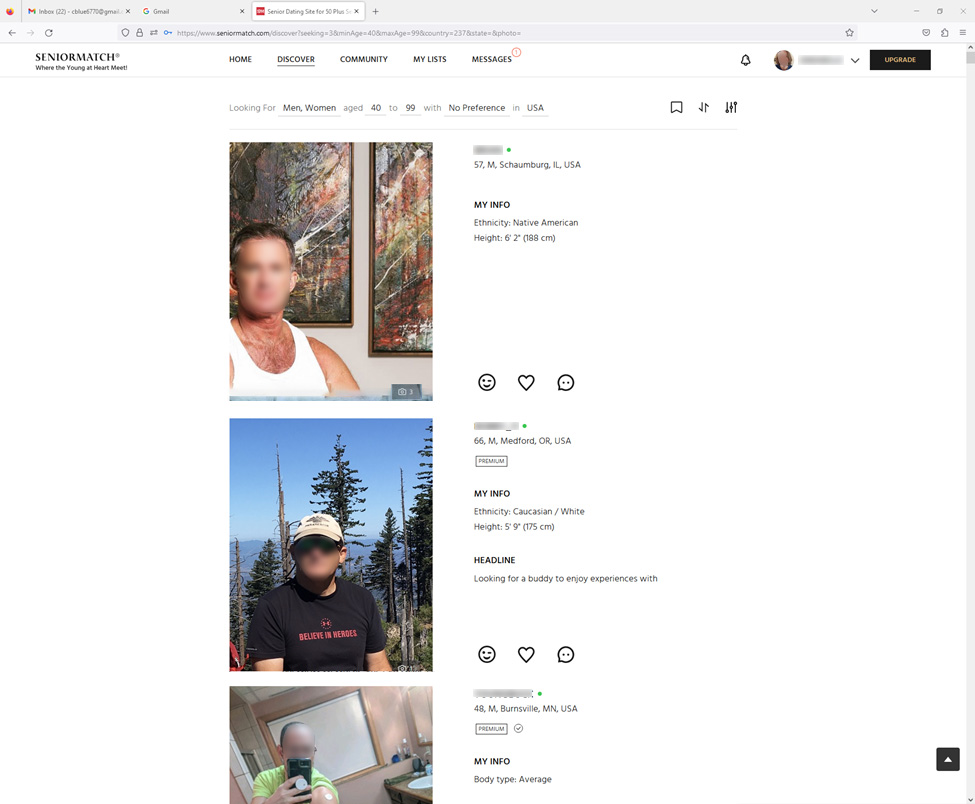 The fakers, flakes, and limited profiles are a turnoff, but the high-quality members 50 and up make this site worth using. Still, we think you'd have even more success by using one of SeniorMatch's top competitors. Keep reading our SeniorMatch review to learn more.
Senior Match Alternatives
Mature dating sites are taking off, so you have lots of options out there. Some are excellent, while others could use some work. We picked sites from both categories so you can see how they compare to SeniorMatch.
SilverSingles – SilverSingles is responsible for around 2,000 relationships a month, while SeniorMatch has helped 36,000 people find love. Both sites attract members who are 50 and over, and most of the users want serious relationships. SilverSingles has a slight edge over SeniorMatch thanks to its matching algorithm that pairs people based on the five-factor model of personality. (Read Our Unbiased Review of SilverSingles)
OurTime – OurTime has a slightly longer signup process than SeniorMatch, and it uses the data it collects to finetune members' matches. Still, both sites match members based on superficial preferences, and a lot of the matches are located hours away. We prefer SeniorMatch since it allows free members to reply to messages from premium subscribers. OurTime only allows this if the premium member has also purchased the Reply for Free add-on. (Read our Full OurTime Review)
MatureDating.com – MatureDating.com has around 250,000 members to SeniorMatch's million plus. While MatureDating claims to be a site for seniors, most of the members are under the age of 40. Finally, SeniorMatch is a legit dating site, unlike MatureDating.com, which runs a subscription scam. (Learn More by Reading Our Review of MatureDating.com)
User Complaints About Senior Match
SeniorMatch has a 3.6 out of 5-star rating on Google Play, but other review sites have lots of negative reviews. For instance, SeniorMatch has 2.7 out of 5 stars on Trustpilot and Sitejabber. We read over those user reviews of SeniorMatch, and now, we're going to share some of the common complaints with you.
Scammers – As we mentioned earlier, there are some fake profiles on SeniorMatch. Unfortunately, some people pray on seniors, so you need to be careful when using the mature dating app. Check out the red flags to look out for when dating in your 50s, so you can stay safe when using SeniorMatch or another dating app.
Ineffective Search Filters – Some members complain that even the limited search filters don't work. This likely has to do with the small membership base. With just over a million members, there aren't enough profiles to go around. Thus, the site brings back profiles that don't quite match your filters.
Lots of Inactive Members – According to previous users, a lot of their matches haven't logged into the site for months. This is frustrating when looking for a match.
Members Looking for Older Singles – Some of the people on the site are younger and hoping to find older people to date. They can be overly forward and sexual in their messages, making some members uncomfortable.
How to Sign Up at Senior Match
Signing up for Senior Match is easy, but time consuming. Be sure to set aside 10-15 minutes for your sign up. Here are the basic steps.
Go to SeniorMatch.com (from here you can signup or download the app)
Provide your name, age of interest, gender, orientation, and location.
Enter your email address and click "agree" on the terms of service.
Re-specify your sexual orientation.
Create a password, enter your location, provide your date of birth.
Add a username for your account.
Input your height, ethnicity, and relationship status.
Type a short statement about yourself – this is your headline.
Type a longer statement about yourself – this is your bio.
Write about the type of person you are looking for.
Upload a photo of yourself from your computer.
Verify your email address.
How Do I Verify My Email Address?
Email verification is simple. When prompted by the site, you will need to open a new internet window or tab and access your email box (the same email you provided when signing up). In your email you will see an email from Senior Match with a series of numbers.
Copy the numbers or memorize them.
Go back to your window or tab where you have Senior Match open. Type in or paste your numbers onto the page in the designated spaces. Click "verify now."
Pricing Review – How Much Does SeniorMatch Cost?
| Membership Type | Monthly Price | Total Price |
| --- | --- | --- |
| Premium - 1 Month | $29.95 | $29.95 |
| Premium - 3 Months | $19.95 | $59.95 |
| Premium - 6 Months | $15.95 | $95.95 |
SeniorMatch FAQ
How can I download the SeniorMatch App to my Android device?
From your Android device, navigate to the Google Play store and search "SeniorMatch."
Once you have located the app, select "download" or "install."
After installation is complete, open the app.
You will be asked to provide permission for the app.
Sign in or Sign up from the app's main page.
How can I download the SeniorMatch App to my apple device?
Currently there is no dedicated SeniorMatch app for iOS devices. If you're an iPhone users you're going to have to user SeniorMatch.com in your safari browser.
Is SeniorMatch easy to use?
Yes! Senior Match is created with a less technologically-inclined crowd in mind. The layout is simple to read and understand and paid members can utilize the account manager for additional help.
I don't want to pay for my SeniorMatch account anymore. How do I cancel?
You can cancel your paid membership from the account settings menu. You must be logged in to perform this action. The settings menu is found by clicking your photo on the top right corner of the website.
Can I try SeniorMatch for free?
Yes! You can sign up for Senior Match for free, though some features are available to paid members only.
---
---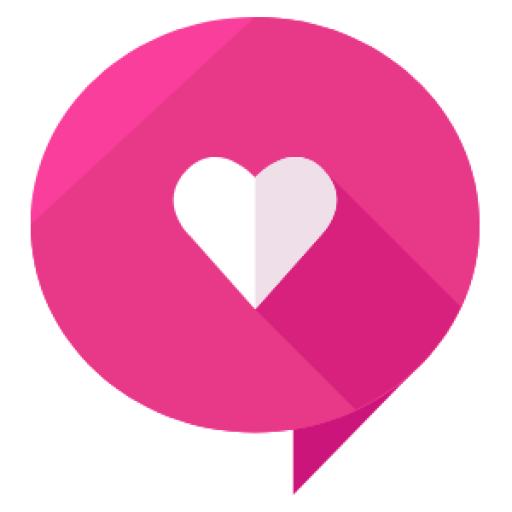 Written By: Healthy Framework Team
The Healthy Framework team has a combined 50+ years of experience in the online dating industry. Collectively, the team has reviewed over 300 dating apps and is known as one of the leaders in the relationship advice and information space. The team's work has been featured on Zoosk, Tinder, The Economist, People Magazine, Parade, Women's Health, Her Campus, Fox, and more.