Contrary to popular belief, sugar daddy and sugar baby relationships are a way for men to gain companionship, while younger women get the mentoring, guidance, and affection they can't find from younger, immature guys.
Enter Secret Benefits. During our Secret Benefits review we take a look at one of the biggest apps in the world for sugar baby and sugar daddy connections.
If you're ready to find out once and for all if this dating app is a good fit for you, stick around and buckle up for our collection of Secret Benefits reviews.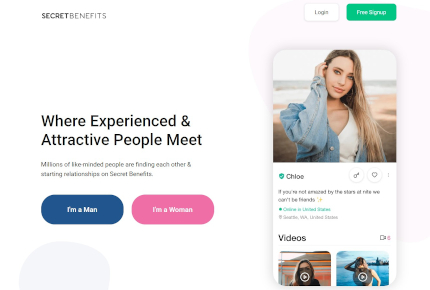 Is Secret Benefits Worth It? – The Bottom Line Upfront
If you are a man looking for younger companionship in exchange for the unique qualities you have to offer – Secret Benefits is totally worth it. The credit purchasing system may look a little pricey up front, but it isn't a recurring purchase, which we love. Plus, the credits stretch pretty far since you can unlock things for as little as 10 credits.
Ladies looking to try out the Sugar Baby lifestyle will also love Secret Benefits. The site is easy to use and the signup process is simple to understand. Ladies never pay for anything and can monitor which men are viewing the galleries.
All in all, we love Secret Benefits for Sugar Daddies and Sugar Babies alike!
Who Secret Benefits Is Good For
Sugar Babies who want to find the highest quality men in one place.
Sugar Daddies who are tired of joining sites where there are way more men than women.
Anyone looking to spice up their love life and try something new.
Who Secret Benefits Might Not Be Best For
Singles under 18.
Younger women who don't want to date older men.
Men who can't support the Sugar Baby lifestyle.
Best Alternative Options for Sugar Dating
Just in case your stroll through our SecretBenefits.com review turns up that it's not quite the right fit for you, that's okay. If you're still looking for sugar dating, here are some other great options that you can try. And if you're looking for more mainstream-type dating, we do have a great list of some of the best dating apps out there that cater more to traditional dating.
| Rank | Site | Free Trial Link | | Best For |
| --- | --- | --- | --- | --- |
| #1 | SugarDaddy.com | Free Trial | | #1 Best Overall |
| #2 | Elite Singles | Free Trial | | Best to Find Educated Men |
| #3 | Secret Benefits | Free Trial | | Best for Pay As You Go |
| #4 | EliteMeetBeautiful | Free Trial | | Best for Elite Dating |
| #5 | SugarDaddie.com | Free Trial | | Best for Track Record |
| #6 | Cougar Life | Free Trial | | Best for Sugar Mommas |
| #7 | WhatsYourPrice | Free Trial | | Best for Unique Style |
| #8 | Sugar Daddy Meet | Free Trial | | Best Secondary Option |
---
Overall Secret Benefits Rating
| Category | Score |
| --- | --- |
| Quality Matches | 9.0/10.0 |
| Features | 8.0/10.0 |
| Ease of Use | 9.0/10.0 |
| Support | 7.5/10.0 |
| Cost | 9.5/10.0 |
| Overall | 8.6/10.0 |
8.6/10.0
Pros and Cons of the SecretBenefits.com Dating App
Pros
There is a strict photo verification system to keep the platform free of bots and scammers.
Sugar Babies never pay a dime to use the app!
No monthly subscription costs thanks to the credits system.
Verifying an account is fast and easy.
Cons
There are no mobile apps available, only web-based usage.
Search features are slightly limited compared to other sites.
There is no video chat functionality at this time.
---
SecretBenefits.com Review – Table of Contents
What is Secret Benefits?
SecretBenefits.com, commonly known as Secret Benefits, is an online sugar dating app designed to connect single men and women who are looking to engage in the sugar dating lifestyle (think sugar daddies, sugar mommas, sugar babies, etc.). Launched back in 2015, the dating site is available through desktop and a mobile-friendly website, but no dedicated downloadable app options.
Unlike some traditional dating apps (and a lot of sugar dating apps), you'll find during your own SecretBenefits.com review that the site doesn't have subscriptions fees, but instead operates on a credit system where you unlock the conversations that you want to unlock.
Site Name: Secretbenefits.com
Paid or Free: Free site with credit purchases
Average Sign-Up Time: Men ~ 5 minutes Women ~ 10 minutes
Paid Membership Pricing: Credit-based system starting at $59.00
Key Factors About the App:

Over 100,000 weekly active users
Over 700,000 registered users from the U.S. alone
No monthly recurring memberships for the utmost privacy.
The site launched in 2015 and already has a large following.
Secret Benefits Features Overview
Secret Benefits is a pretty straight forward app, so there aren't a ton of fancy, unnecessary features bogging it down. Still, there are a few interesting items we really enjoyed while checking out the site:
Secret Photo and Video Albums
Sugar Babies can upload special photos and videos to a secret album on their page. Access to this album costs 10 credits and gives the viewer a sneak peak at the lady in question. This feature adds an air of mystery to the site's interactions, which we enjoy.
Verification System
A crucial aspect to Sugar Daddy/ Sugar Baby dating is the avoidance of scammers and catfish. Nobody wants to waste their time or money interacting with someone fake. Luckily, Secret Benefits has a fast and easy verification system that both sides of the dating pool can use.
No Monthly Fees for Anyone
Sugar Babies use the site totally free, which is great! But we really love that the Sugar Daddies only make purchases of credits instead of paying for a monthly fee. This helps keep purchases discreet and budgets low.
The Quality of Singles at Secret Benefits
We've seen quite a few Sugar Baby/Sugar Daddy sites out there and we were fairly prepared for a bit of the same old story – lots of daddies, no babies. However, Secret Benefits seems to have a really even spread of users on both sides.
Keeping the entire process free for Sugar Babies helps attract them to the platform, while not using a recurring membership helps men to feel comfortable and secure using the site as well. This has led to a large, active, and high-quality user base.
How to Sign Up at Secret Benefits
Signing up is super simple, but a bit time consuming!
Ladies, you need to provide an email address, user name, password, location, age, body type, and ethnicity.
Then, you will upload at least six photos with no nudity, filters, or text.
After uploading your photos, you will need to add a bit of text describing what you are looking for from a Sugar Daddy, a short bio to introduce yourself, a tagline, info about what makes you a good Sugar Baby.
You also need to upload four additional "private" photos and add your phone number to the account.
Men, signing up is a little different for you. You must submit your email address, username, password, age, and ethnicity before being prompted to upload a photo.
Unlike the Sugar Babies, you are not required to upload a photo to finish signing up. You are required to fill in some basic information about your goals on the site and your bio.
That's all there is to it!
Price | How Much Does Secret Benefits Cost?
There are no monthly fees at all of this website, instead the men can purchase these credits to communicate with the women. Here is the basic outline of price for the credits:
| Membership Type | Total Credits | Membership Cost |
| --- | --- | --- |
| Introductory | 100 | $59 total |
| Elite | 500 | $169 total |
| Best Value | 1,000 | $289 total |
Customer Support Options
Customer support features on Secret Benefits are slightly limited. Most issues can be resolved by looking through the website's support page. Those still seeking help can reach out to Secret Benefits through a contact form on their website.
Many users report that customer service responds fairly quickly, and male users can use their credits to purchase priority customer support features.
Get Started Now!
You've read our full Sugar Benefits review, but now you want to know if Secret Benefits is the best sugar daddy dating app or the best sugar baby dating app for you? Well, the best way to find out is to go ahead and give it a try! If you're serious about the sugar dating lifestyle then we encourage you to check it out below.
---
FAQ
Why Should I Verify My Secret Benefits Account?
Verified users get more interaction on the site because they are seen as more trustworthy.
How Do I Verify My Secret Benefits Account?
Verifying your Secret Benefits account is easy and fast. Simply click your profile photo in the top right corner of the webpage, then select "get verified." From this screen you can begin a video chat with a moderator who can approve your verification. The process takes ~1 minute.
How Long Does it Take to Verify Photos?
Photo verification can take up to 48 hours.
Is Secret Benefits Only For Sexual Relationships?
No! Many users seek companionship, mentoring, and other non-sexual relationships. Just be sure to be honest about the relationship you are seeking when you create your profile.
Who can See My Secret Photos?
Only Sugar Daddies who pay credits to unlock your secret photos will be able to see them. You can find a list of those with access to your photos in the access menu on the website.
Why Aren't My Photos Getting Approved?
Secret Benefits has a strict set of rules regarding your photos. If your photos do not meet the requirements laid out by those standards, they won't be approved. Here are the guidelines for uploading photos on Secret Benefits:
Photos must be of your recent appearance.
No nudity or sexual content.
No copyrighted content, which includes visible logos, characters, or similar images on clothing.
No text of any kind on the photo.
No depictions of the use of drugs or any illegal items or activities.
No obscene or offensive hand gestures.