Positive Singles is an online dating site specifically dedicated to people living with sexually transmitted diseases (STDs). As more and more people are living with STDs, it's become more important for them to find ways to live healthy and fruitful lives.
Positive Singles aims to do their part by creating a community where people with the same conditions can come together and find meaningful relationships. But how is this site serving its community? Has it been successful in making matches? How does it compare to other available options? Stick around for our complete Positive Singles review to get answers on these questions and more.
We've broken down everything that you need to know about positivesingles.com to help you make an informed decision about whether or not it's a dating site that you'd like to join.
Is Positive Singles Worth Trying? – The Bottom Line Up Front
Positive Singles is one of the most trusted STD dating sites on the market. In fact, they've added almost a million new users to their ranks over the last year! But does that mean it's worth your time? After testing the site for about a week, we're confident the answer is yes – with some considerations.
---
Let's start our Positive Singles review with the things we love about this STD dating site.
First, it's open to people living with any type of STD, so it has more members than STD-specific sites, such as the herpes-only dating site MPWH. The members here tend to be nice, respectful, and responsive, so it's easy to strike up conversations and make connections. Making it even easier, free members can respond to messages from premium subscribers.
We also really like the social networking/educational aspect of this STD dating app. Sure, you log in to find love, but you can also read treatment stories, get STD dating ideas, and seek advice from a dating advisor.
Now, we also came across a few issues when preparing our review of Positive Singles.
For starters, even though the membership base is big for a niche site, it's still smaller than eHarmony and mainstream dating apps. This is especially troublesome for people living outside of big cities. Making matters more challenging, free members can only search by country and state, so it's normal to end up with matches that live hundreds of miles away.
Also, the site has a pretty outdated design and the app crashes more than it should. That's a pretty big issue considering that Positive Singles has a hefty price tag for premium subscriptions. Now, you can subscribe for as little as $15.99 a month, but that's for a six month membership, and you have to pay the entire bill upfront.
Positive Singles doesn't earn a perfect ten, but it's really good at what it does.
If you want a safe, welcoming environment for dating, making friends, and educating yourself on your diagnosis, we recommend giving it a try. It's definitely one of the best dating apps for singles with STDs out there (and you can claim a free trial).
Overall Positive Singles Review Rating – 8.2/10.0
| Category | Score |
| --- | --- |
| Starting Cost | $15.99/month |
| Online Since | 2001 |
| Userbase | Almost 2.2 Million |
| App Store Rating | 3.9/5 |
| Google Play Rating | 4.5/5 |
| Our Review Score | 8.2/10.0 |
Pros and Cons of the Christian Mingle Dating App
Pros:
Safe, comfortable environment for singles living with STDs
Free users can reply to messages from paid subscribers
Moderators approve photos before they're visible to other members
Fewer spam messages than on other dating sites
40+ Features with Upgraded Account
Cons:
Users have to pay for a membership to search by city and distance
Inaccurate location/distance search for paid members
Lots of profiles without photos
Much more expensive than most dating sites
Limited options with a Positive Singles free trial
Positive Singles Features Breakdown
We spent a lot of time on the site when researching our Positive Singles review, and were impressed by the number of unique features. Most of the special features fall into the social networking and educational categories, so they might not help your dating game, but they're still worthwhile. Let's go over some of the standouts.
SPARK – Available to Free and Premium Subscribers (with a Profile Photo)
If you're looking for Tinder for people with STDs, you might enjoy Positive Singles' SPARK feature. You'll see one profile photo at a time, along with the person's age, location, and diagnosis. Then, you can like or pass on the profile before seeing the next one.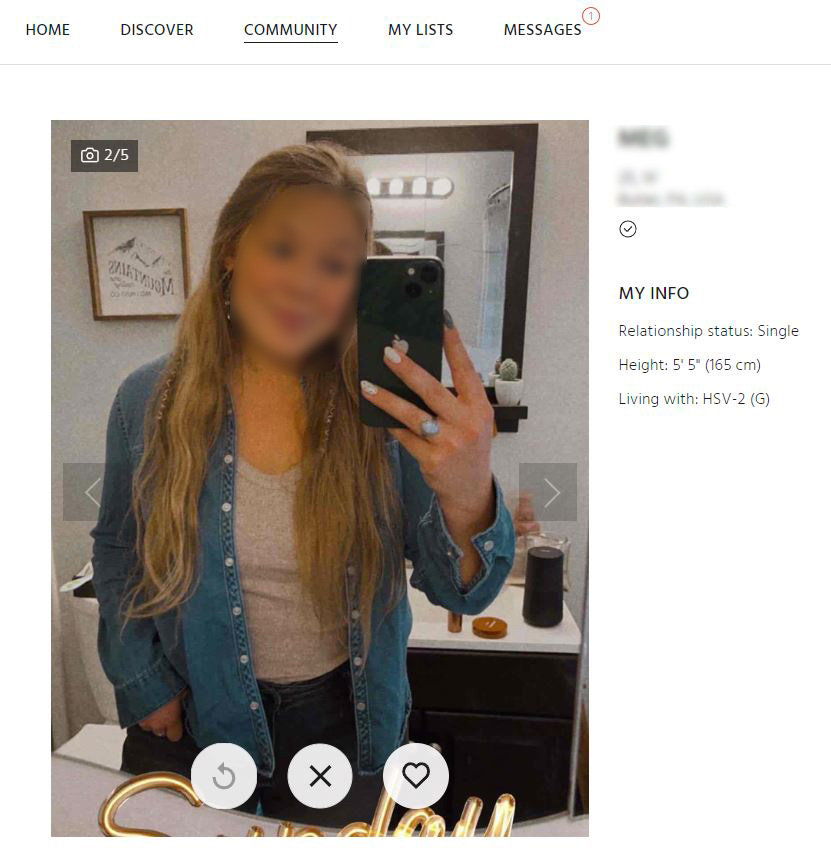 This is a quick and easy way to go through your potential matches. Just make sure you upload a profile photo before using SPARK. It's only open to people with at least one picture on their profile. One more thing to note is that free members will only get a limited number of likes or passes. Once you've reached that limit you will have to upgrade or wait 12 hours to continue using this feature.
Advanced Search Features – Available to Premium Subscribers
As we mentioned in the "Bottom Line Up Front" section of our Positive Singles review free users are quite limited when it comes to searching. Without upgrading you will only be able to filter potential matches by gender, age, and a broad location (like country or state). That doesn't mean that more advanced features aren't available however.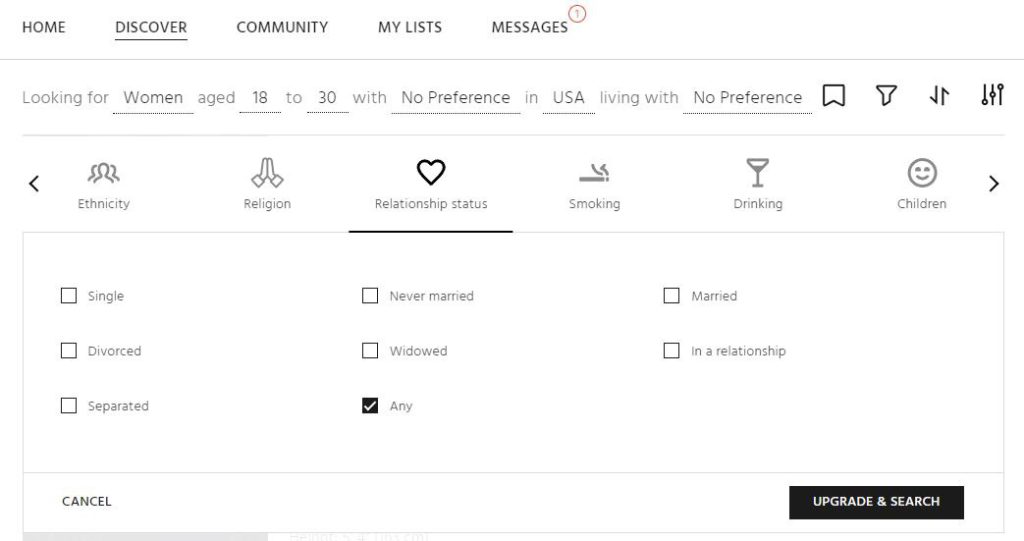 By upgrading to a premium membership you unlock the ability to filter discover results by ethnicity, religion, relationship status, smoking and drinking preferances, body type, condition they are living with, and more.
Positive Singles Chatroom – Available to Premium Subscribers
Looking for a new way to get to know potential matches? Check out the Chatroom feature under the messages tab.
In this community chat area you can talk with other premium members in real time about whatever comes to mind. At the time of this review that conversation was about home decoration, music on iTunes, and hugging so as you can see topics will vary broadly.
The cool thing about this feature is that it's members only and very active. This means everyone in this thread is serious about getting results by using Positive Singles. It can also lead to great personal conversations. By clicking on any member's image in the chat you can instantly send them a private message.
We also noticed that there seemed to be a good mix of men and women using this chatroom feature. A lot of times, online dating sites can be overrun by too many men which is great for the ladies, but not so great for the men. Every time we checked, it seemed to be a healthy mix of both genders which is a win for everyone all around.
Members' Events – Available to Free and Premium Subscribers
Most reviews of Positive Singles don't mention Members' Events since this is a new feature. Verified members can post events on the feed, so others can join them on the big day. We appreciate that it only lets verified members post and are impressed by the number and types of events.
Whether you're looking for love or friends, meeting through these Positive Singles community events can be a big help in reaching your relationship goals. It also just seems like there a bunch of unique and fun things lined up!
Members' Blogs – Available to Free and Premium Subscribers
Everyone has something to say and the Positive Singles Member Blog gives them somewhere to say it. Whether they want to talk about coping with their condition, online dating problems, ask for advice, or something else completely random this is the place.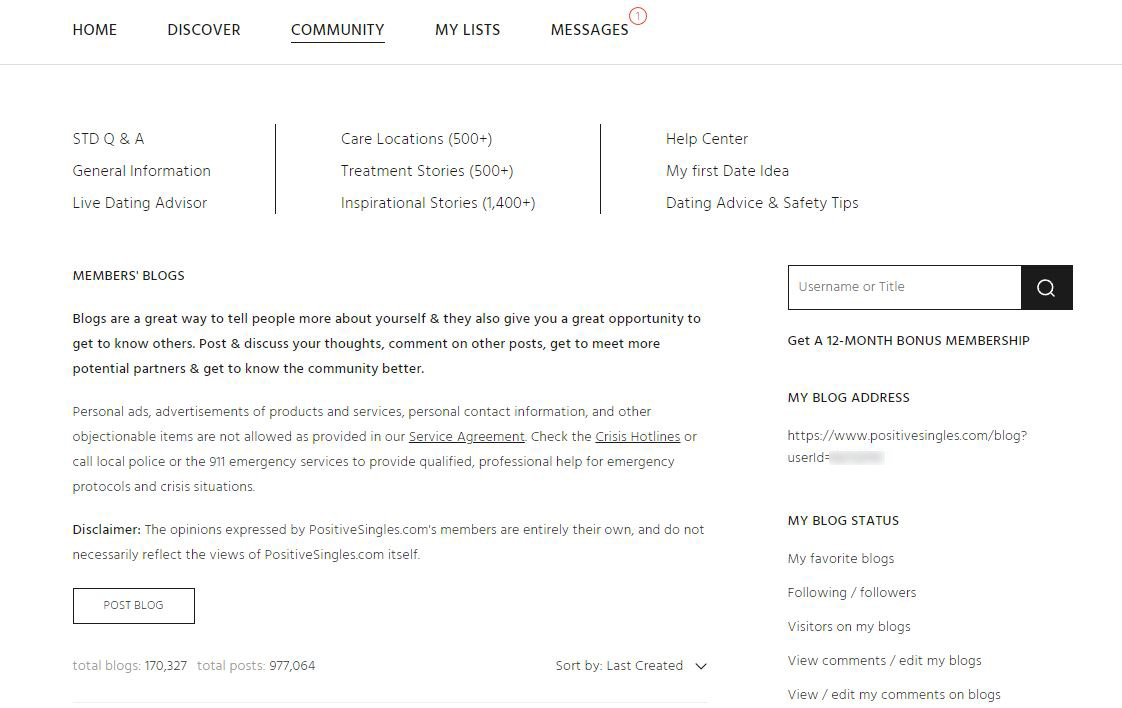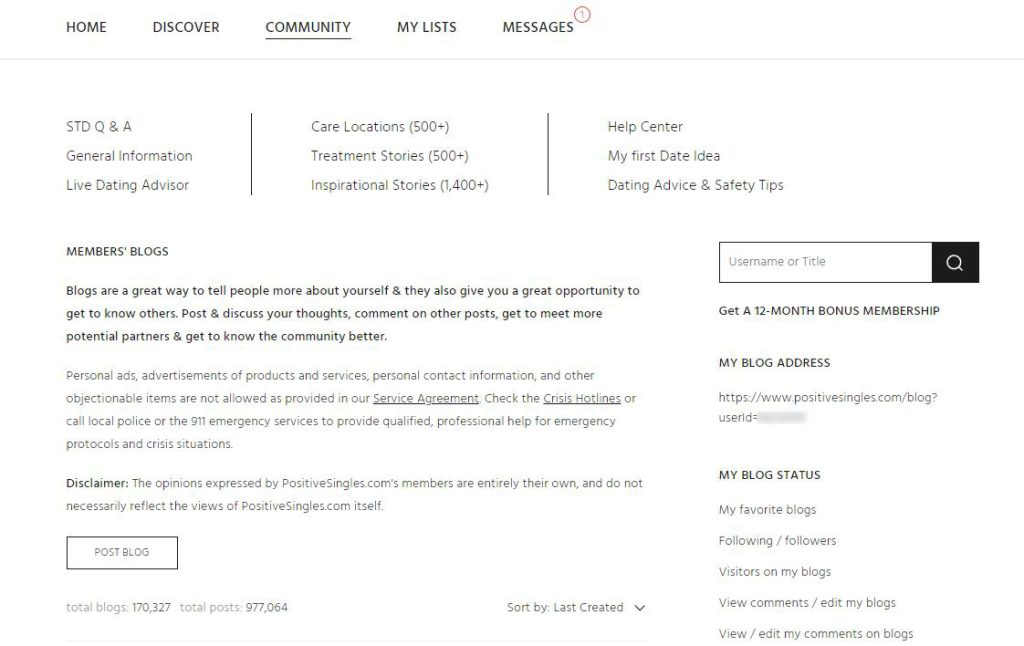 Truth be told, we kind of have a love/hate relationship with the blogs on Positive Singles. There are some interesting ones, but you have to go through a bunch of pretty random junk to get to them. If you have some extra time, though, browsing the blogs is worth it and can expose you to interesting users and perspectives. Here are some of the most active topics right now:
"What's Your Favorite Christmas Movie Of All Time?"
"Is the real test of a relationship speed or quality?"
"For the 20 something fellas who pursue older women"
"You hide your pics here but they public elsewhere"
"Is this a red flag?"
"Pandemic dating"
First Date Ideas – Available to Free and Premium Subscribers
If you're new to dating with an STD, you might be unsure of what to do or where to go. That's why Positive Singles' First Date Ideas section is really cool. We looked through a lot of the ideas when getting our Positive Singles review ready, and especially liked searching for ideas by age group.
This is not only a great way to get creative with your first dates, but can also be a unique way of discovering other users with similar interests that you may not have come across in search.
Treatment Stories – Available to Free and Premium Subscribers
Finding people to talk to about STDs in person is hard, especially if you tend to keep your diagnosis under wraps. Fortunately, free and premium members can read and write Treatment Stories on the STD dating app. These stories include information about medication, side effects, and efficacy.

You can submit your treatment story anonymously or connect it to your profile. As of this writing, you'll receive 30 days of premium for free if you add your story to the mix. This can only be redeemed once, and it could go away at any time. That makes now a good time to share your story.
Care Locations – Available to Free and Premium Subscribers
Are you having trouble finding quality healthcare for your STD? Positive Singles maintains a database of care locations, and members can add their favorites. There are over 500 locations listed in all, and the number continues to increase.
Oh, and if the facility you submit agrees to work with Positive Singles, the STD dating site will upgrade you to premium for a full month. Not a bad deal for doing your part to help others living with STDs.
Dating Advisor – Available to Premium Subscribers
This was one of the cooler features we found during our Positive Singles review. Premium members can connect to a Dating Advisor via chat or email. The advisor is on hand to answer questions related to psychological, emotional, safety, and dating concerns. We evaluated this feature as part of our Positive Singles review and were impressed by the help provided.
Things like this really show you that a site cares about the success of its members. They aren't just out to make a buck but are really interested in your success dating. Bravo to positivesingles.com for this one.
Chat Prompts – Available to Free and Premium Subscribers
So many people struggle with sending interesting online dating messages? I mean what do you say to make that perfect first impression? This dating app knows how tough this can be and has come up with a solution–Chat Prompts.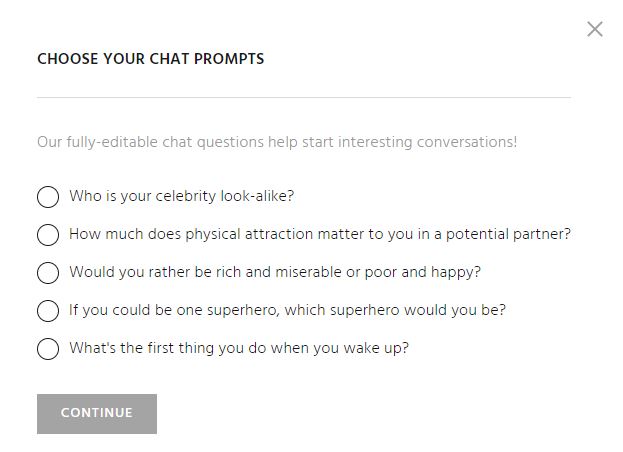 If we had to pick one this is probably the best free feature on Positive Singles. It really helps you message potential matches in a confident way without relying on lame strategies like copy pasting the same intro message.
Quick Exit – Available to Premium Subscribers
Are you afraid of someone seeing you using an STD dating site? You can remove the stress by upgrading to a paid account to unlock the "Quick Exit" feature. If someone gets too close to your computer or phone, hit the "Quick Exit" button to go to another site. You'll be immediately redirected, so you won't have to disclose your status to the intruder.
Quality of Singles on the Positive Singles App
For people living with sexually transmitted diseases, dating can be hard. It can be a challenge to explain things to a new partner, and even the thought of that awkward conversation can turn you off to even trying. With Positive Singles, this all changes.
You can find like-minded matches who understand what you're going through because they're going through it too.
The site has a diverse userbase with different ages, races, lifestyles, and types of diseases. Regardless of what you might be living with, there will be matches for you.
Hands down, Herpes was the most widely mentioned STD on the profiles we encountered. If you're someone living with Herpes of any kind, you're going to find a strong community of people here to date and find support through.
The site also allows you to specify which strain you have so you can be sure that the "tough" questions are asked and answered in advance (making everything infinitely easier). Other STDs including HIV were covered as well and did have members for each.
When we did some preliminary searches, we did see that there seemed to be a lot of members on the site. The main page of Positive Singles boasts over two million members and growing. This is significantly smaller than the mainstream online dating sites, but that's probably to be expected because it is a specialized site.
What we would recommend doing for you is taking advantage of the free trial with this site and playing around with the quick search function. Look to see how many members are in your area before you join.
Our verdict here is that for the type of site it is, we did see a decent amount of matches. Without the ability to see exact activity dates, it's hard to say how active the members are, but based on the number of paying members, we expect this to be pretty good. It's not a five-star number for us, but definitely better than we expected for this niche type of site.
Positive Singles Customer Support Review
Customer support on Positive Singles includes a Help/FAQ section, email, and postal mail, and even live support!
The FAQ section is fairly extensive with over 60 unique questions about using the app. From our assessment this will probably answer most questions you would have, but the other options available truly push Positive Single's customer support to far above the level of industry standard. We definitely give support the highest possible marks for this review.
Pricing Review | How much is Positive Singles Membership?
Positive Singles has a very basic cost structure set up with three different memberships. The memberships are all exactly the same in regards to features. The only difference is that they are differing lengths. As is the standard in the online dating industry, the longer the term you purchase, the cheaper the site is going to be.
Here are the different membership options and the costs associated:
| Membership Type | Membership Length | Membership Cost | Total Cost |
| --- | --- | --- | --- |
| Premium Membership | 1 Month | $29.95 total | $29.95 total |
| Premium Membership | 3 Month | $19.98 per month | $59.95 total |
| Premium Membership | 6 Month | $15.99 per month | $95.95 total |
Please Note – All of these memberships are charged as a one-time payment.
It's also worth mentioning that as stated in the Positive Singles Service Agreement all subscriptions will automatically be renewed until you opt to cancel (which can be done on your settings page).
Payment options include any major credit card (Visa, Mastercard, American Express, JCB, or Maestro), Google Pay, and CCbill.
Honestly, these prices are pretty similar to what you would find on many other dating apps. Since there that aren't really many other apps catering to this specific dating market (and certainly none doing it this well) we would say upgrading is fair and well worth the price if you want to unlock these premium features.
What we highly recommend you do first, is sign up for an account with the free trial link we've provided and use the quick search function. This way you can see if there are some singles that you are interested in and if you like the Positive Singles App overall.
---
---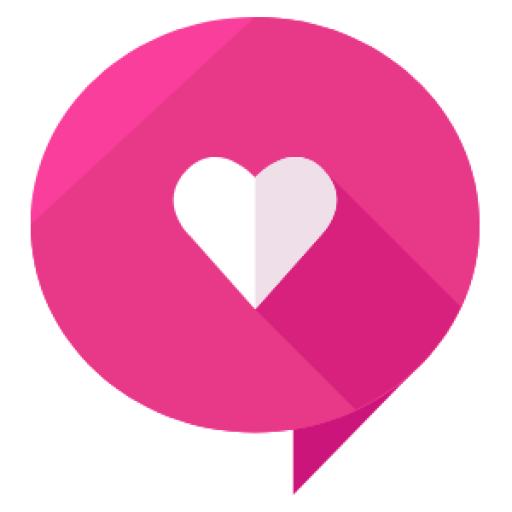 Written By: Healthy Framework Team
The Healthy Framework team has a combined 50+ years of experience in the online dating industry. Collectively, the team has reviewed over 300 dating apps and is known as one of the leaders in the relationship advice and information space. The team's work has been featured on Zoosk, Tinder, The Economist, People Magazine, Parade, Women's Health, Her Campus, Fox, and more.