OurTime is a hugely popular site that caters to singles in the 50+ demographic. The site caters to over 1.5 million users and claims to help many of those users find real connections with amazing singles in their area.
If you are looking to start dating and are over the age of 50, then you've likely seen an ad or two for OurTime. The question is, does the site really work?
Today, we are taking a look at OurTime and everything the site has to offer. Does it work? How much does it cost? Are users happy with their time on the site? Read on for answers to all your pressing questions!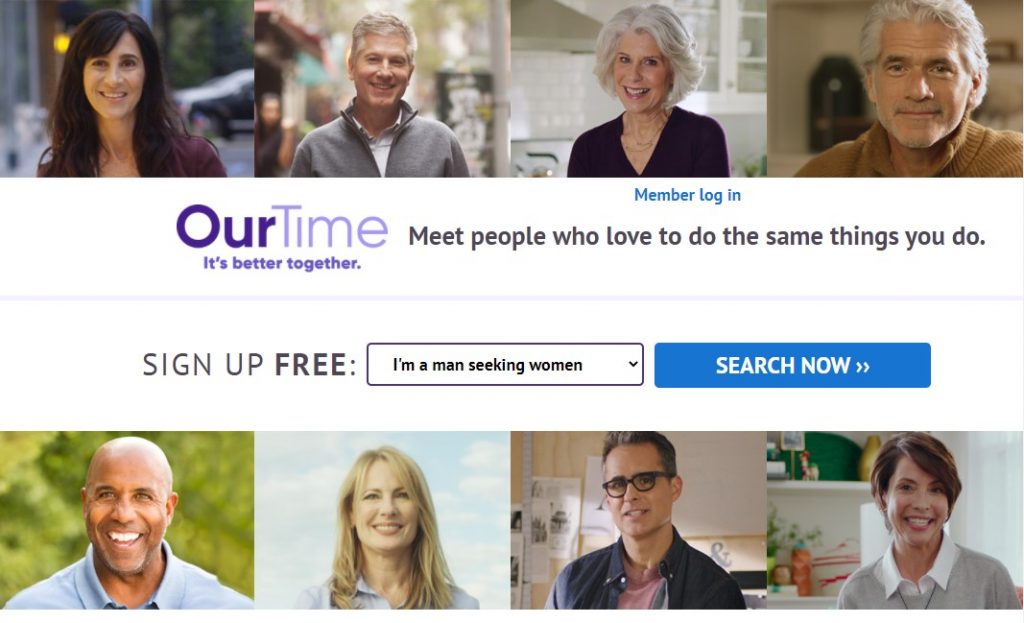 OurTime – The Bottom Line Up Front
OurTime is one of the more popular dating sites available that caters to singles over 50. While we can't say they are the only great option for older singles, we definitely think it is worth taking a closer look at.
The singles on the site are looking for serious romance, saving you from constant badgering regarding flings and one night stands. You can easily find singles in your area that share your interests and life goals with the search functionality.
The site is great for those with or without kids, and the division of ages and genders is even enough to keep things interesting for everyone. All-in-all, OurTime is a pretty nice option for any singles over 50! That being said, it's certainly not the only option. We've included some incredible options for seasoned singles below that come with free trials so you can try before you buy! Why not check a few of them out now?
Best OurTime Alternatives (With Free Trials)
---
Overall OurTime Rating
| Category | Score |
| --- | --- |
| Quality Matches | 8.5/10.0 |
| Features | 8.0/10.0 |
| Ease of Use | 8.5/10.0 |
| Support | 8.5/10.0 |
| Cost | 80/10.0 |
| Overall | 8.25/10.0 |
8.25/10.0
Pros and Cons of the OurTime Dating App
Pros
Platform is very simple to use.
Variety of payment options to fit all budgets.
Great split between men and women using the app.
Cons
Communication features are behind a paywall.
No identity verification to enhance profiles.
Rural members may see less matches than those in the city.
Who OurTime Is Good For
Older singles who are tired of competing with 20-30 year olds on dating apps.
Those who want a dating site/app that is easy to figure out and fun to use.
Anyone that loves having multiple payment options.
Those who want to be able to try out a site before they buy a membership.
Who OurTime Might Not Be Best For
Younger singles (under 50).
Singles that only want to have quick and meaningless romances.
Users seeking an app that lets them chat for free.
OurTime Review – Table of Contents
Fast Facts About OurTime
Site Name: OurTime.com
Paid or Free: Paid site with a limited free trial
Average Sign-Up Time: > 5 minutes
Paid Membership Pricing: Plans starting as low as $15.96 per month
Unique OurTime Facts and Figures

45% of users are men and 55% are women.
Over 69% of users on OurTime identify as single parents.
One of the top 10 fastest growing dating sites for singles age 50+.
Users can download a free IOS app, which has a 4 star rating.
OurTime Features Overview
One of the biggest perks to OurTime is their abundance of useful features and amenities. These are the bread and butter of dating sites and one of the most important details to review before determining which site is best for you. Take a look through some of our favorite OurTime features, below!
Promote Me
Promote Me is a feature paid for with tokens. These tokens can be used to unlock a multitude of bonus features. When you unlock Promote Me (for 20 tokens) your profile is pushed to the top of local singles' search results. This leads to a large increase in traffic to your inbox!
Virtual Gifts
Virtual Gifts are another feature that can be purchased with tokens. The gifts cost between 10-75 tokens and are digitally sent to the person of your choice. It is a great way to grab someone's attention and let them know how much you like them.
Notify Me
Notify Me is purchased with 20 tokens. This lets you put a log in tracker on a specific user for 7 days. When that user logs in to OurTime, you will be personally notified!
Profile and Message Highlights
Value Plan members get access to this unique feature! With Profile and Message Highlighting, your profile and messages will be displayed to others in a glowing yellow color, to help you stand out among the crowd!
Profile Pro
If you aren't much of a wordsmith and worry about the quality of your profile, you may enjoy this token-purchased feature. Profile Pros are part of the OurTime team. You provide them with your information and they custom craft you an enticing profile!
Connect Me
Connect Me is a token feature that works to keep you safe. When you use Connect Me, you can text or call members through an OurTime routed number, which keeps your private information safe from your matches!
The Quality of Singles at OurTime
OurTime has a really nice quality of singles. The users have flush profiles, are interactive, and utilize features to keep things interesting. In fact, the only downside to the OurTime singles pool is that they tend to be more concentrated in areas with larger populations.
Obviously, that makes sense. But, if you live in a rural town, you may not get to see all these high quality singles. That is because the search is location-based.
If you can overcome the scarcity in small towns, OurTime has a fantastic user base of singles over 50.
How to Sign Up at OurTime
OurTime has a pretty fast sign up process. You start by filling in some basic details about who you are interested in, your age, and where you are from. Then, you need to add a name and email and you are basically done signing up.
You can fill out more information on your profile after signing up, but the process from not being a member to being a member takes less than 5 minutes.
Price | How Much Does OurTime Cost?
| Membership Type | Membership Length | Monthly Cost | Total Cost |
| --- | --- | --- | --- |
| Standard | 1 month | $34.96 | $34.96 |
| Standard | 6 months | $15.96 | $95.76 |
| Value | 6 months | $19.96 | $119.76 |
| Tokens | 55 credits | $0.05 per credit | $2.99 |
| Tokens | 110 credits | $0.05 per credit | $5.99 |
| Tokens | 280 credits | $0.04 per credit | $9.99 |
Customer Support Options
OurTime members can seek support through a thorough FAQ page. The page includes a search function that allows for fast navigation of the topics covered. If users don't find the answers they need on the FAQ, they can access a contact form that allows them to submit their question directly to the customer support team.
The user should receive a response to their personal email in less than 72 hours!
Get Started With the Best OurTime Alternatives (With Free Trials)
---
FAQ
Is OurTime LGBTQ+ Friendly?
Yes! OurTime does allow you to sign up and seek relationships from the same identified gender. The number of users signing up for queer relationships may be a bit smaller, so expect a smaller pool of singles as compared to other users. However, these differences are seen in most major apps that cater to both hetero and homosexual relationships.
Is OurTime Good for Casual Hookups?
No. OurTime is a place to make meaningful connections, whether they be romantic or friendly in nature. The site's users tend to be focused on finding a life-long partner and not a one night stand.
Can I Find True Love on OurTime?
Yes! When you search for OurTime reviews, you can find thousands of people remarking on how they've met new friends and meaningful love through OurTime. Of course, these reviews will always be speckled with those who didn't succeed. Just remember, if you keep a flush profile and treat people with respect, you have great chances of meeting someone great!
Do I Have to Pay to Reply to Messages?
Most members have to pay for a membership to reply to messages, but there is a work around. If a member really wants to talk to you, but you don't have chatting unlocked, they can use the Reply for Free feature. This is a feature that allows the paid member to spend tokens to unlock your chat, so that you can communicate without having to pay for a membership!
What Can I Do With a Free Membership?
Free members can:
Sign up
Create their profile
Search through members
Talk to members who use their Reply for Free feature