Did you know that over half of American adults have either HSV-1 or HSV-2? While it's nice to know you aren't alone, you still might feel a little nervous about getting back on the dating scene. Fortunately, herpes dating apps like MPWH promise to make dating simple, stress-free, and fun.
MPWH stands for "Meeting People with Herpes," and is open to singles living with oral and genital herpes. Members can use the app to make friends and find dates, but is it effective? Keep reading our MPWH review to get our unbiased take on the dating app for singles with herpes.
Is MPWH Worth It? – The Bottom Line Up Front
The herpes dating site MPWH connects members interested in friendship, short-term dating, long-term relationships, and marriage. It considers location and personal preferences when matching members, and also lets users swipe through profiles one at a time via the Spark tab. The simplistic matching system doesn't factor in personality, so matches aren't always compatible.
However, the site has a high-quality membership base and excellent social networking features, so it's definitely worth checking out – especially if you pay for a premium account.
That being said, you don't have to upgrade to a paid membership right away. The standard (free) membership is limited, but you can use it to get a feel for the site. Your standard account will let you do the following:
Reply to messages from premium members
Filter matches by age, gender, state, and country
Browse profiles via the Discover and Spark tabs
Like up to 100 profiles a day
Swipe on up to 50 profiles a day
Send and receive winks
Read and post Members' Blogs, First Date Ideas, and Moments
---
Since standard members can't search by distance or city, a lot of the matches end up being far away from home. Check out our first two matches to get a better idea of what we mean. One is in Millport, and the next is about four hours away in Brooklyn.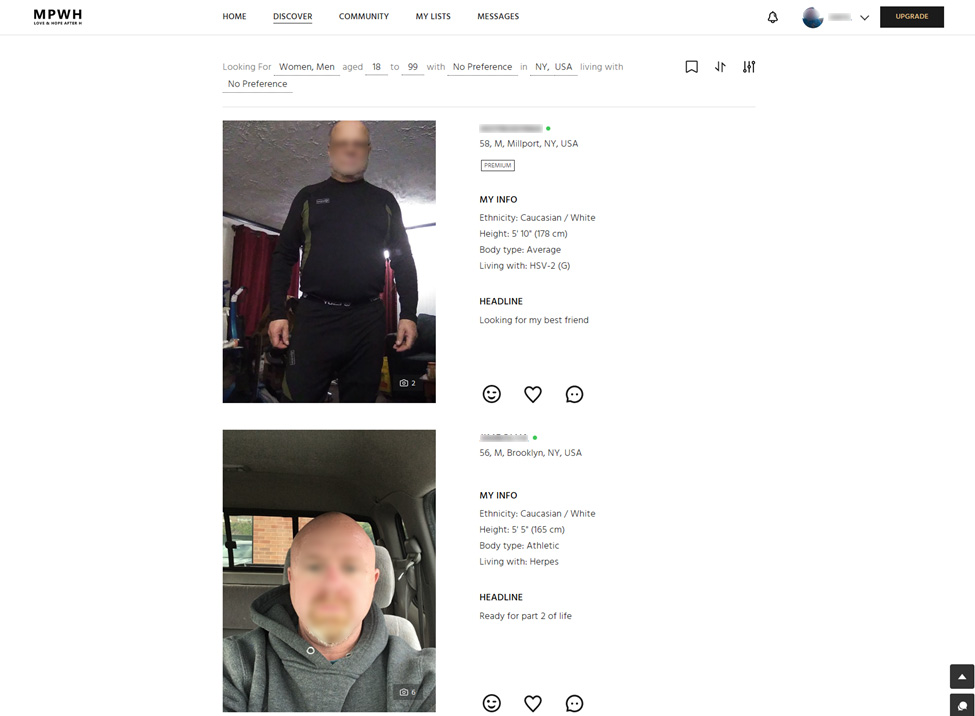 Fortunately, premium members can access advanced search filters. After upgrading for as low as $15.99 a month, you'll be able to set the distance filter and search for members in a specific city. Plus, you can use the following search filters:
Ethnicity
Religion
Relationship status
Smoking
Drinking
Children
Height
Body type
The advanced filters are helpful, but a word of warning – the membership base is small, so if you get too specific, you'll run out of profiles to view. Also, the advanced filters are pretty superficial, so you'll still have to invest time into figuring out if your matches are compatible.
Fortunately, you can do that without contacting members thanks to the robust profiles.
While some dating sites let people create accounts with little more than an email address and username, members have to fill out the "About Me" and "About My Match" sections when signing up for MPWH.

Also, a lot of the members complete additional profile sections that showcase their personalities. For instance, we noticed that a lot of members play the Fun Questions Game and display their answers on their profiles. Also, lots of guys and gals add questions for their matches to ask them when reaching out.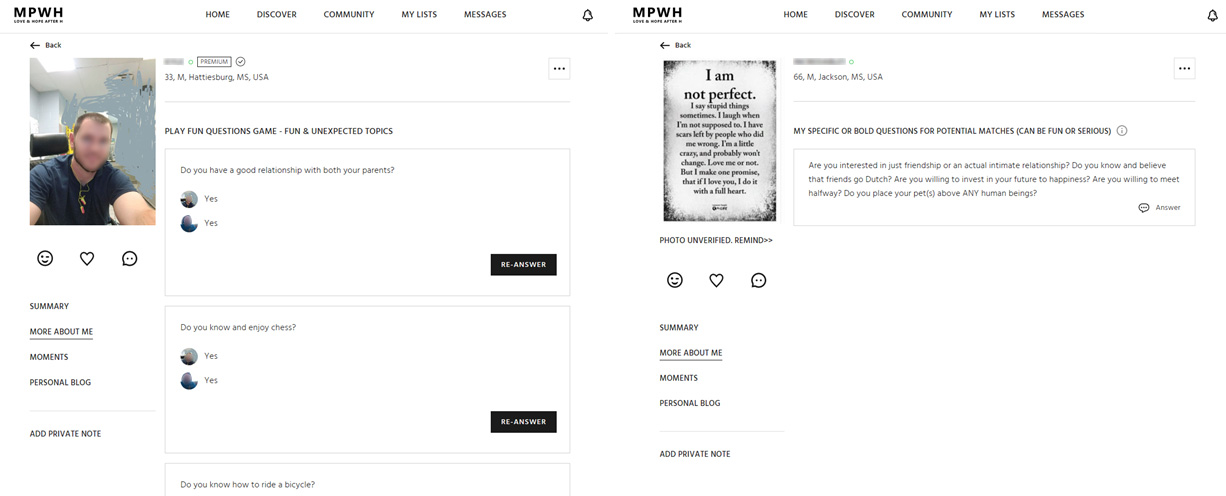 So, we've covered the dating side of things, and now, it's time to shift gears. See, MPWH also has some killer social networking features, including the Members' Blogs. The blogs tend to generate solid engagement, and they're a fun way to get to know the community – and to find active members.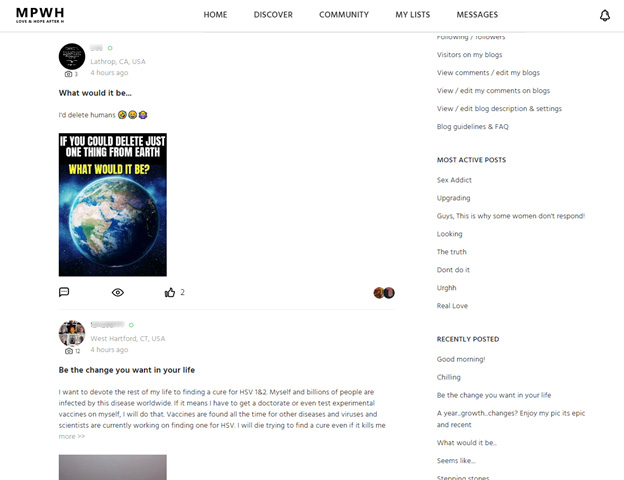 The herpes dating site also lets members comment on profiles, upload Moments to the main feed, and share First Date ideas. Seriously, the social features are top-notch.
As you can see, there's a lot to like about MPWH. The matching algorithm is on the weak side, but the high-quality profiles and social features make up for it. This is one of the best dating sites for positive singles, and we highly recommend it.
MPWH Review Rating (And Fast Facts)
| Category | Score |
| --- | --- |
| Google Play Rating | 3.2/5.0 |
| App Store Rating | N/A* |
| Active Users | Approx. 200,000 |
| Starting Cost | $15.99 per month |
| Online Since | 2015 |
| Our Review Score | 7.3/10.0 |
*The MPWH App is not available on the App Store (Sorry iOS users)
7.3/10.0
Pros and Cons of the MPWH Dating App
Pros
Inclusive community of herpes-positive singles
Most MPWH members have complete and detailed profiles.
Standard members can reply to messages from premium subscribers for free.
MPWH is available online and through the Google Play.
We found few fake members on the platform.
You can use the site anonymously to prevent your sensitive diagnosis information from being spread. 
Cons
Matches people based on superficial traits and preferences.
Standard members can't search by city or distance.
Low member engagement (likely due to limits on free accounts).
Almost 70% of the members are men.
No iPhone app (the MPWH app in the App Store isn't legit).
Dating sites for STD positive singles can lead to a false security around safe-sex practices, which can lead to the diagnosis of additional diseases. 
The user pool is smaller than on a traditional dating app. 
MPWH Features Breakdown
MPWH is simple to use once you understand how the features work. And that won't be a problem after you read this section of our review of MPWH. We're going to break down the features for you, so you'll be ready to set up a profile and use the app.
Spark
If you're in the mood for a swipe-based app like Tinder, you can use MPWH's Spark feature.
Profiles pop up one by one, and you'll need to like or pass on them to bring up the next one. This is a quick and easy way to get some mutual matches, but that doesn't mean you'll be able to chat. You or your match will need a premium membership first.
Moments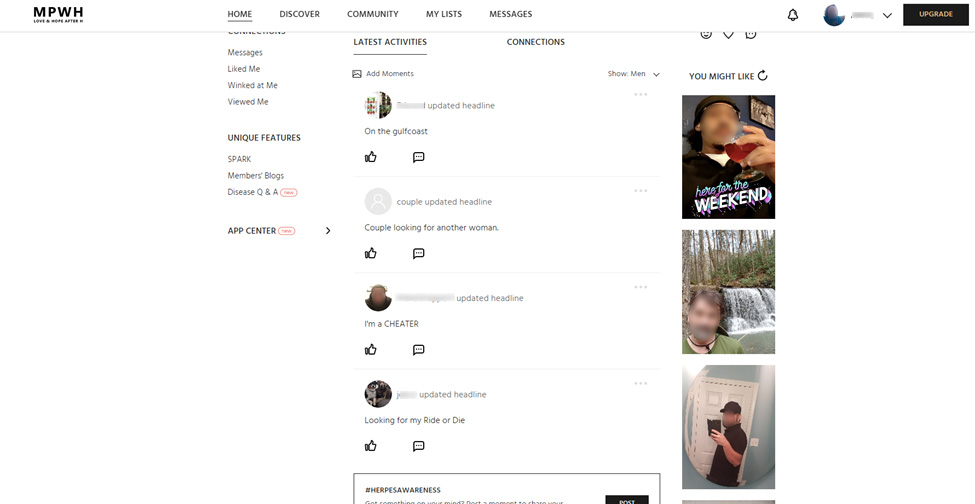 You can keep tabs on what's happening on the site by hitting up the Moments tab. The feed contains member updates, such as new profile photos and headlines. Plus, members can add their own Moments by posting text, images, and hashtags.  Once added, the Moments show up in the main feed and on the member's profile.
While members can like and comment on Moments, the engagement is pretty low. Still, we recommend checking it out so you can see some active users that you might have missed in your matches.
Members' Blogs
Do you want to engage with other members when using MPWH? If so, you'll want to check out the Members' Blogs.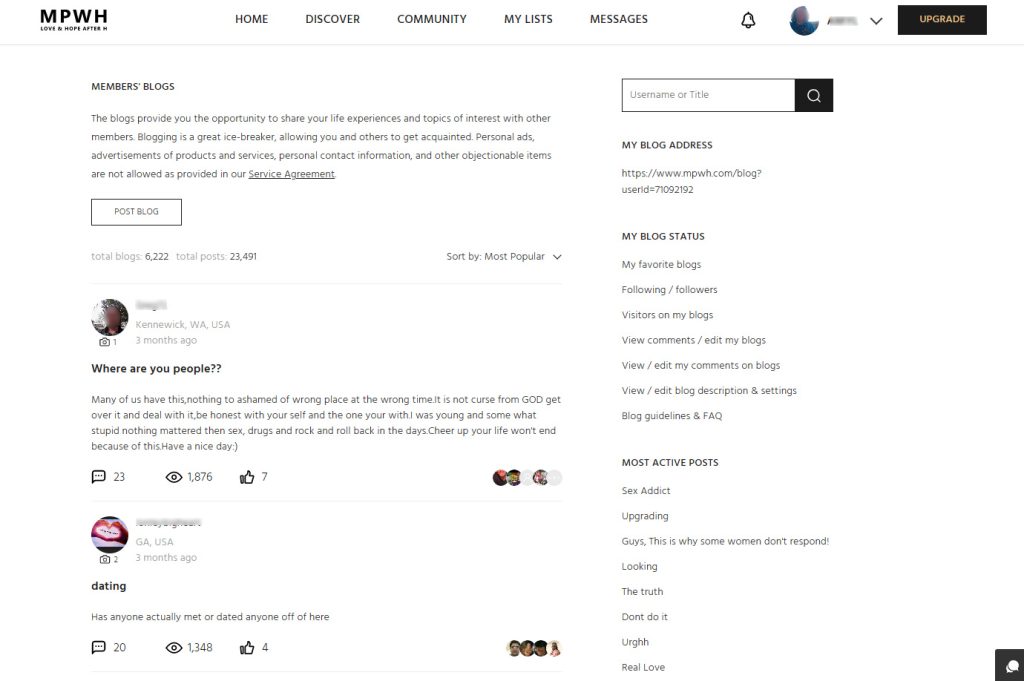 As of this writing, there were 6,222 total blogs and 23,491 total posts, so this is clearly a popular feature. The blogs range from fun and informative to romantic, and members post daily. This can be a great way to find users who may not have caught your eye while using MPWH's discovery feature.
Comments and Compliments
You can leave comments and compliments directly on members' profiles, and we've noticed this is a way for standard members to get around messaging restrictions.
A lot of users leave comments asking members to message them, and some even share their phone numbers. We definitely don't recommend leaving your digits out there for the world to see, but this is a good way to engage with the singles on MPWH.
First Date Ideas
Dating with herpes might feel overwhelming at first, but you can get back into the swing of things by reading First Date Ideas on MPWH. Members are free to add their own ideas, and users can like and comment on them. If you add one, people can see them on the First Date Ideas page on the site, along with the "More About Me" section of your profile.
Disease Q&A
As an STD dating app, health is a big focus on MPWH. With that in mind, MPWH just added a Disease Q&A section to the site. Members can remain anonymous when asking questions about diseases, so privacy isn't an issue.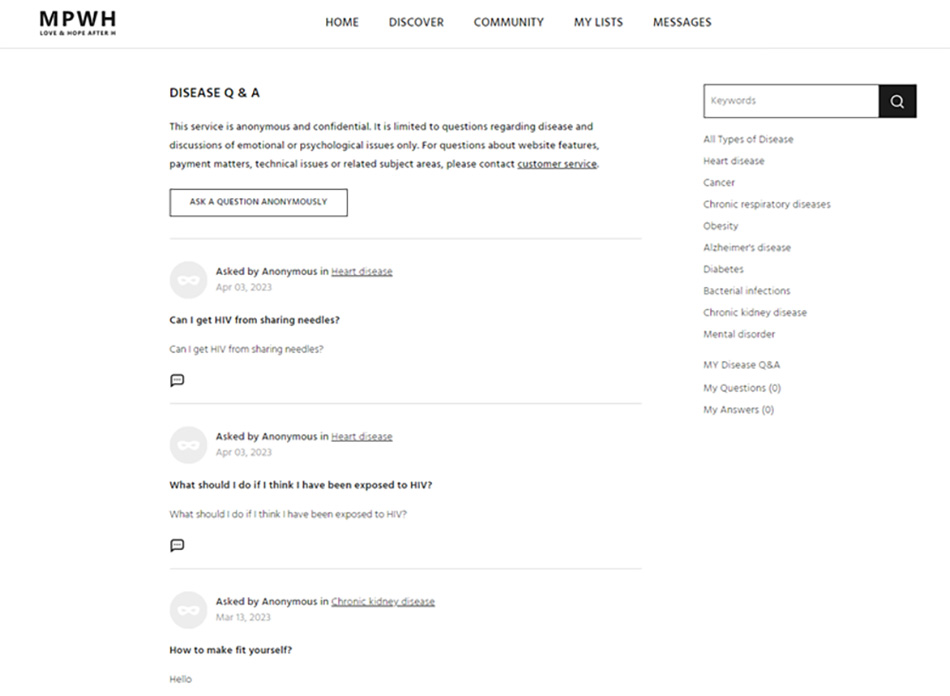 Now, a couple of things…
One, the Disease Q&A isn't very active. When we last checked, there were only five questions posted, although they'd all received answers. And second, anyone can answer these questions.
This service isn't the same as consulting with a medical professional or checking with a trusted source. Instead of asking questions on the site, consider getting information about genital herpes from the CDC or learn about herpes and relationships via the American Sexual Health Association.
Quality of Singles – MPWH User Base Review
A dating app can have all kinds of cool features, but if the membership base is low quality, it'll be a waste of time. That's why we spent a full week evaluating the members when researching our MPWH review. Overall, we were happy with what we saw, although the small membership base creates some challenges when looking for matches.
So, let's start with something we absolutely love – the members here are legit. MPWH checks over photos before they go live, and we didn't come across any sketchy profiles.
And speaking of profiles, they are outstanding on MPWH.
Most members go beyond the required profile fields and include extras, such as First Date Ideas and answers to the Fun Questions Game. But even without that, the required "About Me" and "About My Match" sections typically provide a wealth of info about members.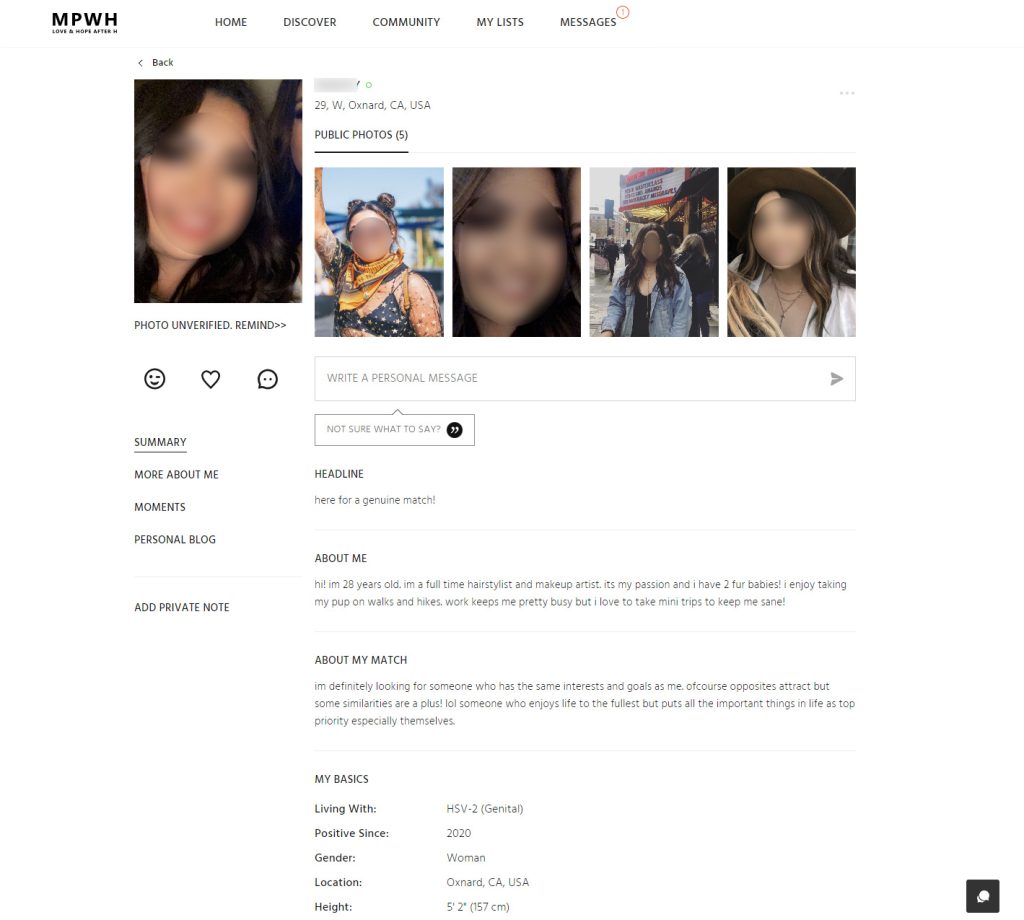 With so much info in the profiles, it's easy to figure out what people are looking for on this STD dating app. And when it comes to relationship goals, most of the folks here are open to everything from friendship to relationships. Sure, some people just want to score hookups, but that's not as common on MPWH as it is on casual dating sites like Tinder.
But while the users appear to be motivated to find friends or partners, their free accounts hold them back. Premium memberships are pretty pricy, so most members stick with the free plan, which hurts engagement. Some members try to get around their account limitations by adding info to their profiles, but that's not nearly as effective as upgrading to a premium membership.
Because of the low engagement rate, we can't give the membership base a full 10/10. Still, it's easily an 8/10 due to the quality of the profiles and the high percentage of legit users.
How to Sign Up at MPWH
It is quick and easy to sign up with MPWH. You can sign up through your mobile app, or directly on the website.
Begin by filling in some basic information, including: gender, dating preference, age, and email. You will also need to agree to the site's privacy policy before continuing to a screen where you can choose a username and password.
After completing location and personal image information, you will be asked about the type of herpes you have. Your options are:
HSV-1 (Cold Sores)
HSV-1 (Genital)
HSV-2 (Cold Sores)
HSV-2 (Genital)
Herpes (Unknown Types)
You can select any combination of options. 
Lastly, you need to upload a photo and fill in some profile information. You can't skip this section, as each profile prompt (headline, about me, etc.) has a minimum character count you must use before continuing to your profile and using the site. 
Note: You will have to verify your email address before you can use the site.
MPWH Alternatives
As much as we like MPWH, we think it's important to look at other dating sites for singles with STDs, too. That way, you can choose the best STD dating site for your needs. See how MPWH compares to three of the most popular sites out there.
PositiveSingles – SuccessfulMatch owns PositiveSingles and MPWH, and the sites are similar. However, PositiveSingles is open to people with any type of STD, while MPWH is a herpes dating site. Because PositiveSingles has members with various STDs, it has more users than MPWH – 2.3 million to MPWH's 201,500. MPWH is an excellent option for dating with herpes, but check out PositiveSingles if you want access to more members. (Get a Free Trial to PositiveSingles)
Meet Positives – While MPWH is for singles living with herpes, Meet Positives is open to men and women with any STD diagnosis. Hundreds of messages hit inboxes each hour on Meet Positives, while the engagement rate is on the low side on MPWH. Also, around 51% of members on Meet Positives are men compared to close to 70% on MPWH. Still, we prefer MPWH because of its community-building features and high-quality membership base.
HSV Date – Like MPWH, HSV Date is a dating app for people with herpes. Unfortunately, the profiles on HSV Date are overly basic, and a lot of members don't even add photos. Finally, HSV Date doesn't have the social features you'll find on MPWH, so we don't recommend it.
User Complaints About MPWH
With a 3.2-star rating on Google Play, user reviews of MPWH are mixed. We're going to share some user complaints with you, so you'll have a well-rounded view of the herpes dating site.
Bugs Make Site and App Unusable at Times – Unfortunately, MPWH's website and app are pretty glitchy. It's not unusual for the app to crash, but problems are usually resolved within minutes.
Random Suspensions – Lots of members complain that their accounts were suspended for no reason, sometimes right after signing up. MPWH has a system in place to keep scammers off the site, and sometimes, the customer service team is a little overzealous. However, this is why the site has so many legit users.
Lack of Engagement – We discussed the lack of engagement earlier in our MPWH review, and we weren't surprised to see the same complaint from members. We recommend upgrading to a premium membership to increase your engagement. Then, you won't have any messaging restrictions, so it'll be easier to connect with singles.
Reviewing MPWH Prices – How Much is MPWH Membership?
MPWH premium membership ranges from $15.95 to $29.95 per month. As with most dating sites you will get a better monthly rate the longer you sign up for. You can see a full MPWH pricing breakdown in the table below:
| Membership Type | Length | Monthly Cost | Total Cost |
| --- | --- | --- | --- |
| Premium | 1 month | $29.95 | $29.95 |
| Premium | 3 months | $19.95 | $59.95 |
| Premium | 6 months | $15.95 | $95.95 |
MPWH Dating App FAQ
Do I have to use my real name on MPWH?
When you sign up for MPWH, you will need to provide your first name. However, this information is not included on your profile and is kept private. Users viewing your profile will only see the MPWH username you've set.
Do I have to link to social media to use MPWH?
No! There is no social media linking necessary to use MPWH. You only need to use your email address.
I don't have herpes, but I don't mind it. Can I join MPWH?
No. MPWH is for herpes-positive singles only. No bug-chasers are welcome on MPWH.
Is MPWH for singles with any STD?
No, MPWH is for singles with the herpes virus. If you have other STDs along with HSV, you are welcome to use the site. However, the responsible thing to do is disclose your additional illnesses to any potential partners.
---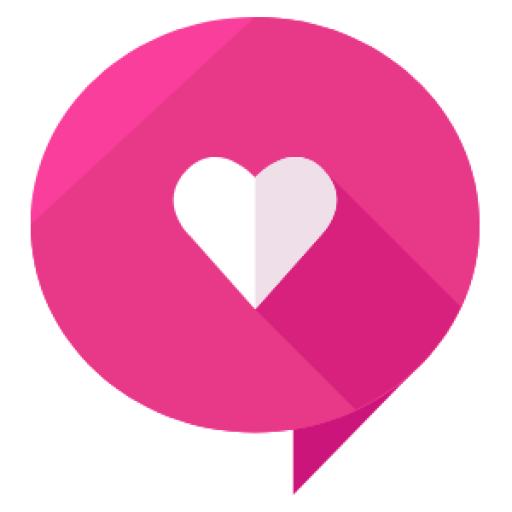 Written By: Healthy Framework Team
The Healthy Framework team has a combined 50+ years of experience in the online dating industry. Collectively, the team has reviewed over 300 dating apps and is known as one of the leaders in the relationship advice and information space. The team's work has been featured on Zoosk, Tinder, The Economist, People Magazine, Parade, Women's Health, Her Campus, Fox, and more.